WHILE BEGINNING to prepare this week's foray into irrelevance, I was on the horns of a slight dilemma. I had ventured into one of my favorite parts of town, Long Island City and Hunters Point, on several Sundays this past year, both with Christina as my guide and without, so I had a big backlog of both LIC and Astoria scenes. I do intend to concentrate on this part of town for a couple of weeks, since so many of the region's buildings are being lost to overdevelopment. But I had no theme. What to do?
The answer was simple. Like that hapless doctor in the very first Survivor show a few years ago, I've decided to revert to the alphabet method. I'll lay out pictures on this page as they appear in alphabetical order on my hard drive: numbered photos will appear first, followed by a to z.
this will contribute to the increasing bloggification of Forgotten NY. Over the past couple of years, some excellent New York City 'photoblogs' have sprung up; my favorite is my friend Mike Epstein's satanslaundromat (now in hiatus [2008]) with whom I have co-authored some FNY pages (and he's guest-written a page while I was in hibernation in December 2004).
At least temporarily, though,
This small ashlar brick building in the shadow of the massive Pennsylvania RR power plant was once the Queens County Bank; it is now part of a tennis club on 2nd Street north of Borden Avenue.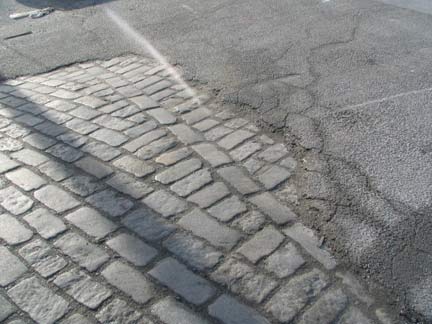 Part of the original brick paving is peeking through the asphalt on 9th Street near 44th Avenue.
45th Avenue (a landmarked brownstone block) and 45th Road (above), which also contains its share of eclectic architecture, present a fascinating contrast to the sea-green Citicorp Tower, erected in 1989.
Some extra-attenuated houses, possibly from the 1890s, on 43rd Avenue near Crescent Street.
46th Avenue near 21st Street. Obviously, a former chain store.
47th Road near 5th Street. This sculpture, by Sergio Furnari, is based on a famed picture of construction workers shot during the 1930s, "Lunch Atop A Skyscraper" by Charles C. Ebbets (great nephew of Charles H. Ebbets of Ebbets Field fame).
The Hunters Point Avenue Bridge, built in 1910, spans Dutch Kills, with the much more massive Queens Midtown Expressway Bridge in the background.
An old brick building on 5th Street near 51st Avenue proclaims its nature in an ancient chiseled sign. I don't see evidence of any other words nearby that have ben bricked over, so I have no idea why the builders placed this word here.
Queens changed its numbering system in the 1920s when it adopted a borough-wide system in which nearly every street received a number. This building has kept its old one; probably the owner didn't want to demolish the nice stained glass.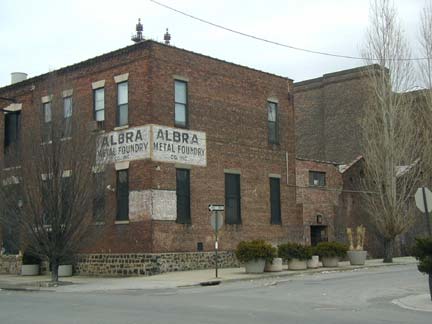 Albra Metal Foundry, which went out of business in 1978, still has a sign on its old factory building, now residences, on Vernon Boulevard.
Arch Street, a dead end on Jackson Avenue near 21st Street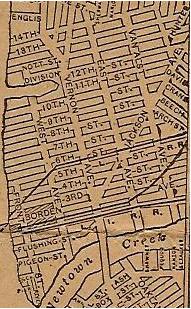 Arch and Beech Streets, unacknowledged on present Hagstroms, are still recognized by the city; the streets are used for storage and as driveways to subway tunnel construction sites. Map is from the 1940s.
Long Island City's greatest skyscraper, before the Citicorp Tower, was the Bank of Manhattan building at 41st Avenue and Queens Plaza East.
From the Long Island Star Journal, October 1925:
The Bank of Manhattan's new building for Queens Plaza will set the pace for the Long Island City skyline. The building will tower far over the present buildings. The projection is that Bridge Plaza will be the new Times Square of Queens. The 14 story building is to be graced with a four faced clock. The Plaza is expected to become the business and financial center of Queens. Transit facilities gives it access to the South Shore as well North Shore
Though plans are in the air (a lot of plans for NYC are in the air in March 2005; it's problematic how many will take shape) for the revival of the Bridge Plaza area, today the only comparison you can make with Times Square is that it resembles the Great White Way before Giuliani and Disney, Inc. went in and fumigated out all the sleeze. The Plaza is home to Queens' ugliest building, a concrete parking garage on Queens Plaza South, and the area, along with Sunnyside to the east, is still a hooker haven. The bank of Manhattan's illuminated clock still works though, and makes an impressive sight for el and LIRR trains rushing past.
Long Island City Business Development Corp. had this building on sale in 2004: 21-09 Borden Ave. ("The Blanchard Building") 20K sf , great views, 250 lb. floors, close to trains, midtown tunnel exit, for sale at $20M.
Photo: Christina Wilkinson
At Borden Avenue and 27th Street: one of the many decades-old Bloomingdale painted wall ads around town. Photo: Christina Wilkinson
"Collision" shop with old painted signs, Hunter Street near 44th Drive. Photo: Christina Wilkinson
"Bonded Products" sign, near Borden Avenue Bridge. There's a lot going on here: see the partially excised "drinks, foods" and "products" signs at right. Photo: Christina
New York City is fortunate to have two of the handful of retractile bridges remaining in the United States. The Borden Avenue Bridge spanning Dutch Kills, built on wheels, can be opened along a slanted track to allow shipping to pass.
NYC's other retractile bridge spans the Gowanus Canal.
Found this wonderful Bordeman Building painted sign, with its fleurs-de-lis flourish, under a scaffold on Jackson Avenue.
Brooks Restaurant, opened here on Jackson Avenue in 1892 next to both the Long Island City Courthouse and the Citicorp Tower, is one of the city's oldest continuously run restaurants.
Formerly, Diplomat Envelopes, on Borden Avenue near 25th Street.
Christina found a discarded industrial scale (that's what I think it is) on Borden next to the Freshdirect depot, near 25th Street.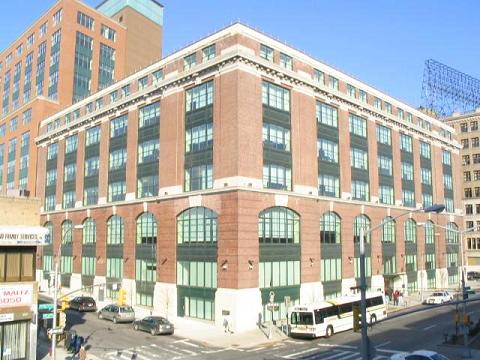 This 6-story 400,000-square foot Queens Plaza North monster, the Brewster Building, built in 1911 at 27th Street, once turned out horse-drawn carriages, Rolls Royce automobiles, and World War II fighter planes. Today it's the home of Metropolitan Life Insurance Company and has been beautifully restored, though its original clock tower has been long absent. The one at the nearby Bank of Manhattan skyscraper a couple of blocks east will have to suffice. Cole Porter mentions Brewster auto bodies in his song "You're The Top."
Not sure Cangro, Jackson Avenue near 11th, is still in business…they didn't pick up their phone Saturday morning…but they have ancient painted ad cachet.
Queens and Long Island's tallest building is the 48-story Citicorp Tower; an even taller Citicorp Tower is at East 53rd Street and Lexington in Manhattan. This building can be seen when you look directly east on 53rd. The flagpole, in an adjacent park, was made from a ship's mast.
The tower replaced the old St. John's Hospital buildings, which were torn down some years before.
Photo and postcard from Christina
The Queens Plaza side of the Queens Blvd. bridge spanning Sunnyside Yards is embazoned with the mysterious inscription CN, as well as a couple of buildings on West (formerly Barn) Street. The logo is fairly modern in design, with sanserif type, so probably dates to the 1970s or 1980s.
According to the Greater Astoria Historical Society:
A five-story poured concrete structure -marked by a siding entering the building – housed the manufacturing plant known variously as "CN Building", "West Chemical Products", or "West Disinfectants". [featuring] an arched roof parapet on its east side with a truncated corner. An angled structure, likely containing a conveyor belt connects the building from its left side to a brick/poured concrete three-story building sporting a CN logo in relief.
Thanks to Jim Sears for that info.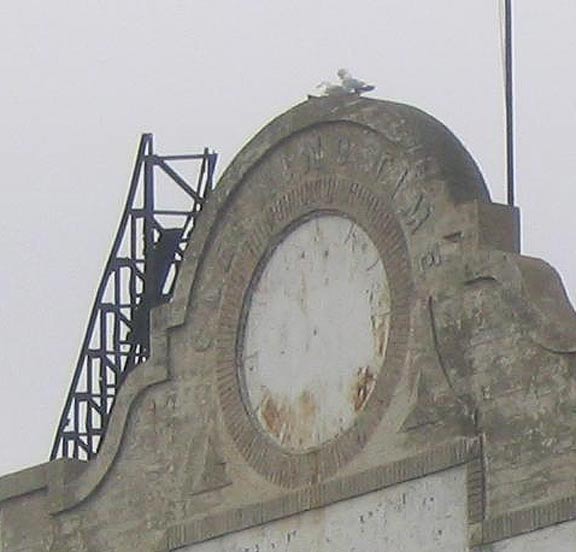 Even more mysteriously, a building facing one of the tracks in Sunnyside yard, visible from Queens Blvd., reveals a long-stopped clock face surrounded by the words "Cleaning Time." I blew it up big so you can easily read it. Likely one of the factories here made cleaning products, with the loading dock here, in the back of the building, and the clock was there for pedestrians on the bridge. Photo: Christina.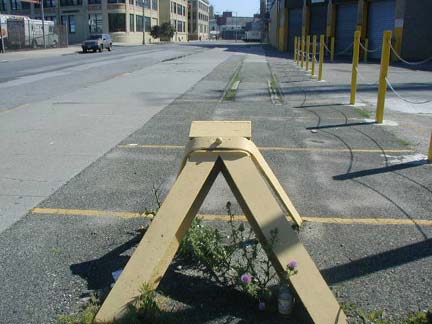 Don't wanna bump no more: this track bumper can be found on 49th Avenue east of Skillman; it used to service a now-completely paved over track in Degnon Terminal, a small railroad serving Sunnyside businesses and warehouses.
More on Degnon in Disappearing Railroad Blues.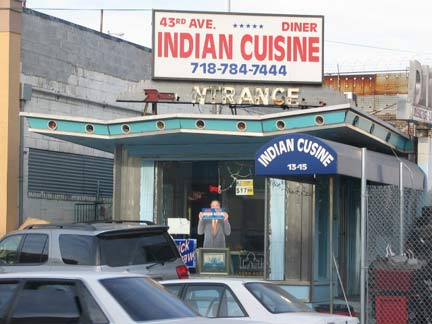 Tiny, hole in the wall diner-come-Indian restaurant on 43rd Avenue near 23rd street, opposite Silvercup Studios.
More on NYC's classic diners in Nothing Could Be Finer.
Eagle Electric buildings can be seen from el trains in its many stone edifices, some decorated with terra cotta, in myriad locations in Hunters Point. Eagle was in LIC from 1941 to 2000, when it was acquired. Gotta love the slogan.
More on Eagle Building #7 from the Greater Astoria Historical Society
Emil Calman & Company apparently made enamel products in the 1910s: I have found a link to this ad. His studio was on Vernon Avenue, now Boulevard, near 43rd Avenue.
5Pointz, Jackson Avenue and Davis Street, has recently replaced Phun Phactory, organized by Pat DeLillo in the 1990s to give graffitists a legal outlet.
But is it graffiti if they let you do it?
Most of the graffiti on the exterior is on the back of the building: see it from the elevated Flushing Line as it passes.
More on DeLillo and Phun Phactory
Proof that Queens streets once had names: Harris Avenue, now 43rd Avenue.
(RIGHT) another old house number, above the door, this one on Hunter Street.
(LEFT) Long-unused subway entrance sign, 49th Avenue east of 21st Street; led to Hunters Point Avenue station on the #7.
F. Scott Fitzgerald mentions this tangle of metal in The Great Gatsby.
, the maze of roads and elevated tracks where Queens Boulevard, Northern Blvd. and Jackson Avenue all meet was named Bridge Plaza. The underground IND subway line chooses to call it Queens Plaza, and signs on the elevated trestles prefer to call it JFK Commuter Plaza. To add to the confusion, the elevated station connecting the Astoria (N, W) and Flushing (7) lines calls it Queensboro Plaza (that probably comes froma real estate company prominent in the 1910s when it was built).Some time ago
This building, now a "night club," is on the periphery of JFK Commuter Plaza and has some pretty amazing terra cotta eagles over the entrance.
These lamps are examples of the new J-necked platform lamps that have been installed on elevated train platforms around town (cf. Woodside.) These are either awaiting installation somewhere or are being discarded. I located them on Northern Blvd. near Queens Plaza.
Long Island City, old and new: PS1 (old Ward 1 School, erected 1892 and now a premier art space) and the Citicorp Tower; from Jackson Avenue and 21st Street.
Universal Building, Northern Blvd. near Queens Plaza
The Queens Midtown Expressway, which changes its name to the Long Island Expressway once it reaches Queens Boulevard, towers over LIC, accompanied by a large flock of huge, illuminated signs, which I hope to capture on a future Forgotten NY page. Here we see it as it arches over 50th Avenue at about 25th Street.
49th near Skillman. Those cameras aren't going to capture much, since hardly anybody ever walks here. The trestle connects Degnon Terminal with Sunnyside Yards.
One of a flock of ghost businesses and painted signs along Vernon Boulevard.
The Metropolitan Bvilding, with the "v" of gravitas, on 11th Street.
More numerical ghosts on Jackson Avenue. The panel at right had lettering on it at one time but it's pretty well erased now.
Paragon Oil has ghost ads all over Long Island City, and their office on 21st Street and 49th Avenue featured painted advertising all round its exterior; it took a glowering Bill O'Reilly to obscure them in the summer of 2004. Paragon was purchased by Texas Co. in 1959, which soon changed its name to Texaco.
If the 1989 Citibank tower on Jackson Avenue is Long Island City's most recognizable landmark, the four ebony smokestacks of the Pennsylvania Railroad powerhouse on 2nd Street and 51st Avenue mark Hunters Point with an indelible stamp. The big building with its tall arched windows and massive granite base was built by McKim, Mead and White beginning in 1903 and was completed in 1909, the year before the firm finished Manhattan's classic Pennsylvania Station.
The powerhouse was built when the Long Island Rail Road deemed it necessary to electrify most of the western portion of the railroad in Queens and Nassau Counties in preparation for the opening of the East River tunnels leading to the new station. Over 9500 piles were driven in the generating plant's construction; when finished the plant supplied 11,000-volt 25-cycle, three-phase alternating current to substations. 625 volts of direct current are carried on the LIRR's third rails.
While the destruction of Penn Station in the 1960s is correctly described as one of NYC's greatest architectural losses, this unheralded masterpiece still stands, though it's now empty. In the 1990s, it enjoyed a fitful renaissance as a home to light manufacturing and indoor tennis.
According to recent reports, the powerhouse smokestacks are in jeopardy: the building is to be condo-ized, which at least will preserve the granite base, but if the smokestacks are found unstable, they will have to come down.
I like the dynamic of photo right: the 'stacks are echoed by the parking lot light stanchions, the Citicorp Tower and St. Mary's RC Church on Vernon and 49th.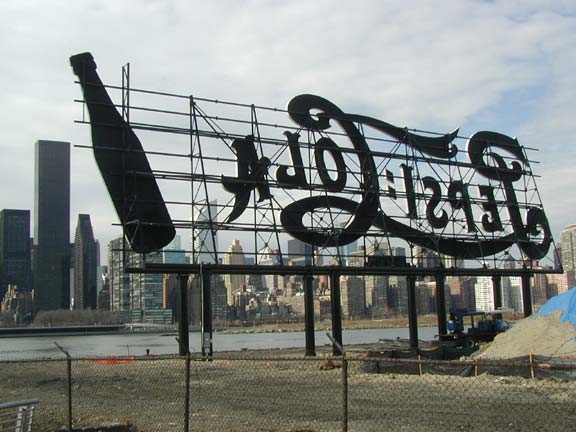 Still beats the others cold. Pepsi-Cola turns its back on Queens in a new riverside park, part of the new Queens West project. This massive neon Pepsi sign, using Pepsi's old script logo and old-style bottle, is actually best seen in its neon'd glory from Dag Hammarskjold Park on East 47th Street and 1st Avenue in Manhattan, though you can stroll up and almost touch it in its new park setting. Pepsi had been a presence in Hunters Point for decades, but its riverside bottling plant closed in 1999. Originally, Queens West reportedly wanted to demolish the sign, but eventually it will be a part of a $1 billion cluster of high-rise apartment buildings that will undoubtedly be occupied by a well-to-do clientele. At least, the sign will survive. It was built in 1936 by Artkraft Signs the year Pepsi opened its bottling plant.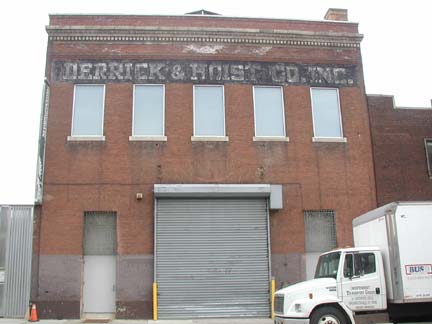 Relics from Purves Street, a dead end between Jackson Avenue and Sunnyside Yards.
It's hard to imagine what inspired Paul Simon to write his paean to "feelin' groovy" at the Queensboro, or 59th Street Bridge; in 1966, as now, it must have been a rusted, unwashed pile as it is now. Admittedly, the view of it from Sutton Square on the Manhattan side is spectacular, but till they actually wash it for the first time since it was built, I'm relatively nonplussed.
Hidden away on Queens Plaza North near 21st Street in Queensbridge is the work of several graffitists on one wall. Harlow? Monroe? Stefani?
The funniest thing I saw all day. 2nd Street and Borden Avenue.
One of the local wholesale bakeries. The sign looks old but the bakery was actually begun by Noel Comess in 1987.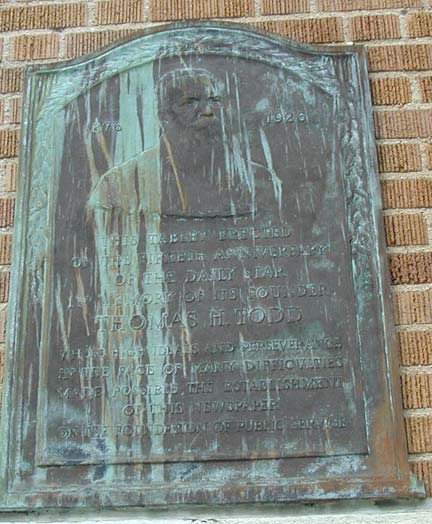 This squat building at 28th Street and 42nd Road was home to the Long Island City Daily Star, founded in 1865 by Thomas Todd, memorialized in a plaque on the building's exterior. The paper merged with Flushing's North Shore Journal in the 1930s and soldiered on until 1968 as the Long Island Star Journal. The paper covered the opening of the first luxury apartments in Jackson Heights and the extension of the IRT Queensboro subway as far as Corona in 1917; published an interview with author Helen Keller, who lived in Queens in 1922; bannered the opening of North Beach Airport (now LaGuardia Airport) on the grounds of a former amusement park in 1930 and the opening of Idlewild, now Kennedy, Airport in 1948; and headlined the death of 29 passengers and injuries to 115 as two Long Island Rail Road trains crashed head-on in November 1950. Queens still has a lively local newspaper scene.
2008: demolished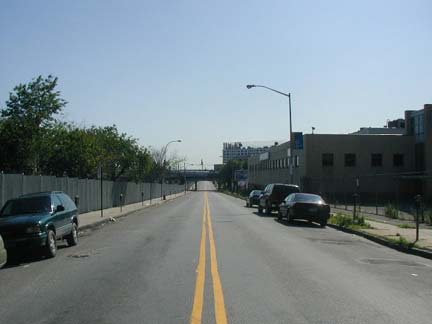 Sunday Morning Skillman. So what catches your eye first? The looming Empire State (King of All Buildings) or the gigantic ad with the bikini clad girl?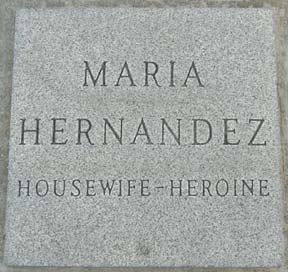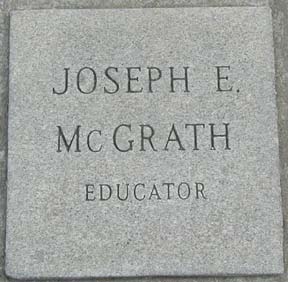 The sundial at the triangle formed by Crescent and Hunter Streets in the shadow of the Citicorp Building has been something of a puzzlement. The sundial honors four NYC heroes, two of which I can identify: Maria Hernandez, the Bushwick resident who was killed in 1989 fighting drug traffickers, and Brian Watkins, the Utah tourist who lost his life in the subway in 1990 fighting off muggers attacking his family. But I don't know McGrath or McNeill: a google search and a call to the Queens Library came up empty. Any takers?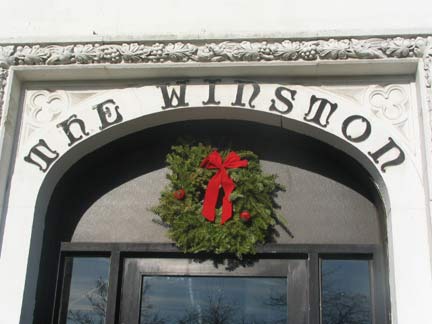 Typography is a sometimes professional interest of mine. I was attracted to these handsome fonts atop the doorway of an apartment building on 21st Street and 45th Avenue, which resemble the liturgical fonts turned out in the early 20th Century by Frederic Goudy (1865-1947). Goudy designed the Copperplate which is the prominent font I use in my title photos.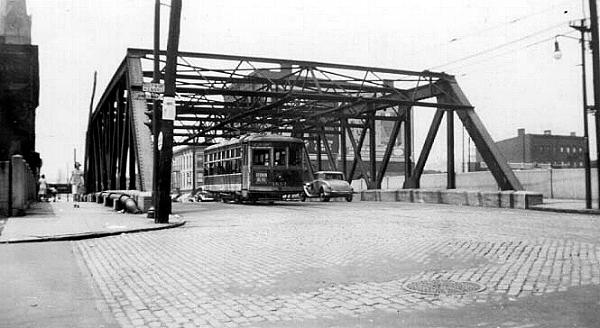 Vernon Boulevard overpass over LIRR cut at 48th Avenue. This trestle actually survived until 1993 or so. Photo courtesy Bernard Ente.
Christina runs the World's Finest Governor's Island Website.
Photos compiled in March, June and November 2004. Page written February 26, 2005.