"There are places I remember…"
As I have said before in these pages, New York City is virtually alone among East Coast cities in being "alley-poor." Stalking the older sections of Boston, Philadelphia, Baltimore (though urban renewal has cost Charm City of some of its alleys) and even Trenton and Providence will reveal netwroks of criss-crossing alleyways, some used for garbage pickup but some home to surprises like surviving cobblestones or gaslight fixtures; but they're largely absent in New York. Thus, I've made them a special foxus here.
Early on, I set up an entire FNY category to list the more interesting ones I have spotted along the way. NYC's landmarking of Bedford-Stuyvesant's Alice and Agate Courts has now inspired me to give short streets and alleys a more in-depth look, and so, "Places Matter" is inaugurated. FNY will periodically take a neighborhood that potentially has some hidden streets ripe for revelation and expose them for FNY readers.
Temple & Horace
Technically, we're in Windsor Terrace here when discussing Temple Court and Horace Court, but this pair of tiny dead-ends are close enough to the southern edge of Park Slope (technically, Prospect Park South) to count.
Temple Court is on the north side of Seeley Street just west of Prospect Park South, and it is lined with a collection of small attached homes, most of them aluminum-sided, though I did like the color treatment on the east side of the lane (left). The genesis of the name is uncertain, since I didn't detect any temples nearby; the one it is named for is likely long-gone.
Most maps show Temple Court going clear through to Terrace Place, but it dead ends just short of it and is inaccessible from there. A Frederick Beers map from 1873 shows it as an extension of Sherman Street; it is in its present form by 1890.
In the mid-1800s, the Brooklyn City Line, dividing it from the town of Flatbush, cut directly across Temple Court just north of Seeley Street.
Horace Court, meanwhile, is a short cul de sac issuing from the west side of Sherman Street just north of Terrace Place. It is a dead end likely because it ends at a steep hill just above Prospect Avenue, which curves to negotiate the hill. It is lined with rather plain, yellow-bricked attached homes; some of them have open porches, some enclosed. Real estate records indicate Horace Court and its residences were constructed in 1925.
Fuller and Howard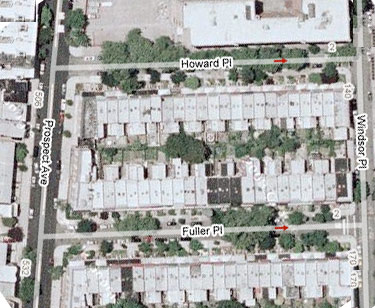 In the Park Slope area, one-block streets are found in pairs almost exclusively. Fuller and Howard Places first appear on maps in the 1880s or so; property records show that the residences on both sides of Fuller, and the south side of Howard, were built in 1915.
The pair run between Prospect Avenue and Windsor Place between Prospect Park West and 10th Avenue.
Fuller Place's houses are pleasant attached brick buildings, most of which have outdoor porches. Some homeowners have decided to enclose the porches at some time in the past.
Fuller Place provides an atypical scene in NY: a view of buildings at the end of a block. Here we see some attached, bayed-front brick buildings; these predominate in southern Park Slope and northern Windsor Terrace.
Fuller Place was featured in the 1994 Geena Davis vehicle Angie, in which she plays a working class Brooklyn woman from Bensonhurst; her boyfriend in the film was a pre-Sopranos James Gandolfini.
Howard Place's south side is dominated by the same attached homes that both sides of Fuller are; the eastern end features views of buildings on 16th Street, not Windsor Place, since the lot facing Howard is occupied by an atheltic field belonging to Holy Name School (see below).
Not to be outdone by Angie, the corner house on the south side of Howard facing Windsor Place was featured as the home of Helen Hunt's waitress Carol in the 1997 movie As Good As It Gets, which did a lot better than Angie at the box office. Jack Nicholson starred as Melvin, an angry obsessive-compulsive writer who is humanized by Hunt and a gay artist neighbor, Simon, played by Greg Kinnear. Nicholson and Hunt received Academy Awards (Best Actor and Actress).
On the north side of Howard, you can see the back ends of both Holy Name Church and its school, which front on Prospect Park West. During the Pleistocene era, I attended my cousin Jim's first wedding here. You will forgive me if I do not mention the year. The church, according to its website, was built in 1907. Note the beautiful ecclesiastic-style lettering above the girls' entrance.
An entrance/exit to the 15th Street F IND station can be found at Windsor and Howard Places. The line, built in the 1930s, ran to Church Avenue until 1954, after which it was connected with the old Culver Line which runs over McDonald Avenue to Coney Island.
Jackson and Webster
Our next nice pair is Jackson and Webster Places, running between Prospect Avenue and 16th Street between 6th and 7th Avenues. Jackson Place is fairly run of the mill, but Webster is something else.
Much of Jackson Place consists of small, two story attached residences with siding of various conditions. Occasionally, there's a newer brickfacing.
Here's a pair of Jackson Place houses with their original brickfacing. They are close to 16th Street, where a giant out of neighborhood character condo was built in 2007.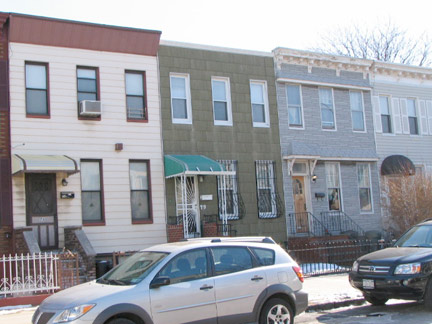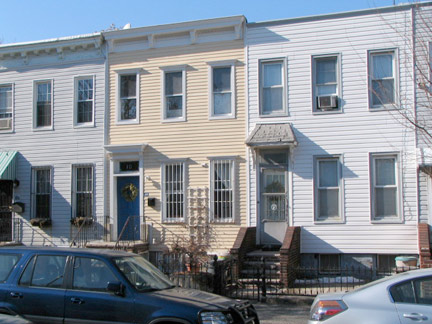 Walking on Webster Place west from 16th Street, it quite resembles Jackson Place, with more of the same type aluminum-sided houses. Then, the fantasy begins.
On the south side of Webster Place near Prospect Avenue, there seems to be a little piece of San Francisco or Seattle here, with a grouping of beautifully painted, porched Queen Anne-style houses.
If you own or know the story behind one of these beautiful buildings, let me know. All are meticulously maintained, at least on the outside. Shouldn't the Landmarks Preservation Commission take a look here?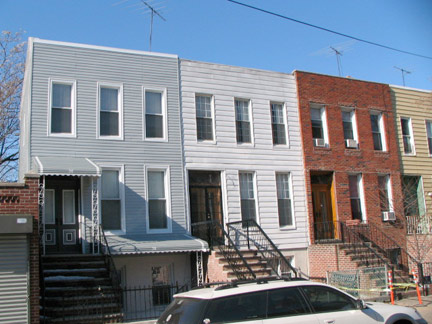 The north side of the street, meanwhile, is obliviously regular.
Polhemus and Fiske
We now move several blocks to the northeast in Park Slope to between Garfield Place and Carroll Street between 7th and 8th Avenues. In this part of the neighborhood streets change their orientation on the map a bit — where the "numbered" streets run straight southeast, more or less, beginning at Carroll Street, they run more east-southeast, and the north-south avenues take a slight jog to the northeast. This creates a little more space between Garfield and Carroll, and late 19th Century developers filled in this extra real estate with streets that take advantage with extra residences.
Polhemus Place is the only "place" in today's survey that has a Dutch, rather than Anglo-Saxon, name. As we've seen on the Carroll Street Slice, Polhemus Place is named for Dominie Johannes Theodorus Polhemus, who founded the nearby First Reformed Church in 1654.
(Area residents, fill me in on the pronounciation … I'm thinking "pollemus."
Builders placed flourishes on a brownstone building facing Polhemus Place on Carroll.
Facing Carroll.
Brownstones, each with different flourishes, on Polhemus Place.
This brownstone trio has identical twins on Fiske Place (see below), so it's half of sextuplets. As NYC architecture describes the Fiske buildings: A trio where bay windows are presented as an academic design exercise — a square, a semicircle, and a triangle-creating a picturesque ensemble. Back to back through the block, the same grouping occurs similarly at 11-17 Polhemus Place. The voussoirs [stones in the arches] might be studied for their lively bas reliefs, particularly at No. 14.
Another example of the way architects took advantage of extra street space. All other buildings are attached, so their sides exist only as interior walls.
Pink House
Though it's not located on the one-block streets covered on this page, I can't resist mentioning the Pink House at 233 Garfield Place between Polhemus and Fiske Places. It's a dark pink, close to magenta, and it has been meticulously kept that way for many years by an elderly owner despite objections by some neighbors, who feel the color is out of character on the brownstone block. Most like it just fine.
Brown-stone? Not exactly [Brownstoner]
Pretty in Pink [New York Times]
The house is no longer pink, as it was sold by its elderly owner in October 2012 for $2 million. [Brownstoner]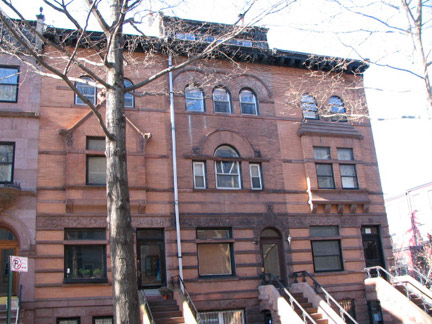 Here's the identical trio on Fiske Place, which should not be confused with Fiske Terrace, a pleasant neighborhood in the Flatbush area centered on Avenue H and the streets between the Brighton Line and Ocean Avenue. It does indeed seem to be an exact match of the buildings on Polhemus Place.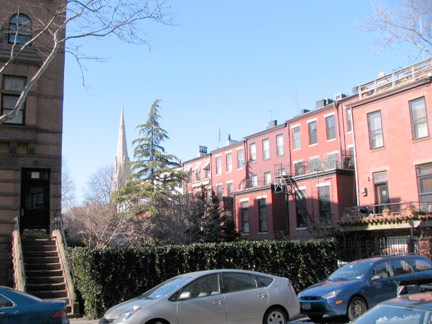 The First Reformed Church peeks through an opening afforded by a large back yard.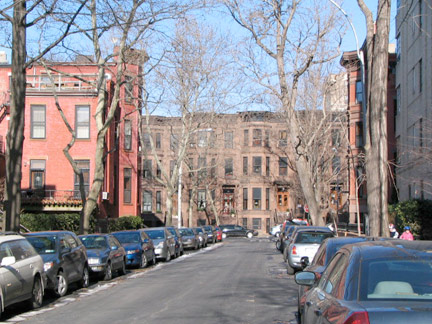 Fiske Place meets Carroll Street at yet another cluster of brownstones whose front room's windows bow out toward the street.
One of the newer buildings in the neighborhood — a Moderne building, likely from the early 1930s — is found at the SW corner of Fiske and Carroll.
Montgomery Place
Montgomery Place is a short street running from 8th Avenue to Prospect Park West between Garfield and Carroll. The longer Montgomery Street can be found in its place on the other side of Prospect Park in Crown Heights. This short block has been described by many critics as the most beautiful block in Park Slope, since so many great architectural works are located on this one short block — an entire book can be written about this one single block alone. It was designated as a landmark block by the LPC in 1973.
ABOVE: North side, Montgomery Place.
From the ForgottenBook: Most of the buildings on Montgomery Place were developed for realtor Harvey Murdock between 1888 and 1892 and designed by the same architect, C.P.H. Gilbert, in the Romanesque revival style. Gilbert also designed several mansions along Fifth Avenue's "Millionaire's Row" along Central Park.
Of special note are Murdock's own house in rustic style, No. 11, No. 19 with its semicircular arches, and No. 47, built from red sandstone by R.L. Daus, one of a handful not done by Gilbert.
Gregory Place
For such a short block, Gregory Place/ Quisenbury Drive has an inordinately long name. Running between Butler and Baltic Street between 4th and 5th Avenues, Gregory Place was created by the demolition of older tenements and filling in empty lots by the arrival of a large Key Food and its large parking lot in the early 1980s.
Though Gregory Place/Quisenbury Drive affords a glimpse of One Hanson Place, the old Williamsburg Bank Tower, on its eastern end, its main feature is the back wall of the Key Food.
I'm unsure about the Gregory namesake, but Quisenbury Drive was named for a local resident, the late Dorothy Quisenbury, a longtime 5th Avenue Committee president, tragically killed in a 1987 robbery.
Denton and Whitwell
Denton and Whitwell Places are in Park Slope's western frontier, between Carroll Street and 1st Street and 3rd and 4th Avenues. Denton Place is named for Nehemiah Denton's Colonial-era mill on nearby Gowanus Creek (now Canal).
New York Restoration Project's Gil Hodges Garden, Carroll and Denton, named for the longtime Dodger first basemen and 1969 World Champion New York Mets manager.
Looking NE on Denton Place toward Neptune Machine.
A pair of Denton Place residences, and Rolling Press:
If you think that printing cannot be done in an environmentally friendly fashion, you have never visited Rolling Press. The company prints with soy and vegetable inks, uses 100-percent recycled paper, is certified by the Forest Stewardship Council, incorporates a chemical-free production process, and uses wind-generated power to produce all paper products.
But Rolling Press is not only known for its "green start." Perhaps even more impressive are the design experts with a genuine passion for the printed arts who help every customer with questions ranging from invitations, publications, brochures to magazines. Rolling Press was founded in 1998 by the father-and-son team of Eugene and Kam Lee, who have found the perfect balance between tradition and technology. They proudly offer the best of both to each and every costumer. Brooklyn Paper
Whitwell Place's north side is interesting, with the wood-paneled, odd-windowed front of #18, the apparent offices of the design firm Brooklyn Guild.
page completed February 22, 2009