I know that some cynics might think that I'm being facetious with that title card, but Canarsie and your webmaster are old pals. I was a frequent visitor to this southeastern Brooklyn neighborhood between 1974, when I first rode a bicycle from Bay Ridge, until 1993 when I moved to fab Flushing and my jaunts became less numerous. By my count I've only made five Canarsie visits since that year, one to get my taxes done (more about that later). For me to get to Queens by bike from Bay Ridge, making my way through East Flatbush, Canarsie and then Ozone Park was the most realistic option — Brownsville and East New York, my other option, seemed like the badlands at the time, for better or worse. And, prior to the early 1990s, the bike path along Shore Parkway was a weed-choked mess east of Knapp Street — it's since been resufaced and is much, much improved.
Canarsie, which is located between Paerdegat Basin on the west (Paerdegat is a British corruption of Dutch words meaning "horse gate") Jamaica Bay on the southeast, Fresh Creek Basin on the east and (this is my determination) Foster Avenue on the north, has been settled for thousands of years. It was first occupied by the Indian tribe that gave the neighborhood its moniker, the Canarsees.
The name "Canarsee"'s etymology is in dispute, but it some scholars of Native American tongues say it means "fenced land" or "fenced place." Beginning in the 1600s, years of warring with the invading Dutch took their toll on the Indians in western Long Island; most of the Canarsees repaired east and today most of the descendants of the Canarsees can be found at the Poospatuck Reservation, near Patchogue in eastern Long Island. The reservation numbered but 271 in the 2000 Census.
The first European to make a permanent home in the Canarsie area was Dutchman Peter Claesen Wyckoff, who arrived in 1652 after several years of indentured servitude in Albany. The home that he built that year at Canarsie's outskirts, at today's Clarendon Road and Ralph Avenue still stands; I'll feature that house, and its environs, on a future FNY page.
For a map of Canarsie in 1898, see this page. Prior to the early 20th Century, most of Canarsie east of Rockaway Parkway (which was laid out in 1870) was marshland. The Vanderveer family operated a tidal grist mill beginning in 1750 throughout the 19th Century, and farming and fishing were the main activities until the Brooklyn and Rockaway Beach Railroad was built in 1865 as a way to connect to steamboat service taking passengers to the Rockaway peninsula. But, Canarsie itself, with access to Jamaica Bay, became an option for seaside recreation as well.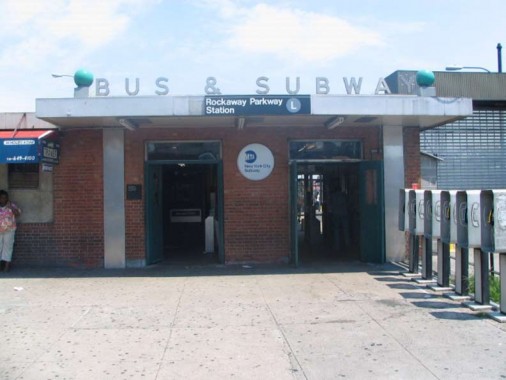 The station house at what's now the end of the line for the BMT Canarsie Line has been in place only since 1984, but railroad service has been here since 1865, with steam trains from East New York to Canarsie. The railroad was acquired by Brooklyn Rapid Transit (BRT) in 1905, which quickly set about modernizing the line by electrifying it and placing it on an an elevated right of way along Van Sinderen Avenue and a right-of-way between East 95th and 96th Streets to Canarsie Landing. The ROW between East 95th and 96th was used by trolley cars from 1920-1942, although trolley service continued along Rockaway Parkway until 1951.
Meanwhile, the BRT's successor, Brooklyn-Manhattan Transit (BMT) built an underground route along 14th Street, Metropolitan, Bushwick and Wyckoff Avenues in 1928, connecting it with the BRT trestle at East New York. That route remains in place today.
The Canarsie Line Grade Crossing
I mentioned previously that I began to bike to Canarsie in 1974. As it turns out, I was one year too late to see the end of the last grade cross in the NYC subway system (and, I believe, the only one since steam railroads were converted to elevated routes in the late 1910s and early 1920s). The station in question is at East 105th Street, the next to last stop, which, then as now, was in a somewhat remote area, though the stop began serving Breukelen Housing in the 1940s.
Here, the Canarsie Line ran on a right-of-way along Turnbull Avenue, which has mostly disappeared by now except for a driveway at Stanley Avenue and East 108th.
The East 105th Street station has been rebuilt twice since the grade cross was ended. The Canarsie Yard extends northeast from the end of the line to this station.
In 1974, I also missed taking BMT R9 cars to Canarsie. The R9s, which began service in 1940, finished out their service on the Canarsie Line in 1977 and so, had I been a train buff in the Super 70s, I would have had the opportunity to ride these cars past the last grade cross. In 1976, I was lucky enough to be on one of the last runs of the old cars.
In the photo left, taken in November 1976, an R9 looks pretty beat up as it enters the Rockaway Parkway station. Even the guy in the railfan window has his arm in a sling!
One more thing about my first bike ride to Canarsie in 1974: I never carried money in those days, and wouldn't you know it, I got a flat tire in Canarsie as I was starting home. So, I walked back home to Bay Ridge. All train photos fromNYCsubway.org.
Trolleys Still Exist
Canarsie's trolley lines along Rockaway Parkway, the #9 and #14, ceased operations in May 1951, but Rock Parkway, along with Coney Island's Surf Avenue, is Brooklyn's greatest repository of old trolley poles. These outpoint Surf's, since the crossbars that held the powerlines are still in place on some of the poles.
A former trolley loop at the Rock Parkway subway terminal is now used as a bus turnaround. Some of the old trolley poles have gained a second life as lampposts have been mounted on them, including some vintage Westinghouse Silverliner OV25s.
Meanwhile, some of the old right of way between East 95th and 96th Streets can still be found nearby.
The Jerry Building, on Rockaway Parkway between Farragut Road and the subway terminal, looks like a bigger deal than it ever was; it has never been a theater or government building.
Place of Pigs
Varkens Hook Road runs almost due north and south between Farragut Road and East 87th south to Glenwood Road and East 86th. Before the Canarsie street grid was laid out in the early 20th Century, though, it was one of the main routes in Canarsie as far back as the colonial era. The road is much shorter than it used to be — it formerly ran from the junction of Canarsie and Bedell Lanes (today at Bedell and East 88th) generally south, ending at the Road To Lott's House (at today's East 86th just south of Avenue J). See this 1907 Bromley map — the road is shown toward the bottom.
"Varkens Hook" apparently derives from two Dutch words meaning "pigs" and "hook" or "corner" so, this road may originally have been a place where pigs were driven to market, or perhaps, a place where they were sold.
The road seems to have survived since there are still three houses that face on it on the one segment that remains.
Along Glenwood Road heading east, we find a string of Fedders houses, and Stella's Pharmacy, which, according to a sign, has been here for 40 years.
Canarsie, incidentally, maintains Brooklyn's tradition of no Avenues E or G, since Foster Avenue and Glenwood Road stand in for them, as Farragut Road does for Avenue F (though there is an Avenue F, way over in Parkville, on the other side of town. Brooklyn's wacky system of lettered avenues is something I'll tackle in FNY someday.) Also, quite strangely, at East 56th Street, just west of Canarsie, Glenwood turns into Farragut, and Avenue H turns into Glenwood. Weird stuff.
New Canarsie, old Canarsie. Like most neighborhoods Canarsie has its share of ugly architecture ablooming, here at Glenwood and East 93rd.
As you travel NE on Glenwood, you can defintely tell you are arriving at the 'original' part of town, as the building stock gets a little older, with homes with porches.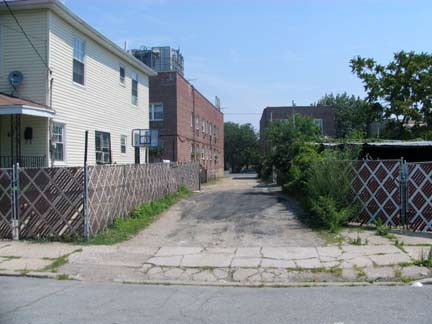 One of Canarsie's old roads that doesn't get the honor of a street sign is School Lane, a dirt road that runs from East 89th to Remsen Avenue just NW of Glenwood. At Remsen and Glenwood, I found a picture of the Brooklyn Bridge with World Trade towers torn out.
Before Remsen Avenue existed, children walked to P.S. 114, a wooden schoolhouse, through School Lane, which ran alongside of "Pop" James' Grocery and Candy Store. School Lane was originally known as Cobb's Lane – a corruption of Kopf's Lane, named for Peter Kopf, who owned a grocery store on East 92nd Street, and was known locally as "Honest Peter."
The schoolhouse was destroyed by fire in 1907, and temporarily moved to Harms' Hall – a place where minstrel and Punch & Judy shows performed – on Rockaway Parkway and Smith's Lane. P.S. 114, which recently celebrated its centennial anniversary ( see June 21 issue at canarsiecourier.com ) was built in 1912 on Remsen Avenue and Glenwood Road .Linda Steinmuller, Canarsie Courier
House of (the) Living Bread and Korner Kuts, Glenwood Road and Durland Place
At Glenwood and East 95th, one of Canarsie's few remaining synagogues, and an extraordinarily ugly former psychiatric center.
Dr. Joe's Shoe Repair, with some hand-lettered signs on East 95th NW of Glenwood Road.
Glenwood Road and Rockaway Parkway, pretty much the major shopping district in Canarsie. When I was bicycling east from Bay Ridge, I considered Canarsie the Last Chance Saloon, last place to get a drink of water (there was no 'vitamin water' in those days) before pressing on through the industrial district in the southern reaches of East New York. Glenwood Road changes its name to Cozine Avenue at the Breukelen Houses, and continues on as far as Crescent Street.
If you asked me I'd have to say the three areas in Brooklyn that have changed the most since the Super 70s, when I biked all over the borough, are Williamsburgh, which has gone from industrial no-man's land to hipster haven to high-rise heaven in just over ten years; Fifth Avenue in Park Slope, which was a dead horse still being beaten in the 70s with burnt-out and abandoned storefronts and drug dens, but has changed to a strip of cutesy boutiques and restaurants; and right here in Canarsie, which in the 1970s was still mostly Italian and Jewish but these days is almost 90% Caribbean. This transition, apparently, did not go smoothly.
Note that in the first two cases, the change involved getting rid of, or marginalizing, almost all of the minority population and introducing restaurants, boutiques, and most of all, very expensive renovated or new buildings. To me, Brooklynites are increasingly Eloi, partying away in the sun while never suspecting that the Morlocks are around and will soon be "collecting the rent." Canarsie's different — it's largely a stable neighborhood, albeit bordered by projects, that remains very much working-class and is definitely not under threat to go upscale.
A neighborhood anchor is Holy Family Roman Catholic Church at Rockaway Parkway and Flatlands Avenue, which was constructed in 1950. The carillon chimed for a good ten minutes between 11:50 and noon while I was here. The first Holy Family church in Canarsie goes back to 1880, also at this site.
Blue Mountain, Flatlands Avenue between East 96th and Rockaway Parkway.
Canarsie Reformed Church, Conklin Avenue and East 93rd Street. The design is echoic of a much larger church we'll see later on. Conklin Avenue shows up on maps from the late 1800s, before the lettered and numbered avenue street grid was laid out.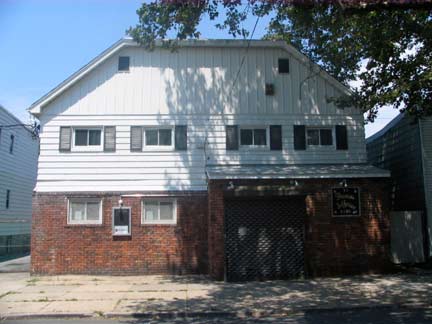 Thomas Jefferson Democratic Club, across the street from the church in what could be a former barn.
Consider the Thomas Jefferson Democratic Club, which still maintains its clubhouse on a quiet, tree-lined street in the Canarsie section of Brooklyn. The clubhouse was the nerve center from which Meade H. Esposito, the once-powerful Brooklyn Democratic chief, oversaw his borough.
But even this storied club is bending to the times. Once largely white, it has been seeking new blood among some predominantly black and Hispanic civic groups.
John L. Sampson, a first-term State Senator and the club's most prominent black member, said it had added new black homeowners and Caribbean natives to its roster. The club "understood the changing demographics of the area," Mr. Sampson said, "and wanted to make sure everyone knew there was room for them."
Such efforts may help secure the group's future. "I think the club will continue to be a power force in Brooklyn politics," Mr. Sampson said. NY Times, October 17, 1999
Canarsie's Log Cabin
There's a genuine log cabin in Canarsie at Flatlands Avenue and East 93rd Street. It was built by the Lloyd Doubleday family from 1936-1939 and was originally an ice cream parlor. Today it houses Fillmore Real Estate. Get the full story, and some interesting exterior and interior pictures on this page. (It lifted a couple of images from FNY, but I consider it flattery.)
Unfortunately, the present occupant, Fillmore Real Estate, seems to have done the best it can to cover up the exterior with an awning so that you have to take a second look to make sure that you are, indeed, at this artifact…NYC's one and only building constructed from crosstimbers.
Here are some closeups, as well as a look at the stone and concrete base on the ground floor.
Skidmore Lane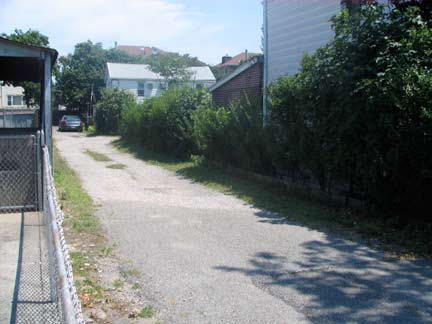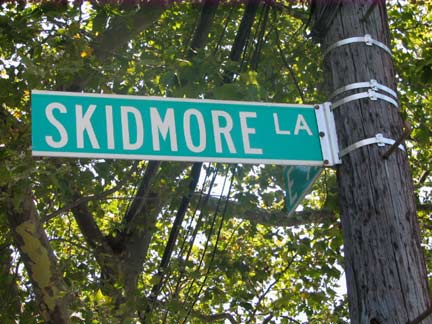 Skidmore Lane, running in pieces now from East 92nd to Rockaway Parkway, predated the overall grid and was once a stop on the trolley line to Canarsie Landing that ran between East 95th and 96th. Seen here looking east from East 92nd.
Skidmore Lane, which once ran continuously from East 92nd Street to Rockaway Parkway, between Flatlands Avenue and Avenue J, now ends at East 94th Street and is mostly private driveways. This narrow road is named for Isaac Skidmore, a prominent merchant, who ran a general store that served as a recruiting station during the Civil War. The merchant also served as postmaster, operating a contract postal station out of the general store. The Skidmores were English immigrants and among Canarsie's oldest families. Other prominent family members include Joel Skidmore, a tax collector for the Town of Flatlands during the 1860s, and John Skidmore, who blew the whistle every time the Canarsie shuttle, trolleys, and buses left the Rockaway Parkway station for the trip to the shore. Linda Steinmuller, Canarsie Courier
Looming ahead of us as we travel south on East 92nd, as if from a vision, is Grace Church, Canarsie's tallest building not part of the projects…