The name Ditmars, or Ditmas, appears more than once in the NYC street directory. The Bronx has a Ditmars Street in City Island, there's a Ditmas Avenue in Kensington, namesake Ditmas Park and Brownsville, Brooklyn; and here in Astoria, Ditmars Boulevard, named in honor of Abram Ditmars, first mayor of Long Island City, NY who was elected in 1870 (the city became a mere neighborhood when Queens became a part of Greater New York). His ancestors were German immigrants who settled in the Dutch Kills area in the 1600s. Ditmas Avenue was laid out in the late 1800s and during the 1910s, during Queens' big changeover to a consistent street numbering system, many busy roads were renamed Boulevard, and Ditmars was one of them.

On the present Queens map, Ditmars Boulevard stands in place of 22nd Avenue. Coincidentally, Brooklyn has no 22nd Avenue, either; its place is taken by Bay Parkway, even though the BMT Culver (F train) elevated on McDonald Avenue's Bay Parkway station stubbornly persisted in subtitling it 22nd Avenue until a short time ago.
On one of the most gorgeous Sundays of the summer of 2009, I walked Ditmars Boulevard from Astoria Park and the East River all the way southeast, east and southeast again to Astoria Boulevard and Flushing Bay.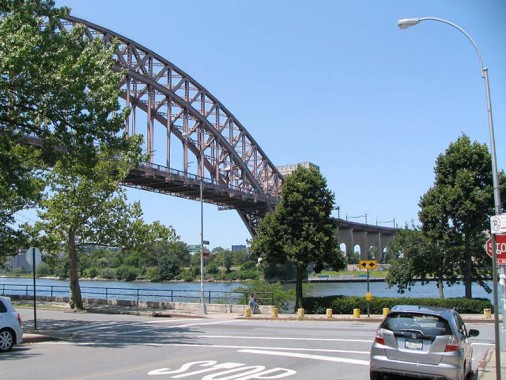 Ditmars Boulevard begins at Shore Boulevard and views of the East River and the Hell Gate Bridge. On Labor Day 2007 I walked from Penn Station to the Astoria Boulevard elevated station via the Triboro (RFK) Bridge. On the FNY page describing the walk, I mention the Hell Gate:
The Hell Gate Bridge was the final piece in the puzzle of running railroad trains into Midtown Manhattan. The tubes connecting Long Island with Penn Station opened in 1910, and ?Hell Gate Bridge, connecting Long Island with the mainland, opened in 1916 as the lengthiest steel arch bridge in the world until surpassed by the Bayonne Bridge in 1931. "Hellgat" means 'beautiful strait" in Dutch, but lived up to its English transliteration as an extraordinarily dangerous stretch of water due to conflicting currents of the East River and Long Island Sound, as well as a great deal of rocks that made it treacherous for shipping until the rocks were detonated into rubble (see the Mill Rock link above). The construction was overseen by Gustav Lindenthal, who worked on the Williamsburg and Queensboro bridges as well. In the mid-1990s it was painted a deep maroon, which the sun has faded to light magenta.
Astoria Park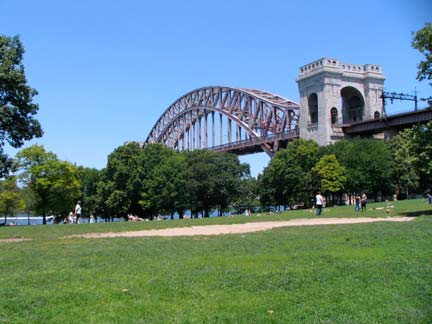 Astoria Park, the largest park in western Queens, is located between Astoria Village on the south, Ditmars Boulevard on the north, Shore Boulevard and the East River on the west and 19th Street on the east. The park can boast spectacular views of the Hell Gate Bridge in its northern section and the Triborough (RFK) Bridge in the south; both bridges run directly over the park. The park faces Wards Island and the towers of Manhattan on the west. The land where the park is located originally belonged to prominent families such as the Potters, Woolseys and Hoyts who built mansions along the waterfront facing the dangerous currents and rocks of the Hell Gate, a Scylla/Charybdis-like locale that spelled doom for many of the ships that attempted to traverse it. The mansions, as well as the streets for whom these prominent families were named, are all gone now. The city took title to the land in 1913 and opened Astoria Park in December of that year; Astoria was named in the 1840s by its founder, Stephen Halsey, for his close friend, NYC's richest man at the time, fur merchant John Jacob Astor, who never set foot in the town that bore his name.
Your webmaster cannot swim a stroke, but if I did, I would have to think about using the huge Astoria Park Pool, the largest of the eleven public swimming pools constructed by Robert Moses' Parks Department in 1936, funded by the Works Progress Administration. It meets Olympic standards and indeed has been used for Olympic swimming team trials in the past. A detailed report on the pool by the Landmarks Preservation Commision can be found here.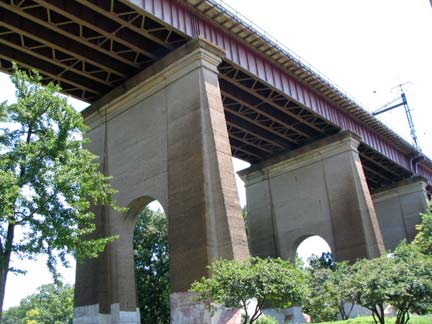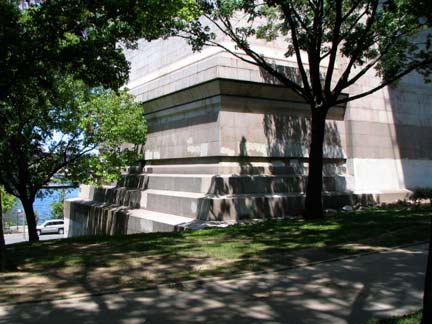 I intend to do an item on the massive concrete approach trestle to the Hell Gate Bridge soon — there are massive concrete arches and supports that provide a unique perspective. Near the park, as the approach to the bridge gets higher, the train trestle is supported by incredibly massive concrete towers. On the right is one of the two main bridge supports, the other one being on Wards Island.
Agnanti is a Greek restaurant on the SE corner of Ditmars Blvd. and 19th Street. Al fresco diners have a view of the park and the Hell Gate Bridge.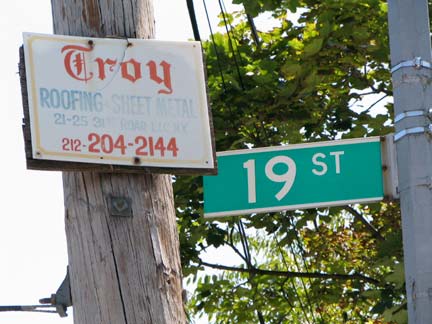 A pair of storefronts on 19th and Ditmars are identically covered by miniblinds. RIGHT: Homemade signs posted on utility poles are featured throughout NYC.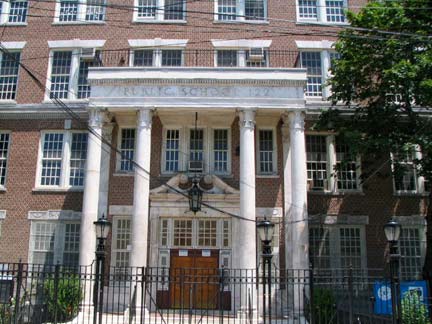 PS 122, on Ditmars between 21st and 23rd Streets, is also known as the Mamie Fay School, though I've been unable to determine who Mamie Fay was. Anyone have any idea?
ForgottenFan Elaine Ezzard: I worked at P. S. 122 Q for 20 years and it was called The Mamie Fay School after the first principal. She was the principal from 1925 to 1942 and also was the first woman principal in all of Queens.
Pizzeria and laundromat at Crescent Street.
Unusual fire call box at Crescent and Ditmars. This is among the last generation of such installations (from 1972), but these usually have push button call devices for the FDNY or NYPD. This one has been retrofitted with an older lever pull device. Perhaps this is an older fire call box that later had the newer shell added.
Crescent Street predates the present 1910s street numbering system, has always kept its name and, in general, takes the place of 25th Street in Astoria, Ravenswood and LOng Island City.
As early as the 1840s maps were showing a curved path called The Crescent between Grand Avenue (30th Avenue) and Broadway, and even today, that section of Crescent Street retains its slight curve.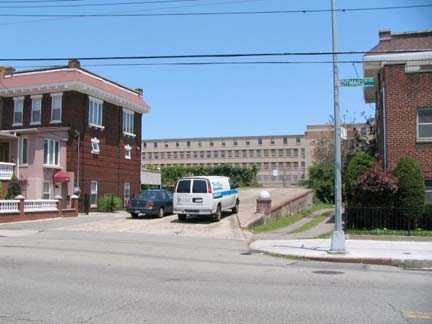 At 26th Street, there's a ramp leading to a dead end, with a pair of gateposts. A high school now occupies the rear of the site.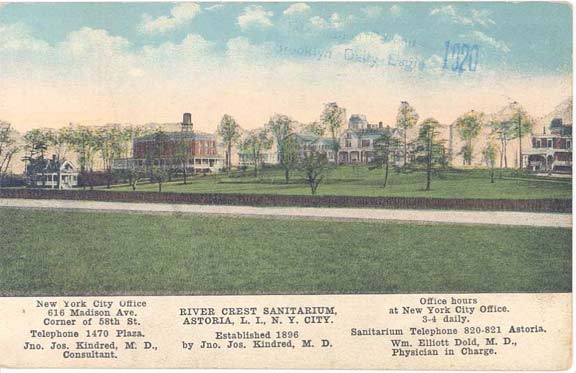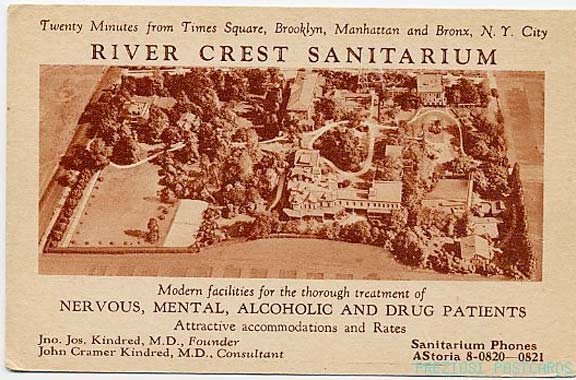 It appears that the ramp and gatepost are all that remain of River Crest Sanitarium, established here in 1896. It had closed by 1961, replaced by Mater Christi High School, now St. John's Prep, seen in the background of the present-day photo. The above two postcards show it in 1920 and 1940.
Clues to former street names can sometimes be found in the names given apartment buildings. 29th Street, prior to the 1920s, was called Singer Street, and before 1918 or so, Lawrence Street (a Lawrence family cemetery can still be found at 20th Road and 35th Street). That means Singer Apartments itself was likely constructed in the early 1920s.
Immaculate Conception Roman Catholic Church, established in 1935 at Ditmars Blvd. and 29th Street, ushers in the northwestern boundary of the sub-neighborhood of Steinway, named for the piano manufacturer, Steinway and Sons (more specifically the firm's founder, German immigrant Henry Steinway), that still retains a complex here. Ditmars Boulevard functions as the main NW-SE shopping strip, with 31st Street assuming the role on the other axis (Steinway Street is mainly residential north of the Grand Central Parkway).
Though Astoria is best-known for its Greek American population, Steinway has some Italian and Irish pockets as well; Immaculate Conception offers services in Italian (as well as Spanish).
As its informative website reports, La Guli Pastry (an older sign said "pasticceria" has been in business at this location since 1937.
"Regulars rave about the buttery cookies and rich, ricotta cream-filled cannoli. Come summertime, authentic Italian ices are all the rage, and during winter, biscotti and hot chocolate are some of the preferred indulgences," says NYCGO.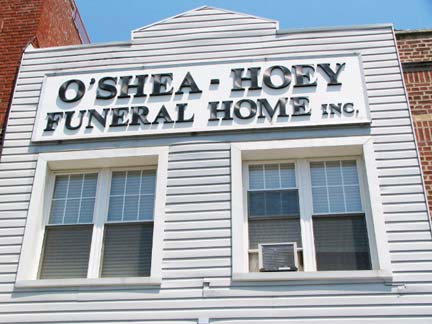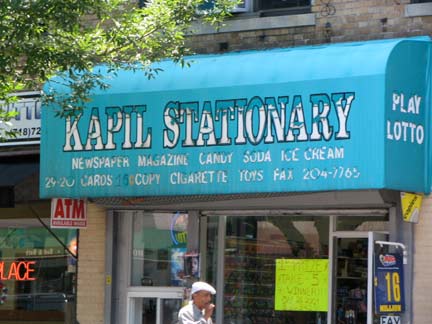 I loved the Irish name of the funeral home next door. Though it appears that Kapil has been entrenched in this location for years the sign is indeed a misspelling.
The BMT Astoria Line (N, Q) has its terminal here mid-block on 31st Street (formerly Debevoise Avenue) between 23rd Avenue and Ditmars Blvd. It opened as part of the IRT in February 1917 and in its early days, its el trains crossed the Queensboro (59th Street) Bridge and ran on an el spur to Grand Central Terminal on East 42nd Street. The opening of the BMT 60th Street Tunnel in 1920 allowed BMT trains to reach Queensboro Plaza, and a massive interchange station was built there. The BMT couldn't run on either the Flushing or Astoria els — its cars were too wide — so shuttles had to be established to allow the BMT to use those els. Finally, in 1949, modifications to platforms were made to allow the BMT access, and so the Astoria became the province of the BMT, and Flushing the IRT. The Queensboro Bridge connection was severed in 1942 along with the demise of the 2nd Avenue El in Manhattan.
I was curious about 32nd Street, which issues north from Ditmars Boulevard as a lengthy dead end almost, but not quite, all the way to 21st Avenue. It doesn't turn up as 32nd Street or a named street on any of my older maps, so I imagined it was merely a driveway at some point, but there are several older brick buildings here, one including this one where the owners still maintain an outdoor porch. There are two generations of agency signage here, one reading 'Dept. of Traffic" and the other, "Dept. of Transportation."
Some reports I have heard since have Leach Place as a former name.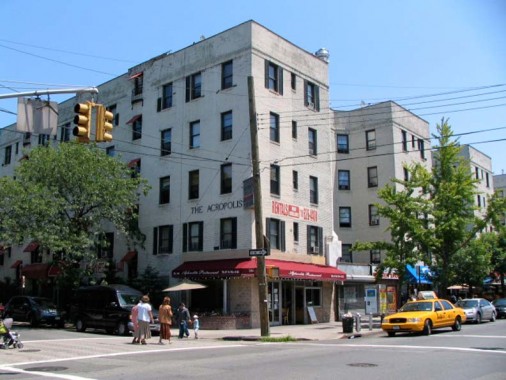 The Acropolis (named, of course, for a chief cultural and historic site in Athens) at Ditmars and 33rd-35th Streets, is a mixed development of rentals and co-ops, a complex built in 1923 consisting of brick buildings surrounding verdant courtyards.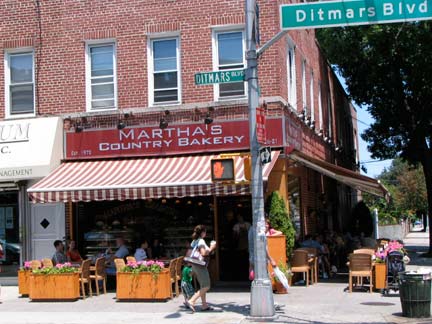 You would think a place called "Martha's Country Bakery" would come along with yuppification, but the bakery originated in 1972 in Manhattan and moved to Queens sometime in the 1980s, branching out to Forest Hills and Bayside in the process. I ate at a Forest Hills MCB with Forgotten Fan Vicki in January and the fare is scrumptious. A plastic-lettered pork store sign sits comfortably next to Dunkin' Donuts, which has done its best to put orange and pink together for decades, at 38th Street.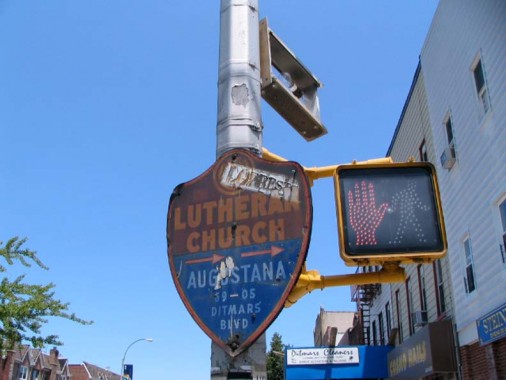 We'll see Augustana Lutheran Church presently, but the church is pointed to by a weathered wooden sign at Ditmars Blvd. and Steinway Street. These signs hang on for decades, profiting because no one seemingly notices them except for Forgotten NY. Above the sign is the battered remnant of a lighted police call box sign. There used to be dedicated telephones posted here and there to call the cops in case of trouble. They sort of went by the wayside when the 911 code was instituted, but the old signs, if not the actual call boxes, can be found on occasion.
Steinway Reformed Church, Ditmars Blvd. and 41st Street, was built in 1891 as the Union Protestant Church but likely switched monikers after piano man Henry Steinway donated a pipe organ. It's likely Steinway also built the church as a place of worship for the workers in his factory — he already had built workers' housing two blocks away on 20th Avenue between 41st and 43rd Streets.
Pistilli Grand Manor, Ditmars between 45-46th Streets. Built by Henry Steinway in 1902 — who else — as a piano factory that predated Steinway & Sons' larger factory now at Steinway Place and 19th Avenue, this 300,000 square foot warehouse became a warehouse for Stern's Department Store in the 1950s. After the store faltered, the forbidding-looking brick factory lay empty for 20 years until developer Joseph Pistilli remade it as upscale housing beginning in 2003.
ForgottenFan Joseph Carlucci: [Pistilli] was indeed the Steinway Piano factory in years gone by, but I believe never a Stern's Department Store warehouse. That building was a block further west (between 45th and 43rd Streets) and was a low-slung affair with a recessed loading dock facing onto Ditmars. The Steinway plant was still manufacturing pianos well into the fifties, if one could judge from the tinkle of piano keys coming out of the building's open windows on warm summer days. As young kids riding bicycles and playing in the nearby streets, we heard these sounds often.
I used to bicycle Ditmars Blvd. some time ago — it's a good short cut from LIC to Jackson Heights and Corona — and used to marvel at how quickly the boulevard quiets down just east of 45th Street. It takes on a suburban quality that is striking. At 48th we find some very old housing, including what must be one of Queens' smallest domiciles. The plot it's on is for sale, so this may be one of the last photos taken of it.
[It's still there in 2012, but fixed up somewhat.]
I couldn't resist adding photos of a now-rare curved-mast lightpost on 48th between Astoria and Ditmars Bouevards to my collection. These are the oldest examples of the octagonal-shafted lamps, with curved-masts dating to between 1950-1955.
Augustana Evangelical Lutheran Church, 69-05 Hazen Street at Ditmars, was established in 1897 as the Swedish Evangelical Lutheran Salem Church of Long Island City on Pomeroy (now 37th) Street near 24th Avenue.
Construction [of the present building] was completed on January 28, 1963 and a Certificate of Occupancy was issued three days later. The finished product is a beautiful red brick church that has served the varied needs of the Augustana congregation, as well as those of many of our neighbors and friends, for more than 40 years and will continue to do so far into the future. AugustanaLC.org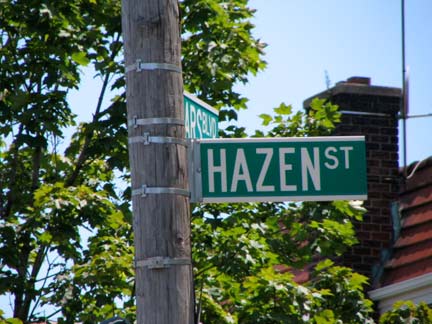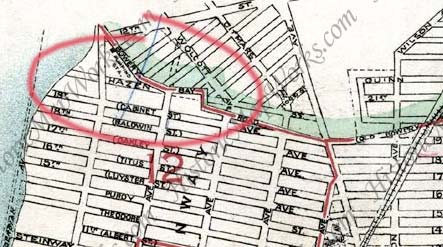 Hazen Street, which runs from Astoria Boulevard to Bowery Bay and the Rikers Island Bridge (opened in 1966), which is the only means that vehicular traffic can enter the island; visitors of inmates on the island can use the Q100 bus, which travels the bridge. Hazen Street was mapped around 1919-1920 as a straightened version of Old Bowery Bay Road, which has since disappeared from today's maps, though short pieces of it still exist as Celtic Avenue in Sunnyside and Hobart Street in Woodside.
Hazen Street resumes on Riker's Island across the bridge with Queens-style house numbers, even though the island is politically in The Bronx. Oddly, Ditmars Boulevard intersects 49th Street, then Hazen, then 70th Street. Two separate street grids, Long Island City's and Jackson Heights,' come together here and intervening numbered streets end further south.
About 3 blocks north on Hazen (make a dogleg on 77th Street to 19th Road) you will find the Lent Riker Smith House, Queens' oldest residential building still in use.
Airline Diner, Astoria Boulevard and 70th Street. Ditmars Boulevard comes thisclose to Astoria Boulevard at about 70th St, so I couldn't resist the opportunity to photograph the Airline once again. Hard to believe it but I have not eaten here since September 2006, the same week the ForgottenBook came out, while being interviewed by ForgottenFan Jen Itzenson for the Brooklyn Rail weekly. It occurs to me that I gave the Airline burger middling marks at best for my FNY Finer Diners page. I take it back since the 2006 burger was first rate.
The Airline is a Mountain View and has held down this locale on Astoria Blvd. since 1952.
The Garden Bay Manor is a Ditmars veteran, having been built around 1937, when it was co-sponsored by Arde Bulova of the Queens-based watchmaking family. According to the Garden Bay website, rents that first year ranged from $51-$75 a month — high for the 1930s.
Ditmars Boulevard ends temporarily at 82nd Street, where the presence of dwarf lampposts — among other things such as airplanes taking off and landing — announces that an airport is nearby; lampposts are positioned near to the ground so pilots will not mistake roadways for landing strips during foggy or snowy weather. On the west side of the street is the Lt. Frank McManus Memorial Park, developed to honor Vietnam War veterans as well as 9/11/01 victims who worked for the Port Authority.
Only halfway done… continue to Life on Ditmars Part 2!