I visited mid-Staten Island in mid-February, a place where the NYC guidebook writers and trend seekers never visit. I was reminded about the limitations of winter photography; though it was reasonably bright, with a high cloud cover, the shadows were dark and plentiful and so I had to do more doctoring than usual, fiddling with Photoshop's brightness and levels sliders.
Like Queens, Staten Island has graduated from an unconnected group of small towns to part of a teeming metropolis relatively recently. Even an amateur neighborhood explorer like your webmaster can find the delineations from one to the other, with subtle shifts in street patterns (granted, those are dictated by geography as well) and architectural styles. While the locations and buildings shown here might have been better served had I waited till the sun was higher in the sky, my case of cabin fever might have progressed to terminal. Development marches on, though, so you'd be advised to see these highlights while they're still there!
Staten Island Railway (formerly Staten Island Rapid Transit station at Grant City's Lincoln Avenue. As stated on my Stations of the SIRT pages…
There's been a passenger railroad on Staten Island since 1851 when Cornelius Vanderbilt built a short railroad linking his ferry landing in Clifton to Stapleton. The railroad was extended the following decades to Tottenville, the southernmost point in NY State, to South Beach, and to Cranford Junction in New Jersey (freight only; passenger service ended in Arlington on Staten Island's north shore). By 1860 the nascent railroad had reached Eltingville, halfway to the island's southern limit. In 1883, Erastus Wiman, in partnership with the Baltimore & Ohio Railroad, built a line to South Beach and along the North Shore. By 1885, what would become the SIRT was finished, with the completion of the tunnel between Stapleton and the St. George Ferry. The ferry terminal at St. George opened in 1897. In 1953, service ended on the North Shore and South Beach branches. In 1971, the Baltimore and Ohio sold the SIRT to the New York City for $3, 500,001 — the SIRT used B&O signalling until recently.
In the mid-1960s the SIRT acquired the "look" that it has today as all grade crossings were eliminated and the railway was placed in an open cut in areas, and trestles in others. The line's present R44 cars began use in 1972 after a brief transition in which the SIRT employed Long Island Rail Road MP72 cars! In the late 2000s, the R44s were refurbished with new seating.
Grant City, named for US Civil War general and later President Ulysses S. Grant, is a neighborhood in Staten Island on the east side of Todt Hill, just south of Dongan Hills and north of New Dorp, running from Richmond Road to Hylan Boulevard and from Lincoln Avenue to New Dorp Lane. Prior to its development in 1868 it was called Frenchtown; French have always been prominent in Staten Island history due to the immigration, in the colonial era, of the Huguenots, or non-Catholic French.
Semler's Hotel, a local landmark adjacent to the train tracks, was demolished in 1965, when the SIRT was placed in its open cut, and replaced by the Grant City Apartments. There are still some classic buildings to be found here, though…
Research about Staten Island is catch as catch can, at least as far as printed material goes. My shelves groan with titles by Lloyd Ultan and John McNamara of the Bronx; a new book about Brooklyn or Manhattan shows up every week, it seems; Vincent Seyfried (now in his nineties) has published dozens of volumes on Queens and Long Island. But Staten Island still awaits its great chronicler. Could I do it? I work a day job in Port Washington, Long Island. This sort of thing calls for someone who can research day in and week in and day and week out. I don't know nearly enough about Staten Island's secrets to tell you about them. What I can do is show you some scenes and do the best I can to contextualize.
The magnificent building above, at Lincoln Avenue and Edison Street, was constructed in Victorian "stick style" (so called because thin pieces of wood are used in the detailing) about 1890. The years 1885-1915 produced NYC's most beautiful architecture, chockblock full of ornamentation and detailing. I don't think a building needs a lot of detailing to be attractive — Frank Lloyd Wright is my favorite architect, and his work is stylish without being overly busy. For the above picture I turned the saturation on high, to emphasize the aqua and brick red colors on a drab day.
Texaco introduced premium grade Sky Chief gasolinein 1938. The brand was 'souped up' further with detergent in 1954, and it changed its name to Texaco Super Unleaded in 1982.
WAYFARING MAP: GRANT CITY, EGBERTVILLE, RICHMOND and NEW DORP
Along Lincoln Avenue west to Richmond Road, we see very old late 1800s buildings (the corbeling gives that away) and some brand new buildings, possibly from the 1980s or later. There are several dwellings on Staten Island that have a cupola that looks out over a downslope (we have one coming up later) and there are also some homes that have served as lighthouses in the past. I think the new building at 80 Lincoln was meant to be echoic of this. Below right: Richmond Road just south of Lincoln Avenue. The older building in the background is on the south side of Todt Hill Road, which scales the hill that gave it its name.
Cottage, Fremont Avenue. Grant City's streets are named for literary and political lights of the 19th Century and early 20th — Edison, Lincoln, Horace Greeley, and John C. Frémont (1813-1890), the first Republican Party nominee for US President in 1856 (Abraham Lincoln was the second; Frémont lost to Democrat James Buchanan). He was also a celebrated surveyor, pathfinder and military officer.
Todt Hill Road runs up and down the hill that bears its name. Walk up the road, and you will see one of a kind, eclectic buildings seemingly out of architectural dreamland, and pathways leading to unsuspected vistas.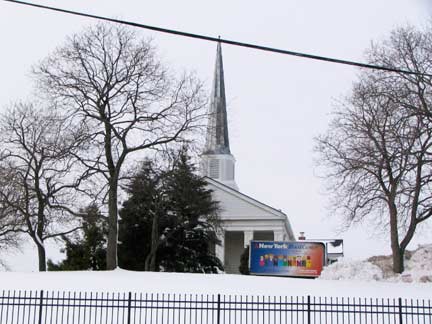 passing by Moravian Cemetery, where the Vanderbilt Family has its vaults. New Dorp Moravian Church pokes its steeple over the hill. "Todt" is close to German for death, tod, so perhaps the hill was named for burial grounds in the area. Mobster "Big Paul" Castellano (slain on orders from John Gotti), pencil king Eberhard Faber, Cornelius Vanderbilt are interred here, and famed film director Martin Scorsese maintains a plot.
In the 1730s, Moravian settlers in New York and Pennsylvania commissioned a new sailing ship to be built by John Van Deventer at his shipyard at Van Deventer Point, located near today's Verrazano Bridge. The "Irene" made 14 round trips to Europe, bringing mostly Moravian missionaries and church members to New York. Nicholas Garrison, a Staten Islander, was the first captain of the Irene; Cornelius Jacobsen, also a Staten Islander, served as captain on its last voyage in 1758." One of the oldest Protestant denominations, the Moravian Church has served Christ since 1457. Known then as the "Unity of the Brethren" early Moravians came from the area of what is now the Czech Republic known as Moravia – hence came the name Moravian.
The New Dorp Moravian was established in 1763. We are the second oldest church on Staten Island, second only to St. Andrews Episcopal Church in Richmondtown. We continue to seek to provide not only a place for individuals to gather for worship, but also a place where people are challenged to grow in their faith. New Dorp Moravian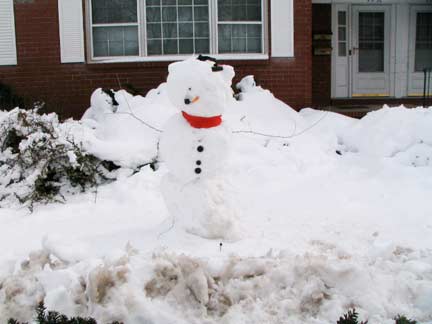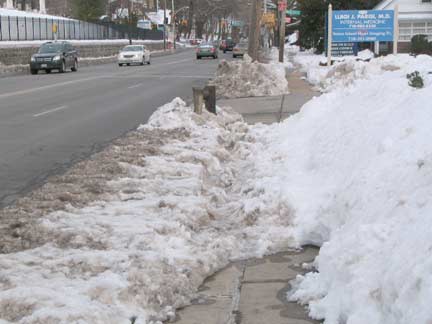 The first of many snowmen I passed was in front of a house on Richmond Road whose inhabitants were, apparently, able to build a snowman yet unable to shovel their sidewalk.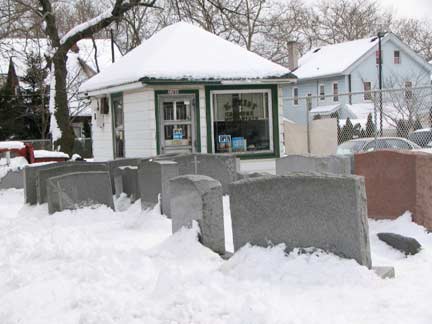 At Bryant Avenue, named for lawyer, poet, journalist and editor of the New York Evening Post, William Cullen Bryant (1794-1878). (Bryant lived in Roslyn Harbor, fairly close to where I live now.)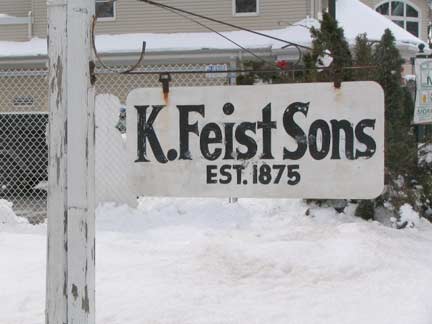 As the sign says, stonecarver K. Feist Sons has been in business here since 1875, though some online records have the date as 1972.
Lakeman-Cortelyou House, 2286 Richmond Road between Bryant and Otis Avenues. This Dutch farmhouse built by Abraham Lakeman in 1678 is the second-oldest building in Staten Island. It is now owned and maintained by Moravian Florist. It has yet to be recognized by the Landmarks Preservation Commission, the AIA Guide to NYC ignores it, and it's generally overlooked. We can hank Moravian Florist for preserving it… for now…
Very little information is out there about his building, except for a listing at Preserve and Protect, which calls this an 18th-Century building; my other source, Holden's staten Island, says 1678, and that's what I'm going with. Richmond Road is a colonial-era road whose origins go back to, perhaps, the Native American period prior to colonization.
A pair of newer buildings…
New Dorp Lane east of Richmond Road;
1st Street facing Richmond Road). One tries to be something beyond merely functional.
A pair of memorial markers can be found at the "V" formed by Richmond Road and 1st Street. One honors New Dorp residents who served in World War I; the other remembers the long-demolished Rose and Crown Tavern, situated here in the colonial era. General Richard Howe and his aides stayed at the tavern when 30,000 British troops invaded the island in August 1776, preparing for battles in Brooklyn and elsewhere in the New York region. According to legend the general read the Declaration of Independence to the troops there. A heavy drift of snow prevented me from getting decent pictures, so I went to the ForgottenFiles.
This Italianate mansion with the cupola set way back from 2475 Richmond Road just south of New Dorp Lane was the home of Gustave Mayer, inventor of the Nabisco sugar wafer, and was built in 1885. In recent years it has been gradually restored by its owners.
I wanted to get a different look at the place so I climbed Odin Street to St. Stephens Place and checked it from the back. Since the mansion looks down on a slope toward the water, views of Raritan Bay are likely from the cupola.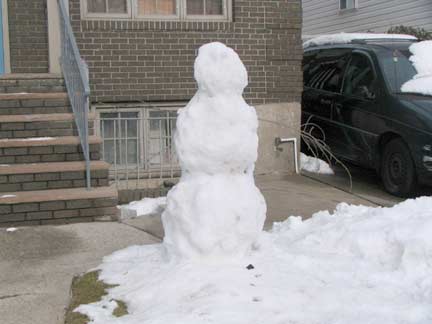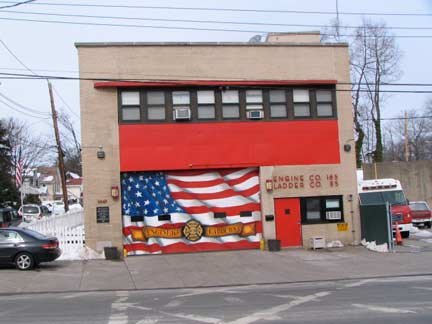 A somewhat devolved snowman faces Engine 165/Ladder 85, built in 1959 at 3067 Richmond Road near Summit Avenue.
After Amboy Road separates from Richmond Road, stealing its house numbers (Richmond Road's street numbers resume at #3000) it enters the community of Egbertville, named for a local farming family. In the early 1800s, it was home to a large number of Irish immigrants and was called Tipperary Corners, New Dublin and Young Ireland. During the 1930s many Italian immigrants moved in (there are local streets named Luigi Place and DiMarco Place).
Richmond Road and Summit Avenue. Note the detailing on the porch and roofline.
Have local canines no sense of respect for the intricate creations of area homeowners?
Richmond Road takes an unusual curve to accept traffic from Rockland Avenue, and a short street called Morley Avenue fills in for it, as it were, taking Richmond Road's path if it hadn't curved. I found this downcast snowman there.
At the Rockland-Richmond intersection, I found this rather drab office building that would fit in Soviet Russia (Putin is doing his best to bring it back). Then I noticed the glass blocks at the front entrance that go almost up to the roof. I like glass blocks.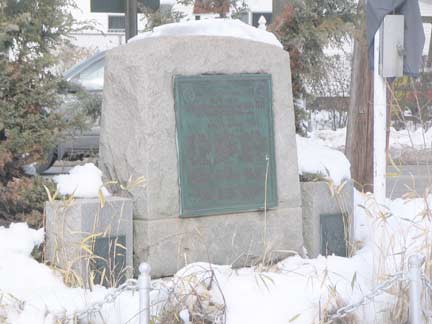 The Egbertville World War I memorial can be found here, as well.
There's a lot of pizza in Staten Island, and a lot of crapitecture as well. Richmond Road north of Morley.
This sign is ever so slightly misleading — while Staten Island is known as Richmond County and was formerly known as the Borough of Richmond (it is now simply the Borough of Staten Island) we are now entering what has been historically called the town of Richmond, established as the county seat due to its central location in the early 1700s. (The seat was later moved to St. George, the area closest to Manhattan). The neighborhood west of Egbertville, south of Lighthouse Hill, and northeast of Oceanview Cemetery is suburban and even rural in spots, as Richmond Creek trickles through. The west end of town is dominated by Historic Richmond Town, where colonial-era and historic houses from all over the island were moved several decades ago.
Look at any overhead satellite view or map of this area of Staten Island and you will see a narrow swath of green running south from Latourette Park south to Great Kills Park. Officially known as the Amundsen Trail (after the first man to reach the South Pole) it is preserved as a wilderness area. The trail is a remnant of a Robert Moses plan to extend the Willowbrook Parkway to the south shore of Staten Island, and construction actually started in the 1960s, with acres of land demapped and bulldozed to make way for it. However, environmental and fiscal concerns scrapped the project in the early 1970s, though the Willowbrook Parkway extension south of the Staten Island Expressway was still on the drawing boards until the late 1990s, according to NYCRoads.com, which recommends building it as a limited access parkway similar to the Mosholu Parkway in the Bronx.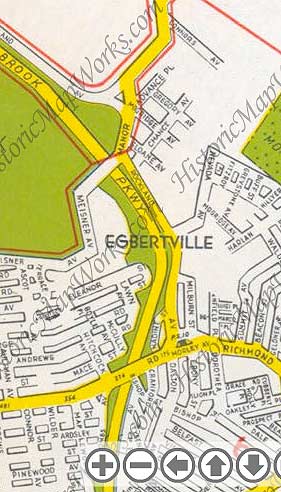 1949 Hagstrom map showing Willowbrook Parkway extension. They didn't say "proposed" — Robert Moses usually got his way. This time, he didn't, though work did begin on the extension.
WAYFARING MAP: GRANT CITY, EGBERTVILLE, RICHMOND and NEW DORP
A little Forgotten NY geekery. You come here for any other reason?
I was slipping and sliding down Riedel Avenue on the edge of the Amundsen Wilderness Trail when I came on this tiny bit of road, tucked between Riedel and Tysens Lane, marked Ardsley Street. On all existing maps, Ardsley is on the other side of the Trail, running in pieces between Maplewood Avenue and dead end past Moore Street, but, here is a small piece that's not on the map. Evidence that streets on the other side of the Trail once extended through, before they were eliminated to make way for the now-aborted Willowbrook parkway extension.
This street is called East Broadway, even though in Staten Island, Broadway is in West New Brighton, several miles to the northeast!
Monsignor Joseph Farrell High School, opened in 1962 at Amboy Road and Tysens Lane, is cited in the AIA Guide to New York as "California Modern." This picture doesn't do it justice — the place is humungous. Staten Island has a lot of unisex Catholic Schools, and Farell continues to be an all boys' school. Farrell is known for athletic excellence and has produced dominant football, baseball, basketball and track teams.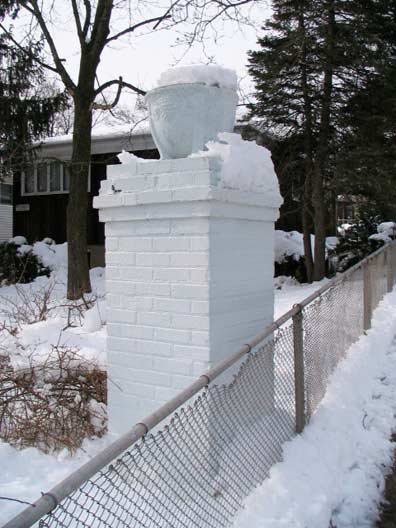 Gatepost, Mobile Avenue and Amboy Road. The presence of gateposts sometimes — but not always — marks a private development. The street is public these days.
It looks like a hunting lodge at Arc Place and Amboy Road but it's actially Edmund Kells-Richard Grennie American Legion Post 316.
The American Legion is a congressionally charteredmutual-aid veterans organization of the United States armed forces founded to benefit those veterans who served during a wartime period as defined by the United States Congress. The American Legion was founded in 1919 by veterans returning from Europe after World War I, and was later chartered under Title 36 of the United States Code. The organization is headquartered in Indianapolis, Indiana and also has offices in Washington D.C. The group has nearly 3 million members in over 14,000 Posts worldwide. wikipedia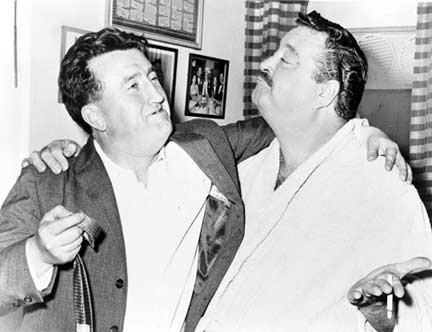 A couple of streets here in Richmond may show the influence of Irish immigrants: Belfast Avenue, above, and Behan Court. Brendan Behan (1923-1964; shown here with Jackie Gleason) was a poet, writer, novelist, playwright, and Irish Republican Army supporter. Behan was not from Belfast but from Dublin, however. He spent time in Hollesley Bay Borstal, Suffolk, England (a youth detention center), inspiring his 1958 autobiography, Borstal Boy. He was fluent in Irish and composed several plays in that language. Unfortunately his alcoholism claimed his life at the young age of 41.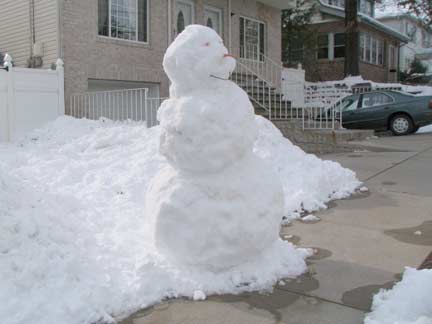 This brick house at Bishop Avenue and Amboy Road has been aluminum-sided but still has several older elements like stained glass windows and old-fashioned window awning shades. Right: a respectable Bishop Avenue snowman.
I was impressed most by the icicles on this Dale Avenue house.
A house on a hill, Dale Avenue and Dorothea Place. You can get your daily quota of exercise going up those steps.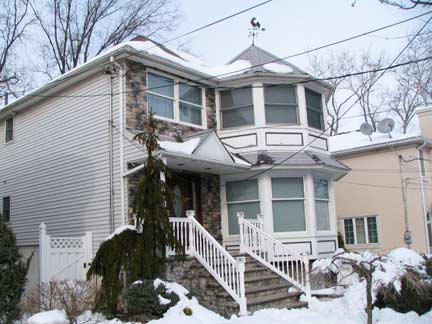 I liked that octagonal addition on the side of this Oakley Place house.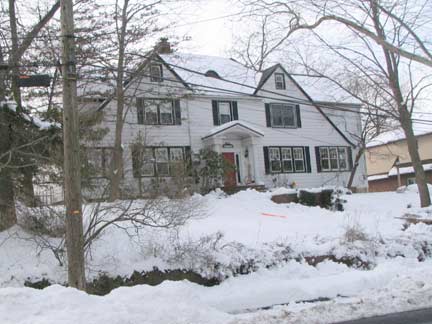 Symmetry on Cubberly Place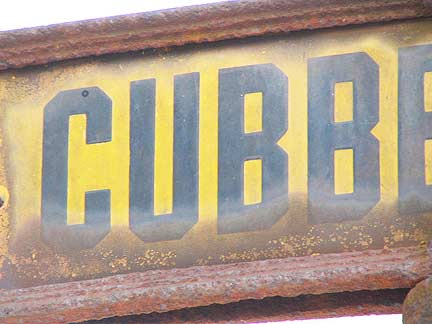 1940s street sign, Cubberly and Oakley Place. As far as I know (there may be another one lurking somewhere, but the only other one I know about is in Historic Richmond Town) this is one of two survivors of standard Staten Island street signage for the few decades before 1964, when the now- standard vinyl and metal signs began to be installed. These could appear in pairs, with the cross street, or single, like this one. All were gold signs with black block letters. Originally, when the Staten Island vinyl signs appeared in 1964 they matched these colors. In the early 1980s Federal standards forced a change to green and white. The Department of Transportation, that great enforcer of conformity, cannot remove this sign because the post is on the yard of the corner house!
There is a nearby street called Coverly, and apparently Cubberly and Coverly are derivatives of the same name.
A microcephalic snowman on Cubberly,
and a better-developed one on Oakley. Snowmen all develop from single impregnated flakes, and some come out better than others.
As I doubled back toward New Dorp again (see linked map above) I found several premier homes on Amboy Road at Ross Avenue and 1st Street — I liked the stippling and stuccoed exterior– and Prospect Place. A big old rambling house with an Ionic columned porch. I wish they had not redone it with that cheap railing though.
A postcard view of Rose Avenue around 1900 when it was still unpaved. It's a good bet that the building shown on the card is still there.
Here are two others, at Rose Avenue and 1st Street. Note the many varieties of windows. The architect probably designed it that way just for the heck of it.
The junction of Richmond and Amboy Roads, around 1900…
and today. Both can be counted as among the oldest in Staten Island and may have originally been Indian trails.
Francesca's Steak House, Richmond Road and Odin Street. The shape and size of this building make me think it may have been a roadhouse or hotel when Richmond Road hosted horses, wagons and carts.
I made my way southeast in New Dorp and was struck by this Victorian at 245 Rose Avenue and 10th Street. This was so nice, I shot it twice. It is cited in the AIA Guide to New York:
A robust Victorian house that controls a suburban residential corner without crushing it to death. The house sports an octagonal corner cupola with an ogival roof, imbricated shingles and a stick style railing on a balcony tucked beneath the jerkinhead roof.
For you non-architects, an ogive is a roundly tapered end on a 2- or 3-dimensional object, or an ogee curve, a round pointed end on top of a box or rectangle. Imbricated is overlapping in a set pattern.Jerkinhead is a blunted or cut-off gable, which is seen on the left side here. On the right, see the difference in the gable on the 10th Street side? Architects had such fun then.
New Dorp Baptist Church and Christian Academy, also Rose Avenue and 10th Street. The cornerstone indicates it was constructed in 1928.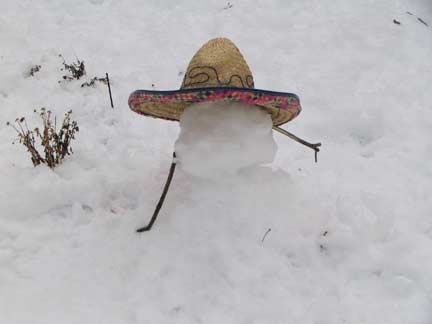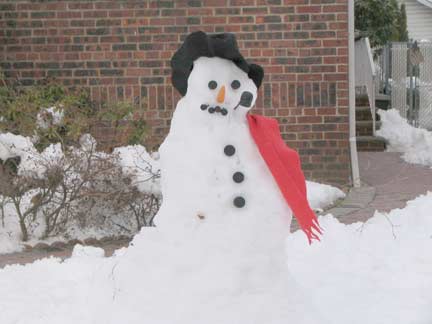 La Cucaracha snowman and a well-maintained specimen, Rose Avenue between 10th and Clawson Streets.
New Dorp Lane, in a more rural era. "New Dorp" is an English transliteration of a Dutch phrase meaning "new town." It was named in contrast to "oude dorp" or Old Town, a couple of miles to the north. In English the old term thorp means town. New Dorp lane is quite different these days, as it is the traffic-choked business center of town.
A pair of contrasting bank buildings face off across New Dorp Lane at 10th Street.
The Art-Deco themed Lane Theatre, 168 New Dorp Lane near 10th Street, was developed by the Moses brothers, Charles, Elias and Lewis and opened in 1937 and designed by renowned architect John Eberson; the first feature was "100 Men and a Girl" starring teen singing sensation Deanna Durbin. The Lane featured a modest 600 seats in its heyday, later reduced to 550. Until 2001, it had been recast as a nightclub that has now closed, though the distinctive red and blue "Lane" façade is still visible. In the Lane's last gasp of notoriety, one Marshall Mathers III, a.k.a. Eminem, played here in the spring of 1999. Its Art Moderne foyer and corridors, landmarked in 1988, remain intact.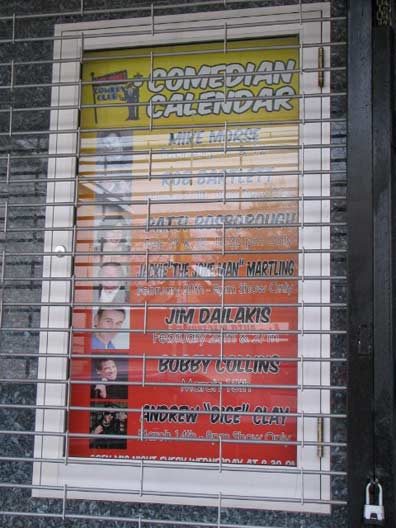 After several moribund years the Lane reopened as Uncle Vinnie's Comedy Club in 2009 and has been attracting well-known talent such as David Brenner, Andrew "Dice" clay and Rob Bartlett from the Don Imus radio show.
photography February 2010; page completed May 31, 2010
Your webmaster Kevin Walsh: erpietri@earthlink.net
©2010 FNY