Much of the southern Bronx was owned in the colonial era by the Morris family. Richard Morris, originally from Wales, purchased a large estate called Broncksland from a Samuel Edsall in 1670; his grandson, Lewis Morris (1726-1798), served in the Continental Congress from 1775-1777, and in the NY state legislature between 1777 and 1790, and signed the Declaration of Independence in 1776. Gouverneur Morris (1752-1816) half-brother of Lewis Morris, was a political leader, diplomat, U.S. Senator, and American ambassador to France. Later descendant Robert Hunter Morris was mayor of NYC from 1841-1844. His son, Gouverneur Morris II, sold much of the estate to industrialist Jordan Mott in 1849, while a portion of Morrisania remained in the family until the passing of heir William H. Morris. References to the Morris family — and Jordan Mott– are all over the southern Bronx map. On a snowy afternoon in December 2010, I visited Morrisania (the Morrises' name for their old estate), whose indistinct boundaries are about the Grand Concourse, East 161st Street, East 169th, and Intervale Avenue, for a look-see.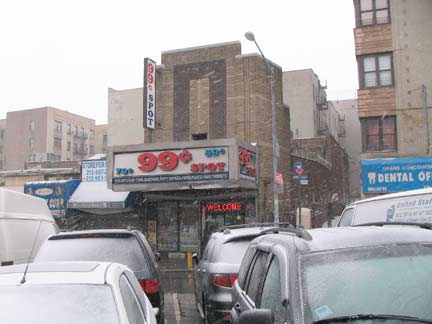 I took the IND train up the Grand Concourse to the East 167th Street station, where I got off and found the old Kent Theatre, on 167th east of the Conk. It was constructed in the mid-1930s, architect Eugene DeRosa, and reflects a more subdued esthetic that was coming into fashion in theatre design at that time. (Compare for example the Loew's Paradise on the Grand Concourse and East 188th.) RIGHT: botanica, East 167th and Grant Avenue.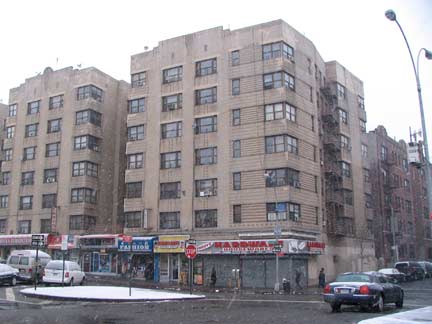 I've nicknamed the Bronx the Borough of Apartment Buildings and a good deal of the housing stock along East 167th and the Concourse dates from the 1930s Moderne period. I especially like the wrap windows on the corners that afford two vistas. At left, Sheridan Avenue and right, Grant Avenue; here, north-south avenues are named for Union Civil War generals, with Sheridan joining the other two.
The Map of Morrisania
The map of Morrisania was vastly different in 1887 than it is in 2011. Before the current complement of streets was laid out along a rough grid pattern, the Willam H. Morris holdings were dominated by the New York Driving Club, basically a horse track. Equestrian culture in Morrisania went back to the 1750s, when the level land was used by General Staats Long Morris as a race course. William Morris rented space to a Dater Brothers in 1871, who built a race track that lasted briefly. The NY Driving Club opened here the following year, and its trotting track, Fleetwood Park, boasted an exclusive membership that included William K. Vanderbilt, William Rockefeller, and Leonard Jerome, whose own track in Kingsbridge was home to the Belmont Stakes. The Drving Park and Fleetwood Park closed in 1898, and development soon erased any trace of any former equestrian use.
Note that East 167th takes an unusual jog to the southeast, and then resumes an eastern route, on today's map. In the 1887 map, the street was developed in sections, with one stretch rather northwest of the other. When the Driving Park was redeveloped, the two sections were connected with this curving section. When first laid out, East 167th, like the Bronx's other numbered streets which correspond to the ones on Manhattan Island, originally had names — much like in Queens, whose numbered streets also carried names. East 167th, for example, was called Overlook Avenue between Jerome Avenue and the Concourse, then Mott Avenue; James Street from the Concourse to Morris Avenue; and 5th Street from Morris Avenue to Mill Brook (now Brook Avenue). John McNamara, History In Asphalt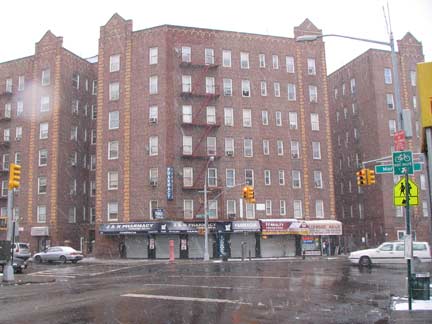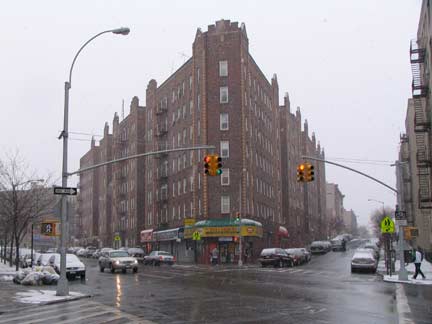 At Morris Avenue, a group of 7-story apartment buildings marks East 167th Street's unusual southeast turn. The odd angle at College Avenue creates a roughly triangular space at the edge of this group of apartments. I'd like to live in the corner, must have a great view! Again from McNamara, we learn that the avenue is named for the long-vanished school at the Convent of the Sacred Heart, which stood from the 1860s-1890s.
Jordan L. Mott Junior (Intermediate) High School, the south side of East 167th at College Avenue, is named for the founder of the Mott Iron Works (the words can still be seen emblazoned on metal vents, shafts, etc. in the older parts of town) and the community that grew up along its plant on the Harlem River, Mott Haven.
The imposing building on a hill at East 167th Street and Findlay Avenue is the Daughters of Jacob Geriatric Center, mostly built in 1920. Its 8 wings in a spoke arrangement are impressive seen from the air. The DOJ rates an enamel sign at the IRT el station at River Avenue and 167th, which was undergoing rehab in 2004 when Jeremiah Cox at Trains Are Fun obtained this picture of it.
Biblical patriarch Jacob had one daughter, Dinah, who had twelve brothers, among them Joseph.
Stylish pre-war apartment building, Findlay Avenue and East 166th. A block away, we enter one of the two Historic Districts in Morrisania, Clay Avenue between East 165th and 166th (and parts of 165th and 166th) designated in 1994. The avenue does not honor longtime 19th Century Kentucky Senator Henry Clay, the "Great Compromiser," as some suspect, but for the clay that was found when a swamp was drained in the area while the area was being developed.
Clay Avenue
The Clay Avenue Historic District, consisting of the two blockfronts of Clay Avenue between East 165th and East 166th Streets, comprises one of the most unified and harmonious streetscapes in the Bronx. The district contains thirty-two residential buildings – twenty-eight semi-detached two-family houses, all designed by architect Warren C. Dickerson; one single-family house, designed byarchitect Charles S. Clark; and three apartment buildings, designed by the firm of Neville & Bagge. With the exception of the single-family house, all of these buildings were erected by real estate
developer Ernest Wenigmann. Wenigmann's two-family houses were erected in 1901 and his apartment buildings in 1909 and 1910.
The twenty-eight semi-detached houses are relatively early examples of two-family houses in New York City and display a popular variant of the two-family house plan with only a single entrance door from the street; individual apartment doors are located inside the entrance vestibule. The buildings were designed in a transitional style, with both the Romanesque Revival forms popular in the 1890s and the neo-Renaissance motifs that were widely used on turn-of-the-century buildings. LPC report
The standalone Francis Keil House, at Clay and East 165th Street, was developed separately from the other houses on the block. The AIA Guide to NYC calls the neo-Renaissance house a "penitent among the flamboyant."
You can find detailed descriptions of all the houses in the district by checking the LPC report linked above.
Pressing east on East 165th, you arrive at Gillespie Square, where Brook, Melrose, and Webster Avenues all meet at the underground Metro North crossing. Mill Brook, now contained in an underground conduit, once meandered through here; Brook Avenue, which twists and turns on a general north-south heading, is named for it and borders the railroad on the west side from Gillespie Square in two pieces up as far as Claremont Parkway, after which Park Avenue resumes stewardship of the west side of the railroad. Eugene F. Gillespie was one of several US sailors who attempted to escape the USN Ticonderoga in September 1918 after it was torpedoed by German U-Boats, and he was subsequently machine gunned to death.
Lengthy Webster Avenue here begins a long march north to the Bronx-Yonkers line. It becomes Bronx River Road when it attains Westchester County. Just north of the square is the old Sheffield Farms milk bottling plant. As shown on FNY's dairies page, Sheffield Farms plants can also be seen in Bedford-Stuyvesant and Manhattanville, though the latter is now on the chopping block for a planned Columbia University expansion. Sheffield Farms was acquired by Kraft in 1925.
Weiher Court is a narrow alley just south of East 165th between Washington and Third Avenues. Though a Bromley 1911 atlas shows a number of small brick residences on each side, only two of them remain today. I'm not sure whether the name is pronounced "weigher" or "wire." According to John McNamara the street, and its original homes, was built in 1908 and remembers contractor William Weiher. The Bronx is well along in replacing its street signs with upper and lower case, obeying a recent federal mandate. However, the numbered signs are also being replaced — in what amounts to a colossal waste of money.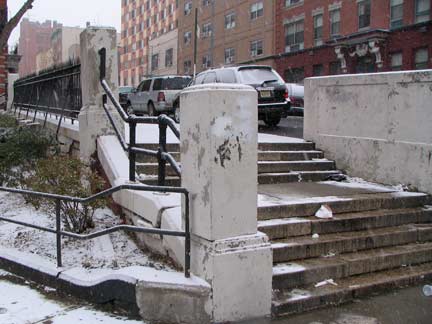 North along Third Avenue, Franklin Avenue branches northeast at a steep hill requiring steps for the sidewalk. Third (in the Bronx, almost never spelled "3rd" on street signage) Avenue is the only one of Manhattan's numbered north-south avenues to penetrate into the Bronx, and it didn't do so originally. When the Third Avenue El was extended into the Bronx in the mid-1880s, it followed a series of streets, among them Carr Street, Morse Avenue, Fordham Avenue and Kingsbridge Road until all were united under the Third Avenue name in 1891. The el lasted into the modern era, with the last piece in service until 1973.
This building on Third opposite Franklin was built in 1883 and dates to when the street was called Fordham Avenue and survived throughout the entire elevated train era, before and after. This section of Third Avenue was once home to a stretch of numerous cigar factories where the cheroots were hand-rolled, as tobacco grown in Connecticut was shipped to a freight yard at Brook Avenue and East 164th. Around 1900, mechanization came in and those jobs and factories vanished.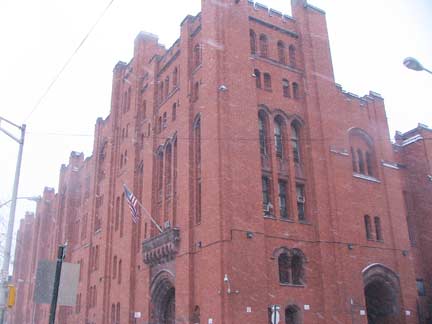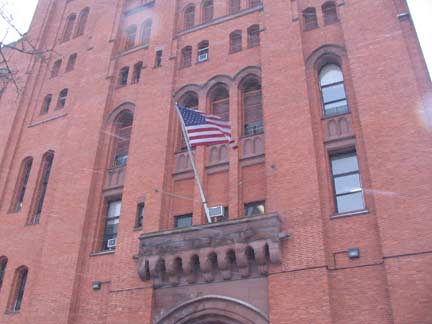 The huge Collegiate Gothic Second Battery Armory (later 105th Artillery Armory) at Franklin and East 166th was built between 1906-1911 by architect Charles C. Haight, with a later 1926 addition. In 2011 it is a community center and homeless shelter. The Second Battery artillery unit, founded in 1833, was associated with the 8th Regiment and served in the Civil War, as well as put down riots around town including the 1863 NYC Draft Riots. The building was occupied by he National Guard for several decades until 1988. Nancy L. Todd, New York's Historic Armories, State University of New York University Press, 2006
St. Augustine's Church, seen from a pedestrian staircase on Franklin Avenue, Fulton Avenue, and East 166th Street. The massive Renaissance-Baroque church dates to 1894, designed by architect Louis C. Giele. As of late 2010 both the church and its parochial school were in jeopardy of being razed.
Parishioners at a Bronx Catholic church could lose their school – and possibly their place of worship.
St. Augustine School in Morrisania is one of six Bronx parochial schools facing closure by the New York Archdiocese because of dwindling enrollment and mounting deficits.
But parishioners at St. Augustine Church have had to worship in the school's auditorium since the summer of 2009, when their leaky, 115-year-old house of worship on Franklin Ave. at E. 167th St. was deemed unsafe.
"The school closing would be a shame," said Sister Dorothy Hall, a nun who runs its popular food pantry. "It makes me feel really sad." The parish could still use the auditorium if the school closed, an archdiocese spokeswoman said.
But school board member Michael Brady said the parish would struggle to pay for the building's upkeep without revenue from the school.
The parish is seeking a developer to raze the church, build affordable housing, and construct a smaller church for St. Augustine next door, said its pastor, the Rev. Thomas Fenlon. New York Daily News
Morris High School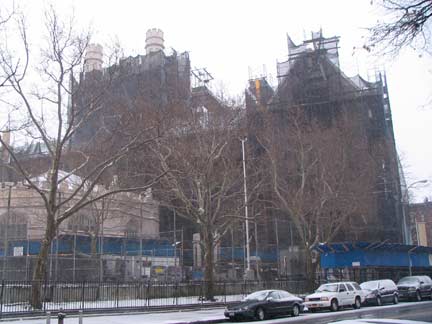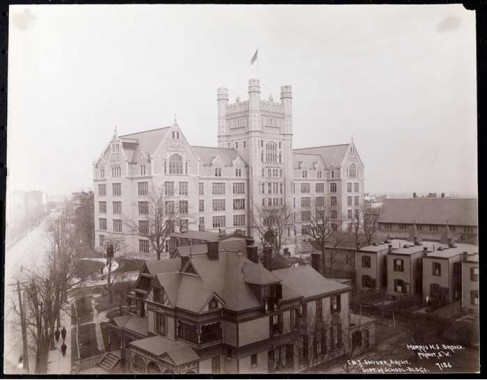 Wouldn't you know it, the day I come round to Morrisania's centerpiece, (Gouverneur) Morris High School at Boston Road and East 166th, is the time the school is completely enshrouded in rehabilitation netting. The 1904 Gothic school is one of school architect C.B. J. Snyder's largest in the city. It's also the central piece in Morristown's second Landmarked District.
Fortunately, there's more than one way to skin a cat and I was able to obtain some unobstructed photos of the high school from the brand-new online archives at the Museum of the City of New York.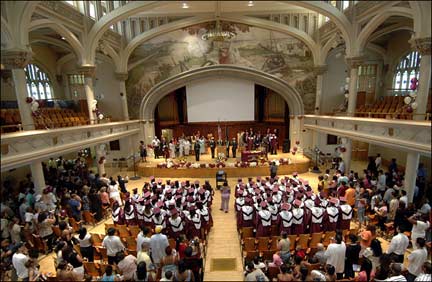 In 1898 the Consolidated School System of Greater New York was established. For the first time in the history of the city, the five boroughs were united in the planning of an educational system. One result of this planning was the construction in each of the five boroughs of a spectacular Collegiate Gothic school building. The use of this unified architectural style acted as a vehicle for the new Consolidated system to unite its educational agenda. These grand neo Gothic edifices were: in Manhattan, DeWitt Clinton High School; in Queens, Flushing High School; in Brooklyn, Erasmus Hall High School; in Staten Island, Curtis High School; and in the Bronx, Morris High School.
C.B.J. Snyder, who became the first Superintendent of School Buildings for the new Consolidated School System of Greater New York in 1898, introduced the neo-Gothic style to New York City public school design and is best known for these successfully designed neo-Gothic high school buildings.
Built of buff colored brick with limestone and terra-cotta trim, the high school is an elaborate and lavishly decorated design. A modified 'H'-or 'E'-shaped plan includes the long rectangular central block from which the great central tower rises, projecting end pavilions and the elaborate apsidal auditorium which extends from the center rear of the central block. The building sits on a high raised basement and rises five stories to include an attic floor level.
The great central tower, which can be seen from great distances, rises to a height of approximately 189 feet. Octagonal corners rise to form elaborate turrets and are pierced by lancet windows. The school's main entrance, a two-story Tudor arch opening with tracery windows and clustered-pier door surround is set at the base of the tower. From the LPC Designation Report
Notable alumni of Morris High have included US General and Secretary of State Colin Powell, comedian Milton Berle, industrialist Armand Hammer and TV commentator/reporter Gabe Pressman. Beginning in 2002, Morris High closed, the massive building was renamed the Morris Campus and now is home to five small specialty high schools.
Cauldwell and Boston
If you travel northeast on Boston Road, which begins at Third Avenue and East 163rd, it eventually becomes US Route 1 and you will, indeed, end up in Boston if you continue that far. The entire route between the Bronx and Boston, from pre-colonial times to the present, was recently the subject of Eric Jaffe's excellent new book The King's Best Highway.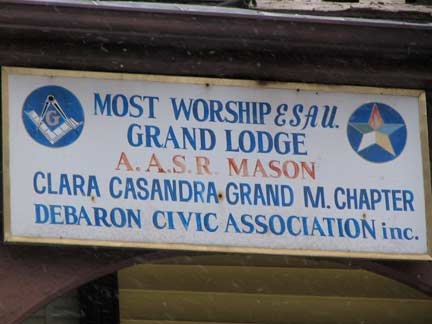 At Cauldwell Avenue and Boston Road, which meet at an angle home to yet another intriguingly-shaped apartment house, you will find two anomalies, the frame houses 1074 and 1076 Cauldwell. After years of neglect, they have recently gotten new siding. They are throwbacks to an earlier period when more of these style buildings could be found in Morrisania. They were constructed between 1887 and 1892.
The Trinity Episcopal Church of Morrisania, at East 166th and Trinity Avenue, is one of the oldest buildings in the south Bronx, having been built in 1874.
The red brick church sits on an elevated site facing East 166th Street, adding greatly to the strong visual and architectural quality of the street established by the Morris High School. The High Victorian Gothic design is composed of a high central nave section with steeply pitched roof flanked by low side aisles. Small, narrow pointed arch windows with fine stained glass light the aisles and a clerestory levelon three sides. The gabled entrance porch repeats the steep verticality of the nave and contains paneled double doors set in a pointed-arch opening. From the LPC Designation Report
Looking south on Trinity Avenue — this group of attached homes wih peaked cupolas must have been more impressive before the 'tin men' (siding salesmen) arrived.
The Morris High School Landmarked District includes the attached homes on both sides of Jackson Avenue between East 166th and Home Streets, as well as homes on the west side of Forest Avenue. If they look like the buildings we have seen earlier on Clay Avenue, the buildings do share an architect, Warren C. Dickerson, who shared honors here with John H. Lavelle, Harry Howell and Hugo Auden. Dickerson also designed extensively in Mott Haven and Longwood. All buildings date to between 1900 and 1905; full descriptions can be found at the above linked LPC Designation Report.
Forest Avenue as seen from Home Street, where a couple of the landmarked houses have not fared quite as well.
From 1900 to 1973, the Lewis Davidson Houses, seen from Home Street and Prospect Avenue, were designed by Modernist architect Paul Rudolph. Home Street is so named because it once led to the estate of William W. Fox, who had extensive holdings in Morrisania and Longwood in the early 1800s; Fox Street is also named for him.
The AME Mother Walls Zion Church, Intervale Avenue and Home Street, features variegated brickwork, a peaked turret, and dormer windows on both sides. It was constructed as the Free Magyar (Hungarian) Reformed Church in 1909.
Like Brook Avenue, Intervale Avenue makes twists and turns as it describes a rough north-south route. As with Brook Avenue, its twist-iness marksa former stream (Sacrahung or Bound Brook) that is now buried in an underground conduit. The brook cut through a vallley, or vale, hence…Intervale.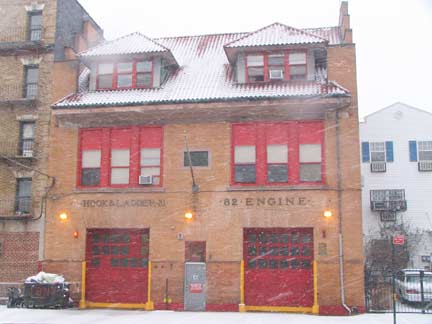 Directly across Intervale Avenue from the church is the picturesque FDNY Hook & Ladder 31/Engine Co. 82. Known as La Casa Grande (the Big House) it featured prominently in firefighter Dennis Smith's 1972 documentary book Report From Engine Co. 82, a report from the South Bronx when it was indeed "Fort Apache."
Almost time to kick it in the head for another day, but before that I thought I would show you some images captured from previous visits that I haven't had room for on earlier pages. A little north of Morrisania is Crotona Park, which was laid out in 1883 on lands formerly belonging to the Bathgate estate. "Crotona" was a name made up by the then-Parks Commission and ostensibly honored Croton, a Greek colony in Italy famed for sending athletes to the Olympic Games. Within the park is a remnant of Indian Lake, from which the Sacrahung, or Bound, Brook flowed south to the East River. The park house, along with other modern amenities, was built in 1930s by the Works Progress Administration as part of Robert Moses' efforts to update all of NYC's major parks.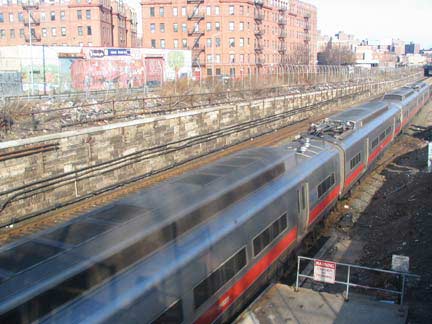 While the MTA Metro-North, which serves communities in Westchester County, devotes lavish attention on some of its stations in the northern NYC suburbs, its NYC stations are pretty much afterthoughts such as the Melrose station at East 162nd and Courtlandt Avenue, as it gets only a few daily stops.
PS 98/Hermann Ridder Junior High, at Boston Road and East 173rd off Crotona Park, makes quite the impression as you pass it by on the Southern Boulevard el two blocks away. It comes from the same architectural philosophy as Morris High School: build an impressive edifice for learning, and children might be more inclined ot learn, teachers to teach, and everyone to be productive citizens. We seem to have eroded that philosophy along the way. The school was constructed 1929-1931 in the Moderne style then so prevalent.
FNYer Sergey Kadinsky: you should note that PS 98/Hermann Ridder Junior High was named after the co-founder of the Knight Ridder media company that lasted until 2006.
Well, with the snow getting heavier — this would eventually become one of NYC's worst blizzards — it was time to get on the train back to Penn Station and then another train to FNY headquarters in Little Neck. To do this I boarded the IRT el Freeman Street station at Southern Boulevard. As with many el stations, new stained glass art has been installed, this by Daniel Hauben featuring Bronx scenes, simply called The El.
Photographed December 26, 2010; page completed 1/2/11
Your webmaster Kevin Walsh: erpietri@earthlink.net
©2011 FNY