Unlike other boroughs, trends or leanings cannot be ascribed to Queens' numbered streets. Unlike, say, Manhattan's 57th Street, which is a self-contained unit on which you will find icons such as Carnegie Hall, the Art Students League Building, Rodin Studios, and for many years the Russian Tea Room, 57th Street in Queens, like its brother numbered streets, is a forced amalgamation of many other streets in several different towns, artificially collected under the 57th Street banner by the Philadelphia System of street numbering conceived in the 1910s and gradually put in place in the 1920s.
In April 2011 I was on a scouting mission for a future FNY page or tour with the proprietor of the Newtown Pentacle, when he crossed the Metropolitan Avenue Bridge, a high-curbed roadway crossing the English Kills (which is not named for a Revolutionary battlefield; kills is derived for a Dutch word for a body of water). After he made it to the other side without incident, I moved to follow. This was the real-life equivalent of Bugs Bunny entering an opening in the side of a tree with Elmer Fudd following, only to crash into the tree. Rushing to evade oncoming traffic and becoming webmaster salad, I hustled, tripped on the foot-high curb and bashed my head into a guardrail. After the blood stopped flowing and later started reflowing, I went to Elmhurst Hospital, spent 5 hours waiting next to a crazy lady who had overdosed on meds, and a very pleasant doctor or med student placed two staples in my head, which are still there as I type this.
Just before those escapades, I wandered with the Pentacle-master onto a street that represents the real Queens, physically approximate to and yet, in a practical sense, miles away from the entertainment districts of the leisured classes in the New Williamsburg, Greenpoint and Long Island City. A pre-apocalyptic reminder of the fate that someday awaits our civilization.
A dead-end section of 57th Street stretching north from Grand Avenue just west of the Long Island Rail Road trestle in the extreme western edge of Maspeth, near that nexus of noxiousness called Newtown Creek. It is a mix of industrial buildings and warehouses trailing off to an inconclusive ending. Left: looking north; right: looking south.
Bromley atlas, 1909. 
57th Street in this part of Maspeth was once known as Flushing Avenue and issued north from Flushing Avenue (the other Flushing Avenue, the old Brooklyn-Newtown Turnpike that angled in from Brooklyn) and ran north, crossing the railroad when it was at grade. Yes, there was once a corner of Flushing Avenue and Flushing Avenue, a situation that helped lead to the institution of the Queens street numbering system. (Neither Flushing Avenue actually approached Flushing.)
On the modern map, 57th Street north of Grand doesn't even show up. But it's there — this page is evidence!
Bricks
Exposed Belgian block bricks in Queens streets is a relative rarity. In truth, they're murder on axles and shock absorbers, and bicycle riders get jolts from them. Yet, they've been cultivated in old-timey parts of town such as DUMBO and Greenwich Village, which have even installed new brick surfaces. Here on 57th Street, though, the macadam has simply worn through, re-exposing the old bricks. The street may well have been demapped, which is why Google doesn't recognize it and the city doesn't pave it.
Trucks
If you look closely at the 1909 map excerpt you will see three small yellow boxes on the east side of Flushing Avenue (57th Street). These indicate wood houses. As it happens, one of them remains, overlaid with layers of siding. In the yard and the street are parked a number of flatbed trucks and machinery.
Tracks
57th Street now ends abruptly at the LIRR tracks, in the early 20th Century, when the tracks were at grade, it crossed them as Flushing Avenue. These tracks are part of what is known as the "LIRR Montauk branch" though only a couple of passenger trains that use these tracks actually travel as far as Montauk, the easternmost station on the South Fork. These non-electrified tracks are mostly used for freight, but see 3 or 4 passenger trains a day. The white house directly ahead was once home to family members of James Maurice, a 19th Century US Congressman from the area who donated funds to found St. Saviour's Church, designed by prolific ecclesiastic architect Richard Upjohn, which stood here from 1847-2007. After its land was sold by the Korean congregation that latterly owned it to a developer, the church was demolished and awaits reassembly. In the 1965 photo lower right, a freight rolls past the church and the Maurice residence.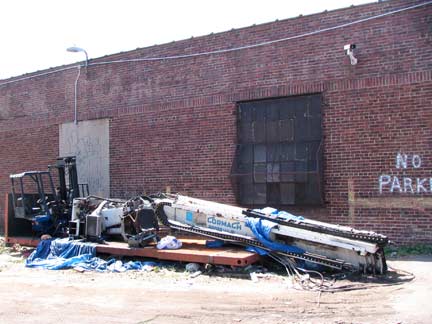 Trash
Is 57th Street a future view of the postapocalyptic Queens? Our trash, I fear, will long survive us on planet Earth. This is the real New York, a place where blood and sweat are shed, gears grind, and the scrabbly work that enables us to sit home and drink hot chocolate is accomplished.
Salads
In a remote age, future urban archeologists will have to guess what the massive brick building with Art Deco touches and a terra cotta "1925," the date of construction, was originally purposed for. On 57th south of Grand Avenue, a sign points to salads no longer available at a garage enclosing a vintage Caddy, next to an aluminized, porched house. Tales of Queens' industrial past, when thousands of workmen were employed in the vicinity, are told within.
4/18/11