The streets of New York City used to be paved with bricks. The term 'cobblestones' refers to uneven stones of varying shapes and sizes. This style of paving went out of style nearly a century and a half ago, to be replaced by even stones with a smoother finish known as "Belgian blocks." They were paved over decades ago, but there are still pockets in New York where they can still be seen.
At one time, all New York City streets looked like the one above…at Ninth Avenue and Little West 12th Street…if they were paved at all, that is. People nowadays call these "cobblestones" but actually, the proper term for them is Belgian blocks. There are still dozens of New York City streets paved this way, although most of them are in out of the way places or industrial areas. But there are some exceptions…see below.
"Follow the yellow brick road" is especially apropos on Stockholm Street between Woodward and Onderdonk in Ridgewood, Queens!
The bricks used to build the brownstone buildings on this street and to pave the street are exactly the same, coming from the former Kreischer Brick Manufacturing Company in Charleston, Staten Island.
One of the 165-ft. twin towers of St. Aloysius Church looms in the background.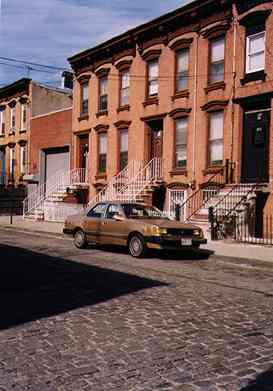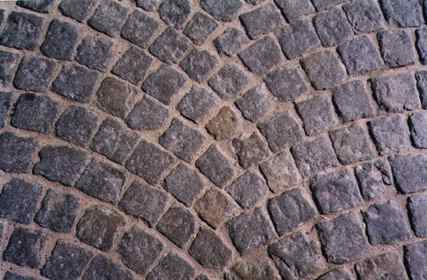 Red Hook, Brooklyn is a surprising area dominated by industry but with a gorgeous view of the Statue Of Liberty as well as the occasional charming block full of brownstone buildings as well as streets that have kept their original Belgian block paving.
Bay Ridge, Brooklyn will occasionally suprise you with a court or alley still resplendent with red-brick paving of the type seen at right on Bennett Court.
89th Avenue, just off Jamaica Avenue in Queens still boasts its beautiful original red-brick pavement.
Dunham Place, in the shadow of the Williamsburg Bridge just off Broadway in Brooklyn, still has its original Belgian block pavement, as well as an unusual curved-mast lamppost.
2007: Dunham Place's bricks have been paved over.
8/23/98