The hidden cemeteries of Staten Island are more valuable today then they ever were, because as Staten Island continues to be swallowed by urban sprawl and green patches are getting harder and harder to find, these cemeteries will forever provide oases of quite contemplation. You begin to see how small we are in the grand scheme of things when you read a gravestone that dates to 300 years before you were born. They've been there 300 years and may be there 300 more.
Unlike the shameful conditions at Sylvan Cemetery in Travis, these plots are maintained with tender loving care.
St. Joseph's Roman Catholic Cemetery is tucked away on Barry Street in Rossville. The West Shore Expressway just missed it when it was built in the1970s.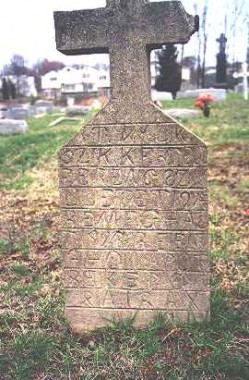 One of the more unusual attractions in St. Joseph's Cemetery are these gravestones etched in a foreign language. This stone is dated 1914 and is inscribed in Hungarian.
Older stones in the Woodrow Methodist churchyard:
(Left): ??? Coddington, int. 1822.
(Right). John Poillon, int. 1802. Poillon is an old Staten Island name that turns up on quite a few gravestones as well as Poillon Avenue in the Hugenot section of Staten Island.
(Left): John Wright, int. 1802
(Right): Isaac Manee, int. 1798. This is the oldest stone I found in the churchyard. Manee is another old Staten Island name, recalled in Manee Avenue in Pleasant Plains. Note the angel head on the top of the stone. In the 1600s and 1700s angels' heads and skulls were often carved on gravestones. The practice was dropped at the beginning of the 19th Century.
Officially designated a NYC landmark, the Woodrow United Methodist Church on Woodrow Road and Deserre Avenue was built in 1842, although the stones in its churchyard are considerably older (see below).
At times, it seems a shame the most beautiful home you'll ever have is the one you'll never be able to enjoy.
4/12/99