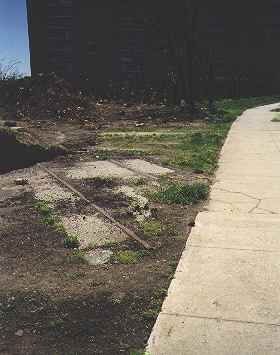 What are those railroad tracks doing running between Shell Road and West 6th Street, in Brighton Beach, Brooklyn, just south of the Belt Parkway? They're actually the last remnants of the #50 trolley line that ran down McDonald Avenue until the mid-1950s.
According to subway historian Joe Korman, these tracks shared service: both the McDonald Avenue trolley line and the South Broklyn Railway, a freight line that ran under the Culver Line from the Brooklyn waterfront near 39th Street to the Coney Island Yard.
The Culver Line (built by Andrew Culver) eventually became part of the LIRR. In the 1920's, as part of the BMT routes of the Dual Contracts construction, the line was elevated and connected to the West End Line at 9th Ave. The Culver line, both on the surface and later the el, connected the old Brooklyn Fifth Avenue El.
The 5th Ave el was demolished in 1940 along with many of the other Brooklyn els. The Culver trains were routed via the 4th Ave subway and the Manhattan Bridge/Nassau Loop to Chambers St. When the IND was connected to the Culver el tracks in 1954, the Culver service from Ditmas Ave continued to operate via the 4th Ave subway. By 1962 or so, the stretch between 9th Avenue and Ditmas Avenue became "orphaned" and turned into a shuttle service. After ridership diminished in the 60s and 70s, the shuttle was discontinued in 1975 and the el torn down in 1985. It was replaced by a free bus transfer to the #35 bus, which parallelled the el shuttle, until 1996, when the MetroCard made bus/subway transfers universal.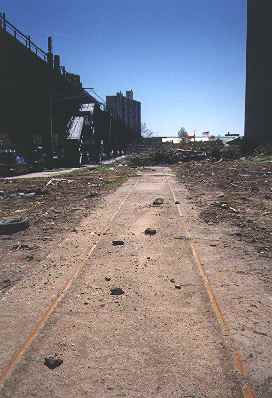 When I was little, back in 1968, I took one of my first extended bike rides to this area. They were in the process of bulldozing the local streets in this area to make room for the Warbasse Houses (to the left of this photo) and the high rise apartment buildings (to the right of the photo). Cutting horizontally across these tracks was a street called Triton Avenue, and it still had a couple of old cast-iron streetlamps along its length.
The tracks you see here continued along Triton Avenue into a private right of way into what is today the Brightwater Towers.
Even today — over 30 years later — the area still has an unfinished quality with rubble and rocks strewn about.
[By 2010 this area was enclosed by a chain link fence, and I heard, in 2012, that the tracks had been removed. Can anyone confirm?]
5/9/1999