On June 1st, 1999, on the very first ForgottenTour, I stumbled across some remains of a long-dead trolley line on a piece of Johnson Avenue that doesn't even show up on city maps anymore.
This piece of Johnson Avenue, complete with trolley tracks, between Union Avenue and Broadway was cut off when the Lindsay Park Houses (in the background) were built.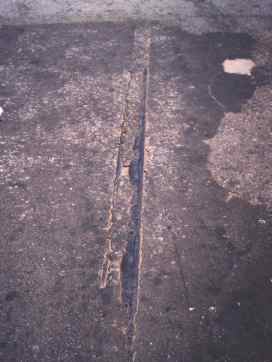 But what trolley line ran here? A look at Geographia's 1938 Little Red Book (I have these things around the house) shows two, as a matter of fact.
In those days, the Bushwick Avenue Line ran from Cypress Hills Cemetery to the Williamsburgh Bridge via Cypresss Avenue, Myrtle Avenue, Bushwick Avenue, Johnson Avenue, and Broadway.
And the Wilson Avenue Line ran from East New York to the Williamsburgh Bridge via Rockaway Avenue, Cooper Street, Wilson Avenue, Morgan Avenue, Johnson Avenue, and Broadway.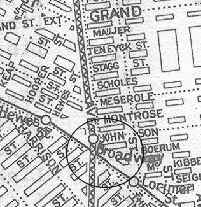 Geographia map from 1938.Dotted lines indicate trolley lines. This map also shows Johnson Avenue intersecting with Broadway, which it doesn't do anymore.
6/17/1999