Everyone has heard of Grauman's Chinese Theatre in Hollywood, where generations of film stars have signed their names and imprinted their hands in wet concrete. It turns out we have our very own mini-version of Grauman's Chinese right here in the East Village!
Theatre 80, at 80 St. Marks Place near First Avenue, used to be the kind of place where they ran movies from the golden era of Hollywood, the 30s to the 50s, and served you coffee in china coffee cups and cake on real porcelain.
Former actor/singer Howard Otway bought the former speakeasy from its former owner, gangster Walter Scheib (discovering two safes with $2M depoisted within, which he wisely gave to Scheib) and decided to turn it into a revival house in 1971. His dream was realized in August of that year when he threw an old-fashioned Hollywood premiere party to celebrate the opening. He invited several old-time Hollywood stars, and had them make their marks on the new sidewalk outside the theatre. By the end of 1971 several stars had visited, and managed to leave mementoes.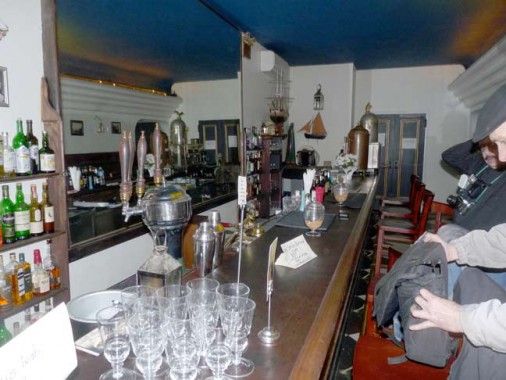 In addition to the theater, patrons can have a drink at the bar, which is left over from the speakeasy days.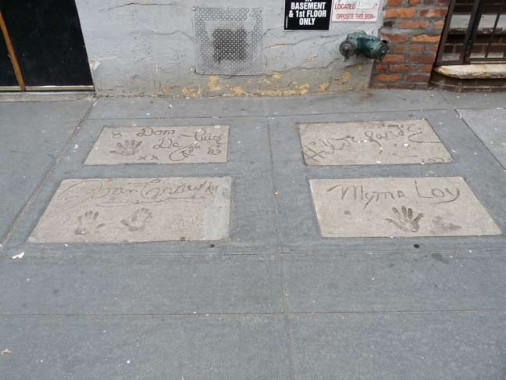 A number of imprinted blocks can be seen outside the theatre. They were jeopardized by a sidewalk replacement sveral years ago, but they were saved.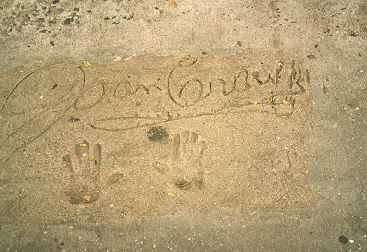 Joan Crawford, who in 1971 was starring in her last picture, Trog (a sci-fi vehicle concerning a caveman) left two handprints.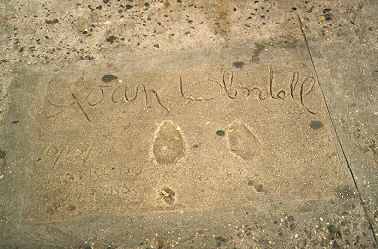 Joan Blondell left two shoe prints.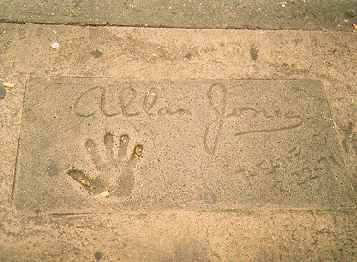 Allan Jones, a Broadway and Hollywood star who had a big hit record in 1938 with "The Donkey Serenade." That same year, Jones had a son named Jack, who went on to have several easy-listening hits in the sixties and sang the Love Boat theme.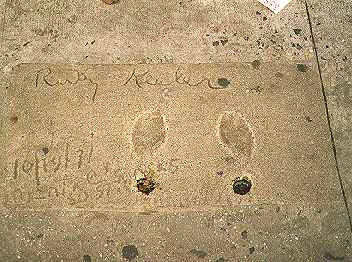 Shoe prints from dancer Ruby Keeler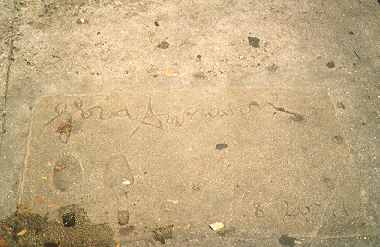 Gloria Swanson, who started in the silents and made a big comeback in Sunset Boulevard in 1950 as a former star trying to make a comeback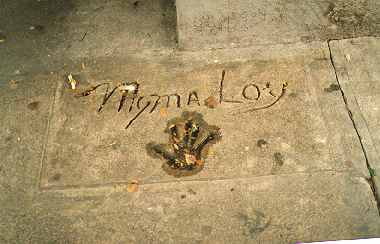 Myrna Loy of the beloved Thin Man series. Many people forget that she made dozens of silents and often appeared as Asian femme fatales!
In the 1980s, a couple of stars also dropped by Theatre 80…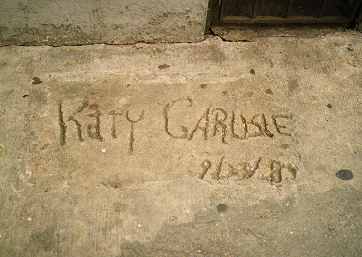 Kitty Carlisle, who starred in the 1935 Marx Brothers movie A Night At The Opera when she was 21, and later appeared in dozens of television game shows.
Finally, Dom DeLuise was at Theatre 80 in 1983.
Upon the death of Howard Otway, the theater was leased out for live theater, and was managed by the Otway family trust. The original mini marquee is still there.
Home of the Pearl Theatre Company for many years, in the Summer of 2009, they announced they would be leaving the building and a new theatrical tennant was being sought. In November 2009, it was announced that the Theatre 80 St. Marks would be reopening as a movie theatre with some live theatre use. Films would be projected digitally. The new operator is Lorcan Otway, the son of the original owner of the theatre, the late Howard Otway. cinematreasures
Lorcan Otway has opened the Museum of the American Gangster on the floor above the theater.
8/29/99; revised 6/13/12