In early November the Forgottoners Tour swung through Staten Island. In St. George, New Brighton, Grymes Hill and Stapleton we saw dozens of beautiful buildings dating back to the 1850s or earlier, climbed hills from which you could see mountains, and saw a few surprises along the way as well.
People who ride the Staten Island Ferry and never get off to walk around St. George, where the ferry docks, are missing a treat. The neighborhood contains dozens of beautiful mansions built between 1880 and 1900, many of which are in excellent condition.
This olive-green house on St Marks is in a style known as Queen Anne Revival.
You wouldn't believe a house like this if we described it to you–you just have to go to St. Marks Place and see it!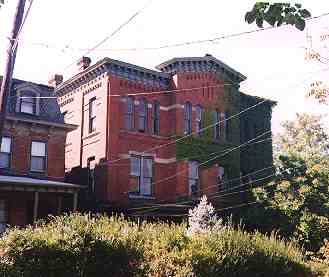 After departing St. Marks Place we walked along Westervelt Avenue, where we saw two handsome brick buildings. The one pictured dates to the late 1850s.
Walking down Richmond Terrace, we noted that the area has its share of eccentrics. One of the houses has an overgrown front yard, with a gigantic, many trunked tree. Ghostly faces peered out at us from the brush facing the street. A closer inspection revealed that the owner had placed dolls, statues and figurines on the fence. A warning to strangers perhaps?
A turn up Franklin Avenue will reward you with a view of one of the most beautiful buildings in Staten Island, the Hamilton Park Cottage, a landmarked building constructed in 1859 by developer Charles Kennedy Hamilton as part of a suburban development. These 'cottages' contained 12 to 14 rooms!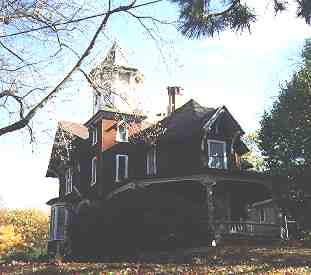 Further along Franklin Avenue and Pendleton Place, here is another landmarked dwelling built in 1855 , originally built by William S. Pendleton, who owned a local ferry boat company.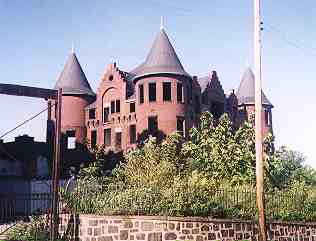 Walking south from the Pendleton house, down Lafayette and Glen Avenues, a left turn at Castleton Avenue and you see this once-imposing structure. It is the S.R. Smith Infirmary (1889), later used as a branch of Staten Island Hospital. It also had a later incarnation as a condominium complex.
By the time we got there though, it had become an abandoned, if still imposing, hulk. Tragically, it was never landmarked, and this is what happens.
Do any Forgotten Fans know if there any future plans for the building?
Time for a break in Silver Lake Park, situated in Grymes Hill, one of the highest points in Staten Island. (Todt Hill is the highest).
Grymes Hill is so high, in fact, that you can see all the way to Newark Airport, and beyond the airport to the Watchung mountain range in Passaic County, NJ.
Leaving the Silver Lake promontory, we went down Eddy Street and then Howard Avenue, which skirts the edge of Grymes Hill and affords the owners of the properties on the south side of the street breathtaking views of the Narrows and the Verrazano Bridge. Howard Avenue snakes through the area and, in fact, used to be called Serpentine Road.
At left, another handsome dwelling set back off the curb on Eddy Street.
Descending Grymes Hill at Louis Street, Sunrise Terrace and Trossach Road, you are on St. Pauls Avenue–yet another repository of beautiful 1880s-1900s architecture.
The home at 387 St. Pauls Avenue has to be seen to be believed: painted a light orange with towers, turrets and lots of what architects call Victorian gingerbread.
364 Van Duzer street
More of the beautiful homes of St. Marks Place and other parts of Staten Island can be seen on this page.