Midtown Manhattan between 5th and 7th Avenues and between about 14th Street and 42nd Street is home to hundreds of mural ads on the tall buildings that were built between 1915 and 1935. Most of them advertise long-dead clothing manufacturers and distributors although there are scattered ads for restaurants and newspapers in there as well.
A. S. Beck, which used to sell shoes, I think, can still be seen on 34th Street between 6th and 7th Avenues.
Suzy Perrette/Lombardy Dresses, on 36th Street just west of 7th Avenue.
Crown Coat Fronts, on Union Square East near 17th Street
Rogers Peet clothiers. A couple of these remain on 42nd Steeet east of 5th Avenue.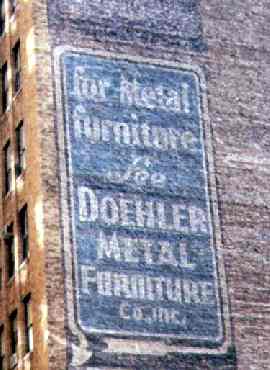 Doehler Metal Furniture, East 32nd near Park Avenue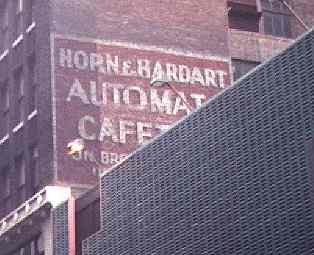 This ad, on 38th Street near 7th Avenue, most likely advertises the Automat that was on 6th Avenue near 36th Street. A metal sign left over from that Automat was still on 6th until very recently.
I'm told that Horn & Hardart is experimenting with a new Automat in the Philadelphia area.
Though this one has already vanished, it remained on West 41st Street near the bus depot for decades.
Hey, are we gonna need war bonds again?

Now-defunct Franklin Simon department store ad, West 34th Street near 6th Avenue
Barclay's smokes, 8th Avenue and West 51st Street
Van Houten's Cocoa, briefly visible in Kips Bay
Seeley Shoulder Shapes, 41st Street between 7th and 8th Avenues; since a victim of progress
Kaufman Management, Karl Lee, and a new ad for retail.com. Hey, now they're using nude women to sell clothing. Whatta concept!
By the way, the nude model didn't attract enough customers. Retail.com went the way of many dotcoms.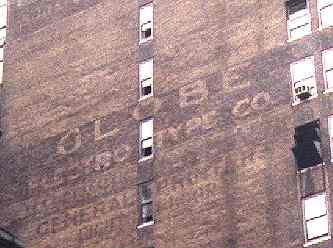 Globe Electrotype Co.
General Printers
West 38th between 7th and 8th
Midtown west, in the upper thirties, was and is a hotbed for printers and typesetters. 45th Street on the east side is another.
41st Street west of 7th
Forgotten Fan E.O. Costello:
–This was a morning newspaper, the principal quality broadsheet rival to the New York Times, which was formed when the New York Herald (James Gordon Bennet's old paper) merged with the New York Tribune (Horace Greeley's old paper) ca. 1925-6. The paper survived under various owners until the early 1960s, when the great newspaper strike of ca. 1962 crippled the paper. It merged with the afternoon World-Telegram & Sun and the afternoon Journal-American to form the World Journal Tribune in 1967, which closed in 1968.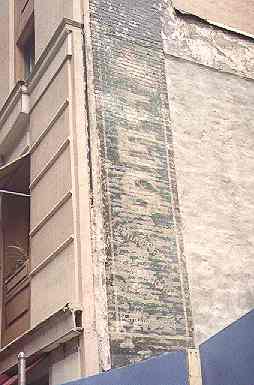 This one's pretty ancient. It was uncovered by a recent demolition on 43rd Street east of 7th.
The top of the ad is mostly gone, but the bottom claims it's an "Eating Place Of Exceptional Merit."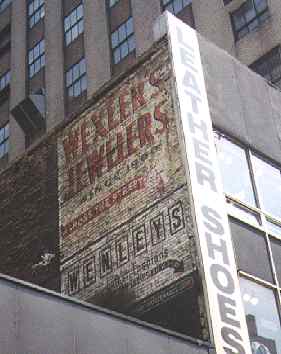 Wexler's Jewelers toiled in the shadow of Macy's decades ago on 34th Street near 7th Avenue.
Wall murals with ads are very common in this part of Manhattan. Businesses would plaster their names all over walls that faced open spaces so people would be sure to see them
Most of them are clothing ads: Silberstein Skirt Co.; Pritchard & Collins Silk Petticoats; ??? Dresses; ??? Coats & Suits. The Palace Restaurant and Showroom(?) has an ad on the bottom.
This building near Park Avenue is covered with ads for handbags including Coblentz, Alan, Ma'mselles and Magid.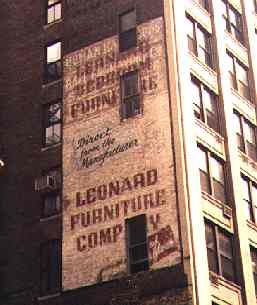 This is a palimpsest of two separate ads, the more recent of which is Leonard's Bedroom Furniture. The windows were obviously inserted after the ad had been there a while.
It's easy to miss this Bond Button Co. ad on West 38th Street if you're not looking for it. They sold buckles too.
Now this one's a few decades old at they very least. Hard to make it out but it says:
A. Steinhardt
Entrance 860 Broadway
The style of lettering makes it very early 20th century, if not the late 19th.
18th Street near Broadway
Another Steinhardt ad can be seen on Broadway near 18th.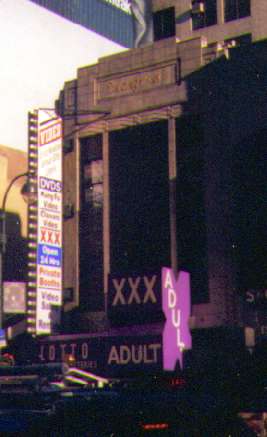 One of the final vestiges of Bickford's, the restaurant chain that boasted hundreds of locations in the Northeast, especially New York City, remains above a porno palace on 8th Avenue near 34th Street in Midtown.
Illfelder Toys, East 23rd near Park Ave South. The logo next to it was Manufacturers Hanover Trust, now Chase.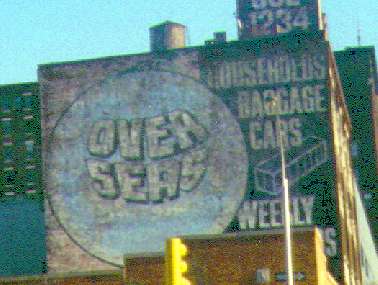 Over Seas Shipping ad, 10th Avenue near West 30th Street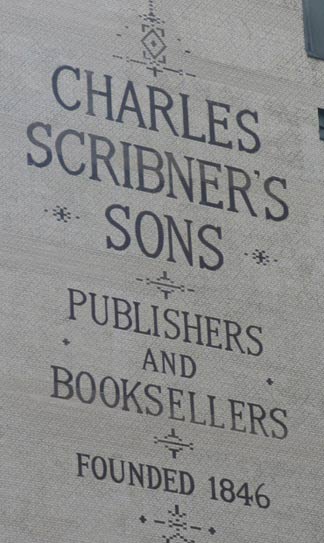 5th Avenue and 48th Street, old Scribners bookstore
For more information on these ads see Walter Grutchfield's 14to42.net