Bowling alleys.
I thought bowling was enjoying a revival in the 80s and 90s, with electronic exploding scoreboards and spiffed-up bowling establishments that put the lie to the commonly held impression that bowling alleys were smoky, dark places featuring leagues full of beer swilling drunks wearing incredibly ugly two- or three-toned shoes. I thought bowling was entering a golden era. Of course I gave up the game after failing to raise my average over 150 in fifteen years of trying.
Looks like I was wrong, since bowling alleys, at least in Brooklyn and Queens, seem to be disappearing. Sure, Bowlmor Lanes in Manhattan, where I was in a league in the early 70s, enjoyed a period when the black-clad downtown hipsters glommed onto it, but that seems like eons ago. ABC has cancelled its Saturday afternoon bowling extravaganzas, and the black-clad hipsters now ingest their Ecstasy at Limelight or some other unlit establishment. (2002: oops, they closed the Limelight. Whatta loss.)
In fairness, bowling still holds on at Leemark Lanes in Bay Ridge and Gil Hodges in Marine Park. But who remembers the 48 lanes in Madison Square Garden?
Enough rantin'…let's see this installment of hoary advertising, which, naturally, begins at an old bowling alley in downtown Brooklyn.
Fulton Street and Rockwell Place, Brooklyn, NY.
STEEE-RIKE! The ball looks like a total eclipse doesn't it?
At one time, this former municipal parking lot (25¢ a day — a Forgotten story in itself) was a bowling alley. How many years ago, I can't tell, but it had to be the 1960s at least.
The bowler's head (right)is no longer visible, but if it were, I bet you could see a tear in his eye.
Why is the bowler wearing regular shoes? You could really scuff up the lanes that way, and even scratch them. Maybe the lanes closed because the bowlers didn't know how to dress.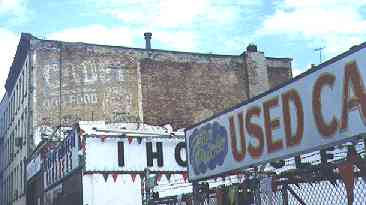 Dog food isn't dog food anymore. At least it isn't called 'dog food' anymore, at least not on the labels. A dog's place in the scheme of things pretty much slaps you right in the face in this ancient ad on Third Avenue near Carroll Street in Brooklyn. Just the words "Cadet Dog Food" and a can of the stuff. (And why is a brand of dog food named after a kid in military school?)
These days, there's a picture of a dog on the label, and the brand name, like Mighty Dog or Kibbles & Bits. You pretty much know what it is. I wonder when the phrase 'dog food' slipped over the barrier, along with suppositories and marital aids, into the realm of Products Which Must Not Be Named?
Charles Tisch had an establishment manufacturing 'stoves, ranges, furnaces…sheet metals and tinners supplies.'
Some even older ads are at the bottom.
"The Perfect Soda Cracker"
I don't know if I ever needed a Uneeda, but the brand of bland, easy-on-the digestive tract biscuits enjoyed enormous popularity up until the mid-1960s, when they seemed to disappear.
Uneeda Biscuit ads were scattered all over the five boroughs, and they were evidently of high-quality paint, since a number of them can still be seen.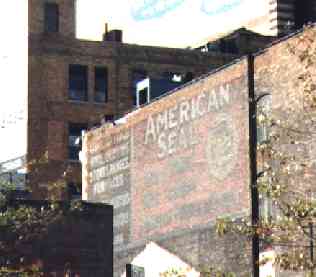 An adjacent ad for American Seal, which still retains most of its brilliant coloring, can be seen from Ashland Place and Lafayette Avenue.
As of summer 2000, this ad is being obscured by new construction.
What appears to be an unintelligible jumble on a billboard on 5th Avenue is, in fact, one of the more venerable ads in Brooklyn. It's a kids' stomach remedy called Fletcher's Castoria: Fletcher's distinctive script is unmistakable, after you've had the opportunity to view a number of them. A few ads have been pasted over it in the nearly 100 years since it first appeared, making it what the art majors call a palimpsest, but the paint used for the Castoria ad was so good that it has outlasted the pretenders. And, Castoria is still available!
[image missing]
What we have here, ladies & gentlemen, is the best preserved ancient ad in the borough, maintaining its brilliant blue color after 100 years or better, thanks to a building at Dean and Washington, since demolished, which hid it from the bleaching sun's rays for decades. And it's two…two…two ancient ads in one!
Someone has even thought to touch it up in a matching blue shade recently. Now that the sun is on it, who knows how long it may survive before fading.
Reckitt's Blue was a laundry product developed in England in the early 19th Century. Though Reckitt's Blue is no longer produced, Reckitt's itself is not dead. It is now part of a conglomerate that produces some products that may surprise you. My friend Frank Jump has the whole scoop on his own Reckitt's Blue Page.
As for The Farmers' Milk Depot, on the top and right side of the wall, not much is known. A long time ago, somebody painted over the amount in the __ Per Quart sign.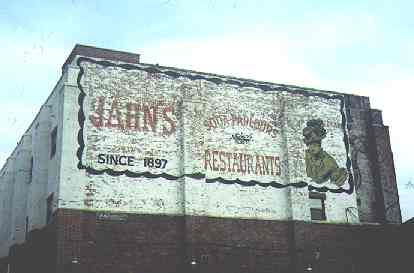 Yeah, there are still some Jahn's ice cream parlors around, but not as many as there used to be, and none left in Brooklyn, I don't think. But this ad on Empire Boulevard near Schenectady Avenue in Crown Heights is still there.
Spalding Sporting Goods, 6th Avenue and Pacific Street, Park Slope. Famous for the pink 'spaldeen' rubber ball that launched a thousand games of stickball when the Dodgers were here. Photo: Gary Fonville.
2002: since painted over, these classic ads have been lost
Englander Products "for sleep and rest" on Flushing Avenue near Johnson Avenue.
A mouthful in Ridgewood: Dannenhoffer's Opalescent Glassworks.
Capitol Discount AC Delco Auto Parts on Devoe Street near Bushwick Avenue.