Since Alexander Hamilton founded the Bank of New York in the late 1700s, there have been hundreds of different banks flourishing in NYC. Some lasted for decades, only to ultimately founder, and others were swallowed up by larger ones. My mother worked for Manufacturers Hanover Trust, which was itself an amalgamation of three other banks, and I became an MHT customer in 1984. In the last decade MHT was absorbed by Chemical which was itself swallowed by Chase. In many cases, though, buildings of long-defunct banks still stand, used for many different purposes. We'll start our ongoing bank building survey in the Bronx with just a few of the many old banks now used as churches, jeans stores, supermarkets…
On White Plains Road and 220th Street in Williamsbridge stands the ex-Chase Manhattan Bank, which was previously the Bronx Borough Bank.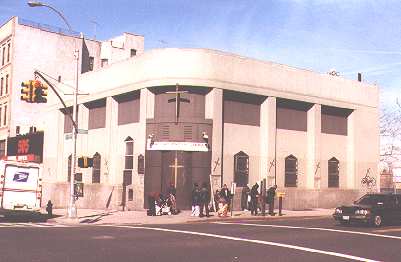 Even though the church name plate was installed decades after the Art Deco carvings (right) the carvings appear to be newer.
Oh, the humanity! Are those belching smokestacks behind the blimp? The Clean Air Act was still decades away when this bank was built.
The Seven Light Baptist Church, on 3rd Avenue and Claremont Parkway in Claremont Village was a bank when the Third Avenue El still rumbled past.
Most evidence that this was ever a bank has been obliterated from the exterior. But…
Clever Art Deco ornamentation remains. At one time this bank must have been associated with transportation since carvings of locomotives (left) and dirigibles (below) are found on the exterior.
The ex-Dollar Savings Bank stands at Willis Avenue and 147th Street near The Hub in Mott Haven.
A branch of the now-defunct North Side Savings Bank, now a deserted hulk, stands at Third Ave and 161st Street in Morrisania.
Photography and research by Gary Fonville
8/13/2000