The Soho Building, on Greene Street between Spring and Prince Streets, is home to NYC's most unusual subway map…despite the fact that no subways run underneath it and that the nearest subway station is two blocks away on Prince Street and Broadway (N/R).
So where's the subway map?

… It's embedded in the sidewalk.
Unfortunately, I don't have details on the history of this map, but since the Sculptor's Guild is located in the Soho Building, it's a possibility that one of the members installed the map at some time in the past.
But when?
There are several archaic aspects to this map that show it to be from the 1976-86 period. Among them:
1. No 57 St /6 Ave station (This is probably just a mistake)
2. JFK Express & Nassau R (RJ) still there (the R, which normally goes up Broadway. extended to Chambers Street along Nassau Street along the J/M tracks till the early 1980s)
3. No 63rd St extension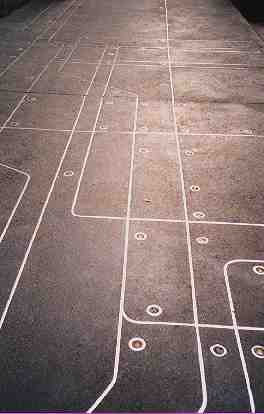 The station indicators show signs of having been color coded at one time.
A poster in Subtalk, the message board ofnycsubway.org, overheard this conversation between a mother and daughter outside the Soho Building:
"Maman, c'est quoi ces lignes? (Mom, what are those lines?)"
"C'est un plan du metro (It's a subway map)"
"Mais il n'est pas comme ca, le metro ( But the subway doesn't look like this)"
"C'etait comme ca, avant (It used to be that way)"
Finally, Forgotten Fan Peter Salber sent in this item that appeared in the NY Sunday Times FYI column a few years ago:
Q. There is a metal inlay on the sidewalk in front of the SoHo Building at 110 Greene Street, between Prince and Spring. I always thought it was a schematic of the subway system, but then a friend made me look more closely. It looks like computer circuits. Can you tell me what it is, and why it's there?
A. You were right with your first guess. It's titled "Subway Map Floating on a New York Sidewalk," and it was created in 1986 by Francoise Schein, a Belgian artist and architect, who now lives in Paris. The schematic runs the length of the building — 87 feet — and is 12 feet wide.
The IRT, BMT and IND are represented by half-inch-wide stainless-steel bars embedded in concrete, with lights indicating SoHo-area subway stops. The project cost an estimated $30,000 to produce and won the City Art Commission award for the best art project that year.
But Ms. Schein's interpretation isn't a match for the M.T.A.'s — she combined old and new maps to fit the space. And it won't get you out of Manhattan. "I couldn't fit Brooklyn or Queens on the sidewalk," she said at the time.
9/10/2000