More than any other borough, Brooklyn pretty much adheres to the strict checkerboard grid system that was devised when its six towns coalesced into one city in the late 1800s. That's why it's all the more interesting when the occasional lane or alley breaks the mold and strikes off on its own. And, as in the rest of New York City, the alley that defies the grid sometimes has the most to say about the history of the very neighborhood whose street grid it is defying. We'll start with a pair of charming cul de sacs in Bedford Stuyvesant.
Alice and Agate Courts
Situated on busy Atlantic Avenue under the rumbling Long Island Railroad trestle just west of Albany Avenue, Alice and Agate Courts are oases of quiet, neat row houses amid an otherwise boring stretch of gas stations and collision repair shops.
Both were built by Swiss immigrant Florian Grosjean, a kitchen and household utensil manufacturer. Further down Atlantic Avenue in Woodhaven, you can see the beautiful LaLance and Grosjean factory: it still has its 4-sided 1863 clock tower. Each were originally private courts.
Southwest of Alice and Agate Courts we arrive at two tiny lanes, each with a long history and one with a quite infamous one.
Clove Road
Some of Clove Road's old Belgian blocks are still clearly visible.
Clove Road winds in a NW-SE direction from Montgomery Street and Nostrand Avenue to Empire Boulevard. It's pretty much an alley and a shortcut now, but it used to be one of the prominent highways in this part of Brooklyn.
Brooklyn Eagle map, ca. 1900, showing Canarsie (Clove) Road beginning at Montgomery Street and angling southeast.
In the 1800s, two roads, Clove and Cripplebush Roads, were the main general N-S thoroughfares in what was to become Bedford Stuyvesant. No trace remains of Cripplebush Road, but up until fairly recent times traces of Clove Road, and its continuation, Canarsie Road, could be seen. Canarsie Road continued south of Empire Boulevard in a fairly SE direction until it formed the western edge of Holy Cross Cemetery (which today is still on an angle, in alignment with the old road). Then it joined a maze of roads that connected further south and east to Flatlands and Canarsie. Today just a small piece of Clove Road is left.
But Clove Road has a very interesting tributary…
Malbone Street
After November 1, 1918, the word "Malbone" became synonymous with "disaster."
On that day an inexperienced subway motorman, filling in for striking train operators, took a curve on today's Brighton Line at more than four times the speed limit for that section of track. The resulting accident, the Malbone Street Wreck, named for the street under which it occurred, killed more than ninety passengers and is the worst accident in NYC subway history.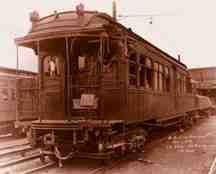 No. 726, the lead car in the Malbone Street tragedy, escaped the most serious damage. It was the trailing cars that took the brunt of the crash. (Photo from Rapidtransit.net)
Even though the city desired to wipe Malbone Street off the map, they couldn't quite manage it. From Brian Cudahy's exhaustive Malbone Street Wreck:
In the 19th Century, before Brooklyn's current urban street grid was established, there was an earlier Malbone Street that followed a slightly different alignment than the broad and straight thoroughfare that was renamed Empire Boulevard after the accident. Strangely, a vestigial element of the old Malbone Street running at an odd angle for just a few blocks remains a public way in Brooklyn to this day. It is just a short walk east from the scene of the accident, a little beyond what was once the right field wall of Ebbets Field. This street is still called Malbone Street.
This tiny section of tragedic Malbone Street defies NYC's desires to forget its name.Horrified city fathers quickly renamed Malbone Street "Empire Boulevard", hoping to eradicate the accident from the city's memory. But did they succeed completely?
A few blocks to the south of Malbone Street was a street called Tulip Street. Since the wreck, it too has had its name changed, with a lot less fanfare. It is now known as Rutland Road.
Dropping further into Flatbush, we find a couple of charming dead ends whose histories are a good deal happier.
Albemarle Terrace
Tucked away on East 21st Street in the shadow of both the Flatbush Reformed Dutch Church and its accompanying graveyard, Erasmus Hall High School, and the now sadly defunct Kenmore Theater, are charming Albermarle and Kenmore Terraces, which feature English revival row cottages, on both sides on Albermarle and the south side of Kenmore.
Designated its own Landmark district, residents zealously maintain their property. Windows and doors are each painted a separate color from their neighbor's.
Willensky and White's AIA Guide to New York City calls Albemarle Terrace "Charming Georgian Revival houses in a cul de sac that says dead end but is far from dead."
Kenmore Terrace
Built in 1918, Kenmore Terrace was one of New York City's first housing developments to include garages, in a concession to the growing popularity of the automobile.
The Flatbush Reformed Church Parsonage, built in 1853, is on the north side of Kenmore Terrace.
Cary Court
Most likely a service alley and not part of a vestigial road, Cary Court is a narrow lane between East 12th Street and Coney Island Avenue south of Avenue J.
Dahl Court
On 58th Street just off 19th Avenue, Dahl Court is notable for not much besides its existence: the Borough Park section of Brooklyn is not noted for its alleys and lanes, with the notable exception of Old New Utrecht Road.
What did set Dahl Court apart to some degree, though, was the presence of an ancient porcelain sign with raised letters to identify it. The ever vigilant Department of Transportation installed new signs in the early 2000s.
Windsor Terrace is an increasingly exclusive neighborhood in Brooklyn sandwiched between Greenwood Cemetery and Prospect Park. It has a large amount of short streets and a pair of dead ends…
Horace Court
Horace Court, a dead end on Sherman Street near 11th Avenue, is dominated by neat two family homes.
Temple Court
Temple Court is a similar cul de sac on Seeley Strret just west of Prospect Park Southwest.
Miami, Palm and Tampa Courts
These are three tiny pedestrian alleys that were constructed as part of a building project a few decades ago. They are lined with attached two-story units between Maple and Midwood Streets east of New York Avenue in Lefferts Gardens. They closely resemble Colonial Gardens and Barwell Terrace in Bay Ridge. Perhaps the builder was a Floridian.
Hillel Place
Hillel Place, in the shadow of Brooklyn College's dome, runs between Flatbush Avenue and Campus Road near "The Junction" at Nostrand Avenue.
It was known as Germania Place until 1956, when the Hillel Building was built at the corner of Hillel Place and Campus Road to serve the Jewish students at Brooklyn College.
Hubbard Place
A miracle of modern Brooklyn…Hubbard Place is no more, no less. Wedged between East 40th Street and Kings Highway, it is a surviving colonial lane that tricorner-hatted, breeches-wearing Dutchmen walked in the 1600s, one of the main streets of the old town of Flatlands. Hubbard Place is a vestigial colonial lane curving between Kings Highway and East 40th Street.
Williamson House, built about 1850, remains on the lane, but the Aaron Van Pelt House, built about 1790, was  demolished in 2003.
Map of the town of Flatlands, ca. 1850. What is now Hubbard Place, at the top of the map,  runs between Flatbush Turnpike (today's Flatbush Avenue) and Flatlands Neck Road (absorbed by today's Overbaugh Place and Kings Highway)
Story Street
Announced by a pair of vintage 1964 black and white street signs, Story Street and its partner, the extremely short Story Court, are off Church Avenue in Kensington.
Estate Road
It's shown on all the maps. It's listed in all the street guides. Yet, Estate Road, between East 4th Street and Ocean Parkway south of Avenue P in Midwood, pretty much ain't there. If you don't look hard for it, that is.
What's left of Estate Road leads toward Ocean Parkway as seen from East 5th Street.
Now fenced off, there are signs that Estate Road once featured decorative concrete posts that led into the adjoining apartment complex.
No matter, the street guides say it's there and who am I to argue?
Let's travel way down south to as far out in Brooklyn as we can go…out past Canarsie, past Starrett City…out to Spring Creek.
Old Mill Road
Where the !@#$ are we?
Out on a two-block dirt track known as Old Mill Road, that winds between Fountain Avenue and Crescent Street just south of Cozine Avenue.
Located just south of the old Dutch New Lots section, Old Mill Road most likely once led to a real mill. Quite a few streets in Brooklyn commemorate old Dutch mills, from Mill Lane in Flatlands, to Mill Road in Bensonhurst, to this road.
Looking toward Fountain Avenue and to Crescent Street.

Since the Department of Transportation hasn't seen fit to post a sign on Old Mill Road, we'll give it a classic Brooklyn black and white right here!
Van Sicklen and Schenck Courts
Two dead ends featuring charming houses in the Alice and Agate Court tradition, Van Sicklen and Schenck (pronounced SKENK)  Courts, named for early Dutch landowning families, are just off Jamaica Avenue in Highland Park, north of New Lots.
Nearby, some odd lanes can be found on ritzy Highland Boulevard…
Barberry Court
Barberry Court, on Highland east of Bulwer Place, has evolved into a private driveay, even though there are still signs (below). The barberry is a widely dispersed shrub that produces edible fruit.
Barbey Street
Similarly-named Barbey Street takes a surprising twist and turn north of Sunnyside Avenue as it must climb a steep hill. It never quite reaches Highland Boulevard, however; steps connect them at that point.
Sunnyside Court
Sunnyside Avenue dead ends at Highland park just north of Jamaica Avenue, but not before issuing Sunnyside Court. I couldn't resist showing the very handsome light brownstone buildings at the corner of Sunnyside and Sunnyside.
Cox Place, Cypress Court and Wharton Place
These three small alleys can be found off Crescent Street in Arlington under the BMT Jamaica el…
In Gravesend, we have some interesting dead ends.
Corso Court
Corso can be found on Van Sicklen Street south of Avenue U. Even more so, another lane, Lama Court, is to its north while another demapped lane, Lake Place, is on the south. A homeowner adjacent to the court has helpfuly preserved its old metal and porcelain street sign.
Village Court
This short alley is on Village Road South just east of McDonald Avenue, on the original 1600s Gravesend village plan, though it is a much later addition.