City Island, NY was the site of Forgottoners Tour #9.
Located on a spit of an island in Eastchester Bay in the extreme northeast Bronx, City Island is a transplanted New England fishing village seemingly beamed into the New York Metropolitan area. Originally a part of Pelham, in Westchester County, City Island looks east to Long Island as well, and has block after block of vintage architecture (such as the Schofield Street beauty at left).
Among City Island's highlights…
City Island Museum, in City Island's old PS17, with artwork and exhibits chronicling the island's near-250-year old history of shipbuilders, fishermen and America's Cup yachtsmen
Views of High and Hart Islands,home to NYC's potter's field
19th-century churches
Numerous artist galleries and antique shops
Historic and landmarked homes
The North Wind Undersea Institute, a trove of sealife and environmental exhibits, like shark jaws, vintage diving equipment and Spanish ingots
[image missing]
Forgottoners hit the steps at PS17, now the City Island Museum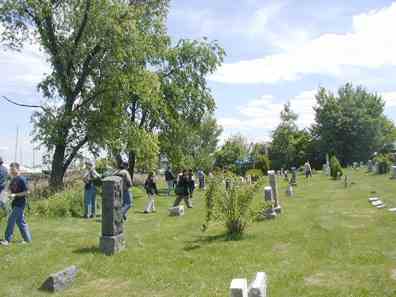 Forgottoners fan out to explore Pelham Cemetery, NYC's only waterside cemetery facing Long Island Sound
Exploring the Community Room at the City Island Museum
A classic navy and white humpback street sign at the Museum. These once hung on most street corners in Manhattan and the Bronx.
Forgottoners convene at Mooncurser Records of City Island Avenue. Vinyl and nothin' but vinyl, baby. 78s included!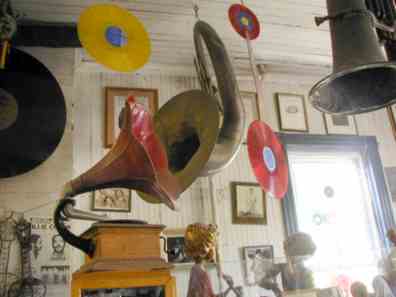 Nipper! Where's Nipper?
Only in City Island can you see Long Island from the Bronx. Great Neck is across Long Island Sound.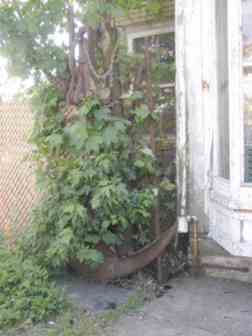 Dan Rather. An anchor, man.
Execution Rock Lighthouse 
was built in 1850 to aid mariners sailing around the rocky reefs, off Sands Point at the western end of the Long Island Sound. The brown and white lighthouse stands 58 feet tall in the approaching waters to the New York harbor, showing a white flashing light.
Its name is allegedly derived from folklore legend during the Revolutionary War, when British soldiers allegedly tortured and executed American revolutionaries on its rocks. The prisoners were chained to the rocks at low tide and drowned when the tide came in. Whether this is fact or fiction, it remains an interesting folklore.
In 1856, it received a fourth order Fresnel lens to guide ships safely. The US Coast Guard manned the lighthouse from 1933-1979, removing the valuable Fresnel lens when they automated the light.
Keep watching Forgotten NY for our next Tour!
Views of Execution Rocks Lighthouse, in Long Island Sound between Sands Point and City Island