Auburndale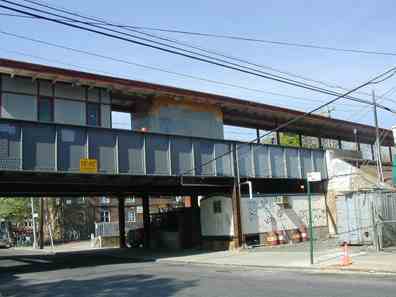 This is possibly the final photograph taken of the "old" Auburndale station. Formerly an at-grade station, the line was placed on an embankment and elevated over 192nd Street in 1929. The station is undergoing a complete renovation including a new platform and waiting room.
Auburndale was originally the Thomas Willets farm; it was sold to the New England Development & Improvement Project in 1901, subdivided into lots, streets cut through and voila, Auburndale. The original Auburndale station was moved and converted into a church; that building survived till 1973.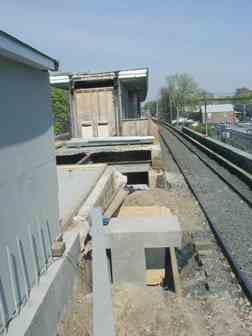 Taken from the new platform, showing the old one being demolished.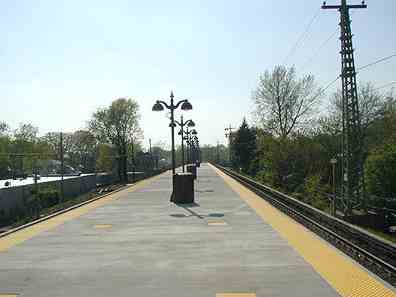 The Long Island Rail Road makes no bones about being primarily a Long Island service, as befits its title, and considers Queens and Brooklyn mere territory to be traversed while delivering Long Islanders to their jobs in Manhattan. As a result, station stops in Brooklyn and Queens don't exactly offer many amenities.
The closer one gets to the Nassau border, though, the more Jekyllian the railroad becomes, with its Mr. Hyde-esque aspects becoming fewer. Let's have a look at some of the ones on the Port Washington Branch.
Bayside
The Bayside station can be called one of the three 'flagship' stations of the Port Washington Branch, the other two being Great Neck and Port Washington itself; other than Penn Station, these three do the most business and serve the most passengers. Until just a few years ago, however, the Bayside station was deteriorating rapidly and sinking into decrepitude. In 1998-1999, though, Bayside was renovated completely, with new platforms and lighting, and a complete overhaul of its 1920s stationhouse.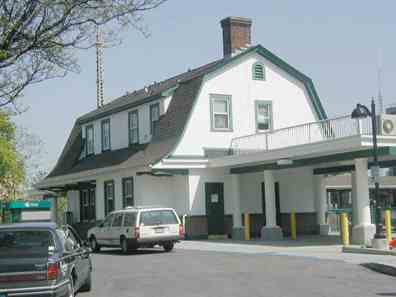 The present Bayside station house is a gambrel-roofed structure dating to 1923. In those days, station agents and their families actually lived at their stations; the family quarters were on the second floor. When it was built, the Port Washington branch still ran on the surface, but it was placed in its present open cut here in 1927.
The Bayside Historical Society placed this sundial on 41st Avenue outside the station in the late 1970s. Its dial has long ago disappeared. "The Sun Shines For All" was the motto of the old New York Sun.
Until 1998 Bayside employed a wooden covered bridge (supported on concrete) that was one of the very few, if not the only, wooden covered bridges in New York City. It has been replaced with a modern steel bridge that is open to the elements on each side, but is otherwise an improvement over its splintering forebear.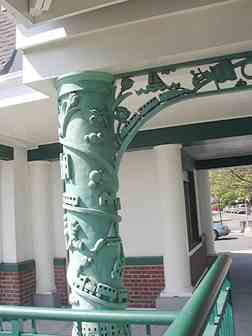 Got some time to kill before the train comes? Study the new decorative sculpture on the Manhattan-bound side, with trains, boats, planes.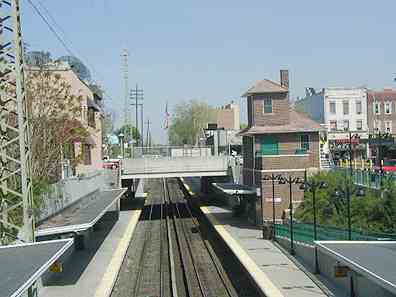 Looking east toward the Bell Boulevard overpass
One of the more obvious relics of the Port Washington Branch's freight past is this freight elevator building on the eastern end of the eastbound platform at Bell Boulevard. Goods were unloaded on the platform and onto an elevator within the building and unloaded on 41st Road. The PW Branch long ago ceased to carry freight, and the building has lain unused since, but happily, the Bayside Chamber of Commerce, I read, is interested in turning this building into a community center.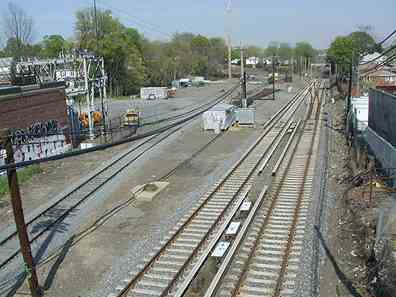 East of the station there is a layup track where track construction equipment can be parked without interfering with service on the PW Branch. A pedestrian crossing goes over it to the trackside Lawrence Cemetery (see below).
Douglaston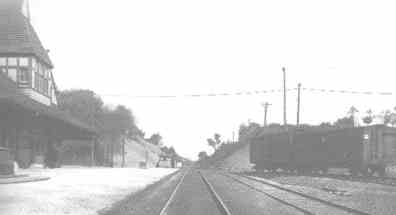 Jumping into our 2002-model H.G. Wells time machine, we set the dial for 1910, press the lever, and wind up at Douglaston. It still has its 1887 Queen Anne depot which was built for $6,000–quite a bit in those days–by William Douglas, for whom the community is named. Leave the Time Machine–unfasten the levers and put them in your pocket–and check out the impressive dwellings in Douglas Manor that will still be standing when you return to 2002.
Note, also, the now-vanished layup track to the right and the pair of freight cars waiting for a steam loco to couple with. During the days of freight such layup tracks were more frequent–old renderings show another one at the Broadway station.
The Douglaston depot came tumbling down in 1962, to be replaced by this rather pedestrian wood paneled station. Architects and city planners were on a modernist kick in the 50s and 60s–old was very bad, and new and streamlined was very good–and several golden oldies vanished during that time. This kind of thinking cost Penn Station.
Little Neck
The busiest grade crossing remaining in New York City, and by far the most perilous, is at Little Neck Parkway near 41st Avenue at the LIRR Port Washington branch. Dozens of trains pass by it every day. Admittedly it is in an outlying area toward Little Neck Parkway's northern source at Little Neck Bay; still, there is some substantial traffic here at times and the potential for mishaps is more than small.
In late 2010, traffic was no longer permitted to make a left onto the road north of the station, and traffic on that road was no longer permitted to male a left onto Little Neck Parkway. photo: Bob Andersen
Though the Flushing and North Side Railroadreached Great Neck in 1866, it didn't gain a station at Little Neck until four years later. Today it remains the most rural of all Long Island Rail Road stations in NYC, and still boasts a grade crossing…many LIRR stations in Nassau and Suffolk, especially on the southern side of the Island, have long ago abandoned their grade crossings, which are quite dangerous in heavily populated areas.
Little Neck, tucked into the extreme northeast corner of Queens, is kind of sleepy in this section, and so creating an open cut or overpass here was considered unnecessary. Little Neck Parkway continues north for only a few blocks before petering out at the edge of Little Neck Bay at Udall's Cove.
The present station house was built in 1890; it has been painted white since this photo was taken. photo: Bob Andersen
PEDESTRIAN BRIDGES OF THE PORT WASHINGTON BRANCH
The Port Washington Branch, after over 130 years of operation as first an independent route and then as part of the Long Island Rail Road, remains very much a local transit route, separated by geography from the LIRR's Main Line which branches off to Oyster Bay, Montauk, Hempstead and Greenport. That means there's a much greater opportunity for idiosyncratic touches not found elsewhere in LIRR operations, at least in the five boroughs…more specifically, pedestrian-only bridges. The Main Branch has some in Elmhurst, but it's the Port Washington Branch where the art reached full flower.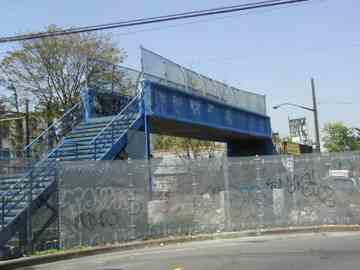 94th Street in Elmhurst. The crossover connects 94th and Corona Avenue with auto body shops on 43rd Avenue. Lighting is minimal here, and it might not be the best bet to use it after dark.
A simple iron and concrete structure that somehow seems to be a part of its semirural surroundings connects either side of the branch at 167th Street east of the Broadway station.
The formerly rickety crossover at 216th Street east of the Bayside station has been shored up the past year (2001), and even its rudimentary lighting (right) has been repaired. The southern edge of this crossover abuts the ancient Lawrence family cemetery, in which a NYC mayor of the 1830s is interred.
The Bayside crossover has the simplest streetlamps I've seen in NYC—iron pipes with sodium 'bucket' lights suspended! These were out of service for most of my 9 years in Queens, but have recently been repaired. Still, they are incredibly vulnerable to the incessant predations of vandals.
Great Neck
By 1866, the Flushing and North Side Railroad had reached Great Neck, NY, just over the Queens line (in 1866, Great Neck was still in Queens). Today it is a wealthy area made up of communities on the Great Neck peninsula between Little Neck and Manhasset Bays. Serving a great deal of suburban traffic to and from NYC, it's one of the Port Washington Branch's three flagship stations along with Bayside and Port Washington.
Its present railroad station was built in 1925, while the LIRR was placed in its present open cut here in 1934. photo: Bob Andersen
Just east of Great Neck, the Port Washington Branch becomes a single-track operation. That means that frequently, an east- or westbound train must wait at Great Neck for a train moving in the opposite direction before proceeding.
Most often, the train that has to wait is the one Your Webmaster happens to be on. The LIRR deftly schedules trains here with a minimum of such waits, but sometimes scheduling problems do occur
There is a layup track (known as 'the pocket') east of Great Neck where east and westbound trains can reverse direction. During a blizzard in 1996, a train derailed here, interrupting service for two days.
In 1896, under LIRR President Austin Corbin, the Great Neck and Port Washington Rail Road was chartered to build the railroad east out to Port Washington. As we've seen, it is a single-track operation. It has a couple of interesting bridges along its route such as this distinctive steel bridge with wooden plank sidewalks that carries Colonial Road over the RR south of Grace Avenue.
East of Great Neck, engineers faced a problem. Manhasset Bay is surrounded on each side by a steep cliff. The railroad would have to be detoured considerably south to avoid crossing it…or Manhasset Bay would have to be bridged. The railroad chose a spectacular solution…
The Manhasset Viaduct was completed in 1898 at a length of 679 feet and a height of 181 feet…a full 100 feet higher than its closest railroad bridge competitor, the Smith-9th Street Station on the IND Crosstown, for the title of highest railroad bridge on Long Island. 480 tons of steel were required to build it, and 144 vertical piles were required to stabilize it in the marshy ground on the western end.
Manhasset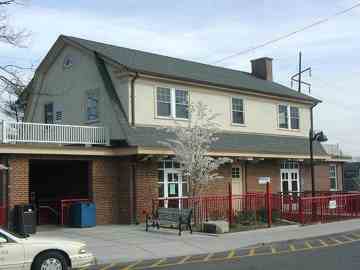 Manhasset's present station was built in 1924 and is much like the Bayside station (see above) built at about the same time, with agents' quarters on the top floor. Among its quirks is the ticket office in the basement…which faces on the single track in an open cut. Manhasset was newly renovated, like its sister Port Washington Branch stations, in the late 1990s.
Plandome
Plandome, soon after its brick station opened in 1909. We may assume the photo was taken after 1913 because the line has already been elevated, eliminating its grade crossing after electrification.
Plandome, meaning "pleasant" or "peaceful" in Latin, was given its name by the prominent Long Island Nicolls family in the 1700s, but it wasn't fully developed until the early 1900s. Till then, much of it had been owned by Bloodgood Cutter, the 'farmer poet of Long Island' and by the Duke family, of tobacco and Duke University fame.
Plandome's new station was built in the early 1990s. Its predecessor station, seen at left, was built in 1909 and torched to the ground by vandals in 1987. When built, Plandome was one of two LIRR stations to feature a post office; the new station also has one.
Plandome is a wealthy community of country clubs and expensive dwellings. Here, the Port Washington Branch is indeed far removed, in spirit if not in distance, from gritty neighborhoods like Corona and Flushing that it passes through several miles to the west.
The single-tracked line still runs on its original 1913 trestle over Stonytown Road, built when the PW Branch was electrified.
Port Washington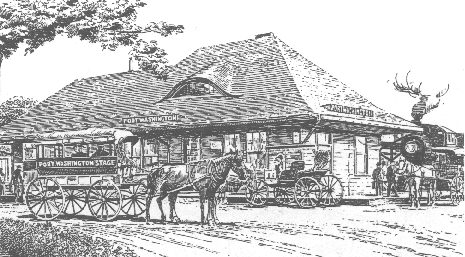 As amazing as it might sound, we're at the newest section of the LIRR.The extension from Great Neck to Port Washington, completed in 1898 and opened June 23rd of that year, remains the latest extension of the Long Island Rail Road. The LIRR will extend trackage through midtown Manhattan to link up with Grand Central Terminal sometime in the 2010s.
When Port Washington was reached it was still very much a rural hamlet, with the new train station plunked down amid rolling hills and farmland.
Originally, the branch was going to extend from Great Neck to Roslyn in 1882, but that plan proved too costly. In 1895, a Port Washington group succeeded in getting LIRR President Austin Corbin to reconsider extending the branch northeast.
The Port Washington Branch was electrified in 1913, which was responsible for all those grade crossing eliminations further west on the branch.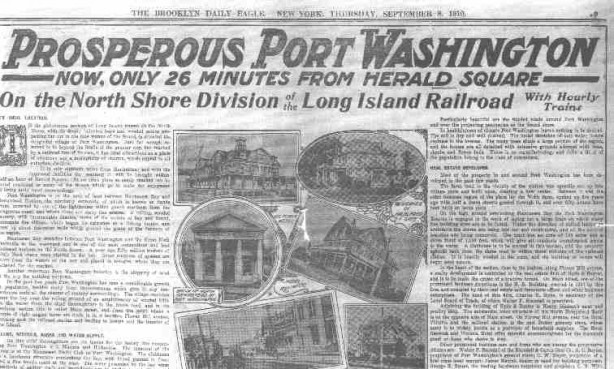 When the new Pennsylvania Station opened in 1910, it can't be underestimated how great the repercussions were to Long Island communities served by the LIRR, since now all these communities at last had a direct connection to New York City. Previously, the Port Washington as well as other LIRR branches had its western terminus in Long Island City, where a ferry brought passengers to Manhattan.. The two in the center, the bank (left) and the Renwick Hotel (right) are now restaurants.
This splash page from the September 10, 1910 Brooklyn Eagle depicts the benefits of Port Washington, a community rendered much closer to NYC than ever before by the railroad. Many of the buildings shown on this page still stand.
Port Washington Station, the third of the line's three 'flagship' stations along with Great Neck and Bayside, was renovated in tandem with its 100th birthday celebration in 1998. Its brick face, which was applied in 1930, was stripped away at that time. Its concrete canopy from the 1980s is rather incongruous, but is quite welcome in rainy weather. The 'eyelet' window in the roof was slated for dismantling during the renovation but it was happily spared.
Your Webmaster would like to thank the following for their assistance with this page: Official LIRR historian Dave Morrison, Great Neck resident & ForgottenFan Diane Bonder who drove us around Great Neck when we were suffering from a splitting toothache, and ForgottenFan Mary Ondrejka for pasting together the newspaper clippings.
SOURCES:
Victorian Stations of Long Island, Ron Ziel, Amereon 1993. In print again after several years!
BUY this book at Amazon.COM
100 Years of LIRR Service, Port Washington Branch, LIRR pamphlet 1998
Bob Andersen's lirrhistory.com
ARRT's Online LIRR Gallery. Good things come to those who wait…pop open a beer and get a snack while this page loads.
5/16/02