Squeezed in between the Harlem River and Yankee Stadium in the Bronx is a small neighborhood known as Mott Haven, after Jordan Mott, owner of the Mott Iron Works at East 134th Street. His handiwork can be seen all over town on airshaft and manhole covers.
Jordan Mott had bought the original property from Gouverneur Morris II in 1849 (more on the Morris family later). Morris was asked if he minded if the area was called Mott Haven, a name it had quickly acquired. "I don't care…while he is about it, he might as well change the Harlem River to the Jordan."
Alexander Avenue between East 138th and 139th Streets. After opening in 1891, Alexander Avenue became known as Doctors Row and Irish Fifth Avenue. Some of its handsome brownstones from its early days still stand.
After the Third Avenue El arrived Mott Haven became a NYC suburb, attracting middle class residents as well as some piano manufacturers. Immigrants later came when the subway reached the Bronx.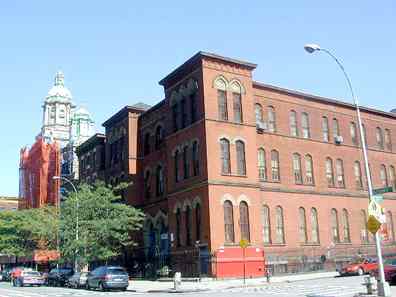 At Alexander between East 137th and 138th are St. Jerome's Church (at left) and School, built in 1898.
The neo-Renaissance Mott Haven Branch of the NY Public Library was built in 1905 by Babb, Cook and Willard.
Above are two of the gorgeously detailed buildings on East 140th St. between Willis and Brook Avenues. They were built in the 1890s by William O'Gorman and Willian Hornum, combining Dutch and Flemish architectural aspects.
Developer Edward Bertine built several 3-story yellow-faced brick townhouses between 1891 and 1895 on 414-440 and 415-425 East 136th Street, between Willis Avenue and Brown Place, joining a number of earlier brownstone buildings. The "Bertine Block" is one of a number of Mott Haven blocks given over to eclectic residential architecture, most notably on East 139th, East 140th and East 142nd between Willis and Brook Avenues, many in Dutch/Flemish styles. East 139th and East 140th are in especially good shape, with distinctive stained glass and sculptural elements on some of the houses.
Apparently, the streets in Mott Haven have been renumbered since these buildings were built.
Directly across from the Bertine buildings, however, are some abandoned apartments.
PIANO TOWN USA: The Steinway factory across the East River may be better known, but Mott Haven certainly had the greater number of pianoforte manufacturers. Krakauer and Kroeger Piano buildings remain on East 132 Street between Alexander and Lincoln Avenues.
Estey Piano Factory (1885), Bruckner Boulevard and Lincoln Avenue. When the factory was built Bruckner Blvd. was called East 133rd Street.
Krakauer Piano Factory from Alexander Avenue and East 132nd
Literary lions got their start here too. Patience and Fortitude, the marble lions guarding the New York Public Library on 5th Avenue, were sculpted right here in Mott Haven, at St. Ann's Avenue and East 142nd Street, by the Piccirilli Brothers Monument Sculptors; the firm also created the pediment of the New York Stock Exchange; Civic Virtue, the scandalous sculpture with its hero surrounded by writhing mermaids, banished from City Hall Park to Kew Gardens, Queens in 1941, as well as Abe Lincoln at his Memorial in Washington. It's surprising that Mott Haven is not better known for the six Piccirilli Brothers, who were in business from 1893 to 1945.
St. Ann's Episcopal Church, St. Ann's Avenue between East 139 and East 141st Streets, is The Bronx' oldest church, having been built in 1841 and dedicated to Gouverneur Morris' mother, named, naturally, Ann. Several Morrises including Gouverneur and Lewis are buried in the church's graveyard. The church is surrounded by foliage and locked gates, so it's difficult to get a good look at it in summer.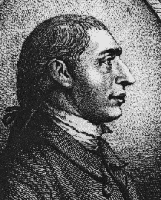 BEFORE IT WAS MOTT: Before the land was purchased by Jordan Mott for his iron works in the 1840s, Mott Haven was owned by the Morris family. Some of the more famous Morrises were…
Richard Morris (1662-???) Great grandfather of Gouverneur Morris, he was the first to settle in the area that would become Morrisania and later, Mott Haven.
Lewis Morris (1726-1798) was an ardent supporter of American independence and served in the Continental Congress from 1775-1777, and in the NY state legislature betwen 1777 and 1790. He signed the Declaration of Independence in 1776.
Gouverneur Morris (pictured, 1752-1816) half-brother of Lewis Morris, was a political leader, diplomat, U.S. Senator, and American ambassador to France. He was an outspoken opponent to 'unchecked' popular democracy. His son, G. Morris II, sold the estate to Jordan Mott.
Robert Morris (1802-1855), grandson of Richard Morris, was a three-term mayor of New York City from 1841 to 1844.
These State Education Department plaques are deployed sparingly–you know it's a prime historical site when you see one. This one dates to 1939.
Guadalupe Yoli (1939-1992)
Directly across from the church, on St. Ann's and 140th, is a street sign commemorating a more recent resident, salsa diva La Lupe. She spent the final years of her life in the South Bronx on East 140th Street.
From planetlatino.net:
La Lupe graduated from the University of Havana with a teaching certificate. Although qualified to teach, her passion and dream was to become a singer. In 1959 she headed for Havana where she started singing with a trio called "Los Tropicubas." Also during this period in History, Fidel Castro was well on the way to deposing Batista. La Lupe cut her first album "Con el Diablo en el Cuerpo" (with the devil in the body) in 1960 and her popularity began to soar. Her unique aggressively sexual style of performance did not sit well with the new communist regime. Around 1963, she fled to the United States where her artistic freedom would be assured. She moved to New York City where she collaborated with fellow Cuban musician and legend Mongo Santamaria. Together, they produced analbum called "Mongo introduces La Lupe (Tico Records). In 1965 she recorded with the late great, Tito Puente "Tito Puente Swings, The Exciting La Lupe Swings." The album sold in excess of 500,000 copies. La Lupe and Tito Puente recorded three more top-selling albums before they parted ways.
La Lupe's reputation as a uniquely sexually flamboyant performer continued to grow, as did her popularity. Partial stripping and spiritual like trances were part of her repertoire. This may have been attributed to her practicing of Santeria. My friend David said she was amazing to watch and that there hasn't been anything like her since. She was surely one of the most recognizable figures in Latin music at the time. It is said that Pablo Picasso, after attending one of her performances, declared her a genius. Izzy Sanabria, the legendary salsa persona of the time and publisher of "Latin New York Magazine", told me that what made her so special was that "she sang from the bowels of her womb."
Handsome Post Office building near St. Ann's Church
East 140th is the picture of urban placidity on a summer afternoon.
The buildings on East 140th contain some exquisite detailing.
Nick's Blue Diner, East 138th and Park Avenue, 1948 Kullman model
Rug cleaning ad, Park Avenue near East 138th
Willis Avenue beneath the Willis Avenue Bridge, south of Bruckner.
Willis Avenue and East 134th
Like ships passing in the night, several important or lengthy New York City Avenues pass through Mott Haven on their journey northward. Above is the intersection of East 138th, Morris and Third Avenues. Morris Avenue, named for the famed family, begins here and rolls north through Morrisania, Mount Hope, Tremont and Fordham before petering to a conclusion just north of Jerome Avenue near Lehman College. When the 3rd Avenue El was extended north to Gun Hill and White Plains Roads, a number of Bronx streets were renamed to create Third Avenue, the only numbered Manhattan avenue to extend into the Bronx. And here, it's always Third, never 3rd. Sumilarly, Park Avenue was extended along the NY Central Railroad (now Metro-North and Amtrak). In the Bronx, sleepy Park Avenue is a far cry from the tony atmosphere it enjoys in midtown Manhattan.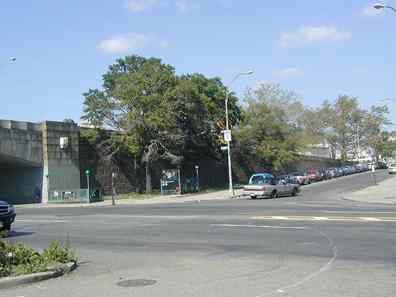 Source of the 'Course: The Grand Concourse, originally the Grand Boulevard and Concourse, begins unassumingly at East 138th Street. The overpass at left connects the Concourse with the Major Deegan Expressway. The Concourse cuts a mighty swath northward to Mosholu Parkway, dominated by elegant Art Deco apartment buildings.11 lanes and 182 feet wide at its widest, it was built by Louis Risse from 1870-1902. The stretch of the GC shown here was named Mott Avenue until 1927.
The Bronx Terminal Market was built in the John Hylan administration in the Twenties. Since then it's been a receiving point for the city's fruit and vegetables (though much of that has moved to Hunts Point in recent decades). It stretches along the Deegan between East 149th Street and the Macombs Dam Bridge near Yankee Stadium. During Mayor LaGuardia's tenure it was expanded and improved and attracted more tenants. This distinctive building with its touches of Art Moderne lettering would be even more so, without its constant assaults by graffitists.
The 145th Street Bridge is one of a number of picturesque bridges that span the Harlem, most built between 1890 and 1895.
It only looks good from the outside. The Bronx House of Detention for Men, in the shadow of Yankee Stadium on River Avenue, was built in 1931 (same year as the Empire State Building, of which it is a squat reminder) by Joseph Freedlander.
If The Bronx County Courthouse resembles the House of Detention, that may be because it was also built by Freedlander with partner Max Hausle in 1933. Adolph Weinman created the distinctive sculptures at its entrances. Here it is pictured from Macombs Dam Park with an IRT #4 train rumbling past. The building can be clearly seen looking over right field at Yankee Stadium. A new Courthouse opened in 2008.
Macombs Dam Park is named for a dam in the Harlem River constructed by Robert Macomb in 1813. The Bronx was nearly entirely rural then, and local farmers angrily removed the dam in 1836, reopening the river. The park was erased during construction of the New Yankee Stadium in 2008, but it will probably be relocated a few blocks north.
9/20/02
SOURCES:
History in Asphalt, John McNamara, Bronx Historical Society 1991
BUY this book at Amazon.COM
WPA Guide to New York City, Federal Writers Project 1939, rev. 1982 Pantheon
BUY this book at Amazon.COM
Blue Guide to New York City, Carol Wright, Stuart Miller, Sharon Seitz, rev. 2002 A&C Black
BUY this book at Amazon.COM