In Olmstead and Vaux' vast NYC greensward you'll find the greatest concentration of NYC statuary of the famous and no-longer-quite-as famous…

Hello, Columbus (1451-1596). The great 15th-century explorer/navigator has not one but two statues in and around Central Park.
Once much more prominent because of its 40-foot height, the Columbus Monument was placed at the southwest corner of Central Park in 1892, the 400th anniversary of Columbus' arrival in the New World. Its detail features representations of "The Genius of Discovery" regarding a globe, and bas-reliefs of Columbus putting ashore and the Niña, Pinta and Santa Maria.
Six bronze rostra, representing ships' prows, adorn the column. The statue owes its presence here to the lobbying efforts of Italian-Americans. Il Progresso editor Carlo Barsotti led the efforts and arranged a grand unveiling attended by 10,000.
Columbus Circle is also notable for its spectacular water displays, which have been there since 1960. They were created by Douglas Leigh, who also designed some of Times Square's more spectacular neon signs of the period. The undistinguished New York Coliseum occupied its western end for many years, until the massive 'twin towers' of the Time Warner Center replaced it in 2003.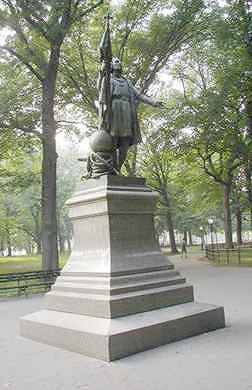 Location: southern end of The Mall, west of West 66th Street
Sculptor: Jeronimo Suñol
Year installed: 1892
The 1890s saw many celebrations of the life and explorations of Columbus (unlike 1992, when the accolades were decidedly more muted because of the increasing realization that Columbus' arrival had disastrous results for Native Americans). There was the Columbian Exposition of 1893 in Chicago, at which architectural ideas for the 20th Century were proposed, as well as two massive statues installed in Central Park. (Ninth Avenue above West 59th Street had already been renamed Columbus Avenue in 1890).
Spanish sculptor Suñol's statue is a close copy of his earlier one that was installed in the Plaza de Colon (Columbus) in Madrid in 1889. Columbus, of course, was commissioned by the Castilian monarchs, Ferdinand and Isabella, to find a passage to the Far East.
Here, Columbus is shown with a flag, a globe and a capstan: a rope-winding device used on ships.
Other statues of Columbus can also be found at the downtown Customs House and also in front of Brooklyn's Cadman Plaza in front of the NY State Supreme Court Building, as well as Jersey City's Journal Square.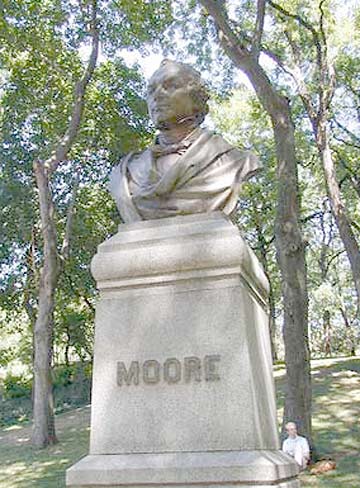 (1779-1852)
Location: North of Grand Army Plaza at entrance to The Pond
Sculptor: Dennis Sheahan
Year installed: 1879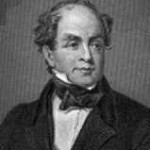 Thomas Moore, regarded as Ireland's national poet of the 1800s, wrote The Last Rose of Summer; a biography of his friend, Lord Byron; and many other works.
Moore was not a friend of Thomas Jefferson: he attacked him in print three years after meeting him on a U.S. tour.
Moore is little-read these days, though he is also depicted in bonze in Brooklyn's Prospect Park.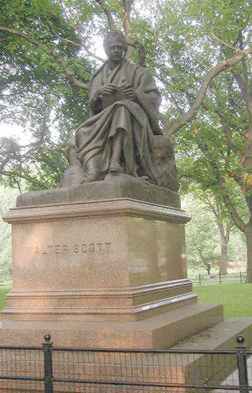 (1771-1832)
Location: east side of The Literary Walk in the Mall
Sculptor: John Steell
Year installed: 1871
John Steell's bronze statue is a replica of a Scott portrait he did that has been in Prince's Street in Edinburgh since 1845.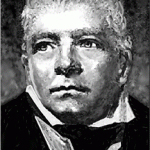 Walter Scott was born in Edinburgh and met his older contemporary, Burns, when he was fifteen. He went on to become a poet and one of the first and finest practitioners of the literary novel with his Waverleyseries. American readers know him best from Ivanhoe (1819). Scott funded his printing firm with profits from his voluminous output. He was blessed with an egalitarian frame of mind, and his works are among the first to give prominent roles to workingmen instead of kings or princes. Greenwich Village's Waverley Place takes its name from one of his novels.

(1790-1867)
Location: east side of The Literary Walk in the Mall, north of Walter Scott
Sculptor: James W.A. MacDonald
Year installed: 1876
Fitz-Greene Halleck wrote romantic and satirical light verse. Little-read today, he was considered the most important and talented American poet of his time–he was called "The American Byron"— and indeed, he is the first American poet to be honored with a sculpture in Central Park or anywhere else.
Halleck was a close friend of Bronx poet Joseph Rodman Drake. They collaborated onThe Croaker Papers, which appeared in theNew York Post in 1819 (that's the same New York Post publishing today). Both Halleck and Drake are honored with street names in Hunt's Point, the Bronx.

(1564-1616)
Location: southern end of The Literary Walk in the Mall west of West 66th Street
Sculptor: John Quincy Adams Ward
Year installed: 1870
In 1864 actor Edwin Booth (himself memorialized in bronze in Gramercy Park) laid the foundation for a statue of "The Bard of Avon" in honor of his 300th birthday. The Civil War delayed construction of the statue, but it finally appeared in 1870. Booth's fellow actor, James McKay, posed as Shakespeare for sculptor John Q.A. Ward.
Shakespeare is the founder of modern literature. His complete works are readily available on the internet.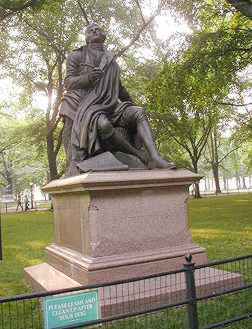 (1759-1796)
Location: west side of The Literary Walk in the Mall
Sculptor: John Steell
Year installed: 1880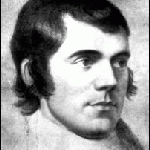 "Should auld acquaintance be forgot…" Whether you know it or not, you're quoting "Robbie" Burns every New Year's Eve. When Burns wrote Auld Lang Syne, it was put to different music, and it wasn't sung in its present form until decades later. Like most other Burns works, it was written in a thick Scottish dialect and can be understood only with special studies. Despite all that, he is regarded as the Scottish national poet; "Auld Lang Syne" doesn't scratch the surface of his body of works. Burns was a political rebel, an opponent of organized religion, and was popular with the lasses, as you might imagine from his portrait. He died at age 37 from a longstanding heart condition.
Burns, as well as Sir Walter Scott (see entry above) were sculpted by Scot Sir John Steell. Burns is shown with the manuscript of "To Mary in Heaven," a poem written for an auld flame of his.

(1919-1933)
Location: follow walkway east of Fitz-Greene Halleck, through Willowdell Arch, west of 66th Street
Sculptor: Frederick G.R. Roth
Year installed: 1925
Balto was a Siberian Husky who led a dogsled team carrying desperately needed diphtheria antitoxin through a blizzard to Nome, Alaska, in January 1925. A plaque below Balto's statue is a relief of the seven sled dogs on their grueling 600-mile journey. Sculptor Roth made animals his specialty; two more of his works, Dancing Goat and Honey Bear, both from 1927, are in the Central Park Zoo. The present Iditarod sled dog race was inspired by Balto and the sled dogs' journey.
Moving north up Literary Walk through the Mall and approaching the Naumberg Bandshell and beyond it, Bethesda Fountain, we find another cluster of statues. These are rather severe-faced folks, and it's no surprise to find that, on further inspection, they're classical musicians, poets, and essayists…

(1759-1805)
Location: west side of the Mall, opposite Naumberg Bandshell
Sculptor: C. L. Richter
Year installed: 1859
Here we have the oldest portrait sculpture in Central Park. The centennial of German playwright and philosopher Johann Christoph Friedrich von Schiller was met with enthusiastic celebrations around town, especially in German neighborhoods such as nearby Yorkville.
Schiller, who wrote the plays William Tell, Don Carlos, and Wallenstein, was a champion of human rights and liberty and also of German unification and reform. He was a close friend of fellow playwright Johann Wolfgang von Goethe, who is memorialized in Bryant Park (see Who Are Those Guys, Part IV), and Ludwig von Beethoven (see below).
Schiller's life was tragically cut short by tuberculosis when he was 46.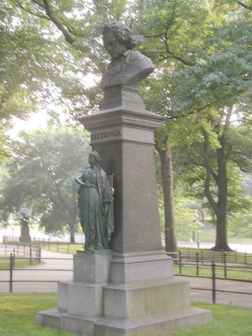 (1770-1827)
Location: west side of the Mall, opposite Naumberg Bandshell
Sculptor: Henry Baehrer
Year installed: 1884
Henry Baehrer's portrait bust features the "Spirit of Music' at its base. A second Beethoven bust by Baehrer can be found in Brooklyn's Prospect Park near the skating rink.
Even for non-fans of classical music, Ludwig von Beethoven is an immediately recognizable figure, with his stern demeanor and shock of white hair. Beethoven is regarded by many as one of the three greatest composers of classical music, along with Johann Sebastian Bach, who came before him, and Wolfgang Amadeus Mozart, a contemporary. His most passionate compositions were borne from rage and sadness; he had unfulfilling relationships and increasing deafness. By the mid-1810s, as he was approaching his peak of creativity, he could hear his music only in his head.
Possibly his most famous work, his Ninth Symphony, was finished by 1824 and was inspired by his friend Johann Friedrich von Schiller's poem "Ode To Joy."
In many ways, Beethoven can be considered the first musical rebel. Along with his friend Schiller, he was an implacable champion of freedom and human rights and refused to bend his knee to nobility and aristocracy. He criticized Goethe for being "too fond of the atmosphere of the courts."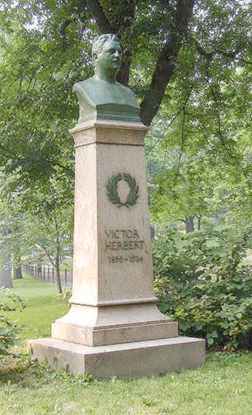 (1859-1924)
Location: west side of the Mall, opposite Naumberg Bandshell
Sculptor: Edmond Quinn
Year installed: 1927
"Childhood's joyland, mystic, merry Toyland
Once you pass its borders you can never return again."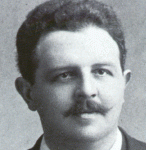 Victor Herbert was born in Dublin, Ireland, and became a cellist in Richard Strauss' orchestra in Vienna. After moving to the USA in 1886, he gravitated to what we'd call 'pop' music today, becoming a conductor and composer; he wrote the music for Naughty Marietta and Babes in Toyland, and composed songs still heard widely today such as "Kiss Me Again" and "Ah, Sweet Mystery of Life." He was a founding member of the American Society of Composers, Authors and Publishers (ASCAP).
Elsewhere in Central Park…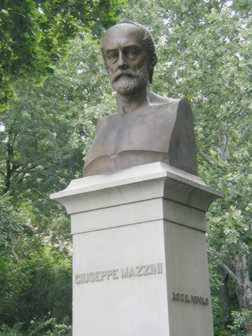 (1805-1872)
Location: West Drive, north of the old Tavern on the Green near West 67th Street
Sculptor: Giovanni Turini
Year installed: 1876
Giuseppe Mazzini was a writer, philosopher and passionate proponent of a united Italy. In 1831 he organized the Young Italy movement, which Giuseppe Garibaldi (also memorialized by sculptor Turini in Washington Square Park) joined; he later commanded Italy's successful revolutionary forces.
For all of his patriotism, Mazzini was exiled from Italy for much of his life; even after unification was achieved, he was disappointed in the ruling monarchy, earning disfavor, and only entered Italy in disguise as a traveling salesman toward the end of his life.

(1805-1875)
Location: West side of Conservatory Lake, west of approximately East 74th Street
Sculptor: Georg John Lober
Year installed: 1956
The Ugly Ducking mini-statuette was stolen in 1973, but it was later found in Queens.
Hans Christian Andersen is the greatest modern fairy-tale author. His tales have been read by children for over 150 years…but like Bugs Bunny cartoons, Andersen's work could be enjoyed by adults as well. Born in poverty in Odense, Denmark, Andersen was first published in 1828 and wrote poetry, novels and was an enthusiastic traveler his whole life. He is of course best known for his children's tales, "The Ugly Ducking", "The Little Mermaid", The Emperor's New Clothes, "The Snow Queen" and so many more. While his stories were mostly inspirational, some had a very dark streak: "The Girl Who Trod on the Loaf" is about a disobedient little girl who winds up in a very bad place.
Danny Kaye played Andersen in a 1952 movie musical.
The tales of Hans Christian Andersen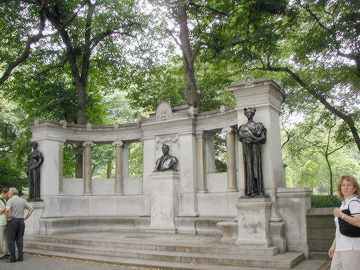 (1827-1895)
Location: 5th Avenue between 70th and 71st Streets
Sculptor: Daniel Chester French
Year installed: 1896-1901
Richard Morris Hunt was one of America's first great architects. Just ten blocks north of here, you will find his foremost work in New York City, the facade of Metropolitan Museum of Art. He was a leader in the professionalism of architecture and urged collaboration between builders and artists. He also designed the expansion of the U.S. Capitol Building, and introduced the concept of the apartment house to NYC in 1869.
Upon his death, the Municipal Art Society, of which he was a founding member, funded and organized a memorial. Daniel Chester French sculpted his memorial bust, while Bruce Price designed the colonnade. The bust is flanked by allegorical figures representing Painting and Sculpture and Architecture.

(1791-1872)
Location: 5th Avenue and 72nd street, south side of 72nd Street Transverse Drive (relocated from Literary Walk)
Sculptor: Byron Pickett
Year installed: 1870
"What hath God wrought?" With those words, the Information Age began.
You know Samuel Finley Breese Morse invented the telegraph and sent that first famous message in 1844…but did you also know that prior to that, Morse was an accomplished painter? His portrait of the Marquis de Lafayette hangs in City Hall.
The invention of the telegraph allowed the West to open to American colonization; the swift exchange of messages that formerly took weeks to deliver.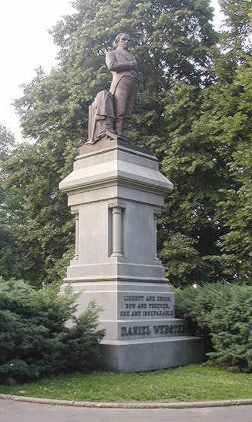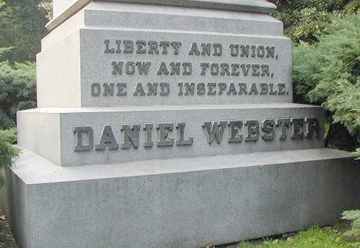 (1782-1852)
Location: junction of East and Terrace Drives, near Central Park West and West 72nd Street
Sculptor: Thomas Ball
Year installed: 1876
While glibness and a facility with the press are important skills for any modern politician, oratory abilities were even more prized during the 19th Century, when there were no microphones or spinmeisters–just a leader with a booming voice and powerful rhetoric. Daniel Webster, Senator from Massachusetts and later, Secretary of State, was likely one of he more eloquent Congressmen who ever lived. Webster helped maintain the Union during the 1820s and 1830s when the question of slavery threatened to rupture it; the Civil War may well have broken out earlier if not for his conciliatory efforts.
Sculptor Thomas Ball's 1876 enlargement of a statuette he produced in 1853 is inscribed with one of his famous quotations from an 1830 Senate debate: "Liberty and Union, now and forever, one and inseparable!"
Mathew Brady's portrait
The Bronx' lengthy Webster Avenue is most likely not named for the Senator.

(1769-1859)
Location: at Explorer's Gate at Central Park West and West 77th Street
Sculptor: Gustaf Blaeser
Year installed: 1869
Gustaf Blaeser's 1869 bust was one of the first portrait sculptures placed in Central Park; only Johann Friedrich Schiller made it before he did.
Many towns and counties are named for Humboldt, and it's likely that Brooklyn's Humboldt Street is, as well.
"Whether in the Amazonian forest or on the ridge of the high Andes, I was ever aware that one breath, from pole to pole, breathes one single life into stones, plants and animals and into the swelling breast of man."
Alexander von Humboldt was a German naturalist and geographer. He traveled widely in South America and Asia, and produced the five-volume work Cosmos, a study of the physical universe which was left unfinished at his death. Von Humboldt was also an abolitionist and favored independence for Spain's South American colonies; a chance meeting with Simón Bolivar in Paris in 1804, it is said, helped inspire Bolivar's subsequent revolutionary efforts.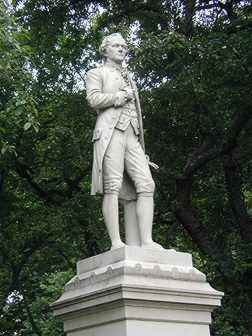 (1755-1804)
Location: East Drive, west of East 83rd Street
Sculptor: Carl Conrads
Year installed: 1880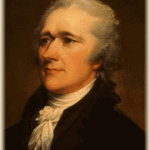 Writer, orator, banker, statesman, journalist and patriot, Alexander Hamilton was a chief architect of the nascent US democracy. He published a series of 85 essays in 1787-88, known as The Federalist Papers, to garner support for the U.S. Constitution. Hamilton was first US Secretary of the Treasury and founded the Bank of New York, which is still in business, in 1804. He made his home at Hamilton Grange (just moved to St. Nicholas Park) until he was killed in a duel by Vice-President Aaron Burr in 1804 after opposing Burr in his bid for the NY State Governorship. The year of his death, Hamilton founded the New York Post.
This is one of three statues of Hamilton in Manhattan. The other two are at his home, Hamilton Grange, in Harlem; the other is on the Columbia University campus.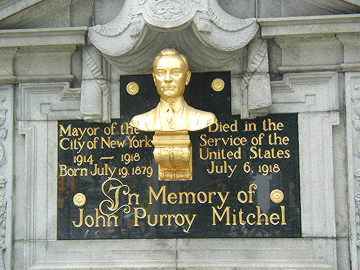 (1879-1918)
Location: 5th Avenue and East 90th Street at The Reservoir
Sculptor: Adolph Weinman
Year installed: 1926
Known as "The Boy Mayor" as the youngest NYC chief executive to date, John Purroy Mitchel was elected in 1913 at the age of 34. After losing his bid for reelection in 1917, he was killed while training for the aviary corps in World War I after a freak accident, falling out of his plane after apparently not sufficiently tightening a seat belt. During Mitchel's tenure in City Hall, a young man began working for NYC civil service who would leave a substantial mark over the next five decades…his name was Robert Moses.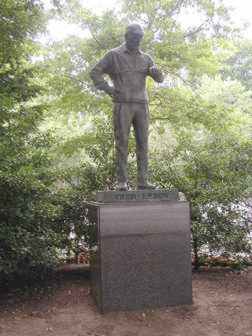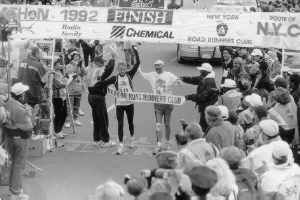 (1932-1994)
Location: at Engineer's Gate at 5th Avenue and East 90th Street; formerly at Tavern on the Green
Sculptor:
Year Installed: 1994
Fischl Lebowitz was born in Romania and lived under both Nazi and Communist regimes before emigrating to the USA, founding a successful garment-district business. He took up road running to help his tennis game; soon, he had given up on tennis but enjoyed running so much that by 1970, he helped organize the first New York City Marathon. The first race attracted 200 runners; by its 30th anniversary, the Marathon had grown to over 25,000 runners from around the world. He also created the Women's Mini-Marathon, Chase Corporate Challenge, Fifth Avenue Mile, Empire State Building Run-Up, New York Games and more.
After his 1994 death from cancer, a bronze likeness of Fred Lebow was placed on West Drive on Tavern on the Green at Central Park West and West 67th, the finish line for the NYC Marathon since it expanded to a five-borough run in the mid-1970s. The statue was later moved to its present location at 5th Avenue and East 90th Street (and East 89th Street is now subtitled Fred Lebow Place).
Lebow had never actually run the NYC Marathon before gamely finishing the 26-mile course in 1992, while battling cancer, accompanied by close friend, marathon champion Grete Waitz, as shown in the photo. Each year, Lebow's statue is moved to the old finish line location at the former Tavern on the Green to overlook the finishers.
Waitz passed away at the young age of 57 in 2011.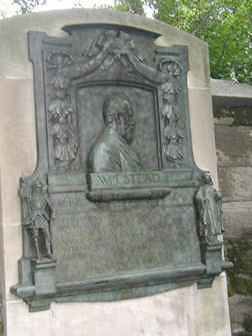 (1849-1912)
Location: 5th Avenue and East 91st Street
Sculptor: George Frampton
Year installed: 1920
William T. Stead was an influential British journalist at the turn of the century, and had many admirers in Britain, the Continent and the United States. He was among the first of what Theodore Roosevelt called 'muckrakers', exposing war atrocities and prostitution rings. In April 1912, Stead was on his way to the US on board the RMS Titanic. Accounts have him helping women and children into the lifeboats before he went down with the ship.
In 1913, a bronze plaque commemorating Stead was placed along the Embankment along the Thames in London. A copy was produced and placed here in 1920.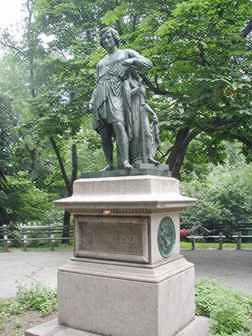 (1770-1844)
Location: pathway just north of East 96th street at 5th Avenue
Sculptor: Albert Thorvaldsen
Year installed: 1894
Located in a dead-end park path just south of the 96th Street Transverse Road just off 5th Avenue, this replica of a lifesize portrait of Danish sculptor Albert Bertel Thorvaldsen (1770-1844) is the only portrait statue in New York City that is a self-portrait and the second statue of a Dane (Hans Christian Andersen, elsewhere in Central Park, is the other one).
Thorvaldsen was born to an Icelandic family who had emigrated to Copenhagen. He is considered the leading Neo-Classical sculptor of the 19th Century. His self-portrait, cast in 1839, was presented to the US as a gift from Denmark on the occasion of the 50th anniversary of his death.

(1864-1936)
Location: 5th Avenue just south of Girl's Gate at East 102nd street
Sculptor: Richmond Barthe
Year installed: 1939
Arthur Brisbane was editor of the New York Evening Journal and was honored after his death by this beautiful marble memorial and sculpture.
"Why Women Should Vote" by Arthur Brisbane
Central Park has been open since 1853 and to date, there is no female portrait statue! Which woman should be the first? What do you think?

(1813-1883)
Location: 5th Avenue and East 103rd Street
Sculptor: Ferdinand von Miller III
Year installed: 1892
Depending on who you speak to, there's a wide opinion on the accomplishments and career of Dr. James Marion Sims.
Dr. James Marion Sims is often called the father of gynecology; he founded the Women's Hospital of New York City. To some, he is a respected figure for having advanced medical knowledge; to others, his name is reviled because in his native South Carolina, he performed experimental surgery on African-American women slaves. This page gives an account of some of that side of Sims' story.
Dr. Sims' statue was originally placed in Reservoir (now Bryant) Park, was removed from the park in 1928 and put in storage under the Williamsburgh Bridge until 1934, when it was then taken to its present location and given a stone pedestal.
Sources…
Manhattan's Outdoor Sculpture, Margot Gayle and Michele Cohen, Prentice Hall Press 1988
BUY this book at Amazon.COM
Lost New York, Nathan Silver, Houghton Mifflin, updated edition 2000
BUY this book at Amazon.COM
10/30/2002; revised 2012