In The Prisoner, one of the Swingin' Sixties' most surreal, mind-bending TV series, Astoria's own Patrick McGoohan played a government operative who is knocked out and spirited away to a mysterious location known only as The Village, where no one goes by name…just a number, and where a succession of headmasters by turns try to charm, persuade or torture Number Six to reveal why he resigned his commission, believing it to be of key importance to their unknown government's plans for world peace… or war. No Villager can ever leave…if they attempt it they are caught and immobilized by the Village's unique and occasionally lethal guardian, "Rover."
So far, Mayor Bloomberg has not attempted anything Draconian to keep New Yorkers within the borders of the fab five boroughs. So, your webmaster at Forgotten NY has decided that the most prudent thing to do is to explore those neighborhoods of NYC that border on the Great Beyond before such a command ever comes.
NYC is mostly surrounded by water, making such journeys occasionally impossible by foot…but there are neighborhoods where you can just stroll in, unmolested even, in many cases. In our first journey to adventure, we'll see a place where East inexplicably meets West…
The Bronx can be a land of unexpected beauty. Along U.S. 1, Boston Road, though, it ain't.
In the title card we see Boston Road and Peartree Avenue, Eastchester. Co-Op City, Freedomland's former locale, looms in the background
The further northeast in the Bronx you get to Westchester, the further into Eastchester you penetrate. Eastchester is a neighborhood in the northeast Bronx that actually used to belong to Westchester County and didn't become a part of New York City until 1895. It's a quiet neighborhood of one and two family homes, a few apartment buildings and massive Co-Op City, and some of the ugliest junkyards you could ever hope for. The NYC Subway makes its closest approach to the city line in Eastchester, as the Dyre Avenue line (part of which was "captured" from the defunct New York, Westchester & Boston Railroad in 1940) ends just a couple of football fields away from the border. New York is the only large US town whose subway never breaks the boundaries of its city.
Bronx' own Little Red Schoolhouse, PS 15, is at 4010 Dyre Avenue. The architectural gem was built in 1877 and was originally a school in the town of Eastchester before its capture.
Crossing over the border on Rombouts Avenue and taking a right on Kingsbridge Road in Mount Vernon, you will quickly arrive at the ruins of the NYW&B's Kingsbridge Road station. It was abandoned when the rest of the line north of the border was, in 1938.
Kingsbridge Road is still recognizably a former RR station. It has been stripped of the NYWB's characteristic caduceus symbols, however.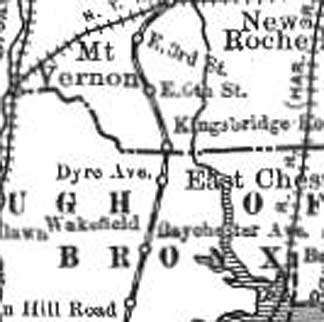 Detail of 1905 map showing the Gun Hill Road, Baychester, Dyre Avenue, Kingsbridge Road, East 6th and East 3rd Street stations of the NYW&B.
Conner Street west of Boston Road
Conner Street east of Boston Road
One of The Prisoner's more intriguing episodes is The Schizoid Man, in which The Village attempts to confuse Number Six by creating his doppelganger, hoping he will be so disoriented that he will quickly spill the required information. Number Six is able to dispose of his double and nearly escape the Village.
Eastchester has a schizoid street. Its name is Conner Street, named for a former small settlement known as Connersville after a local landowner. There was an amusement park known as Eagle Grove on the Boston Post Road in the area in the 1870s. If there weren't any street signs, you'd have a hard time convincing anyone that this is the same street on either side of Boston Road. East of Boston Road, Conner becomes a six-lane behemoth, ferrying traffic to the very busy New England Thruway, but to Boston Road's west, Conner becomes a country lane, with no sidewalks and recent blacktopping. Provost Avenue, which has some weird twists and turns of its own, becomes Eastchester's main truck route to the city line and Mount Vernon. How this arrangement came about, who can tell, but few NYC streets utterly change character so abruptly.
Provost Avenue (above) has some choice auto wrecking facilities, complete with the meanest watchdogs in the borough, and that's saying something in a borough full of pit bulls.
A look at Pinckney Avenue, with its tributary, Hutchinson Avenue
Prime junk as seen from Eastchester Bridge
In 2003, it drizzled every day between March 15 (when it stopped snowing) and the at least the middle of August, and your webmaster couldn't have picked better weather than this to march across the dank, dismal Eastchester Bridge, which takes Boston Road over the Hutchinson River to Pelham Manor in Westchester County. There is very little sidewalk and it's covered with mud and sand. The roadway was filled with coffee-crazed SUV drivers yelling into their cell phones at 70MPH whistling past scant inches away. The only other foot traffic consisted of can collectors. Your webmaster's kinda folks.
This rural view of the Hutch may be reminiscent of what it looked like in the early1640s, when Anne Hutchinson, the area's first settler, arrived here. William and Anne Hutchinson had espoused religious freedom after arriving in Massachusetts from Anne's birthplace in Alford, England, but the Puritans had none of it and expelled them. After a brief stay in Rhode Island (Roger Williams' colony was an early outpost of tolerance) William died and Anne and her family moved to this far-off outpost. But most of the family, including Anne herself, was killed in an Indian raid.
The Hutchinson River, originally known as Eastchester Creek, extends from Eastchester Bay east of Pelham Bay Park on the south until passing through a few reservoirs and narrowing to a stream, ending in New Rochelle in the north.
Boston Road and Provost Avenue. Actually, The Bronx, unlike Brooklyn, has never been a separate city. It has been part of Westchester County, then part of New York (Manhattan) County, a borough, and finally achieved county status in 1914…but it's never been a city. And as my boss at work would say, "That's not English!" The sign should read, "All-American."
Half out of it. We've crossed the harrowing Eastchester Bridge over the mighty Hutch, but we still have to pass a few Wendys and IHOPs before we're fully out of the Bronx. Once we've made the transition, however, it's unmistakable: the junkyards and junkfood joints recede into the rearview mirror (if you're driving) and a "Post" is added to Boston Road's name. It's true…as Route 1, Boston Road, which begins in the Bronx at Third (NOT 3rd) Avenue and East 163rd Street, does indeed go all the way to Boston. (Meanwhile, White Plains Road doesn't go to White Plains, but we'll deal with that on our next Borderline Crazy page.)
According to Bronx historian John McNamara, Boston Road was constructed by surveyor John B. Coles in 1794. It is a reroute of the original Boston Post Road, which was started in 1672 as a mail route between Boston and NYC (a 270-mile distance), following a network of Indian trails. The original branched off north of the present Boston Road in the Bronx; its present route is marked by Kingsbridge Road in Mount Vernon and by Bussing Avenue, Barnes Avenue and Gun Hill Road in the northern Bronx. Lewis Morris, an early Bronx honcho (as were many of the Morrises) wanted the Post Road to run through his property; enter John Coles. In fact, early on, that road was known as Coles' Boston Road. North of what would become the Bronx-Westchester line, the two roads converged and continued north. Further north, the Post Road would separate into more tributaries, each reaching Beantown via a separate route. In those days, what takes a few hours by car now took a few days by horse or coach.
Some of Ben Franklin's original mile markers can still be found along Boston Post Road
The US numerical highway system
Ambulating a short distance along the Post Road north of its cloverleaf with the Hutchinson River Parkway, there's an immediate opportunity for a right turn at Split Rock Road, named for a local landmark that was near Anne Hutchinson's homestead and saved from destruction from the New England Thruway by Bronx historian Theodore Kazimiroff.
Ah, you know you're not in the Bronx anymore…there are landscaped lawns, careful flower arrangements, and ritzy homes of every major architectural style of the 20th Century around here.
Why, your webmaster was actually eyed suspiciously by a limo-ful of well-dressed residents, undoubtedly wondering from my demeanor just what exactly I was doing here. They had nothing to fear. It wasn't their Tivos, Cuisinart appliances or Mercedes Benzes I was after.
Rather, I was looking to re-enter the Bronx!
It's one of those geographical quirks that make urban exploration, if not interesting, at least engrossingly time-consuming. In this neck of the woods, in order to get to Park Drive in the Bronx…you have to go through Pelham Manor!
Map by Hagstrom Inc.
Originally, the northern edge of Pelham Bay Park was the Westchester/NYC border, but in 1892, legislation was passed that shifted the city line a few yards to the north. That means that when Park Drive was constructed here it fell within the Bronx and any residence along it pays NY City tax, as well as conforms to other legal details. The southern extremities of other Pelham manor streets are also in the Bronx, though I hadn't the time to walk over and determine if there were any residences on them.
This is not as uncommon as it seems. There's a part of Minnesota accessible by car only via Manitoba.
Another sign from Boston Road and Provost Avenue. Hey, at least it's pointing to the right!
8/24/03