[These paintings were on Williamsburg walls in the summer and fall of 2003. Given theever-changing nature of street art, not many are likely still there.]
Those who know Your Webmaster know I'm not down with the hip hoppers and graffitists. Wild style is not my style. But a recent stroll through Williamsburg, the hip, hep, hip-hop, happening area in north Brooklyn served to change my mind…just a little. Williamsburg is festooned with wall murals, some commercial, some seemingly sprung from some creative brows on the spot.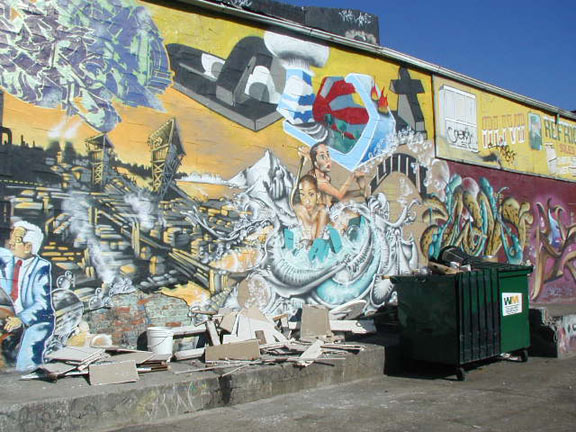 This wall by Cern and Space, on a refrigeration repair shop on Driggs Ave. and South 5th Street near the Williamsburg Bridge approach, looks like the mini-Guernica of Williamsburg. It's full of hard-to explain images and symbols. It may be the work of a single artist, or of a few.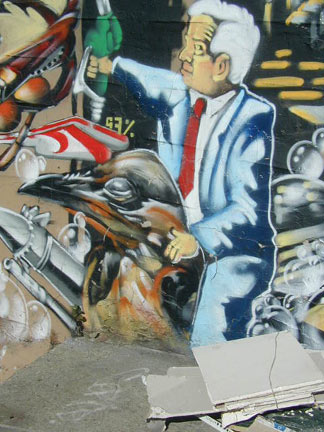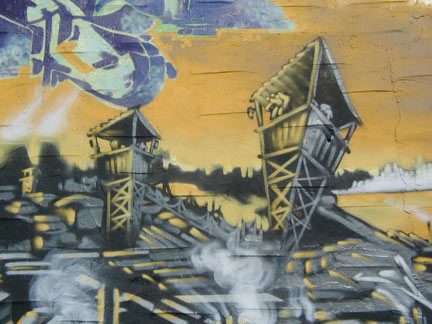 The mural seems to present Williamsburg in a post-apocalyptic state. There's more than a hint of Hieronymus Bosch in the depiction of a gray haired gentleman on crowback, clutching a gas pump. Meanwhile, the Williamsburg Bridge is shown as a pair of watchtowers. A Kurt Russell Escape From New York vision, perhaps?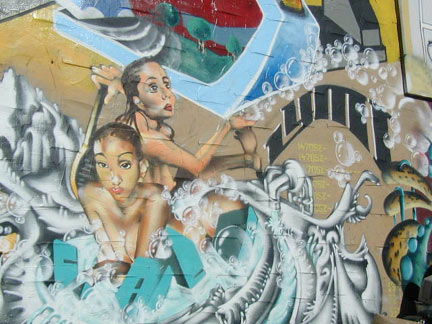 A pair of bathing beauties are nonchalant despite the fact that the water itself seems to be alive and attacking them.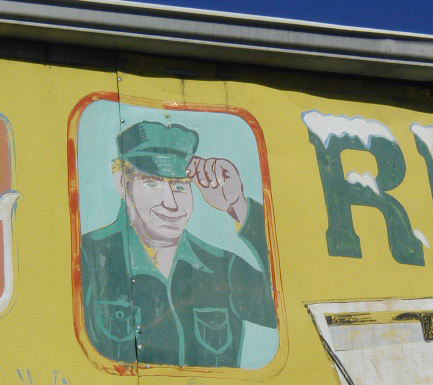 The whole scene is overseen by your friendly refrigerator repairman, who was here first and will probably be here last. He rather resembles Doodles Weaver. This is one of Doodles' best bits.
The above mural has been replaced, with pretty much old Doodles still remaining.
A chocolate manufacturer on Union Avenue and Richardson Street has a "Wizard of Oz" themed mural by Peak and Diva. Follow the yellow-bricked subway ballast to the Emerald City, which is apparently blocked by a train yard full of what appear to be R21/R22 subway cars (now retired)…still boasting their 1980s silver and blue paint jobs.
Actually I thought William Hope Hodgson did talking trees much more scarily in The Boats of the Glen Carrig. Tolkein's Ents have more personality. For monster tree movie buffs there's always From Hell it Came.
Rock guitar in a mural? Why not? Mural by Peak
At right, there's Williamsburgh as a metaphor again. In a Sisyphean theme by Revs, an anonymous figure rolls a rock labeled "life" up a hill. At bottom is an indecipherable tag, with a shadowy el (probably depicting the one along Broadway) beside it.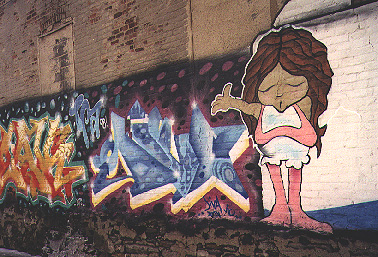 This piece by Peak and Diva, formerly near Wythe Avenue, shows a distinct Vaughn Bode influence. Bode, best known for his "Cheech Wizard" series from the National Lampoon, passed away in 1975. His work had been influenced by graffiti mural art.
A world full of water towers with an orange-colored sky is depicted outside a Brooklyn Industries clothing store on North 9th Street at Bedford.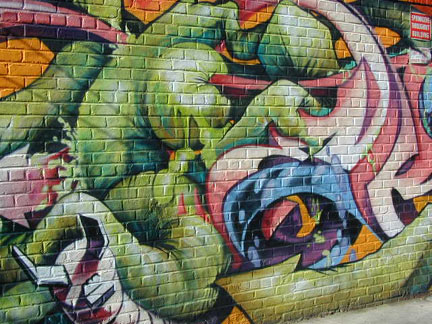 On Bedford and North 4th we have what looks like an H. P. Lovecraftian horror by Cycle. The blind demon Azathoth or the Crawling Chaos Nyarlathotep, perhaps? Actually the Ghostly Gentleman was briefly a New Yorker and Forgotten NY is planning a typically obscure page on him. Its companion robotic piece by Erni has disappeared.
It just looks like one of those Soviet murals dedicated to the noble worker. Actually Nations Rent is an actual concern. Mural by HEFone.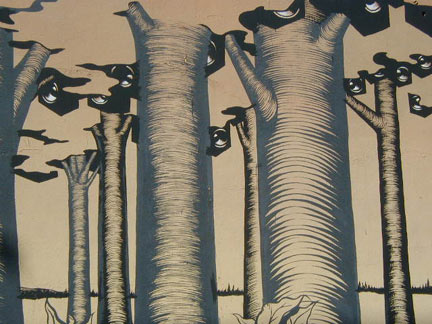 Speakers are frequent images in the murals of Williamsburgh (see the one above with the guitar player). In this abstract work on Richardson Street at Leonard, the artist seemed to want to show them as eyes.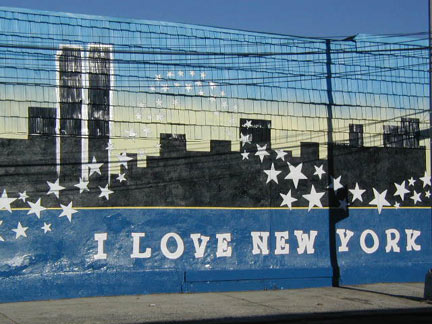 Dozens of murals, some of which are faded and chipped by now, arose in the aftermath of 9/11/01. This one is on North 12th west of Berry Street.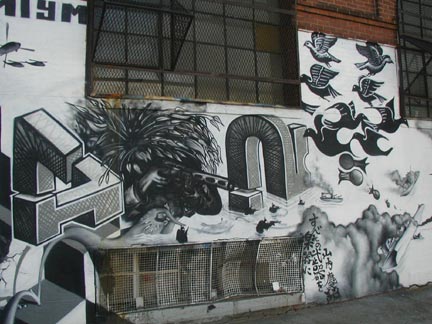 Grand Street.
11/11/2003. rev. 2012