SERVING as a US Army post and Coast Guard station between 1794 and 1997, Governors Island, which lies between the tip of Manhattan and the Brooklyn Heights and Cobble Hill section of Brooklyn where the East River empties into Upper New York Bay, set a record as the longest continuously active military post in the USA.
After NYC purchased the island from the US Government for the bargain price of $1.00 in 2003, it has been, somewhat reluctantly in the opinion of this webmaster, been opened to the public..albeit halfheartedly.
Recently, the island served as the backdrop for a powwow of urban explorers, as your webmaster, Mike Epstein of Satanslaundromat.com and (FNY Correspondent) Christina Wilkinson explored the place…well, the part of the place they allowed us to explore, while taking just a few liberties.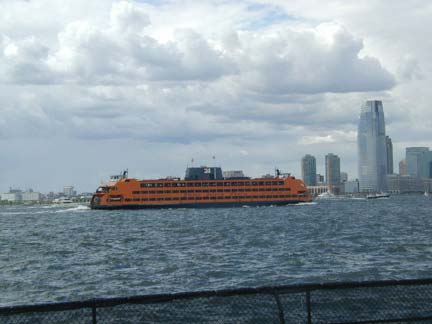 It's rare to actually see the Staten Island Ferry in operation from this close. We noticed the Andrew J. Barbieri back in action.
Big sky country. The summer of 2004, like the summer of 2003, has had rain on the schedule, or at least overcast skies, virtually every day. On the rare occasions when the sun has peeked out, the skies have been motion-picture quality.
Craig Road, otherwise known as "Foghorn Alley" provides excellent views of downtown, though the seawall seems to be crumbling away.
Governors Island, isolated as it is, was run as a small town for US Army personnel, government employees and their families. There was a bowling alley, golf course, Burger King and other appointments that are all shuttered for the time being.
Fort Jay, built 1798 and named for John Jay (1745-1829). Jay was US Supreme Court Chief Justice (1789), US Secretary of Foreign Affairs (1794) and NY State Governor (1797-1801) among many other posts, and co-author of The Federalist Papersin 1787. Jay Street in Brooklyn is also named for him.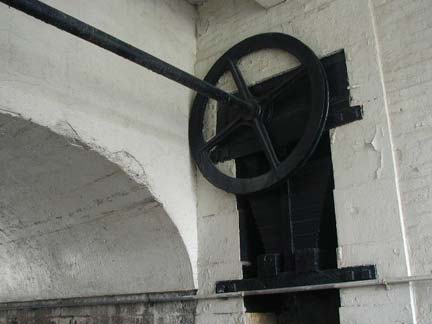 Ft. Jay interior. In its latter days, the fort was used as family housing; rusting hobby horses remain on the lawn. The remains of a former drawbridge mechanism remain on the entrance; the fort was built as a moat and saw action during the War of 1812.
The fort is described thusly in Benson Lossing's 1869 Pictorial Field Book of the War of 1812:
Fort Jay, on Governor's Island, New York Harbor,† thirteen hundred yards south of the Battery, at the lower extremity of the city of New York. – It was a regular fort, with bastions, quite strong, but then unfinished. It had a handsome gateway, with a corps de garde draw-bridge. In the centre of the fort was a square block-house of timber, two stories high, but probably not cannon-proof; under it was a well. It had two detached batteries, one mounting four 16-pounders and an 8-inch French mortar, with platforms for four others; and the other ten pieces, 18 and 24 pounders; originally intended for thirteen guns. The parapet had fifty-one embrasures, and it would take one thousand men to man the parapet. The fort, being commanded by hills on the Long Island shore, was not constructed to withstand a siege, but as a guard to the entrance to the East River, and to operate against an enemy in the harbor or in the city.
†Governor's Island was called Pag-ganck by the Indians, and Nutten Island by the Dutch. It was purchased, as a public domain, by Governor Van Twiller, in the early days of the Dutch rule in New York. In the settlement of the accounts of the Revolutionary debt, New York agreed to erect fortifications in the harbor in front of the city of New York, in payment of the quota required from that state. In accordance with an act passed by the State Legislature in March, 1794, the sum of one hundred and fifty thousand dollars was expended, under the direction of a committee, in constructing fortifications. The committee consisted of George Clinton, Matthew Clarkson, James Watson, Richard Varick, Nicholas Fish, Ebenezer Stevens, and Abijah Hammond. A further sum of one hundred thousand dollars was granted on the 6th of April, 1795, to complete the works on that and Oyster (now Ellis's) Island. Fort Jay was built, and in February, 1800, the island and all its appurtenances were ceded to the United States. The island contains seventy-two acres of land.
Near Fort Jay are a group of ornate mansions, including the Admiral's House where talks between Presidents Reagan and Gorbachev were held in 1988, and handsome smaller structures that were homes to officers and their families. Most of these were painted yellow. These homes may now be put to use as laboratories when some of Governors Island becomes academic and medical research facilities.
Governors Island is filled with verdigrised plaques, some of which are in the public areas, many not. In 2004, only a small area of Governors was open to the public: Nolan Park, where he mansions are, Fort Jay and Castle Williams were open to supervised tours 7 days a week, and the waterfront esplanade on Craig Road on Saturdays. It's frustrating, though with the proclivities of some of us to damage, graffiti and otherwise destroy…understandable.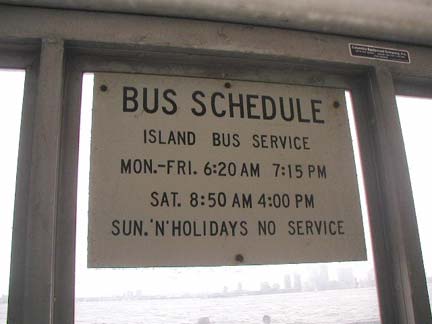 Craig Road is lined with bus shelters and schedule signs left over from the Coast Guard era, when shuttle buses plied the island. Though no auto traffic is on the island now, there are some signs left over from when there was.
Post Hospital is along Craig Road on the western end of the island adjacent to Castle Williams (see below). Maj. Thomas B. Smothers was stationed on the island in the 30s, and his two sons, Tom and Dick, were born in 1937 and 1939. Dick says his mom always liked him best.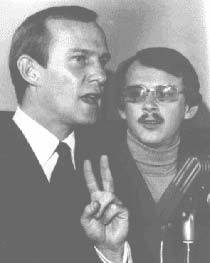 The Smothers Brothers' late 1960s comedy variety show was a strange bird. The brothers, who came up in the coffeehouse folk scene, had made some very well-received appearances on variety shows like Ed Sullivan throughout the 1960s, and CBS awarded them with their very own Sunday night show as a midseason replacement in 1967. At first the show was your usual Swingin' Sixties variety show, with a big band and rows of leggy dancers, but the brothers' political sensibility, which was decidedly leftwing, started to seep into the comedy, and it evolved into a brilliant showcase of irreverent humor, satire, and video special effects (I remember an innovative video for Mason Williams' instrumental "Classical Gas") and comics like Pat Paulsen, forever running a comedic campaign for President. The show also presented the top rock acts of the time doing lesser-known songs (Jefferson Airplane doing "Lather" for example.) The artistic freedom was too much for the conservative CBS, which pulled the show in 1969, despite still-strong ratings. The brothers hosted other series in the 1970s and 1980s, but nothing as fun as their original romp.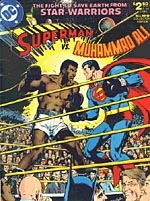 Neal Adams artwork
Longtime Marvel and DC Comics artist Neal Adams was also born on Governors Island, in 1941. He is best known for his work in Batman and Detective Comics from 1968-72, in which he updated Batman's costume to distance the comic from the campy TV version; he also did the iconic Superman vs. Muhammad Ali edition in 1976, featuring fully 170 celebrities in the crowd in the cover art. Neal today runs Continuity Associates, producing animatics and storyboards, and still produces the occasional well-received story or cover.
Castle Williams, named for its designer Lt. Colonel Jonathan Williams, was "compleated" in 1811, along with its twin fort, Castle Clinton, formerly on an island off Battery Park. It has been used as a fort and later, a prison. A technical point is that because the structures are fortified entirely of stone, they are known as 'castles,' not forts.
Castle Williams' former use as a prison is more apparent from its interior. Its cannons were never fired against a foe, but have been used for ceremonial purposes.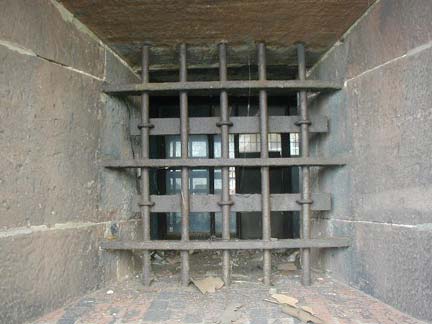 " 'Iron bars do not a prison make.' But they sure help, eh doc?" –Bugs Bunny
The time for negotiation was long past. It was time to mount a full-scale invasion of its 1970s-era apartment houses. We found the usual peeling paint, abandoned rooms, and myteriously lit corridors, and what must have been spectacular views at one time. We magnanimously left the building intact.
After 3 hours it was time to leave Governors to its seagulls and park rangers. The ferryboats, apparently former Coast Guard vessels, are quite comfortable, with ample wood seating and plenty of room to roam on the deck. This day, August 7, 2004, the temperature didn't break 70 and it was mostly overcast, as it has been for virtually every day in the summer of 2004.
Finally, with the opening of Governors Island it was time to restore and renovate the 1909 Battery Maritime Building. Note the crisscross Guastavino tiles on the roof.
Christina Wilkinson, FNY correspondent
Your webmaster shot photos on August 7 and completed the page on August 15, 2004
8/15/2004; revised 8/15/2012