STATEN ISLAND is disappearing fast. Every year more and more of Staten Island's legacy of eclectic architecture disappears as row upon row of little boxes that all look just the same encroach upon and destroy classic stylings from the 18th and 19th Centuries. In Staten Island, old homes are thought of as impediments to the conformity of multi-family homes, in which the corner grocery and neighborhood movie palace shall fall before the awe and wonder of the Staten Island Mall.
It should be emphasized that few of the buildings depicted here are in immediate danger of demolition. But the trends toward utter faceless suburbanization in Staten Island are unquestionable…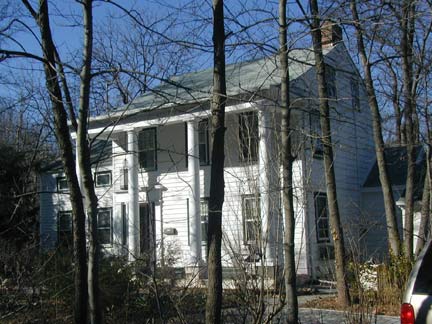 In Pleasant Plains, some of the older buildings gamely hang on against the onslaught. The "1914" building is on Amboy Road near the Staten Island Rapid Transit overpass; 6475 Amboy, at right, dates to about 1820.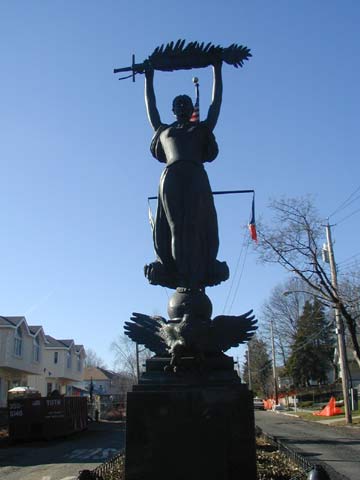 The grand World War I monument depicting "Winged Victory" by Tottenville sculptor George Brewster seems out-of-place on the mall bisecting Pleasant Plains Avenue. The original was placed here in 1918, but merciless traffic took its toll and after several accidents, it was removed for repairs in 1974, placed in storage on Randalls Island and promptly stolen. In 1991, funds were obtained for a faithful reproduction of the original, and the plaza welcomed "Winged Victory," which doesn't resemble its cousin in the Louvre, back in 1996. The statue bears a plaque containing the names of 493 WWI veterans from Staten Island's south shore.
Pleasant Plains Avenue was apparently widened so it could be a feeder route to the West Shore expressway extension, Shore Front Drive, which would swing south and west along the southern edge of Richmond Valley and Tottenville. It didn't happen, and Pleasant Plains Avenue is a wide boulevard that doesn't go very far, extending only to an expressway service road.
This saltbox palace at 4746 Amboy Road near Arden Avenue in Eltingville is called Brougham Cottage, and according to sources, was built in 1720.
Most of Staten Island's 17th and 18th Century buildings were removed to the Richmondtown Reservation in the mid-20th Century, but not this one.
This is the smallest Roman Catholic church I've ever seen, on Northern Blvd. in Sunnyside near Clove Lakes Park.
A Sanitation building on Brook Street in New Brighton, three mayors later.
Three scenes from Stapleton, one of Staten Island's oldest communities and a hotbed of the brewing trade since its inception in 1833, anchored by Bechtel's, Hohrmann's and Piel's, now long-lost. The community was named for William Staples, who purchased its acreage from Commodore Cornelius Vanderbilt. Much of its old architecture is intact, like the early 19th Century houses on Thompson Street (top left) and the now-shuttered 1935 Paramount Theater on Bay Street.
Staten Island is the hilliest of the 5 boroughs, and is the only borough that provides views of moderately high mountains. Grymes Hill can be seen when you look west along Boyd Street.
The abandoned, burnt-out hulk of the Augustinian Academy, a former Catholic boys' school, shambles on Campus Road near Howard Avenue in Grymes Hill. The property is now owned by nearby Wagner College. The academy has been in this condition for decades, and has been thoroughly chronicled by urban explorers for years:
lostdestinations.com visits St. Aug's
Your webmaster attended a few classes in this very building in the fall of 1974; I never dreamed it would attain this level of decrepitude.
Scattered around the city are more reminders of horse and buggy days than you may think. The brass hitching post and curb block, to which passengers alit in the days before paved streets, can be found on Longview Road in Park Hill.
The Abraham Wood House, 5910 Amboy Road near Seguine Avenue, was built in 1840 by the oysterman and farmer. An artificial pond can be seen directly across the street.
Jean Siegel, our gal in Staten Island, tipped off Forgotten NY that Sweetbrook Road in Eltingville isn't just a name… it's by a real brook, with a series of wooden and stone bridges crossing it. One is marked "1996" so it must be relatively new. Didn't try crossing any of the bridges though, since the watchdogs in Richmond County are the biggest and meanest on the East Coast. It's a fact.
Richmond Terrace has a wealth of ancient buildings clanking about its 3-mile length along the Kill Van Kull on the island's north shore. The Tysen-Neville House (or the Neville-Tysen House) at 806 Richmond Terrace near Tysen Street was built about 1800. It acquired its porches and hexagonal cupola around 1910.
In the 1800s, retired sailors from nearby Sailor's Snug Harbor frequented a tavern located in this building called The Old Stone Jug. It was saved from demolition in 1991 by a coalition including the NYC Landmarks Preservation Commission and Housing Services of NY, which provided a loan of $91,000 for repairs. The house is currently privately owned.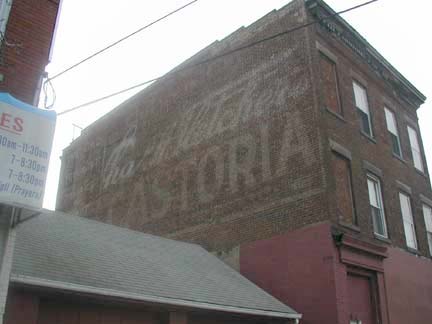 Richmond Terrace has, so far, been able to avoid the overbuilding epidemic plaguing so much of Staten Island and looks much the way it must have decades ago. Ancient houses, mansions, factories and plants have survived.
Staten Island, like the other four boroughs, was crisscrossed with trolleys that took power from overhead wires. One of the trolley yards was at Hylan Boulevard and Richmond Avenue in Eltingville, and the old-time trolley poles have been kept as stanchions for high-intesnity lighting as the trolley space is now used to turn buses around.
These are, perhaps, the last photos ever taken of New Brighton Village Hall at Fillmore and Lafayette Avenues, by our own Jean Siegel in January 2004. Soon after, the building had been razed. It had stood there since 1871. Its third floor and mansard roof had already been shaved off.
You'll be forgiven if you miss the Woods of Arden House at 45-15 Hylan Boulevard near Woods of Arden Road… it's set well back from the street, and you'll pass it by if you don't look carefully. It was built in 1720 and was owned by Jacques Poillon (his family owned a lot of property in Eltingville in the colonial era) and from 1846-1853 byFrederick Law Olmstead, the co-creator of Central and Prospect Parks, who remodeled the house and planted two cedars of Lebanon on the grounds that still stand. It's so surrounded by vegetation that it's hard to see even in winter.
South Avenue in Mariners Harbor is succumbing rapidly to urban "development" but a small cluster of 1880s-era homes remain. They will likely fall soon.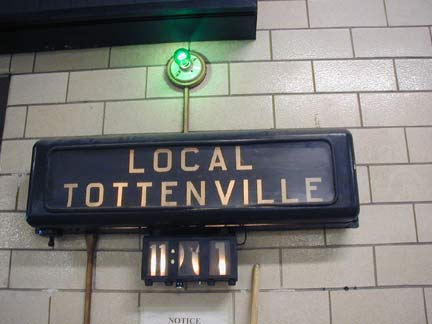 Time to get the ferry back to town, but not before observing the decades-only SIRT signal at St. George. There are some express trains that skip stations during rush hours. [By 2005 the terminal had been renovated and the signals removed]
Source:
Holden's Staten Island, Richard Dickinson, Central Migration Studies 2003
BUY this book at Amazon.COM
These images were photographed at various times between 1999 and 2004 and your webmaster completed this page's composition November 24, 2004.