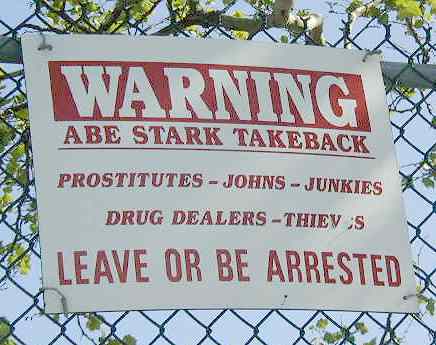 I can't stay away from Coney Island for long. There's just so much left over from the old days…good and bad…that it's a Forgotten NY treasure trove. Yet, more and more of the old Coney seems to disappear year after year. So, summer after winter, winter after summer, I'm back. Above, Coney had a Playland too, though not as famous as the one in Rockaway. It evolved from a Silver's Penny Arcade and remained open year-round until 1981. Abe Stark was a Brooklyn Borough President; the Boardwalk features a skating rink named for him.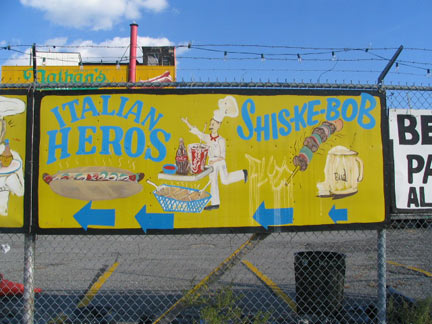 Any way you spell it, you can get it at Coney in the summer.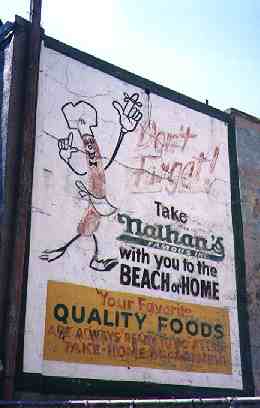 These facades disappeared from the scene a couple of years ago. The Nathan's painted ad was on Stillwell Avenue facing the venerable institute while the Pearl's Souvenirs sign was in the Playland area on Surf Avenue and West 15th Street. Even the redoubtable Charles Denson doesn't mention a Pearl's Souvenirs in Coney Island Lost and Found…can any Forgotten fans help with it?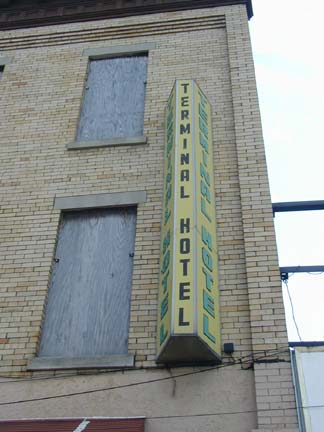 The Stillwell Avenue station is a true "terminal" where four subway lines finish their runs. A succession of hotels and flophouses has always clustered in the nexus of Surf and Stillwell Avenues, and one, alternately known as the Surf and Shore Hotel, is still open for business. At Mermaid and Stillwell, you can still find signs for the Terminal Hotel, and what seem to be the remnants of a former resort on the other side of the street.
These two pictures were shot in 2003 when the new Stillwell Avenue terminal, inspired in part by the old Sands Street el depot on the Brooklyn side of the Brooklyn Bridge*, was still under construction and service was restricted to one original platform. By 2004 three platforms were open and the original had been demolished. Below, we'll take a look at the dismantling of the old Stillwell station.
*per MTA employee Fred A.
This directional sign indicating the next train to leave survived till the platform was demolished in 2004. Hopefully, the Transit Museum has preserved it.
By early 2004, much of the platform work was done and the MTA began to concentrate on the new station house and waiting room. The new exterior facade on Surf and Stillwell Avenues is being constructed to match in great part, the old BMT terminal it replaced, and employs the vintage terra cotta signage from the old terminal.
Classic BMT signage is being restored; as seen in 1999.
I know I keep coming back to the old Childs Restaurant on the boardwalk and West 21st Street time and again. This time, however, I am visiting after having purchased a zoom lens that enables me to show you even more of the incredible detail of this Coney classic…
According to Denson, Childs opened in 1923 and was built by Dennison and Hirons in a Spanish Colonial style. It featured a roof garden and faced the Atlantic Ocean. After the restaurant closed in the 1950s the building became a candy factoy and, some say, a bath house. It has been up for sale since 2001. can it survive?
2007: It can! In a rare preservation victory, Childs will be saved.
The amazing thing about these terra cotta medallions, depicting the Golden Hind (captained by Sir Francis Drake) and other sea scenes, all along the building's front and sides, is that there is nothing to protect them from the wind and salt water, yet most of their color has survived over seven decades. They were produced by the Atlantic Terra-Cotta Company. Also check the frames, full of seaweed and creatures.
No space that cannot be filled with sea-things, cristacea, fish, octopi, sea demons, is left unfilled.
Strangely, none of the sea horses that mark other Child's restaurants still remaining in NYC are here.
A different Childs, on Surf Avenue and West 12th Street, built in 1917, has become world headquarters of Dick Zigun's Coney Island USA, the Coney Island Museum, and Sideshows By The Seashore, which features Marie Roberts' poster artwork. Roberts is an art professor at Fairleigh Dickinson University; her uncle Lester Roberts was a sideshow barker at Dreamland in the 1920s. The posters provide counterpoint to the deadly serious Army Recruiting Center.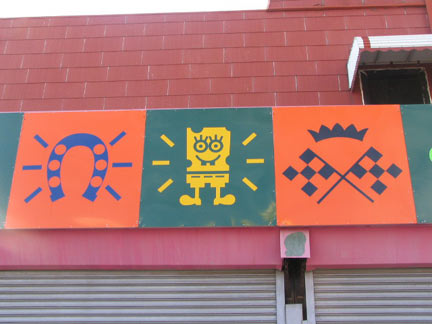 An amusement in the old Grashorn Hardware building at Surf Avenue and Jones Walk, the oldest extant structure in Coney Island (ca. 1888) has erected several thematic graphics. Has Spongebob permeated every cranny of our collective national consciousness?
Loew's, later the Shore, Theater, dating to the late 1920s, is now the tallest of Coney Island's older buildings after the demolition of the Half Moon Hotel in 1995. Its old balcony and terra cotta facade are still intact. What kind of view must there be from that balcony!
Seven Seas Restaurant and Oyster Bar held down the corner of Surf Avenue and West 16th Street a couple doors down from the Tilyou Theatre, which was demolished in 1973. What's there now, in place of the Tilyou and Seven Seas? Keep scrolling…
A whole lotta not much. Despite the best efforts of Keyspan Park, Astroland, Nathan's and Dick Zigun, there's still a feeling of abandonment permeating Coney. Things are improving. But there's a way to go.
West 17th Street. Some architectural gems are still hiding down there. On our next visit to Coney, we'll plunder Coney's vertical streets for hidden diamonds like this one.
Sources:
Coney Island Lost and Found, Charles Denson, 2002 Ten Speed Press
BUY this book at Amazon.COM