Once again into the breach and this time, 40+ Forgotten Fans assembled at the 145th Street IND concourse on December 12th for our second mass invasion of Harlem, this time to Harlem Heights and City College. In the tradition of two past tours, we had a guest narrator, Forgotten Fan Sergio Kadinsky, handling the tour honors and sometimes your webmaster felt like a Forgotten Fan instead of the Forgotten webmaster!
The shockingly modern Church of the Crucifixion was built on Convent Avenue and West 149th Street in 1967 by architect Costas Machlouzarides, making it nearly 100 years younger than some of the buildings surrounding it. It is thought that Le Corbusier's Chapel of Our Lady at the Height in Ronchamp, France, is the inspiration.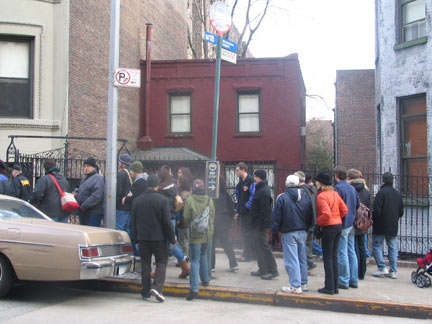 One of Convent Avenue's remaining tiny 19th-Century houses.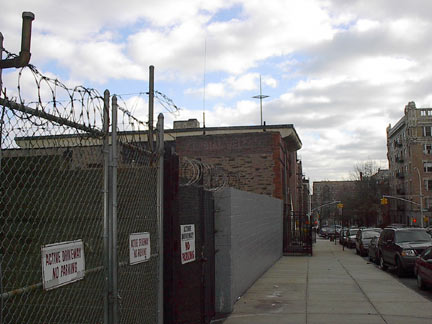 The faded sign on the wall (behind the barbed wire!) reads "Cordial Welcome." Photo: Eric Weaver.
Joseph Loth & Co. "Fair & Square" silk ribbon factory
, Amsterdam Avenue between West 150 & West 151 Streets. The factory, in its heyday, employed 600 workers and made ribbons in 15 widths and 200 colors.
If you watched Seinfeld, you know you should not be a Ribbon Bully.
At Riverside Drive and West 150th Street you will find 
Elizabeth Catlett Mora
's sculptural tribute to author 
Ralph Ellison
 (1914-1994) depicts, in spirit and execution, the protagonist of Ellison's best-known work, 1952's "Invisible Man," a fictional study of the racial injustices he experienced as a youth. Ellison, born in Oklahoma City, moved to NYC in 1936 and lived most of the remainder of his life here. One of Ellison's favorite spots to relax was on the benches of the traffic island on Riverside between West 149th and West 153rd Streets, near his residence.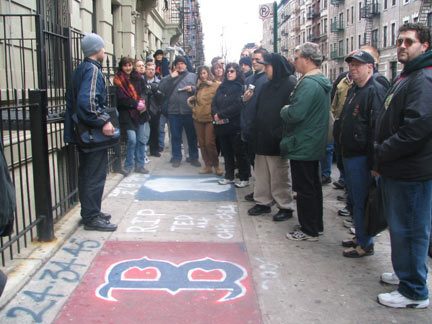 Sergio discusses a Boston Red Sox sidewalk mural. World Series hero Manny Ramirez arrived in the USA as a teen when his family settled in nearby Washington Heights.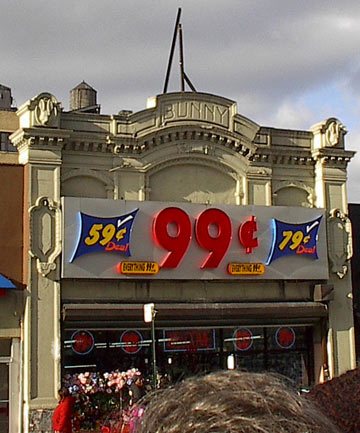 The Bunny Theatre, on Broadway and West 147th Street, had nothing to do with Bugs or Hef; it recollects early 20th Century comic and theatre impresario John Bunny (1863-1915). In its latter years, it was renamed the Nova; sadly, it recently (2003) closed as a movie house. Photo: Eric Weaver
Tom Otterness,
 the seemingly ubiquitous sculptor whose work can be seen in the 14th Street A, C, L subway station, Brooklyn's MetroTech, and in Battery Park, in 2004 is enjoying an exhibition in which his largest works to date appear in the Broadway median from Columbus Circle to Washington Heights. The sculptures are expected to remain through March 18, 2005.
After almost 20 years of abandonment, the 1920 Temple B'nai Israel on West 149th between Broadway and Riverside Drive, so large it even contained a swimming pool, became a storefront church. Rumor has it that it will be restored; hopefully its old copper dome can be put back too.
Riverbank State Park
 (West 137-145 Streets and Riverside Drive) is an interesting solution to a sticky problem. What to do about waterfront access along the North River Water Treatment Plant? The Parks Department came up with a plan to place a park on top of the plant and base it on rooftop gardens found in Tokyo, Japan…in fact, Riverbank is the only park in the USA using such a model.
The park was furnished with five recreational buildings that house an Olympic-sized pool, skating rink, cultural theater, athletic complex with a fitness center and a restaurant. Outside, on the park's upper terrace, there is a lap-pool, wading pool, tennis, basketball and handball courts, softball, football and soccer fields as well as a 400 meter running track. The newest addition is Totally Kid Carousel, partially designed by 37 children. You will also find an amphitheater and fishing and excursion boat docks. You're still over a water treatment plant though…and your nose will detect as much in the park's southern end.
On ForgottenTours we sometimes find things we weren't looking for.
 This building on West 139th Street evidences being a former stable, witha wide front door and a hoist for lifting hay. Next door, somebody has hung parrots in the trees. Photo above: Eric Weaver.
At one time, architects and designers put unnecessary
 and completely extraneous design elements on buildings…just to beautify them. Cherubs and angels were a popular motif. This building off Riverside Drive was probably built during a transitional period between Beaux-Arts and more Moderne forms, since it has elements of both.
This twinlamp post at the triangle
 formed by Hamilton Place, Amsterdam Avenue, and West 143rd Street is truly the last of its kind in NYC. Some 1910-1940s twinlamps remain scattered around town, but the were special "deluxe editions" like this one placed at several intersections, with massive, monumental bases, and special ornamentation at the top of the shaft not found on regular posts. This post has likely been here for nearly 90 years and much of the detail on the shaft has now been worn away or rusted away, and it's in a very vulnerable spot. Enjoy it while you can.
The tour passed a 30-year old painted ad 
at St. Nicholas Avenue and West 145th Street from when 
WABC 77
 was a 50,000-watt pop music powerhouse (from 1960 to 1982) and spent a half hour at Alex' place, 
Hamilton Grange
, the country house of Founding Father 
Alexander Hamilton
. Plans call to move the house (in which he and his family lived just prior to his 1804 death from the pistol of Vice-President 
Aaron Burr 
in a duel) to nearby St. Nicholas Park if and when funds can be found.
City College of New York
would certainly figure on any list as most beautiful college campus in NYC. This campus is City College's second in NYC and was built in Harlem Heights largely between 1903 and 1907. Its many North Campus buildings include Baskerville Hall, Compton Hall, Goethals Hall, Wingate Hall, and Shepard Hall, which contains the architecture classes that graciously admitted us today.
The CCNY campus looks down on Harlem from St. Nicholas Terrace.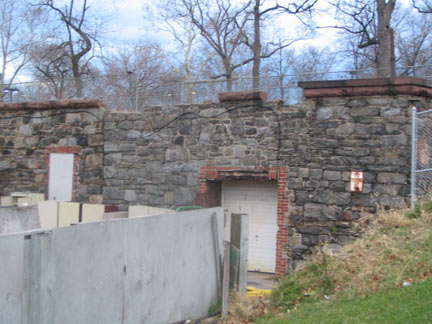 The southern end of the CCNY campus is studded with ruins; this is what remains of Finley Hall. The South Campus contains most of CCNY's newer buildings, including the Morris Raphael Cohen Library (1957) and Aaron Davis Hall for the Performing Arts (1979). The college president and his family once occupied the tiny gatehouse at Convent Avenue and West 133rd Street. The South Campus once belonged to Academy and Convent of the Sacred Heart, who moved out in the early 20th Century but left Convent Avenue its name.
Watch for ForgottenTour 19 in Flushing Meadows in February, weather permitting. Freezing weather and blizzards will delay us till March; we'll see how the winter is going.
Once again, special thanks go to our knowledgeable guest narrator Sergio Kadinsky.
Your webmaster, shown in December 2004, shot this page with the assistance of Forgotten Fans Alexis Robie and Eric Weaver December 12, 2004; the page was composed December 18, 2004.