46th Street and 54th Road
I SERIOUSLY doubt that half of any New York City guidebooks even mention the two areas in southwest Queens we'll visit today, ensconced on either side of Calvary Cemetery just east of Greenpoint, north of Ridgewood and in the middle of exactly nowhere. Surprises, however, can be squeezed from these unknown realms like juice from a coconut.
No subways come close to Blissvilleand Laurel Hill, and only one bus route, the Q67, deigns to ply a route through — and that comes once an hour on weekends. The best way to visit is on bike or on foot.
GOOGLE BLISSVILLE MAP
GOOGLE LAUREL HILL MAP
(best viewed from Firefox)
Blissville and Laurel Hill as shown on an 1891 topographical map. The two small 'towns' are divided by Calvary Cemetery, which is unmarked here.
The presence of Calvary Cemetery in southwestern Queens is due to the influence of the parish of St. Patrick's in Manhattan, which bought land here from the Alsop family in the early 1840s. A careful look in southern Calvary Cemetery (near old Penny Bridge) will reveal the Alsop family burial ground, which was incorporated into Calvary, with stones dating to 1743. The parish purchased land that became "New" Calvary Cemetery just to the northeast from the Burroughs family in 1870. A large swamp, known as Wolf Swamp because of the presence of the canines, had to be drained to create the cemetery.
Though the great skyscrapers of Manhattan loom over the cemetery, its architecture is not to be overshadowed, as witness its grand Queen Anne gatehouse at Greenpoint and Gale Avenues.
Blissville is the small wedge of Queens positioned between Newtown Creek, Calvary Cemetery and the Queens-Midtown Expressway; it takes its name from Neziah Bliss, inventor, shipbuilder and industrialist, who owned most of the land here in the 1830s and 1840s. Bliss, a protégé of Robert Fulton, was an early steamboat pioneer and owned companies in Philadelphia and Cincinnati. Settling in Manhattan in 1827, his Novelty Iron Works supplied steamboat engines for area vessels. By 1832 he had acquired acreage on both sides of Newtown Creek, in Greenpoint and what would become the southern edge of Long Island City. Bliss laid out streets in Greenpoint to facilitate his riverside shipbuilding concern and built a turnpike connecting it with Astoria (now Franklin Street in Greenpoint); he also instituted ferry service with Manhattan. Though most of Bliss' activities were in Greenpoint, he is remembered chiefly by Blissville in Queens and by a stop on the Flushing Line subway (#7) that bears his family name: 46th Street was originally known as Bliss Street.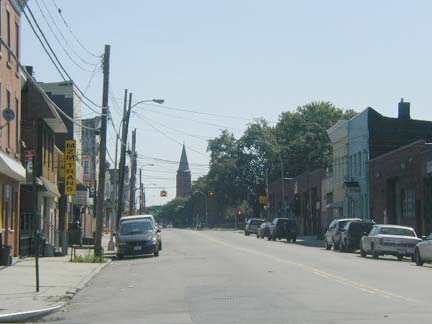 Blissville's spine is Greenpoint Avenue, which was built in 1852 as a means of getting Manhattanites to Calvary Cemetery after its 1846 opening. Ferries plied the East River; and there was a ferry across Newtown Creek as well until 1855 when a drawbridge was opened. The current John J. Byrne Memorial Bridge is the fifth bridge carrying Greenpoint Avenue over the creek. When Greenpoint Avenue reaches Queens Boulevard, it becomes Roosevelt Avenue and is shadowed by the #7 IRT Flushing el most of the way to Main Street.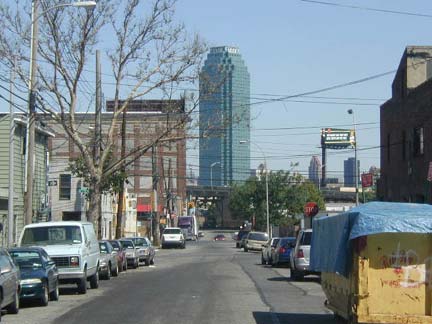 Blissville's original street plan is still evident as Review, Starr, Bradley and Gale Avenues (originally mapped as B, C, D and E Streets) run perpendicular to Greenpoint Avenue and 34th, 35th and 37th Streets (originally 3rd, 4th and 5th Streets), run parallel to it. (1st and 2nd Streets became part of Calvary Cemetery.) The Citigroup building on Jackson Avenue can seen directly down Starr Avenue from 37th. In 2005, the building was sold and will be renamed.
Van Dam Street is a late addition to Blissville; it was cut through sometime in the early 20th Century (not sure when) as an extension south from Sunnyside as a way to facilitate traffic flow to Greenpoint Avenue and Brooklyn. This triangle-shaped building at Van Dam and 35th Streets suggests it was done before 1916, the date at the top.
There's no question about it…the crown jewel of Blissville is the City View Motel on Greenpoint between Bradley and Gale, facing the cemetery, formerly Public School 80 and built in 1905. It has been a motel since the 1980s and is now under the Best Western banner.
I've long coveted a room on the western end of the motel which does indeed have a marvelous view of the city. When I called the hotelier and requested a room with a city view, I earned a rebuke; apparently you aren't allowed to specify a room with a city view in the City View. It's a shame.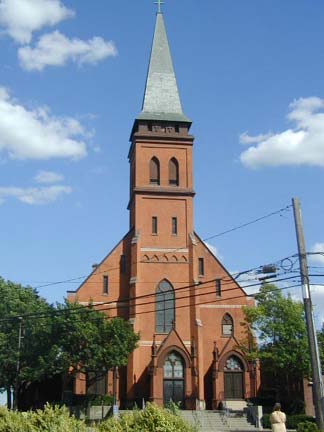 Technically we're in Sunnyside, since St. Raphael's Church, at Greenpoint and Hunter's Point Avenues, is north of theQueens Midtown Expressway. But we're close enough to Blissville. Perched on a hill, it is by far the tallest building in the area and can be seen all the way from Woodside and Long Island city. It was built in 1885 and replaced an earlier structure; the parish dates to 1867.
While we were in Blissville, in mid-June, about a hundred choppers roared down Van Dam Street at the Queens Midtown. Is there usually a big rally that time of year?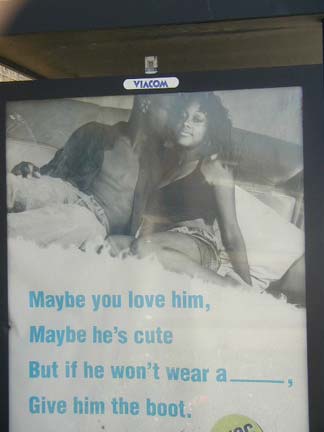 On ths bus. They're not getting at it in the public service ad, but Blissville can be a hooker haven. Meanwhile, here's a 1960s vintage bus route sign on Greenpoint. The map is still pretty accurate for the B24, but the 29 don't come around here no more. The B24 is a strange route: beginning in Greenpoint, it runs east to Sunnyside and then loops back on the BQE to Williamsburg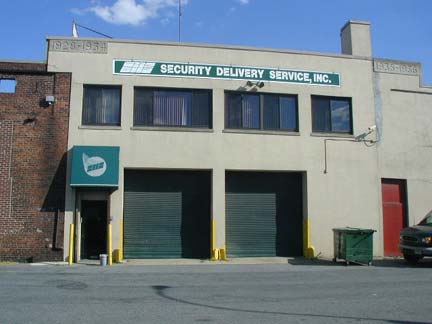 A pair of ancient businesses on Bradley. The one on the left is long lost, but the dates at the top of the building remain. The left and right dates are mysterious. Usually single dates on the left and right show when the business was incorporated and the building was built, but in this case, we have a range on each side. Can any Forgotten Fans solve the mystery? On the right, the old Abbot and Abbot Box Company.
Heavily industrial Review Avenue skirts the edge of Calvary Cemetery and is a busy truck route, since it is the only local route connecting Hunters Point and Maspeth. Facing south is a view of the Kosciusko Bridge. Review Avenue's name is a mystery…. did military bands once pass 'in review'on the way to the cemetery? Was it once possible to 'review' sailing vessels in Newtown Creek from here?
The end of Review Avenue is at the southern gate of Calvary Cemetery, where it meets Laurel Hill Boulevard. This is a former stop on the Long Island Rail Road and a former important pedestrian and vehicular crossover, especially for the weekend crowds visiting the cemetery. Penny Bridge (left) crossed the mighty Newtown here till the late 1930s; it was replaced by the Kosciusko Bridge in 1939.
Laurel Hill (boxed) on this Brooklyn Eagle map from 1898, is surrounded here by Calvary Cemetery, Maspeth Creek, and Betts Avenue (now 58th Street) which runs north through New Calvary and Mount Zion Cemeteries. Note Hyatt Heights, now part of Maspeth, and Winfield, now southeastern Woodside. The area was first developed by Augustus Rapelye in 1853 and was named for laurel trees growing in abundance there.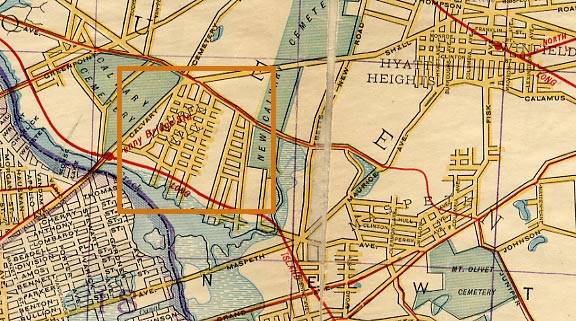 Laurel Hill today is known as West Maspeth, and, like Blissville, it is a small, isolated little village, with heavy industry dotted with ancient one-family houses. It's hemmed in by Calvary Cemetery/Brooklyn Queens Expressway in the west, the Long Island Rail Road to the south, the Long Island Expressway to the north, and pedal-to-the metal 58th Street, a main truck route, to its east. Its original name is remembered by Laurel Hill Boulevard, which buddies up with the Brooklyn-Queens Expressway for most of its route from the old Penny Bridge Long Island Rail Road stop northeast to Queens Boulevard.

In 1840, engineers constructed a new road from Penny Bridge to Newtown (today's Elmhurst) built with the finest pavement available at the time: crushed oyster shells. It was alternately known as the Newtown Turnpike and Shell Road. Today, its route is still definable by Laurel Hill Boulevard, the Brooklyn-Queens Expressway, and 45th Avenue. The road ended at Broadway just north of the LIRR. Today, Laurel Hill Blvd. functions mainly as the BQE service road, though it breaks free at western end at Calvary Cemetery and also for a few blocks at its eastern end in Woodside (right). Coney Island, Brooklyn has kept its own ancient Shell Road.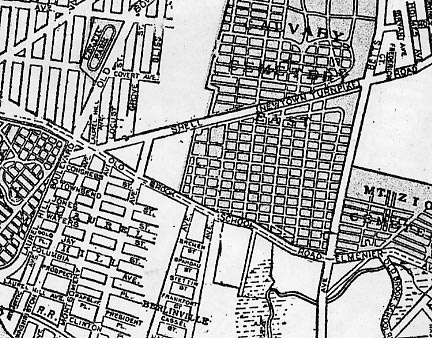 The homogenization of Queens street names has robbed us of a few doozies. Old Brook School Road, named for an ancient school on Betts Avenue razed about 1900, skirted the southern edge of New Calvary Cemetery in Laurel Hill. It became Newtown Avenue, then Borden Avenue and is now is the Long Island Expressway.
Note Old Brook School Rd. on the ca. 1900 Commercial Atlas above; also note Berlinville on the southern end of the map, which we will attend to presently.
Meanwhile, Featherbed Lane, which ran between New Calvary and Mt. Zion Cemeteries, was renamed for the Betts family, which first settled in the area in 1656. The Betts family burial ground can still be found in the SW portion of Mt. Zion Cemetery at 54th Avenue and 58th Street, which is what Betts Avenue became when Queens streets were numbered beginning in 1915.
A tangible remnant of Queens' old street naming system remains here in Laurel Hill. An impossibly old little building at 46th Street (Clifton Avenue) and Waters Avenue (54th Road) has preserved by accident or design, ancient street signs marking the older names. The map is a Brooklyn Eagle atlas from 1898. The porch has been repainted since I first photographed the signs in 1999, and the signs haven't been painted over, so perhaps the owner has a sense of history. So many building owners in NYC lack one.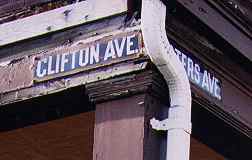 2008: the street signs have disappeared.
Until the 1920s, Queens street names trended toward the tried and true, with plenty of presidents, governors, Spruces and Elms, but further east, in what would be the Juniper Park area, 78th Street was Grieffenberg Street, 81st was Thew Street, and 84th was Gwydir Street; even further east, proposed streets east of Queens Boulevard in the Forest Hills area that now are a thicket of 60th Drives and 62nd Roads were mapped in alphabetical order, carrying odd, otherworldly names like Meteor, Nome, Occident, Thupman, Uriu, Yalu and Zuni. The only remnant of this scheme is Jewel Avenue, the "J" street in the sequence.
Many of Queens' subway and el lines have preserved the old names, most of which haven't been on street maps and signs for over eighty years. The Flushing Line (#7 train) preserves Rawson (33rd), Lowery (40th), Bliss (46th), Lincoln Avenue (52nd) and Fisk Avenue (69th Street); the line's original last stop in Corona was Alburtis Avenue (104th Street). The Astoria Line (N, W) is rich in old names: Beebe Avenue (39th Ave.), Washington Avenue (36th Ave.) and Grand Avenue (30th Avenue). The Rockaway Line (A) checks in with Hudson Street (80th St.), Boyd Avenue (88th St.), Oxford Avenue (104th St.), Greenwood Avenue (111th St.). After the Transit Authority purchased the old Long Island Rail Road right-of-way across Jamaica Bay and on the Rockaway peninsula in the 1950s, it dutifully kept station names like Wavecrest (Beach 25th Street), not a street but a long-gone exclusive gated community built in the 1880s; Frank Avenue (Beach 44th Street); Straiton Avenue (Beach 60th); Gaston Avenue (Beach 67th); Holland Avenue (Beach 90th); and keeps Playland (Beach 98th), named for Rockaway Playland Amusement Park, which didn't survive the 1980s. The Jamaica Line (J) preserves an extra letter in Eldert(s) Lane; street signs dropped the "s" decades ago. Even the newer IND lines, built in the 1930s, continue the tradition with 23rd-Ely Avenue and Woodhaven Boulevard-Slattery Plaza subtitling older names. The Long Island Rail Road, too, gets into the act; its Broadway station in Flushing on the Port Washington branch maintains Northern Boulevard's old moniker, which fell out of favor by the 1920s.
While other boroughs' former street appellatives can be glimpsed in stone on older buildings, Queens prefers to preserve them on its subway and el signs. There seems to be more affection for the old names in Queens, as there's a seemingly aboriginal knowledge that a borough full of numbered streets isn't the natural order of things.
Meanwhile, along the mighty Newtown, there's some controversy over what is to be done with the site of the old Phelps-Dodge copper refining and chemical production plant, a major source of employment for area residents for much of the 20th century until the company moved out in 1983. A food warehouse is slated to be built here, while there is a proposal for an intermodal freight facility built nearby in conjunction with a cross-harbor freight tunnel. Area residents generally oppose it since the project may add even more truck traffic to overburdened local routes.
On 54th Avenue, industry has forced its way in among the single family homes, many dating to the 1890s with no alterations, that are still scattered around.
43rd Street. Neither here nor there; Laurel Hill's warehouses and billboards facing the BQE split time with homes.
My second favorite scene. It's the same as the "title card" above, on 56th Road, but at a different time of day. The shadow of Empire is on the horizon, about a mile away; but from Laurel Hill, Manhattan might as well be a hundred miles away. The Queen of Queens, Christina W., who helped with this page, is in the foreground.
Most of Laurel Hill's homes are simple structures dating to the late 1890s-early 1910s but some hint at more grandiosity, like this one on 46th Street with arched windows on the second floor.
A neighborhood forgotten fan writes…
"The hungry hippo sign was erected by the V. Marangi Carting Corporation, a commercial carting firm that is no longer in business, as are many private sanitation companies that were denied licenses for a host of reasons by the Giuliani Administration due to alleged organized crime ties and allegations of price fixing and collusion to control territories down to individual customers. The carting industry in New York is, somewhat iroinically, dominated by a handful of operators- most notably Royal Carting and WM (Waste Management)."
Marangi put a hippo on many of their garbage dumpsters with the slogan 'We Love Garbage'. Their containers were painted bright orange, as were the trucks they used to collect the refuse."
Though it closed only in 1998 there is absolutely no sign that there ever was a Long Island Rail Road passenger station, Haberman, at 56th Road between 48th and 50th Streets. The station used to service employees of the Haberman's National Enameling and Stamping Company. The "Debevoise Avenue" on the sign is now 48th Street; a block away, 50th Street was Berlin Avenue. In the late 1800s German immigrants arrived, creating the Berlinville cited on the map seen previously.
Other closed LIRR stations in Queens

THE BERLIN ACCIDENT
In Green-wood Cemetery in Brooklyn there's an unusual monument; it has the usual angel on top, but a closer look reveals what on closer inspection are a carved locomotive and two passenger cars. Weathering of over 100 years has taken a toll on the marble.
Braid manufacturer Oscar Dietzel and his wife Maggie were on their way back on the Long Island Rail Road from a Manhattan Beach, Brooklyn outing on August 26, 1893. The train had almost reached the ferry at Long Island City when disaster struck: a train from Rockaway Beach was mistakenly permitted on the same track by an errant switchman, and it plowed into the last car of the train from Manhattan Beach near today's Haberman station at Berlin Avenue, killing sixteen passengers including the Dietzels. Their children, in a rather macabre fashion, chose to include the instrument of their parents' deaths on their memorial in All-Faiths.
In the Dietzels' time, the Long Island Rail Road reached Manhattan Beach, leasing a section of the New York and Manhattan Beach Railroad from 1882 to 1925. The spur ran alongside the Brighton line (today's B and Q trains) and ran to the old Brighton Beach Hotel. Passenger service ended in the 1920s, after which the tracks were removed, though existing tracks for the old line still remain in place for freight use by the New York and Atlantic and CSX Railroads from East New York north to Glendale, as well as the LIRR between Glendale Junction and Long Island City.
The Land of Fifty-Six: In eastern Laurel Hill, almost in Maspeth, 56th Avenue, Road and Drive come together, with 56th Terrace a half-block away. The whole mess is on landfill created by filling in Maspeth Creek, which used to extend north here. Nowhere else in Queens do so many streets with the same number come together like this.
The Clinton Diner at Maspeth Avenue and 56th Road, is a local truckers' favorite and has appeared in more than one motion picture. The diner is near two former historic dwellings: the Queens Head Tavern, in use during the Revolutionary War and later a stagecoach stop, and the Sackett-Clinton House, built by Judge Joseph Sackett in the 1710s and later occupied by DeWitt Clinton, who held every important office in New York State at one time or another in the early 1800s. Both structures survived into at least the 1930s but have long since been razed.
MAP CAPITAL OF THE WORLD
Laurel Hill was world headquarters of Hagstrom Maps, whose plant is shown here on 54th Road near 48th Street. My webhost Paul Matus was employed at the company in 1967 and remembers:
"Every now and then, when [founder Andrew Hagstrom, still there after 50 years] encountered me in one of the hallways of the building, he would talk me and he loved to take me over to one of the documents on the wall which featured the Hagstrom logo, a Viking ship on the high seas. He told me that the ship represented him, who came to the U.S. without two Kronas to rub together, and through hard work built up this great business. But his special satisfaction was in telling me that he didn't have a college degree and didn't much care for people who did. 'I never went to college but now I hire and fire college graduates everyday,' he said with great satisfaction. He must have told me the story a half-a-dozen times, as though he had never told it to me before.
"Of all his maps, his New York City subway map appeared to be his pride and joy. It was the official map during the 40s and 50s and was in the New York Telephone yellow pages until the TA hired someone else to produce its more diagrammatric London Transport-style map about 1958 which the old mapmaker disliked. He thought maps should be graceful looking and reasonably geographically correct. Even after the TA abandoned the traditional BMT, IRT and IND divisions on its map, Hagstrom retained them and their traditional map colors: BMT yellow or green, the IRT blue, the IND red, and elevated lines as thin black lines."
Your webmaster is an inveterate street map collector; I own close to five hundred street maps from around the country. I got hooked by Hagstrom in the early 1970s when I made most of my early purchases with allowance money. I've followed Hagstrom's distinctive cover designs for decades the way record aficionados follow 45 RPM sleeves and labels…
Hagstrom moved offices to Long Island City in 2005.
When I was beginning to collect Hagstrom in the early 70s they were beginning to modernize their cover design with Helvetica type and streamlined art. New York map covers in the 70s were black with red trim, while New Jersey maps were blue. Occasionally though, Hagstrom would toss in a wild card, like their 1971 Queens edition with a green duotone of LaGuardia Airport on the cover. Their Philadelphia edition was blue, but with Optima type. The back covers of most of these maps were bright red with black type. Atlases usually followed suit with similar color and designs.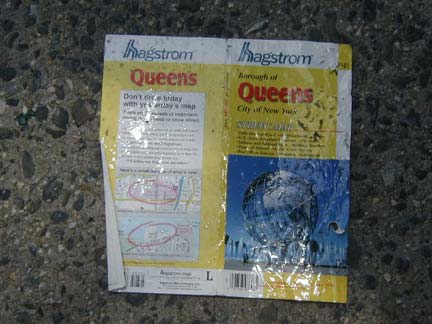 Throughout the 1980s and 1990s Hagstrom used a distinctive yellow color scheme with either red or green type and a new logo. The tyepefont was a variant of Franklin Gothic with a modified x-height. By the early 2000s, as digitally drawn maps began to make a move, the typefont was changed. (I found the Queens cover on Laurel Hill Boulevard.)
Hagstrom had always published specialty maps in addition to street maps, including subway and bus maps. This one from about 1960 (if you go by the GM 'fishbowl' bus drawing on the cover) features the Viking ship logo, which was getting rare by that time.
Lastly, here's a 1979 Hagstrom sales brochure. At this time, Hagstrom was trying to become a national brand and had produced maps for Atlanta, Boston, Buffalo, Dallas/Ft. Worth, Cincinnati, Columbus, Dayton and Kansas City; most of these maps, while of good quality, didn't last beyond one or two printings (I have several).
After becoming part of the Langenscheidt Publishing Group, Hagstrom found itself part of a stable of companies producing 4000 US and international street maps.
Your webmaster's history with Hagstrom runs thusly: My mom brought me to Hagstrom HQ on 33rd St in Sept 1971. I was looking for their Philly edition, which of course was unavailable for the most part in NYC (in those days, out of town maps were available only in dedicated map stores). The receptionist was friendly and helpful. Their Philly map is the best of that town I have ever seen; it was discontinued in the early 90s.

After I sent in several corrections in 1981, Greg Christiano of Hagstrom asked me in to interview for map researcher. I was not chosen (the job required a car to get around) but I enjoyed the tour around the plant in the days before computers and CAD.

I was between jobs again in '92 and for the heck of it, interviewed again at their Laurel Hill plant. Each time, the pay stated was lower than I would have liked to make, but still, I would have enjoyed working for them part time at least.
Here we are 30 years after I got my first Hagstrom. Former employee Paul Matus is now my webhost, and his friend Greg Christiano, who interviewed me in '81, has posted his own Hagstrom recollections.
Also see
Bridge and Tunnel Club's Blissville page
Newtown Creek
SOURCES:
Historical Guide to the City of New York, Frank Bergen Kelley and the City History Club of New York, Frederick A. Stokes, 1909
Woodside: A Historical Perspective 1652-1994, Catherine Gregory, Woodside on the Move 1994
Photographed in June 2004. Christina Wilkinson assisted in the research for this page.