LET ME BE absolutely clear about something: like Johnny Cougar Mellencamp, I feel most comfortable in a small town setting. That's quite unusual coming from somebody who was born in and who has lived in New York City for over 40years. But it's not so farfetched when you consider that my old home,Bay Ridge, was very self contained, with its own butchers, bankers and neighborhood people who were always around when I was coming along. Many of NYC's neighborhoods, not only in the so-called 'outer boroughs' but in Manhattan itself, are small towns affiliated with New York by politics but quite independent in spirit.
Stapleton, Clifton, and Rosebank are three small Staten Island towns on its northeast shore, facing Bay Ridge. Downtown Manhattan hovers a slightly longer distance away; for some Staten Islanders, it represents an goal, somewhere to attain. For others, though, it hangs out there in a baleful fashion, like a wayward meteor on a collision course.
Air conditioning in the head. I spent a week in Staten Island in February, gathering material and photographs for the Forgottenbook (which should be out in 2006). The day I arrived it was about 60 degrees, but a quick thunderstorm reversed the heat wave and plunged the city into its final subfreezing cold spell of the winter. I reveled: I deal much better with cold than heat, and much to my delight we had not one but two snowfalls during my time. For the week, my HQ was Harbor House, #1 Hylan Boulevard, at the water's edge, and it provided pretty much what I want out of a vacation lodging: quiet (except for the 7AM rooster crow), a bed, a TV set and free breakfast. (My needs are not extraordinarily demanding). Of course, I didn't sleep a wink the first night, and slept rather fitfully the rest of the week; I rarely get much rest outside of my own bed. It was, however, one of my better vacations. I don't want beaches, golf, or amusement parks on vacation; I want quiet, and carte blanche to go anywhere I please. Tramping the island, I found abandoned farmhouses in forests, ruined asylums, and 17th-century dwellings all but reduced to shacks. Mission accomplished.
So I'm writing this the first week of August, and the apartment thermometer reads 90 degrees. At 9AM. I'm pulling out the pix from my week in cold, stormy Staten Island and trying to remember a time when I didn't have to shower three times daily. It will get cold again, I think, but for now, reminiscing will have to do.
Stapleton and Clifton are two adjacent neighborhoods on Staten Island's northeast coast along Upper New York Bay. The Vanderbilt family held much land here in the early 19th century; in 1836 Minthorne Tompkins (the son of Vice President Daniel Tompkins) and merchant William Staples established a ferry to Manhattan and founded the village at Bay and Water Streets.
Clifton goes back to 1836 when a group of NYC businessman bought farmland and built villas and cottages as romantic retreats, some of which, as we'll see, are still there. The area likely takes its name because Wards and Grymes Hill, some of NYC's highest hills, can be seen from there.
Freeport Furniture, Bay and Thompson Streets
Staten Island was home to an NFL team. Let that sink in for a bit. Among the more notable and strangest aspects of Stapleton's history was the presence of the National Football League, which fielded a team known as the Staten Island Stapletons here from 1929 through 1932. The Stapes were a semipro team founded by restaurateur Dan Blaine in 1915, who played halfback for the team until 1924. Over the following couple of seasons, the Stapes would play exhibitions against pro teams from the NFL and the 1920s version of the American Football League, and after they rolled up a 10-1-1 record in 1928, including a 3-1 record against NFL squads, the Stapes joined the NFL the next season, playing in tiny Thompson's Stadium on Tompkins Avenue, a site now occupied by Stapleton Housing. Led by halfback Ken Strong, a New York University graduate, the Stapletons compiled a 14-22-9 record against NFL competition in four years. The Stapes played an exhibition schedule in 1933, with some games against NFL teams, before Blaine folded the team and Strong joined the New York Giants.
Stapleton and Clifton figured heavily in Staten Island's now-defunct brewing industry in the 1800s, with the Bechtel, Piel, and R&H breweries. From the Staten Island Advance:
In the mid 1800s, the influx of German immigrants created a rising demand for beer on Staten Island. The caves in Staten Island's hills were perfect for storage and fermentation vaults. It's spring and well water produced an exceptional brew.
Italian inventor Antonio Meucci and Italian revolutionary Giuseppe Garibaldi [more on them later — ed.] opened the Clifton Brewery (later renamed Bachmann's) in 1851. August Schmidt established Constanz Brewery in Castleton Corners and Bechtel's Brewery in Stapleton. By the late 1870s, Staten Island's eight breweries, employed more than 360 men and produced more than 160,000 barrels of beer valued at nearly $1.5 million annually. Bechtel's beers won first place prizes at the 1876 Philadelphia Centennial Exposition and at beer competitions in Paris and Sydney.
The breweries, beer gardens and resorts that grew up around them thrived until Prohibition hit in the 1920s.
For its first thirty years Stapleton was the commercial center of Staten Island's Southfield township (just as Kings County consisted of six towns before Brooklyn annexed them and NYC annexed Brooklyn, so Richmond County, before NYC consolidation, was made up of five towns: Northfield, Southfield, Westfield, Middletown and Castleton).
This red brick Romanesque Revival edifice, designed by Stapleton resident Paul Kuhne in 1889 in Tappen Park, at Wright and Canal Streets, is Staten Island's only remaining village hall (the New Brighton village hall, after nearly fifty years of abandonment, was razed in 2004). In 1866 Stapleton became part of Edgewater Village, in turn a part of Middletown.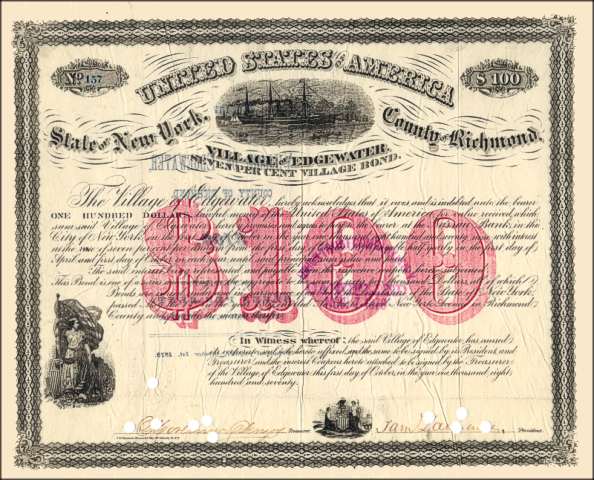 $100 bond issued by the Village of Edgewater in the late 1880s.
Staten Island has been spared for the most part from the strict checkerboard grid street system imposed in Manhattan and Brooklyn, and in the Bronx and Queens where topography allows. The hilly terrain of NE Staten Island makes for more imaginative patterns, and as a result, you have some unusual buildings.
Across Tappen Park, at the triangle formed by Beach and Water Streets, note the classically domed Staten Island Savings Bank building with its twin-columned entrance.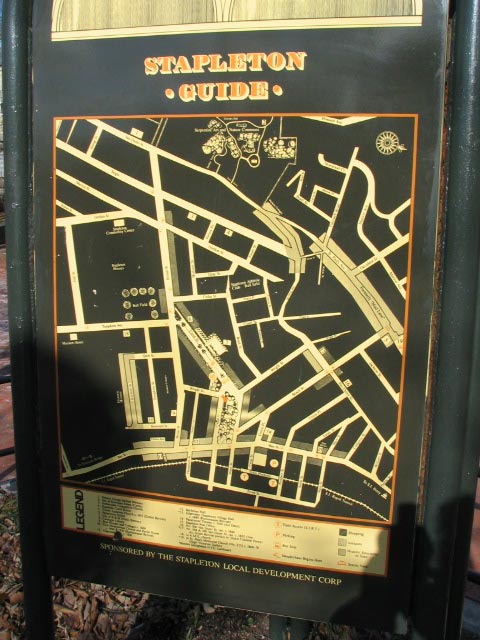 Near the Village Hall there is a detailed map of historic and interesting aspects of Stapleton.
The Paramount, at 560 Bay Street near Prospect, is now likely Staten Island's premier 'ghost theater' now that the St. George has been reactivated as a performance venue. It was designed by architects Rapp and Rapp with a contrasting orange brick façade, opening in 1935 with a capacity of 2500 seats and two pipe organs, an extravagant feature during the Depression. In its latter days, it became an adult movie venue in the 1970s, and later, a rock club; the British band XTC played here in 1982, shortly before it gave up on public performances altogether. The interior has been gutted, but its beautiful outsides are still in view.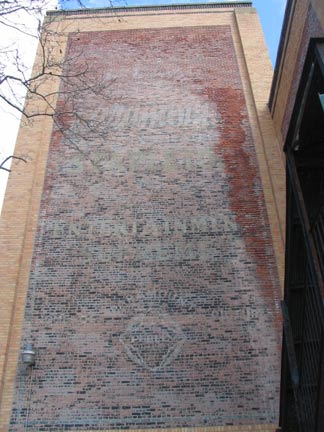 Painted ad for the theater on its back wall, Beach Street and Union Place.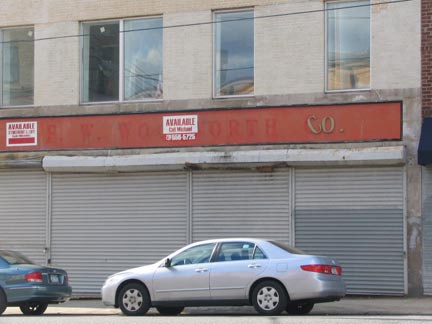 Old F.W. Woolworth sign on Beach Street between Water and Van Duzer Streets. The "Co." is still literally hanging in there.
Stapleton is home to many ancient homes, some rehabilitated, some not. 704 Bay Street, above, dates to the 1830s.
Edgewater Hall: Not to be confused with the Edgewater Village Hall in Tappen Park, this three-story red brick building at 691 Bay Street is one of Stapleton's most distinctive commercial buildings. When built in 1876, the hall was the first home of the Staten Island Savings Bank; the bank's brick arches and vault can still be found in the interior. In the 1970s the Hall was home to a rock club;Jefferson Airplane and Jorma Kaukonen's Hot Tuna played here. By 2005 the club had become the Dock Street Bar & Grill.
Dock Street was the site of one of the first Staten Island-Manhattan ferries, when the British established one during NYC occupation in the Revolutionary War era (1776-1783).
710 Bay was built in 1848 for Dr. James Boardman, resident physician at Seaman's Retreat, now the adjoining Bayley-Seton Hospital. In 1894 the house was sold to Captain Elvin Mitchell, whose daughter, a NY State beauty contest winner, lived in the house until 1966.
Bayley-Seton Hospital, between Bay Street and Tompkins and Vanderbilt Hospitals, dates to 1831 when the Seaman's Retreat was built as the first NYC hospital devoted to the care of retired sailors (it is not to be confused with Sailors Snug Harbor, which originated in Greenwich Village). The institution would continue with its original purpose for 150 years; and the usefulness of penicillin in treating venereal disease was verified here. It was renamed for Dr. Richard Bayley, first Health Officer of the Port of New York, and his daughter Elizabeth Bayley Seton, founder of the Sisters of Charity and first American-born saint (canonized 1975).
The above building is the Chief Physician's House, built from Staten Island-quarried granite, in 1842.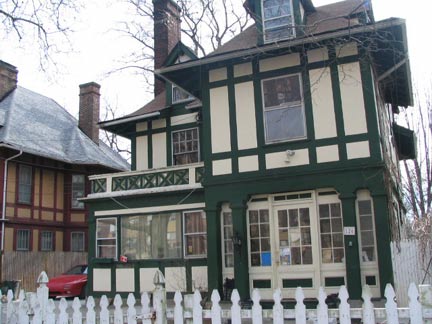 Clifton has always been associated with the Vanderbilt family; its scion Cornelius operated a ferry to Manhattan beginning in 1810 at age 16. In 1900, the firm of Carrere and Hastings built eight houses along the family's namesake avenue, from 110 to 144, between Talbot Place and Tompkins Avenue for George Vanderbilt in 1900. Other houses were built for Vanderbilt on neighboring Norwood Avenue; additional mansions were found on nearby Townsend Avenue, but many of them have been lost to redevelopment.
Ghostly trio. Tucked behind Bayley-Seton Hospital, on Broad, Brownell, Harrison, Tompkins and Quinn Streets are a collection of 19th-Century buildings, some handsomely maintained and some untouched, pretty much, for decades. The above three are on Broad Street between Canal and Wright.
Wards Hill as seen from Broad Street and Tompkins Avenue.
Hard-to-find Harrison Street contains the most concentrated collection of homes built between 1875 and 1895. The street contained many houses belonging to local brewmasters.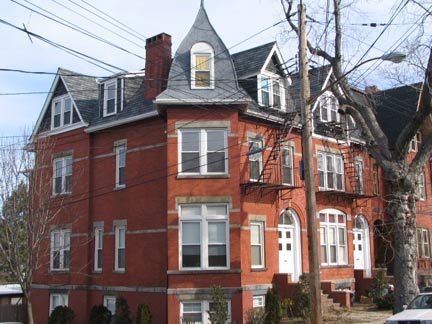 Quinn and Harrison Streets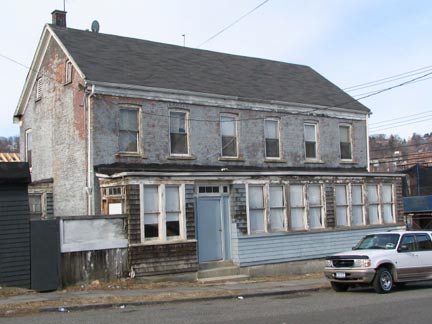 Quinn and Broad Streets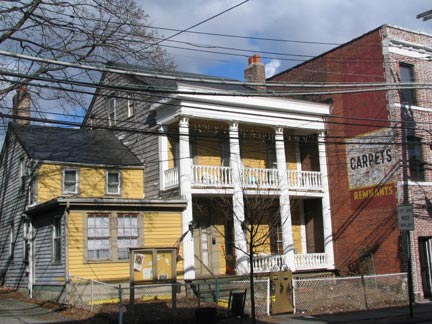 Stapleton Heights: you'll find a cluster of distinctive houses along Van Duzer Street and paralleling St. Paul's Avenue. Two, on Van Duzer on each side of Beach Street, numbers 364 and 390, feature striking two-story porches with 4 Doric columns apiece, both built in 1835. The one at 364 (left) was the home of Suzanne Tompkins Smith, daughter of NY State Governor and Vice President Daniel Tompkins, and her husband Richard. They were built by Robert Hazard.
At 388 Van Duzer is one of its many watering holes, the Muddy Cup (now The Cup), that doubles as a concert mecca. Though mostly local acts play the venue, B.J. Thomas and Marshall Crenshaw have stopped in as well.
Van Duzer Street and Smith Terrace
Village Inn, Van Duzer Street and Wright Street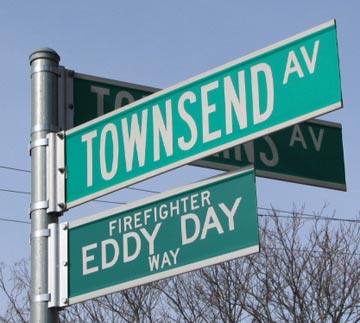 Townsend Avenue was originally the driveway leading to the estate of brothers James, Charles and William Townsend, who built a Gothic Revival castle in the center of the plot in the 1840s. In the 1850s, land along the driveway was subdivided into plots and in the latter half of the century a collection of other Gothic Revival and Queen Anne style homes was built up and down the street. Unfortunately in the past decade, many of these have disappeared as developers have erected generic multi-family homes they have deemed more suitable for the region in the early 2000s. A few do remain, though, such as the one on the north side of the avenue near Tompkins.
Most Staten Island Railway stations have been utterly modernized in the past decade, but Clifton's original shelter is still here on the southbound side.
The SIRT formerly split in two just past Clifton, with a branch headed toward South Beach. Service ended on that branch in 1953 but only in the last decade have developers really begun to fill it in, eliminating most traces of the old branch.
Rosebank
Rosebank is a pleasant village in southeast Staten Island with tree-lined streets filled with venerable old homes that are gradually giving way to new construction, especially along the old right-of-way of the South Shore Branch of the old Staten Island Rapid Transit. Views of the Narrows, the Verrazano-Narrows Bridge, and Bay Ridge, Brooklyn, can be glimpsed from Alice Austen and Arthur Von Briesen Parks. Rosebank is anchored by the campanile of St. Mary's Roman Catholic Church, built in 1857 at 1101 Bay Street at St. Mary's Avenue, and the slim spire of St. John's Episcopal Church built in 1871 at 1331 Bay opposite Belair Road. Rosebank, primarily an Italian neighborhood in the early 21st Century, has been home to pioneering photographer Alice Austen and Italian patriot Giuseppe Garibaldi.
My headquarters during my Staten Island sojourn was Harbor House, which fronts Edgewater Street but carries the address #1 Hylan Boulevard. Probably the borough's longest street, it was constructed in the 1920s and originally was known as Seaside Boulevard, but was renamed for NYC's mayor during its conception, John Hylan. In Rosebank, Hylan Boulevard assumed the route of the former Pennsylvania Avenue.
At #2 Hylan, you will find a large park with a dormered, one story home in its center: "Clear Comfort," for many years the home of one of Staten Island's most accomplished photographers, Alice Austen. An original section of this house was built in 1691, and since Hylan Boulevard ends in Tottenville at the Conference or Billopp House, it means the boulevard begins and ends alongside 17th-century houses. Can any other major thoroughfare in the USA make that kind of claim?
Lady with a Camera
Alice Austen (1866-1952), at left in the above photo, was born to a prosperous family in what was then a part of Clifton and is now Rosebank. Her father, Edward Munn, disappeared before her birth; her mother, Alice Cornell Austen, moved with her daughter to her parents' house, Clear Comfort, shortly after that. The house, at 2 Hylan Blvd. (then 2 Pennsylvania Avenue) had been purchased and later completely renovated from a simple farmhouse to a Victorian cottage by John Haggerty Austen, Miss Austen's grandfather, in 1844.
Miss Austen was introduced to photography by her uncle, Oswald Müller, in 1876, when she was ten. Aside from Müller's original demonstrations, her photographic skills and techniques were entirely self-taught, she insisted. In the latter years of the 19th Century, photography was a burdensome business; cameras were large and bulky, made of mahogany or cheaper wood with a leather cover. Negatives were produced on large glass plates covered with chemical emulsion and a number of these had to be carried, along with a selection of lenses, cartridges of magnesium powder, cables allowing the photographer to insert herself in her own photographs, and tripods. More than one camera had to be taken, since in that era, larger cameras took larger prints; cameras could only take one proportion. As much as fifty pounds of equipment accompanied Miss Austen on her journeys. She maintained her own darkroom, spending many hours indoors processing her photographs. Unlike Berenice Abbott, a contemporary, or photographers who followed her like Margaret Bourke-White or Diane Arbus, Miss Austen followed a Victorian philosophy that work was its own reward and did not seek to actively market her work.
As the decades rolled on Miss Austen and her companion, Gertrude Tate, became the sole residents at Clear Comfort and settled into a comfortable life of dinner parties and gatherings; but the 1929 stock market crash relieved her of her life savings at age 63 after she had speculated unwisely on land out west. The final years were an uncomfortable time, with Miss Austen living in one nursing home or another but always having to move due to inability to pay. In 1950, at age 84, she was admitted to the poorhouse…the Staten Island Farm Colony, now in ruins at the center of the island. Toward the end, however, she received some welcome recognition for her decades of photographic expertise.
When she was forced to move from Clear Comfort in 1945, Miss Austen called on an old friend, Loring McMillen of the Staten Island Historical Society, for assistance. McMillen was able to rescue some cardboard boxes in the basement containing 3,500 glass plate negatives: these comprise the collection of Miss Austen's photographs we have today. A young writer, Oliver Jensen, published several of Miss Austen's pictures in Life and Holiday in 1951, and the proceeds from the sale allowed her to move into a more comfortable nursing home, where she remained until her death in 1952. In October 1951 she had attended an exhibition of her life's work at Historic Richmond Town.
In 1985 Clear Comfort was refurbished, to the way it appeared in Miss Austen's day, as a museum. Hundreds of her pictures, of course, are on display. The house is open from Thursday to Sunday in spring, summer and fall.
Garibaldi, Meucci and the radio
Giuseppe Garibaldi (1807-1882) crusaded for a united Italy in the early to middle years of the 19th Century. In 1834 he joined Giuseppe Mazzini in the Young Italy Society; after an unsuccessful uprising in Genoa in 1836, he fought in South American wars of liberation, using what today would be called guerrilla tactics. After a sojourn in the USA in the 1850s , he organized and led insurgencies leading to conquests of Sicily and Naples which ultimately produced the unification of Italy in 1860 under King Victor Emmanuel II.
During his time in the USA, Garibaldi resided in the home of his friend, Antonio Meucci, from 1851-53 (as the sign in Italian above the door indicates). Meucci was the inventor of the telephone as far back as the 1850s.
Alexander Graham Bell, you say? He perfected the telephone for voice transmission, but it was Meucci who invented the first device that transmitted sound over copper wire from one location to another. Meucci was one of those tragic figures of history who had the right idea at the wrong time or place. He obtained a patent for his invention in 1871, and renewed twice more after that, but failed to renew in 1874 when he could not produce the $250 filing fee. Soon after, Meucci was distracted by injury, the death of his wife, and a fraudulent business partner, and could not counter when Bell patented his similar invention in 1876. Despite years of court proceedings, Meucci died uncompensated in poverty in 1889. In 2002, the US Congress passed Resolution 269, recognizing him as the telephone's true inventor.
In 1907 the house was moved to its present location at 420 Tompkins Avenue at Chestnut Avenue; between that year and the 1950s, Meucci's house was overwhelmed by a pantheon with classical pediments and columns erected by the Garibaldi Society proclaiming the house as the Garibaldi Memorial.
Since 1956 the Order of the Sons of Italy has maintained the house as a museum, open to the public. The museum contains many letters and photographs documenting the lives of the inventor and the revolutionary, examples of Meucci's handmade furniture, and a library of rare and out-of-print books. Contact the Museum by visiting garibaldimeuccimuseum.org.
Meucci's elaborate monument, with depictions of classic Roman mythological tales, was erected in 1923.
1906 marble monument to Garibaldi in the back yard.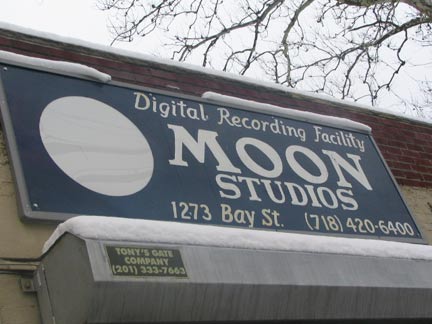 Rosebank street art seems to be of a theme, carried out at Moon Studios HQ. Henry Falco's studio records artists from Staten Island and the Northeast.
Small-town Rosebank remembers its heroes. The monument is at Tompkins Avenue and Hylan Boulevard.
Two churches anchor Bay Street in Rosebank: St. Mary's Roman Catholic Church, built in 1857 at 1101 New York Avenue (since renamed Bay Street), with its campanile visible from the surrounding area, and St. John's Episcopal, built at 1331 Bay in 1871, though the congregation was organized in 1843. The St. John's architect was Arthur Gilman, who practiced mainly in Boston before building this church.
SOURCES:
Staten Island Walking Tours, Shirley Zavin and Elsa Gilbertson, Preservation League of Staten Island 1986.A handy guide, though unfortunately many of the houses mentioned here are now gone.
Holden's Staten Island, Richard Dickenson, ed., CMS 2002
Photographed February 2005, written August 5, 2005.