Of course, the far west end of 14th Street isn't dead; it's arguably more active than it ever was, with celebrity-bait restaurants, clubs and fashion boutiques. However, with the impending closure of Western Beef on 14th Street, one of the last active links to the neighborhood's 100 years as a slaughterhouse and meat wholesale center are gone forever. On this Forgotten NY page, we'll show you the last vestiges of the Meatpacking District when blood, gristle and flesh caked its Belgian-blocked streets. And I'm not referring to the muggings.
GOOGLE MAP: Meatpacking district
Restaurateur Florent Morellet (who has been here since 1985, long before the cognoscenti arrived) provided a succinct history of this previously mysterious, shadowy area on the area's official website:
The area began as a trading village for the Sapokanican, an Algonquin Indian tribe. After the famous sale of Manhattan Island for a few beads and bobbles, it became a Dutch tobacco plantation, then English farmland, before America built Fort Gansevoort to protect New York during the War of 1812. After the war, New York City began negotiations with John Jacob Astor, who owned most of the Gansevoort area, to purchase the underwater rights for the Hudson River. When the deal was complete, the shoreline, west of what is now Washington Street, was filled in, and became the terminus of the Hudson River Railroad. A farmers' market emerged, taking advantage of the railroad and the ever-present ferries across the Hudson from New Jersey. In 1886, the city declared the area as a public market to ensure that they participated in the profits!
At the turn of the last century, with the advent of an underground brine-cooling system, the city market was able to sustain a safe meat-market. The buildings that were once dwellings, stores and warehouses were quickly transformed into meat businesses – the vestiges that we still see today. In the past few years, many of the meat businesses have relocated to the Bronx, but a variety of new businesses have replaced them, and adapted these remarkable, historic structures once again – so that the neighborhood retains a vibrant, 24-hour energy that defines Gansevoort as unique in New York City. Meat guys work next to famous retailers, restaurateurs, art galleries and production houses in a wonderful cycle that ensures there is always something for everyone in Gansevoort Market!
What Florent Morellet doesn't say is that landlords have raised rents to the stratosphere, making it no longer feasible for many of the old meat marketers to remain in their traditional neighbohood, clustered along Washington, Gansevoort, Little West 12th and West 13th Streets. In the 1990s, restaurants, boutiques and galleries, who were more willing to pay NYC's exorbitant real estate prices, gradually moved in and took over. Gay clubs had begun moving in as early as 1970, with the Zoo followed by the Mineshaft.
Your webmaster arrived in the area in mid-January 2006 after an absence of over a year, on one of the rare cold days in January. It was a day of bright sun, yet little light since the sun at its highest was only about halfway up to the zenith. Here, I photographed what I assume to be the last days of the region's fading raison d'etre; it joins in oblivion the now-deceased Fulton Fish Market; Soho's Machine District*; Radio Row, Washington Market and Little Syria, razed for the World Trade Center between 1969 and 1973; and the Sewing Machine and Flower Districts of Sixth Avenue will also soon succumb. The Meatpacking District will be gone over the next decade. As I've said here before, sick transit, Gloria.
*this is a New York Times link; the stingy Times removes free links after a few days, so it will probably require a fee for you to read it.
In an era when our 5 billion dollar mayor is firing factotums for having the audacity to take a break with solitaire from their exciting, fulfilling office jobs, and the middle class is running to the exits again, not from the tyranny of crime as they did in the 1960-1970s but from the tyranny of the wealthy in the 2000s, here are some of the last venues of actual work where cigarette breaks are not firing offenses.
Washington Street
The "gut girls" of Walmir Market
Peter Luger buys its meat at Walmir
Luger's "meat doctor" [New Yorker]
Diamond Meat Packers (839)
Now a Meet locker, formerly a meat locker, Washington at Gansevoort (817). Jim Naureckas, in NY Songlines, claims this was a memorable scene-setter in Sex and the City, not that I'd know. I do see packed tour buses gingerly negotiating the Belgian blocks, stuffed with modern-day desperate housewives retracing the steps of the previous set of TV comediennes.
I dislike repeating photos, but I took this in 2001 just outside what is now Meet looking across Washington Street at Maggio Beef and the truncated end of the "High Line" railroad. Since then Maggio has closed; it is planned to become the site of the Dia Museum when the High Line becomes a high-end, glitzy urban trail, if current plans are realized. Dia would also take over the Premier Veal building, which we will see presently.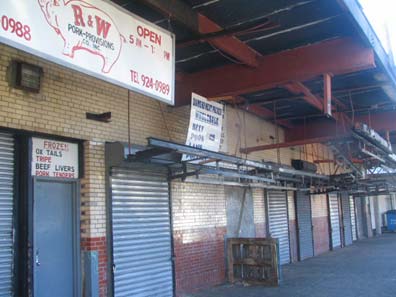 Not only are the meat purveyors moving out…the art of handlettered signs is too. The old butcheries still feature a lot of them.
Hogs & Heifers Saloon (859) is also an area veteran making the transition from a primarily neighborhood crowd of meat cutters to a genuine tourist attraction.
Since Julia Roberts and other celebs discovered the place in the 90s, it's been home to what some online reviewers disparagingly call a "bridge and tunnel" crowd, illustrating some New Yorkers' intolerance for 'inferior' out-of-towners.
By 2006 Lamb Unlimited at 837 Washington was one of about twenty active meat businesses in the area, down from about 150 in the district's heyday in the 1940s.
New boutiques along Washington between Gansevoort and Little West 12th.
As noted above, the old West Side Elevated Freight Railroad has been spared from demolition [and, by 2009, became a highly stylized urban trail.]
It would have been much better served as the home for a southern extension of the #7 Flushing Line; as it is, billions of dollars will have to be spent to tunnel the line instead of simply running it above ground here.
Gansevoort Street
The street runs where old Fort Gansevoort, constructed for the War of 1812, was built. It was named for General Peter Gansevoort, one of Washington's officers. Gansevoort was the grandfather of author Herman Melville–who worked on the docks here as a customs inspector in the later years of his life, believing that his work would be forgotten. Pulitzer Prize-winning author Michael Cunningham("The Hours") has written that Gansevoort "is probably the only street in Manhattan, and maybe in the world, where you could procure, in one easy trip, a side of beef and a 1970's sectional sofa in pristine condition."
One legacy of the Meatpacking District is its sidewalk overhangs, which may be maintained by whatever businesses replace them. They do provide neeed shade in this tree-baren area especially on hot summer days. This building was built 1880-81 by John Glass Jr.
R&L Restaurant, opened in the 1920s at 69 Gansevoort, became Florent, named for its founder, in 1985. Florent has kept the 1942 vinyl and chrome exterior as well as much of its diner atmosphere within, while offering a menu that is a mix of American and French bistro fare. It has boisterous Bastille Day celebrations, with costumed wait staff as well as Florent himself, who may be seen in drag for the occasion.
North side of Gansevoort west of Greenwich. The lettering on the side of the building, at least the part I can make out, says "clam chowder," "boullion" and New England buiscuit."
Little West 12th Street
The naming of this street, which runs from the junction of Gansevoort and Greenwich Streets west to West Street, is a little complicated. Apparently the city was at a loss about what to call it in its early days in the 1830s and 40s when it was laid out. If you look at it on a map it occupies the same space where West 12th Street would logically be. However, it cannot be called West 12th Street, since West 12th turns southwest at Greenwich Avenue and also reaches West Street. (The original name of that stretch of West 12th was Troy Street, with the renaming taking place in the mid-1800s. For many years Little West 12th was shown on maps but without a name.
With the West 12th Street name already taken, the city at first called this now-orphaned two-block street North 12th (1870) but that didn't really work. Instead of giving it a name it was decided to call it Little West 12th, and it starts appearing on maps by 1902. Two other streets in NYC have such a preface: Little Nassau Street in northern Bedford-Stuyvesant, Brooklyn and Little Clove Road in Sunnyside, Staten Island.
The junction of 9th Avenue, Gansevoort and Little West 12th Streets is one of NYC's unique public spaces. Most of the MPD's streets, for so ong sparsely trafficked, have retained their 1800s Belgian-block pavements, and the wide plaza formed by the junction provides "cobblestone" street enthusiasts with plenty of textured pavement.
[This spacious urban plaza has since been cluttered up with bollards and other traffic-calming foofaraw]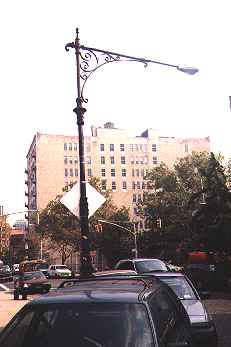 Till the early 2000s, the junction was also punctuated by one of NYC's few remaining original Type G Corvington lampposts, although it was 'defaced' by a modern sodium lume for its last couple of decades. The post was listing badly by the time I snapped it in 2000, and it has now been replaced by a modern retro-Bishop Crook.
Forsythe Meats still holds down a place on Little West 12th; across the street, you can still make out the word "meat" on an awning.
9th Avenue
Ninth was the first avenue in New York City to get an elevated train, in 1870, and the el shadowed the MPD until 6/12/40. Unlike other north-south NYC avenues, which begin somewhat prestigiously (3rd, for example at Cooper Square and 5th at Washington Square) 9th begins rather anonymously, at the Belgian-blocked junction of Greenwich, Gansevoort and Little West 12th, and picks up traffic from Hudson Street when it reaches West 14th.
Long after the meatpackers leave, the Old Homestead Steak House at 9th and West 14th will probably remain; as the sign says, it's been in business since 1868. The Old Homestead introduced Kobe beef to the USA and offers a $41 Kobe hamburger. The Homestead has always finished below Peter Luger and other NYC steakhouses in the publicity game though.
Your webmaster will stick to the Gold Star Diner in Bayside. [I can't anymore. It closed in 2011]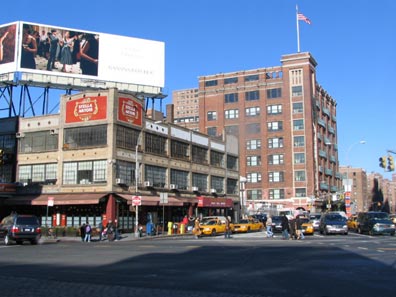 The new crossroads of the MPD, 9th and 14th. The old Nabisco factory, which has turned out thousands of Oreos in its time but is now the popular Chelsea Market, is in the background. RIGHT: sign on 9th between 14th and 15th.
10th Avenue
The odd street layout of the MPD makes for some interesting building plots that include a few triangle buildings, like the Liberty Inn at 10th and 11th Avenues and West 14th Street. The Liberty was once a hot sheet locale.
The NYC DOT still dutifully marks the dwindling meat market area.
The rusted facade of Pier 54, a former White Star-Cunard berth. In 1912 the Titanic was due to dock at nearby Pier 58.
West 14th Street
In 1988 the AIA Guide to New York was describing a Frank's Restaurant on 431 West 14th Street between 9th and 10th:
Don't tell them you knew Frank…the founder forgets how the restaurant first was named but he's certain the founder's name wasn't Frank. Sawdust. Tile floors. Dark woodwork. Tin ceilings. Steaks, chops, etc. In the wee hours it's still frequented by meat market workers. See for yourself.
I miss the place and I never got near it. (It has actually moved to 410 West 16th, exactly 2 blocks north of where it was; it had opened on 14th in 1912. I'll have to see if they retained the sawdust.)
Western Beef on West 14th just west of 9th, the last big supermarket in the MPD, was scheduled to close in early 2006, passing the torch to the end of an era and all cliches in between.
Former area resident (now in Nyons, France) Patricia Fieldsteel, writing inThe Villager, remembers the unique vibe:
There were open white-plastic barrels of pig ears and snouts in brine: 10 and 20-gallon jugs of pork bellies and carpet-sized rolls of tripe. You needed a strong constitution to shop at Western Beef, which originally was a warehouse where one walked into a glacial auditorium-sized freezer with entire cow, hog and sheep carcasses hanging from hooks on the ceiling… anyone who wanted to become a vegetarian only needed to go in their meat department and they would be cured forever of eating meat.
…a field day for cultural anthropologists with its ham hocks, pig snouts, cow hearts, sheep brains and turkey butts — where else could you buy a yellow styrofoam tray of 12 enormous pope's noses (chicken tails) for 99 cents?
Toward the western end of West 14th, under the railroad bridge, a few meat wholesalers are hanging on or did till recently.
Stella McCartney, the designing daughter of Beatle Paul, was an early fashion 'pioneer' in the MPD, but the veteran Diane von Furstenberg is coming on strong at Washington and 14th.
Surprisingly, tucked away on West 14th between 9th and Washington under the ubiquitous sidewalk overhangs is the Ground Zero Museum Workshop, which describes its mission thusly:
To raise awareness of the heroic efforts of the Ground Zero Recovery workers through the exhibition of Gary Marlon Suson's photographic collection
To utilize the Ground Zero Recovery Collection by way of image sales for the purpose of supporting six worthwhile and needy charities
To educate students about the true impact of terrorism by viewing the collection
To help people connect on a deeper level to both the tragedy and heroism that September 11 was comprised of; by viewing items/artifacts recovered from the rubble of Ground Zero
To honor the men and women who lost their lives on September 11
To provide an emotionally safe place for the children of 9/11 victims to come, in their own time, to view the collection & summarily understand exactly what went on during the Recovery Period at Ground Zero
In light of the fact that there will be no Museum at Ground Zero for many years to come, this project will immediately provide the public with a permanent museum that serves as a home for the Ground Zero Recovery Collection
Call for hours and reservations at 212-802-7197.
West 15th Street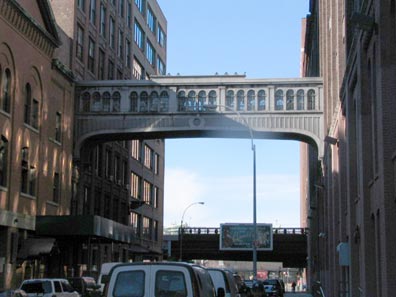 We're on the northern limits of Meat-opolis here but I thought I'd show you this marvelous old pedestrian bridge spanning West 15th, west of 9th Avenue between the Nabisco Building and its facing building across the street. I'd like to know the story about this bridge, which looks as if it's been here for a few decades at least.
Question settled by Christopher Gray, who else…from "From Oreos and Mallomars to Today's Chelsea Market, " New York Times on August 7, 2005:
"In 1913, [architect] Zimmerman designed the most prominent building in the complex, the 11-story full-block structure from 10th to 11th Avenue and 15th to 16th Street. It was built on landfill – the timbers, chain and anchor of a two-masted schooner were found during excavation.
National Biscuit also acquired outlying property, like the old American Can Company building at 447 West 14th Street. That structure extends through to the south side of 15th Street, and National Biscuit erected a pedestrian bridge to join it with the main complex on the north side of 15th Street. Designed by a later company architect, James Torrance, it has a somewhat classical character and looks to be made of lead-coated copper…"
West 13th Street
Barry Packing Co. and Manhattan Hotel Supply Company, West 13th between West and Washington
Down East Seafood; Belgian blocks outside Hogs and Heifers
Collier's
P. F. Collier was a Catholic seminarian who, instead of joining the priesthood, became a salesman for a Catholic book company headed by a P.J. Kennedy, who turned him down on his idea to offer books on a subscription service. Collier went own to form his own company in 1875 and built it into the largest subscription publishing house in America. A magazine,Collier's Weekly, appeared in 1888 (renamed from Once a Week in 1895) and published continuously until December 1956.
Covers from 1901, 1941. 1948, 1955
From Preservation Ohio:
Collier's was the main challenger to the dominance of the Saturday Evening Post as America's favorite household magazine of the era. The name of the magazine was shortened in the first years of the 20th century when the word "weekly" was dropped from the masthead. In the age before electronic media Collier's was a mix of news, features, tame humor and short stories– a format that is virtually non-existent today. The magazine was also recognized for its art work and illustrations. Among the famous who contributed to Collier's was Maxfield Parrish – recognized in the early 20th century as the most popular illustrator of the day….
In 1925 the editor of Collier's sent three reporters on a nationwide tour to look at the effects of Prohibition. They found wide spread corruption and graft within law enforcement and as a result, Collier'sbecame the first national publication to call for repeal of the 18th Amendment. Collier's lost 3,000 readers but overall circulation shot up by an additional 400,000 new readers.
Circulation of the magazine declined steadily after 1950 as radio, television and the rise of a new generation of national news weeklies – including Time, Life and Newsweek – adapted to the changing national tastes. Compounding Collier's problems was the television industry which provided less expensive advertising then the magazine could afford. While the Saturday Evening Post exists today in monthly format, Collier's ceased publication on December 16, 1956.
Collier's main office was here on the far west side of Manhattan at 416 West 13th Street (though it also had a large operation in Springfield, Ohio after the company was acquired by Crowell Publishing in the 1920s). The company's symbol, a world globe accompanied by two wings and a torch, still blazes brightly on the clubhoppers who frequent this part of town. e.e. cummings worked at Collier's in 1917 for three months, answering mail.
West Street
The building housing Premier Veal, West and Gansevoort Streets, has had many roles. It was originally the Gansevoort Market House, built in 1900 to serve the farmers' markets that preceded the meat wholesalers here. In 1908 it was converted to a high-pressure pumping station, used to provide water for fires before high-pressure water on fire trucks were introduced. High pressure was essential to fight fires in multi-story buildings, which were becoming common in 1908. High pressure water came from the 'fat' fire hydrants, the ones with 4 nozzles instead of two, that you see in parts of Manhattan and Brooklyn. They were phased out in the 1980s.
One of two remaining extra-tall streetlamps on West Street. They were succeeded by the retro-24M-Corvingtons you see in the background.
More on the Meatpacking District…
"Meatpackers scramble for last scraps of market" [The Villager]
"And the meat goes on" [Village Voice]
Scenester Andrew Krucoff takes you through the MPD on Friday night [Gawker]
[By 2012, many of the meatpackers had moved to Hunt's Point, Bronx, or elsewhere.]
Robyn Hitchcock's first vinyl outing was "Zip Zip", a recording by Maureen and the Meatpackers in 1976. It remains unissued.