Sometimes, you can walk past something a hundred times and never know it's Forgottenworthy. That's what happened this week [March 19-25, 2006] when news broke that the Tunnel Garage, a venerable edifice (as the late great Lindsey Nelson would put it) at Thompson and Broome Streets in Tribeca may not be long for the world.
Workers began dismantling a lost New York City classic in April 2006…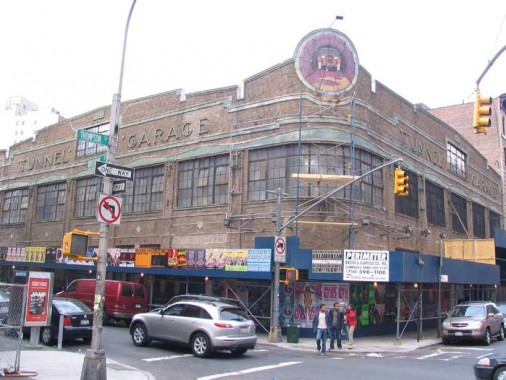 he Tunnel Garage was constructed in 1922 by architect Hector Hamilton. The Holland Tunnel's construction was already well underway by the time it opened, and the garage's builders were anticipating brisk business when the tunnel opened to traffic, which it finally did in 1927. It's often thought that the name of the Holland Tunnel commemorates the Dutch, who founded NYC as New Amsterdam in 1626. Actually it was named for Chief Engineer Clifford Milburn Holland, who died the day before workers tunnelling from New York and New Jersey met under the riverbed of the Hudson River. The garage did well even before the tunnel opened, since 7th Avenue had recently been extended south along IRT subway construction and was now a through route with Varick. Soon after the garage opened, Sixth Avenue would similarly be extended south to Church Street.
It's also likely one of the first public parking garages ever built. Houses began to appear with private garages, as on Kenmore Terrace in Flatbush, in the mid-1910s.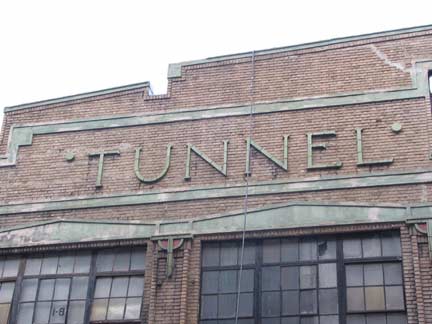 The Tunnel Garage has been called unworthy of landmarking by its detrators, but it's all in the detailing.
There's a "G" with a style that doesn't occur in any font set I've ever seen, and in 1922, I daresay it didn't occur in any typebox or hot type rack. When this goes, there isn't anything to replace it.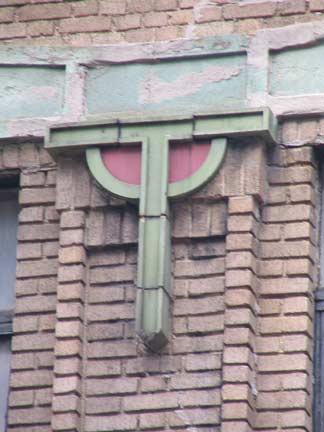 The stylized green and magenta "T's" that ring the building are designed similarly uniquely.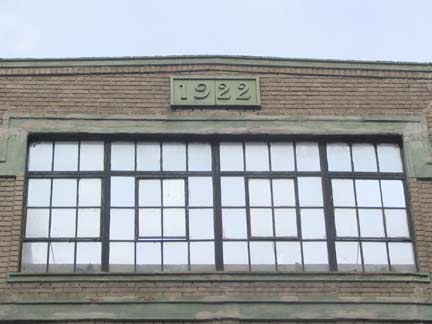 The terra cotta "1922" is reminiscent of the big "72" seen on the station house at the Broadway and 72nd Street IRT station.
Sending off the Garage, presumably, are Jack Black as well as the Yeah Yeah Yeahs, who got together at NYU.
But who am I kidding here. The real star of the show is the massive terra cotta 1922 Ford Model T, traveling through the tunnel (anticipating its opening) depicted atop the building's round corner. It has to be one of the biggest examples of colored terra cotta I've seen in NYC, and it wasn't till I zoomed in close to get the big picture on top that I noticed that the artist even put a driver behind the wheel. The number on the license plate seems to be 6207183. Can any Forgotten Fans divine any significance to that number? Anything about the design I've failed to mention? Is the road unfinished because the tunnel was, in 1922?
It's probably not a Model T, says Forgotten Fan Alex Kwanten:
It does not appear to be directly representative of any single marque, but it comes closest to a representation of a 1920-1921 Marmon Model 34. Marmon, an Indiana-based company, built fairly expensive cars from 1904 to 1933, when it fell victim to economic conditions and a contracting luxury car market. There is no Marmon script on the radiator and the cowl lights are wrong, but everything else says Marmon. It would've been considered a very stylish car at the time.
The Model T was definitely the most common car on the road when the garage was constructed (and when the tunnel was built and opened) but no T ever had that kind of ornately swept windshield and T's rarely carried side-mount spare tires. In 1922, a T would still have had an Edwardian-style tiny-hood/huge-cowl arrangement and a vertical, split-at-the-middle windsheild, and T's never had that round-topped radiator – T's had a horizonal line seperating the radiator housing from the mesh.
The Ford was hidden behind a "24-Hour Parking" sticker for years. This situation was emblematic of the Philistines that have been in charge of our buildings for decades, and now seem bent on razing all of them in favor of mediocrities. If there's justice on the planet, this beautiful medallion will be preserved for the ages; I'm not going to bet on it. Now that the building's in grave danger, the terra cotta blazes forth in what is perhaps a last hurrah.
Awaiting a travesty?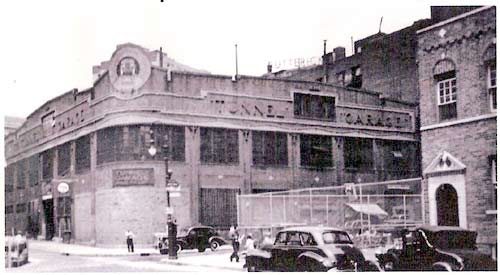 Tunnel Garage in 1939. photo via gothamist
Note the service stations on the ground floor.
From the Greenwich Village Society for Historic Preservation:
"This is an 11th hour plea to the owner to save this wonderful building which could so easily be re-used and restored rather than demolished," said Andrew Berman, Executive Director of the Greenwich Village Society for Historic Preservation, which has been fighting to save this building. "The City's Landmarks Preservation Commission has been deluged with hundreds of letters in support of landmarking this building, and preservationists from across the city and country have called upon them to do the same. It's got a medallion representing a Model-T Ford traveling through the city's first tunnel connecting New York City to the U.S. mainland – how much more historic can you get than that?" added Berman.
"To demolish an unprotected historic building in a neighborhood renowned for its landmarked buildings is unconscionable," said Sean Sweeney, Executive Director of the SoHo Alliance, a neighborhood group also fighting to preserve the building.
"Demolishing the Tunnel Garage for yet another glass monolith to wealth and avarice would be tragic. This building is useful, beautiful and historically significant; why can't the City do the right thing and save this neighborhood landmark rather allow another block-buster?" said Simeon Bankoff, Executive Director of the Historic Districts Council, a citywide historic preservation organization.
Paul's concerns met with deaf ears, as demolition on the Garage began in early April 2006.
Save this?
Tunnel Garage, before 24-hr. Parking" sign was removed. via Starts and Fits
Aaron Donovan of the excellent architecture blog Starts and Fits doubts the building's worthiness:
"Andrew Berman, G.V.S.H.P. director, said the garage is not only historically deserving of landmarking, but also important because the area has lost so much parking in recent years.
"A-HA! So perhaps this dispute isn't so much about the architectural merits of the structure, but about the desire for area residents to park their cars cheaply. If parking is worth that much to the neighborhood residents, they could pay the building's owner as much as he would make from the proposed apartment and retail building (which unfortunately would have 117 parking spaces of its own). That would be enormously expensive though, so one can see why they've suddenly become nostalgic for this mediocre building."
(Berman denies the pro-car charge; see his comment at the link.)
Your webmaster isn't nuts about this rather utiltarian building, but, oh, that lettering and terra cotta details! You can't have one without the other…
[What's there now? As of 2012, when I updated this page…I'm not sure. The Google Street View truck passed by in 2009, when a new structure was going up. I'll have to check the location again.]
Your webmaster first started visiting this part of Soho in 1981, when my friend Steve, who sadly passed away in 2005, was living nearby on Thompson Street. In the triangle formed by Thompson, Broome and Watts, I saw what seemed to be a whole pile of metallic junk strewn on what was then a plain concrete surface. It's come a long way since, as Robert S. Bolles' (also known as Bob Steel) creations now reside in a landscaped garden stuck between three streets that are absolutely jammed with cars honking their horns at 150 db.
'm not sure if it's supposed to be part of the park or not but scrawled in the concrete around the outer fence are several famed names, like Poe, Warhol, and Shel Silverstein. Who? He wrote Cover of the Rolling Stone, A Boy Named Sue, The Unicorn, several children's books, and some racy stuff for Playboy. A real Renaissance man.
Page photographed March 26 and completed March 26, 2006.