City Hall Park
New York's present City Hall was completed in 1811 and is the third City Hall overall. Though most of the surrounding park closest to City Hall itself was closed off to the public in the aftermath of the terrorist attacks of 9/11/01, the remainder actually has been magnificently restored and contains several historic tidbits and even reminders of NYC lamppost history…if you care to take a look.
The current fountain was designed by Jacob Wrey Mould (who also worked in Central Park) and completed in 1871.
In 1920 it was disassembled and 'exiled' to Crotona Park in the Bronx, with the Delacorte Fountain opening in 1977. As we know, the mid-20th Century saw severe deterioration of our public works and the Mould Fountain was no exception. However, when City Hall Park was restored in 1999 this magnificent fountain was returned to its old digs and beautifully returned to many of Wrey's specifications. The contrast between the fluttering gaslamps and rushing waters is exhilarating.
It's likely that all but hardore NYC history buffs and geeks like your webmaster ignore them or step on them, but City Hall Park is a historian's dream with over a dozen maps and tidbits embedded in sidewalks in the park and in the sidewalks surrounding the park in the Protected Zone. A circular timeline on the history of the park, City Hall and the surrounding edifices can be found at the park's southern end, where Broadway and Park Row make a V.
To see it now, you'd think that City Hall Park has always been as open and inviting as it is now. As with so much in NYC, appearances can be deceiving.

Map of the City Hall area, ca. 1890 from Community Heritage. Since Community Heritage would like you to purchase this map to get the best look at it, they have slapped an opaque logo on it that fortunately does not cover the area we're concentrating on this page.
Note that the track loop of the City Hall station can be seen on the map.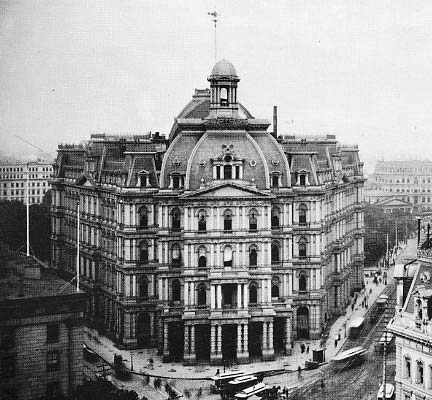 Between 1878 and 1939, a neat 61 years, the tip of City Hall Park was occupied by a beetling, self-important post office building, dubbed "Mullet's monstrosity" after its architect A.B. Mullet. Old New York in Early Photographs, Mary Black, Dover 1973

Mail Street, built behind the post office, disappeared when the building did and didn't survive long enough to get its own yellow and black Manhattan 1960s street sign, so we'll oblige here.
The City Hall Park area also has one other "lost" street: Tryon Row, which ran between Centre Street and Park Row. Its path is now occupied by the sidewalk and gardens south of the Municipal Building.
Park Row is now the only street in NYC called a "Row" but it once intersected with another.

Kohnstamm's Paints, 3 Tryon Row, about 1880.colorantshistory.org
Using relatively new technology that can print photographs on stone (literal lithography at last!) the City makes great use of the wide sidewalks surrounding City Hall Park, going a short way toward softening the closure of the park surrounding City Hall itself.

 In recent years the city has made great strides in improving traffic control, enabling bicyclists and pedestrians to cross Centre Street in peace to attain the Brooklyn Bridge pedestrian walk: one of NYC's greatest public spaces.
Two cast iron structures strongly resembling the original IRT entrance and exit kiosks have been installed that camouflage elevators. One is here at City Hall Park; you must cross the Brooklyn Bridge to find the other one, which is at Court and Montague streets in Brooklyn Heights.
City Hall Park also preserves some ancient NYC lampposts and has served to revivify some very old forms.
Lyre-shaped scrollwork was used on a variety of NYC posts in the late 19th and early 20th centuries, with the most prevalent, perhaps, being the Type 7. The city has updated the style, adding a bit more decoration, and has installed a number of Lyre posts along the Brooklyn Bridge approach and Centre Street.

Somehow, though, a Type 7 Lyre slapped on a guy-wired stoplight pole just doesn't seem like the right thing to do.
NYC Department of Transportationhas also dusted off the old Type 3twinlamp design, with its lamplighter crossbar, pendant luminaires and 'slinky' spring at the apex, added even some more design filigree, and installed along Park Row on the east end of City Hall Park.
However, the extended glass diffuser combined with the Bell luminaire is a modern development; these lengthy diffusers weren't employed till the advent of the Westy cuplights in the late 1940s.
Crooks have always had a place at City Hall. These nearly century-old Bishop Crooks have been retrofitted with pendants to match their twinlamp cousins, and given new Bell luminaires in 1999 that nearly match the 1938 models.
Page completed 7/16/06