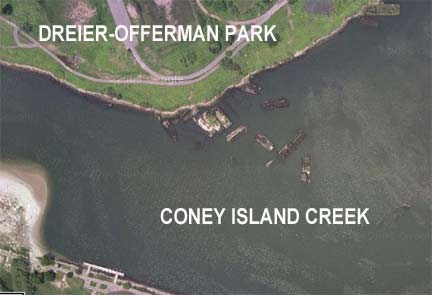 Ship graveyard of Coney Island Creek: for years I had believed that the Yellow Submarine was still there in the creek, but I was looking in the wrong place, as it turns out.
Alerted by an August 6, 2006 New York Times article, "The Ghost Ships of Coney Island Creek" by Jonah Owen Lamb, I discovered that there is a mini ship graveyard at the mouth of Coney Island Creek, where it meets Gravesend Bay at the southern edge of the mostly wilderness Dreier-Offerman (aka Calvert Vaux) Park. It's not as extensive as the Witte Yard in Rossville; there are about a dozen burned wrecks especially visible at low tide. The ships are mostly of indeterminate age, but they first appeared, it seems, around 1962 when Coney Island Creek was filled with material dredged during the construction of the Verrazano-Narrows Bridge, pretty much ending any remaining navagability the creek had. That's when the old vessels were stripped of their hardware and scuttled here.
Forgotten Fan Mike Olshan tipped me off about a Brooklyn artist, boat builder and urban explorer named Marie Lorenz, who for the past few summers has conducted "Tide and Current Taxi" tours in her rowboat…nothing to do with New York Water Taxi, but basically a way of taking friends out to various NYC waterside sites that are otherwise inaccessible. It seems that Marie had already visited the Yellow Submarine…
Yellow Submarine in 2005
Marie and artist Elsie Hill approached the Yellow Submarine at relatively low tide in the summer of 2006. Most of the deck was visible though the sub, of course, now bears very little resemblance to its Volkswagen-like appearance at its attempted launch in 1970.
As you might expect rust has completely taken over. photos: Marie Lorenz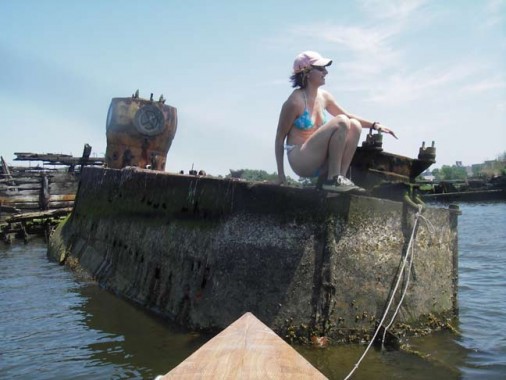 Elsie went on board and then painted the wrecks from the safety of Marie's rowboat. photos: Marie Lorenz
Yellow Submarine in 2006
Inspired by Marie and Elsie's trip, I contacted both Marie and Mike Olshan and set up a voyage of our own to the Yellow Submarine and its accompanying wrecks. Everything was set for a dawn voyage from the beach at Bayview Avenue in Coney Island. However the day dawned with a 5AM monsoon and your webmaster backed out – but undaunted, Marie, Mike and Duke Riley launched the rowboat anyway, the weather later partially cleared up, and a thorough investigation of Bianco's Folly was undertaken. Let Mike Olshan pick up the story from here: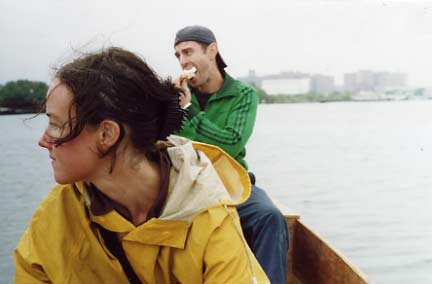 Up at dawn to meet boat-builder Marie Lorenz and artist Duke Riley. We shove off from the Coney Island side of the creek. Marie rows, Duke is still working on breakfast. Mike Olshan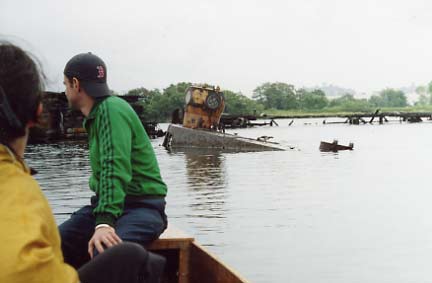 Marie's little rowboat is beautifully built and decorated, and tight as a drum. Less than ten minutes of vigorous rowing brings us alongside our goal… MO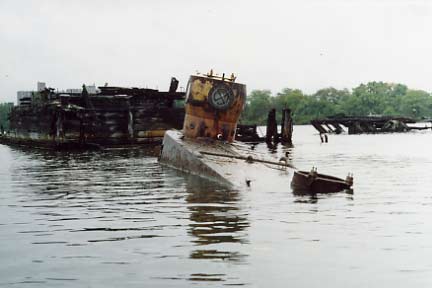 The deck lies aslant but is not wobbly, for the sub is firmly stuck in the mud.  MO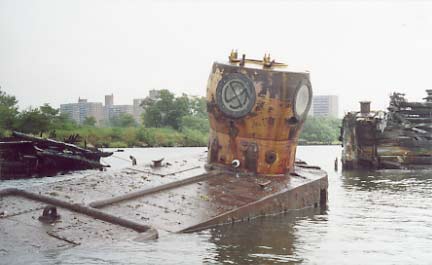 Some Blue Meanie has been here before us and added a rowdy graf. But in keeping with the New Age Spirit, we shall construe that to be a Buddhist rotation symbol. MO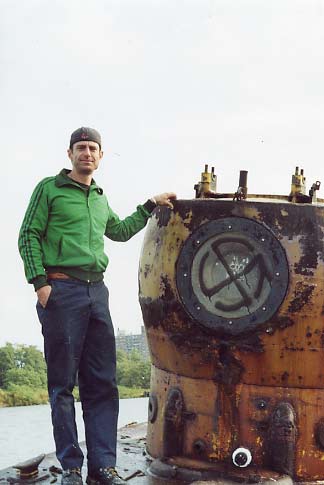 The conning tower is only shoulder-high, sealed inside at the bottom with a hatch. MO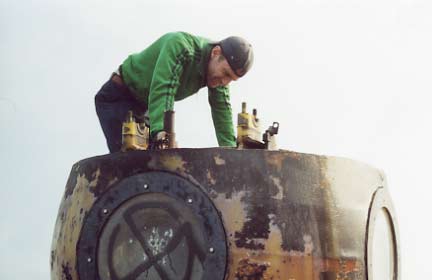 Duke goes up and over, and jumps inside. MO
Not quite the life of ease, as he must crouch down to peek out the porthole to make like Ringo. ML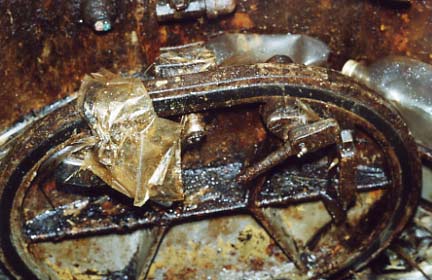 Here's what he's standing on, a sealed hatch. The hull's filled with water, you wouldn't want to go down there. MO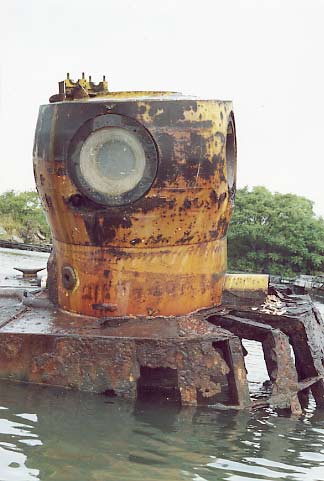 This little sub never quite made it to Pepperland, but it did sail to the Sea Of Holes, and brought back a few of 'em. MO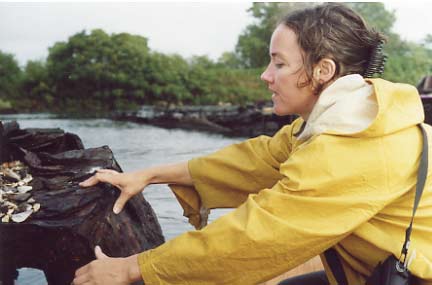 Our Tidal Taxi is bumping against that rough and rusty bow, so Marie pushes off… MO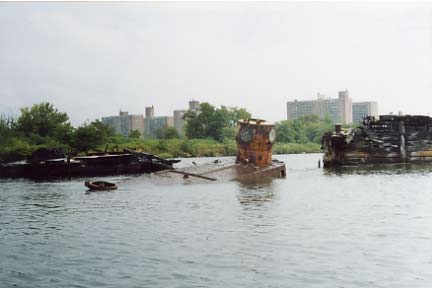 …And so we take our leave of the mysterious little sub. MO
Before moving on here are some pictures Marie took of the boarding of the Yellow Submarine:
…and a link to her Tide and Current Taxi page
PART 3: CONEY ISLAND CREEK