Your webmaster had the day to himself after making anappearance on the Brian Lehrer show on WNYC Radio (to promote the new Forgottenbook) on a sparkling Monday in October, and had to make a decision about what to do. I was thinking of walking the Brooklyn Bridge, but that would have gotten me to the Brooklyn Heights-Dumbo area, and I've been there frequently of late. Well, WNYC is located in the Municipal Building at Chambers and Centre Streets, and directly beneath is theChambers Street BMT subway station, last cleaned, apparently, in the LaGuardia administration. I decided to grab an M train and remove myself to the wilds of Bushwick. Despite the gains made by the MTA in modernizing the subways after the last couple decades, the J and M trains seem to be the last in line for any improvements.
Bushwick at War
Myrtle Avenue's march athwart the street grid of Bushwick provides a lot of triangle plots — and plenty of opportunities for public art. Two war memorials can be found along the avenue here…both by the same sculptor, and installed the same year.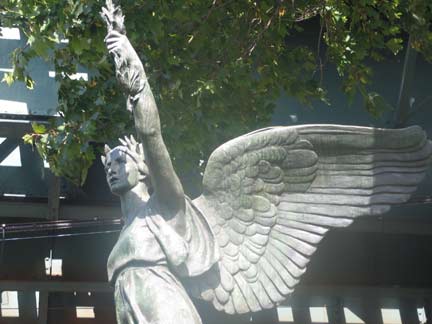 The first, at Myrtle and Bushwick Avenue, is known as the "Angel of Victory with Peace" and commemorates Bushwick's 93 casualties in World War I. It was sculpted by Italian-born Pietro Montana and installed in 1921.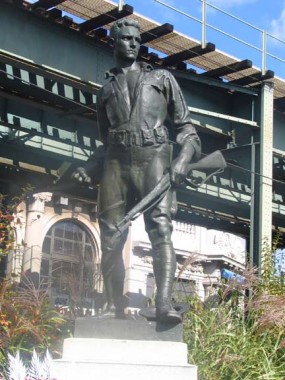 Montana's other World War I sculpture, the Bushwick-Ridgewood Memorial, can be found at Myrtle and Knickerbocker. It honors 157 servicemen and officers from the immediate neighborhood who perished in "The Great War."
The Memorial is located at Heisser Triangle (Knickerbocker and Myrtle Avenues at Bleecker Street), named for World War I sergeant in the Headquarters Company, 106th Infantry, who persihed in France during WWI. Sgt. Heisser lived on nearby Grove Street.
Since this page is being written on Veterans' Day, the mention of Bushwick's two war memorials is duly appropriate.
According to NYC Parks, Montana (1890-1978) enjoyed a lengthy career, producing relief portraits of Washington Irving and Mark Twain that adorn the north wall of 11 5th Avenue (at 9th Street) in Manhattan; a third World War I monument in Highland Park; a bust of Marconi for the 1939-40 Worlds' Fair in Flushing Meadows; and many other works.

Get the Knick
One of the oft-repeated tales of the Secret Origin of Forgotten NY is that your webmaster awoke one morning in 1962 to find that every Type 24M Corvington cast-iron lamppost on Sixth Avenue in Bay Ridge had been replaced by a Deskey pole, complete with GE-M400 luminaire and bulb–which inspired me to chronicle outmoded and out-of-date NYC ephemeral items, before they disappear. Well, when I first noticed the Corvs, they had been in place for about 40 to 50 years. Now, the Deskeys have been here for just about as long, and with their streamlined, modular appearance, bespeak their decade of origin, the Swingin' Sixties, just as much as their predecessor poles did.
When I reached Knickerbocker Avenue, plenty of items sparked my interest. The first was a lamppost, of course. There are still thousands of Donald Deskey slot-masted poles around town, of course, but this one, at Myrtle and Knickerbocker, still had an original GE M-400 luminaire.
In 2009, all of NYC's older lamppost luminaires were replaced.
Well, maybe not to you but…
This is a storefront on Myrtle at Bleecker, just east of Knickerbocker. It's a former beauty parlor converted to a podiatrist/pediatrician/dentist office. The front seems to have this 1960s-70s faux brick thing going on, but the awning sign is what drew me in. It really does make it a thing of beauty, with its double-drop-shadow hand-lettering, in red, white and blue. Notice as well that the shadow goes to the left (drop shadows usually are on the right) and that little northeast tilt of the F in "of" that makes the eye continue on to the final word. This sign was meticulously designed and painted one day in the dim past.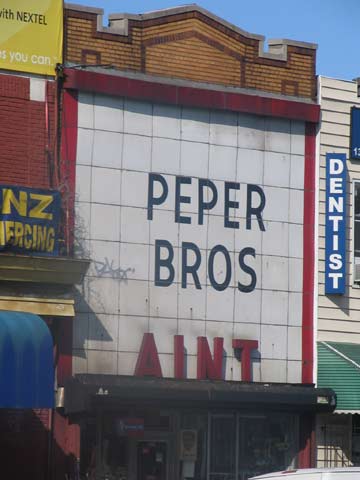 Knickerbocker Avenue is the main shopping drag in its corner of Bushwick (Bushwick Avenue itself is mostly residential) and it's a repository of ancient business signage. Peper Bros. (P)aint is near the el, while Ideal Dinettes is a few blocks away. I'm surprised the locals haven't filled in what the Peper Bros. "ain't."
At 13 letters, "Knickerbocker" is the longest street name in Brooklyn (that consists of one word): sorry, Schermerhorn Street, you're a letter short. Though you don't see him around much anymore compared to, say, Uncle Sam, in previous decades the personification of New York City was "Father Knickerbocker," a representation of the city's original Dutch settlers, who wore a cotton wig, three-cornered hat, buckled shoes, and, of course, "knickered" pants. The pants rolled up just below the knee and remained in use as boyswear well into the 20th Century; on the golf course, they're known as "plus fours," with the late Payne Stewart one of the few latterday golfers maintaining the style. The New York Knicks' formal name is the Knickerbockers, with the name drawn from a hat soon after the club's founding in 1946.
But why does the street name turn up here? The answer may lie in the name of the next avenue to the northeast, Irving Avenue. A number of streets in the area evokeWashington Irving, the famed author of the early 19th Century, and a character in his 1809 spoof History of New York is named… Dietrich Knickerbocker. Bleecker Street, which also runs through Bushwick and Ridgewood, is likely named for an Irving crony, Anthony Bleecker, a wealthy merchant. The Dutch theme continues with sister avenues Wyckoff and St. Nicholas. Knickerbocker Avenue had attained its name, at least on maps, by 1855.
PS 116
I might not know much about real estate…but I know what I like, and PS 116, at 515 Knickerbocker between Menahan and Grove, is the epitome of classic public school architecture, especially when photographed in full late afternoon sunshine. Twenty-two public schools are landmarked in NYC, but this is not among them. It was constructed in 1897.
Wiped off the map…and the building
Take a close look at the front of this Ionic-columned building on Myrtle between Knickerbocker and Bleecker, just above the arches, and you'll see that when constructed, it was the Hamburg Savings Bank. Bushwick and Ridgewood were formerly heavily German neighborhoods, especially when the HSB was chartered in 1905. Accoring to Scripophilly, it survived under that name till an acquisition by College Point Savings Bank in 1983, later Federal Home Savings Bank.
In 1905 buildings were constructed with somewhat greater sense of "gravity" than today, and when the builders placed bronze griffins above the front door of the HSB, they never considered that the Famous Brands Fashion Outlet would occcupy the building someday. Why would they? The Hamburg Savings Bank was going to go on forever!

The USA declared war on Germany April 6, 1917, after German submarines attacked several American merchant ships. Thus the USA entered the Great War, and this had an effect on the map of Brooklyn…
A few Brooklyn street names, it was decided, had to change if they named for German place names. Thus, Dresden Street in Arlington became Highland Place, Bremen Street in Bushwick became Stanwix, and Siegel Street, named for a German-born Union Civil War general, Franz Sigel, gained an extra "e", perhaps to camouflage a German spelling. Most famously, though, Hamburg Avenue was renamed for the sitting president and became Wilson Avenue.
We've been at war with or in Germany again, Italy, Japan, Korea, Vietnam, Bosnia, Afghanistan and Iraq, twice, but presumably, no further street names have been changed in association with these conflicts.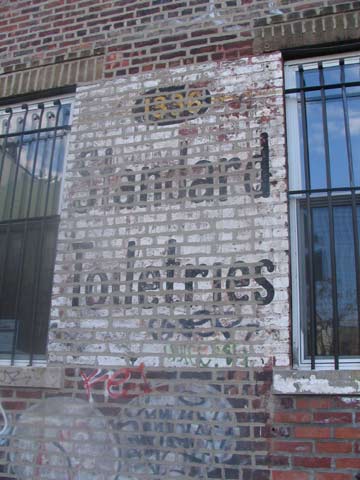 sign, DeKalb Avenue east of Myrtle
Not all streets with German names or themes were renamed, however. DeKalb Avenue, one of Brooklyn's most prominent due to the huge subway interchange at its downtown subway station and the presence of the Dime Savings Bank near its intersection with Fulton Street, is named for Bavarian-born Baron Johann DeKalb (1721-1780) who allied with the patriots in the Revolution and was with Washington at Valley Forge in 1777-1778; he was also a close friend of the Marquis de Lafayette. He was killed at the Battle of Camden, South Carolina, in October 1780.
Who Loves Ya Baby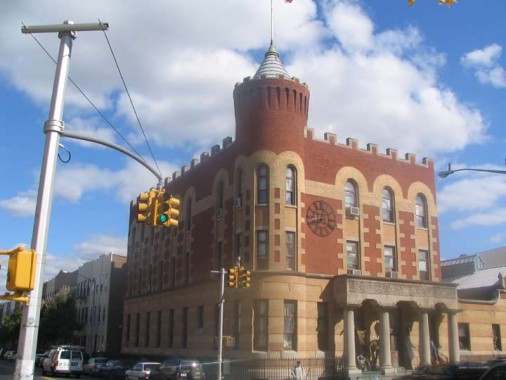 One of the reasons Forgotten NY's work will never be done is that your webmaster keeps finding landmarked buildings, or at least buildings that ought to be, in unfamilar neighborhoods. This gem at Wilson and DeKalb Avenues was the 20th and later, 83rd Precinct of the NYPD, constructed in 1894-95 and designed by William Tubby (who also built a number of buildings in Pratt Institute). No longer a precinct, it is now home of offices of the Department of Housing Preservation and Development. No, it's not endangered, having been named a NYC Landmark way back in 1977. The building now houses the Brooklyn North Task Force and the Patrol Borough Brooklyn North Headquarters.
When the 83rd Precinct moved to 480 Knickerbocker Avenue, the Wilson Avenue building was basically abandoned. In 1996, it was renovated and rededicated for its current use. The original holding cells are still inside, though unused.–ForgottenFan John Gillen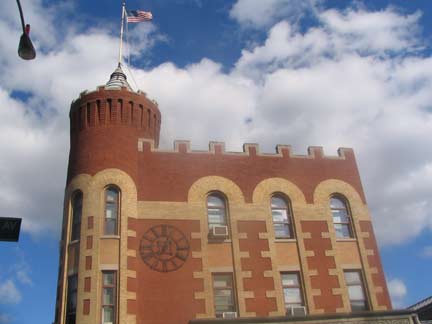 The 83rd was used for exterior shots to represent the 13th Precinct in Manhattan for the 1970s' Kojak, starring Telly Savalas as the lollipop chomping, tough as nails police lieutenant.
The building was decorated for Halloween as I walked past on October 23, 2006, including the stables next door. I didn't get a good shot of it, but the Dutch phrase Eendraght Maakt Magt, or Might Makes Right, is inscribed on the frieze above the entrance portico.

Angles
This triangle-shaped building with the rounded corner can be found at the angle created by Myrtle Avenue at Bleecker Street. I especially enjoyed the two oval windows on either side of the door. There are filled-in windows on the Bleecker side; the building may have been a theatre at one time.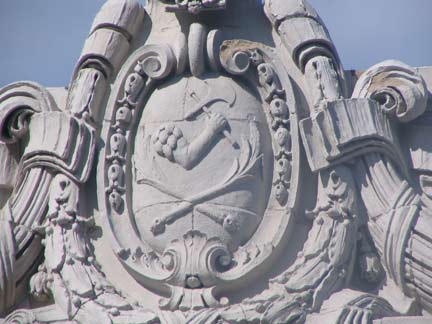 And, that's not all at Myrtle and Bleecker. Next to the old Hamburg Savings Bank is a Beaux-Arts edifice with a mysterious symbol on the frieze, an arm holding an ax. Perhaps it was a heraldic symbol of the family that built it? The two columns by the front entrance resemble the fasces of ancient Rome.

Bleecker stroll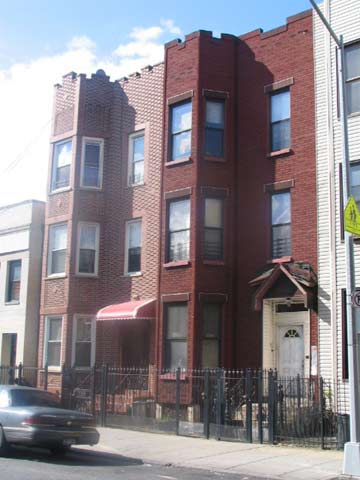 The detail of building adornment employed by 19th-century architects is nearly unthinkable in the modern age. I was attracted by the keyhole-shaped window at left. Both of the windows face the rest of the block, as the last building in the row projects outward. At right is one of the few buildings on Bleecker that has not gotten aluminum siding. Once again we have projecting windows. I've never been lucky enough to live in such a building, but I have visited friends who have. You get three different looks from one room from this design.

Wyckoff Avenue
Interesting goings-on at Wyckoff Avenue, which has received some retro-Type F streetlamps, as well as T-pole modified retro-Type G brackets. These new Type Fs are rather more bulkier and robust than their flimsy side-street predecessors. Jamming one on top of a 1950s-style guy wired stoplight mast is a little too fusion for my taste, though. These were worlds that would never had met, had not the DOT embarked on the retro program a couple decades ago.

The MTA is constructing a new fancy-pants transfer between the L (subway) and J/M (el) at Wyckoff Avenue, and normally, I favor this kind of thing. In this case, though, it cost us the Ridgewood Diner at 5455 Myrtle, under the el. It had held forth there since 1964, and I never got to eat there. So many classic diners around town have disappeared since I first began chronicling them a few years ago. Photo right taken January 1, 2001. 
11/11/2006