In a city that routinely discards its history, you will sometimes find it in overlooked alleys that are no more than modern passageways under bridge ramps, or service lanes providing access for garbage pickup.
New York City has obliterated many of its alleys, most of which were concentrated Downtown and on the lower east side. Two of them do remain in the Civic Center area east of City Hall and the Municipal Building, and layers of history can be peeled back from their now bland fronts. Rose and James Streets were frequented by some of New York's most prominent lights and are now shadows of their former selves.
I often think about the timelines of things. When I am walking around town I wonder how, exactly, the street I'm walking on looked a hundred years ago, if it was there at all; if it wasn't, I try and visualize how the farms and fields it replaced looked. Then I think about what changes will come to them in the future. Unlike the past, though, the future does not exist (as Johnny Rotten might have put it). That is to say, the future is entirely dependent on factors at work right now. Ach…before we get too philosophical, on with the show…
The map of this area –just east of City Hall Park — doesn't look remotely like this anymore. The year is about 1940 — not really so long ago — yet most of the streets shown here are gone. Ferry Street, Jacob Street, Chestnut Street, Hague, Vandewater, Roosevelt, Batavia, and New Chambers have utterly disappeared, and other streets have been renamed or severely truncated. Schools, apartment projects like Chatham Green Towers (1961) Southbridge Towers (1969) and the Al Smith Houses (1952) as well as New York City Police Headquarters (1973) forever changed the map.
Anyone interested in the disappeared streets of New York need go no further than Gilbert Tauber's incredible oldstreets.com*, which lists hundreds of Manhattan's thoroughfares that are no longer there; a more concise list of the region, which limits itself to the 19th and 20th Centuries, is my own Street Necrology.
*Just after I wrote this, the plug got pulled on oldstreets.com; hopefully, it'll be back soon.
WAYFARING MAP: Rose and James Streets, 2006

Rose Street
Rose Street first appeared in the mid-18th Century as one in a group of gently curving streets running north from Frankford, now Frankfort. They paralleled one of NYC's earliest routes, the Post Road to Boston, a piece of which became Park Row and the Bowery. As is the case with many early NYC streets it was called Prince Street in honor of British royalty; after the British finally evacuated in 1783, these vestiges of colnial rule were given new names; Prince became Rose, King George became William (for NYC mayor William Beeckman); Queen became Pearl (in honor of NYC's formerly thriving oyster trade), and so forth.
1763 Francis Maerschalk NYC plan. The future Rose Street is circled. The "High Road to Boston" is today's Park Row.
1782 Hill's Map. Prince Street, alternately called Princess and later Rose, is circled. See the whole map here.
Captain Joseph Rose house, 273 Water Street
Rose Street, the first of two fragments we'll discuss here, began its existence as Prince Street and ran from Frankfort to Queen (Pearl), paralleling King George (later William), and Duke (later Vandewater). In 1794, Prince became Rose Street, for Captain Joseph Rose, a mariner and distiller of Scottish descent.
Rose purchased two lots on nearby Water Street in 1771 and built a house there by 1773. In that era Water stret was inded on the water, and Rose and neighbor William Laight (another name in the NYC street directory) shared a wharf just behind the house, where Rose docked his brig Industry.
By 1791 Rose and his family moved inland to Pearl Street, leaving his son Isaac with the Water Street property. When Prince Street was renamed during the post-occupation fervor, Rose's property was presumably nearby, and so Prince, or Princess at it was later called, became Rose. The captain passed away in 1807.
As for his property on Water Street, in the early to mid 19th Century it served time as a shoe store, an apothecary, a boardinghouse, and in 1863, most notoriously it was Kit Burns' Rat Pit, a dance hall patronized by "the most depraved and infamous on the entire New York island." One of the amusements was setting a dog against a pack of rats.
The Rose house, 273 Water Street, suffered damage from two major fires in 1904 and 1976, but the shell of the over 200-year-old building remained…and it was rebuilt by the Sciame Construction Company in 1998.
It is the third-oldest building in Manhattan, third only to the Morris-Jumel Mansion in Washington Heights and St. Paul's Chapel, just across nearby City Hall Park.
In 2006 Rose Street still describes the bend that it did back when it was Prince Street in the 1760s. It begins at Frankford Street, as it has always done, but now ends at the Avenue of the Finest, a road created in 1973 when the present NYC Police Headquarters was completed. In 1883, it was bridged by the Brooklyn Bridge approach arch, as seen on the left, and when the Franklin Roosevelt Drive was built, more ramps appeared. It is mainly a pedestrian thoroughfare, as vehicular access is limited by the NYPD.
There are, at present, no buildings or residences located on Rose Street; instead, there's a rather forlorn public plaza, with tables and chairs, built in 1983; one of the ramp stanchions sports street art by ymicrew.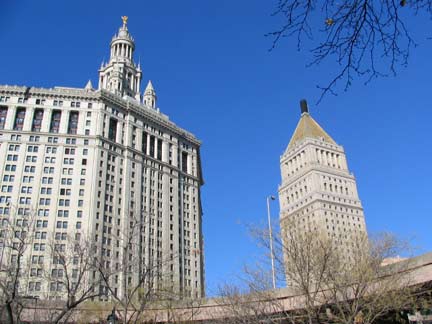 Rose Street, however, used to be considerably busier and more congested. Though the street was always in a blue collar neighborhood that verged on the tough part of town (the infamous Five Points district was just north of here) there were a couple of mansions scattered along its short route, including the one belonging to James Harper (1795-1869), founder of Harper & Bros., which became Harper & Row and later, HarperCollins…which in 2006 published the ForgottenBook.
Everything flows, as Teenage Fanclub says.
Harper was elected mayor in 1844 and his home, at #50 Rose Street, was the NYC mayor's official residence for a time.
 The NYC Municipal Building and US Court House, as seen from Rose Street.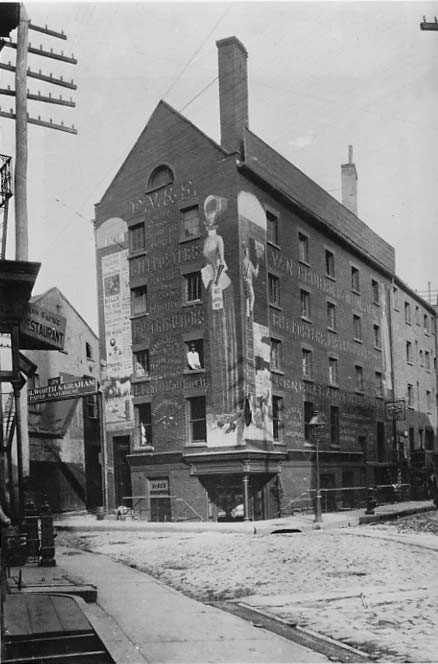 Forgotten Fan Peter Sefton has an account of the old days on Rose Street:
Even in the 1920s, Rose Street was called dingy and gloomy, but it was once a street of mansions and with a lively past.
In 1834, there was a series of anti-Black and anti-abolitionist street disorders, partially in reaction to British endorsement of the abolitionist cause. One evening, after attacking a theatre where the manager was an Englishman, to a mob battered down the front door of the wealthy abolitionist Lewis Tappan's Rose Street mansion. While ransacking the house, the rioters piled his furniture in the street and poured kerosene over it. But the story is told that, when someone tore a portrait of Washington off the wall and tried to use it for kindling, there was a roar of protest: "for God's sake, don't burn Washington!"

As a later 19th century writer noted "In an instance, the spirit of disorder was laid, and the portrait was handed carefully from man to man, till, at length, the populace carried it to a neighboring house for safety", attended by an honor guard of rioters. It's unknown what proportion of this was patriotic fervor and what was admiration for the greatest kicker of British butt in history.

This lull in the riot probably saved Tappan's house from total destruction, because the "leatherheads" of the police force drove off the rioters, who still managed to bombard them with bricks and to torch the furniture pile.
ABOVE LEFT: Rose and Duane Streets in 1890. Until the 1940s Duane (formerly Barley) Street extended as far as Rose Street.
Photoengraving is used to make printed circuit boards, printing plates, foil-stamping dies and embossing dies. It is also used to make nameplates, presentation plaques and other decorative engravings. A similar process called photolithography is used to make integrated circuits. wikipedia
Electro-Light Engraving, as we see in this ad, was located in a 12-story office building located on Pearl Street between Vandewater and the intersection of New Chambers and Rose Streets. Catalog of the 23rd Annual Exhibition of the Archirtectural League of New York (1908)
Today the fortress-like Murray Bergtraum High School and the Verizon (New York Telephone) Building, both built in 1976, occupy the site.
The city taketh away but giveth. When the NYPD headquarters was built in 1973, a new road was created to bring traffic from Park Row to Pearl Street, Avenue of the Finest, shown at right (in NYC, the Police Department is known as "The Finest," the Fire department as "The Bravest" and the Sanitation Department as "The Strongest" (Worth Street is nicknamed Avenue of the Strongest.")
Park Row between Centre Street and Chatham Square and Avenue of the Finest are closed to regular traffic, due to their proximity to NYPD headquarters in the age of terror.

James Street
Two streets on opposite sides of town are named for members of one family: James Street for 18th-Century distiller James DesBrosses (1705-1781) and Desbrosses Street for James' brother, Elias (1718-1778), an importer and warden at Trinity Church (many streets in Tribeca are named in association with Trinity). By 1797, James Street had attained its present name but oddly enough (as we'll see), prior to that it was known as St. James Street. I admit I have NO idea how Desbrosses Street is pronounced, since I've never had to go there on business or knew anyone living there. I imagine it was originally something like day-BROSS, but is now probably dez-BROSS-ez. Anyhow, James Street –what's left of it — is easier to pronounce, and the Forgotten NY cameras pounced on it early in December 2006 and found quite a bit for the grist mill.
James Street's original route took it from Park Row just south of Chatham Square all the way southeast to the East River. A very narrow street, it widened a bit as it approached the river, enough that the last two blocks were called James Slip. A unique street nomenclature in NYC, "slips" were originally small inlets that vessels "slipped" into; on today's map, Coenties Slip, Old Slip, and Peck Slip remain.
James Street was pinched on both north and south: the short stretch between Park Row and St. James Place was eliminated in 1961 by the Chatham Green Towers (seen in photo left), and the four blocks between Madison street and South Street were taken out in 1952 by the Al Smith Houses.
And, the odd intersection of St. James Place and James Street is a latterday occurrence. Prior to 1947 St. James Place was called New Bowery (though a building at Madison and St. James has "Bowery" chiseled on one of its corners). While the road shows up as a southern extension of the Bowery by the 1850s, old maps are no help as far as what it was called; in 1870, it's "New Bowery" while in 1873, it's just plain "Bowery." New Bowery won out, eventually, until 1947 when it was renamed to honor a church and a prominent NYC politician.
St. James Place is named for St. James Roman Catholic Church, 32 James Street, built in 1837; it is the third-oldest Roman Catholic church building in Manhattan, with Old St. Patrick's at Mott and Prince (1809) and St. Joseph's at 6th Avenue and Washington Place (1833) predating it. James Street, though called St. James Street in the 1700s, predates the church by several decades, and was named for James DesBrosses, not the church. Confusing huh?
St. James Church, built of warm brown fieldstone, uses a popular style in the 1830s, Greek Revival, with two Doric columns in front. It is thought that Minard Lafever, archiect of several churches in Brooklyn Heights and in the Northeast, and a noted proponent of Greek Revival style, was St. James Church's architect, but no records exist to prove it.
St. James Parochial School, at the corner of St. James and James, is the kind of unprepossessing brick building, with just enough decorative touches, that doesn't get built anymore. The strange street angle also creates a roughly triangular plot, the sort of thing I admire as well. Strolling over to the door, I noticed something…a pair of signs on the double door…
The ghost of Al Smith (1873-1944), the "Happy Warrior" governor of New York State from 1918-20 and again from 1922-28, hovers over James Street and his birthplace on adjoining Oliver Street.
From Who Are Those Guys, Vol. 1: Alfred Emanuel Smith was born on the Lower East Side, worked in the Fulton Fish Market and later a pump factory. He was elected assemblyman at age 30 and later became Speaker. "The working man's friend", he championed the Workmen's Compensation Law, banning corporate campaign contributions, and women's suffrage. He was elected Governor of New York three times, the first in 1918.
He was defeated in 1928 for the Presidency against Herbert Hoover, suffering through a grueling campaign in which he suffered countless attacks, especially in the South, for his Roman Catholicism. Despite his staunch Democratic Party membership, he opposed Franklin Roosevelt's New Deal and supported Roosevelt's Republican opponents in the elections of 1936 and 1940.
My maternal grandmother, Bridget (1891-1977) remembered the election of 1928 and often referred to it while I was growing up.
New Bowery was renamed St. James Place in 1947 fairly soon after Smith's death, in honor of the politician, whose boyhood parish was St. James on James Street. James Street would be severely truncated by the housing project named for him; his statue stands amid the project.
A building that has escaped the wreckers' ball at James and St. James. They don't build them like this any more.
Even the old iron fence at St. James Church has some architectural significance. I'm not sure why he plaque says "1827" since the church was built between 1835 and 1837. Perhaps an earlier building dated back to 1827?
This is a plaque installed here in tribute to Pfc. Frank Vallone of the Marines, who was killed in Vietnam in 1968. Of course he is also memorialized in Washington, DC. He was killed on a September 11th; he was nineteen.
"Private First Class Frank Vallone" — a song by Marc Ellis & Peter Streit
As befits a church over 170 years of age, some events significant in Catholic history have been recorded on plaques installed on St. James Church's exterior…
The American branch of the Ancient Order of Hibernians, the Irish Catholic fraternal organization, was founded here in 1836. Today, the AOH coordinates NYC's famed St. Patrick's Day Parade.
Plaque honoring Padre Felix Varela Morales (1788-1853), a philosopher, patriot, educator and abolitionist as well as a proponent of Cuban independence form Spain. Though elected to the Spanish legislature in 1821, he was forced to flee Spain in 1823 after being accused of treason. Establishing himself at St. James, he dedicated himself to social reform and was a constant champion for the civil rights of immigrants here for his remaining years.
SOURCES…
New York City Landmarks, New York City Landmarks Preservation Commission, John Wiley & Sons 2004
BUY this book at Amazon.COM
The Street Book, Henry Moscow, Hagstrom 1978
BUY this book at Amazon.COM
Columbia Historical Portrait of New York, John A. Kouwenhoven, Harper & Row 1972
Your webmaster Kevin Walsh: kevin@forgotten-ny.com
Page completed January 1, 2007