I don't do a whole lot of interiors. Usually, that's because when I enter anywhere with a camera, I'm quickly given the bum's rush. For over four years, though, I rode on some over 100-year-old artifacts in one of New York City's most storied interiors…Macy's.
As far as I know, the World's Biggest Store, which has been in its present location since 1902, possesses the city's last set of wooden escalators. Riding the escalators, as well as a couple of forays along the building's exterior terraces, were the highlights of my work tenure there: I was a catalog copywriter at Macy's between 2000-2004 and, while your webmaster made some fulfilling friendships that I still maintain, let's say my Macy's career was less than fulfilling. Still and all, I'm proud to have worked in such a historic institution. I never got the chance to snap the famed escalators while I was there…and in consequence, this is a FNY page in which the photography and research were done by others. I have relied on photos I found by photobloggers, whom I will credit as best as possible, and research from one of NYC's foremost railfans, Paul Kronenberg.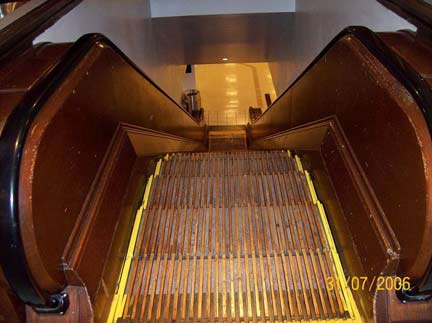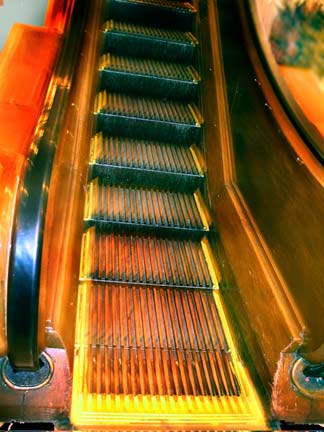 photo left: Haisan Saidin; right: Caleb Smith
BY PAUL KRONENBERG from nycsubway.org message board, 7/26/03
I was in Macys Herald Square store this afternoon to buy some towels.
On my way out, I remembered our discussion here last week of the wooden escalators and I decided to do some handrailfanning.

In all honesty, what follows is true to the best of my observations but basically just a lot of crap. What is important to me right now is that I had some fun observing the different types of escalators,breaking down the code numbers … The other kick was trying to see if I was being followed while I was riding the escalators and jotting down notes on an envelope.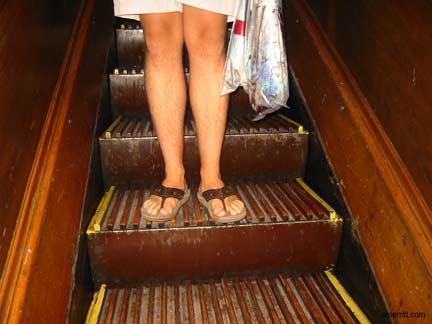 photo left: Jane Julian; right: S. Merritt
I need to explain some notation.
The oldest escalators have wooded sides and wooden treads (WoWo).

There are some escalators that have the original wooden sides but metal treads (WoMe)

There are some escalators that have metal sides and metal treads (MeMe)
There are a total of 7 escalator lines in the store, with 4 escalators that go up and 3 escalators that go down. Each escalator section is identified with either a 2-digit code or a with 1 letter and 1-digit code. The second digit identifies which of the 7 escalator lines you are on. Down escalator lines are the even numbers 2,4 or 6; up escalator lines are the odd numbers 1, 3, 5 or 7.
Let's say you're going up on line 7 and are between floors 4 and 5. That section of line 7 would be labeled 47. The first number indicates the lower of the 2 floors. If you were going down on line 4 between 3rd and 2nd floor, you would be on section 24. (I suppose only the die-hard handrailfan foamers would really be interested in the above explanation)
So let's go through the store and describe the escalators…
(Your webmaster: Macy's Herald Square consists of two buildings, the older Broadway building, built in 1902, and the 7th Avenue building, built in the mid-1920s).
The 7th Avenue Building has only 1 pair of up & down escalators. Up line #7 and down line # 6
They run from the 1st to the 9th floors.
From the 1st to 8th floors they are WoMe
From the 8th to 9th floor they are WoWo.
above photo: Ivan Omar
2006 update from Paul: There is another set of up and down escalators in the 7th Avenue Building…they are UP line 9 and DOWN line 8.
The UP line has one unique run from the basement to the 1st floor. It has glass sides with metal treads (GlMe? –ed.). Otherwise the two lines from the basement to the 6th floor and are metal sides with metal treads.
I resurveyed the place last week (January 2006) and noted that the widths of the escalators vary as well as the width of the treads. I really need to go into there with a tape measure and get data on these widths.

Also the placement of the escalators vary. There are some floors where you have truly classical escalator placement. Huh?? It's hard to describe, but all 4 escalator lines will be along each other. You'll see on the extreme left an escalator coming down from floor above, then an escalator continuing down to the floor below, then alongside that an escalator coming up from the floor below and finally on the right an escalator going up to the floor above.
In the Broadway Building there are a pair of escalators in the middle of the store: Up line 5 and down line 4. They run from the Basement ("The Cellar") to the 8th floor.
From Basement to 1st floor WoWo
From 1st to 3rd floors MeMe
From 3rd to 8th floors WoWo
There is a second pair of escalators in the Broadway Building at the Broadway end: up line 3 and down line 2
They run from the Basement (Cellar) to the 9th floor, with one peculiarity. You can only go down from the lst floor to the basement. There is no up escalator in this pair that goes from the Cellar to the 1st floor.
From Basement to 1st floor: WoWo
From 1st to 5th floors: MeMe
From 5th to 9th floors: WoWo
above photo: WoWo, from 1st floor to Cellar, by Raymond Cheong
And finally there is just a single up line escalator near the 34th Street entrance at the Broadway end.
It is up line #1...
From 1st to 6th floors: MeMe
From 6th to 7th floors: WoMe
The only other wooden escalator in NYC your webmaster even vaguely recalls was on the  IND subway, at Hoyt-Schermerhorn I believe…
But since Macy's strives to maintain a young, up-to-date image, I'm amazed these campaigners have survived into the 21st century. Can their days be numbered?
King's Cross escalator fire 1987, London Underground
1/1/2007