That Totten Town
Tottenville can unofficially be called New York State's southernmost town (officially, New York City is). British naval officer captain Christopher Billopp was its first European settler in 1678, and within a couple of years, had built a stone mansion at the foot of today's Hylan Boulevard that would figure prominently in American history as the Conference House. The Billopps remained Tories, loyal to the British, throughout the Revolution and so had their lands confiscated at the end of the Revolution. The story goes that Staten Island is a part of New York State, not New Jersey, because Capt. Billopp won a bet that he could circumnavigate Staten Island in one day.
The Totten family owned a large amount of property in the area in the 18th Century, and after a series of names like Unionville, Bentley Dock, and others, the village settled on a name befitting its major property holders. It was formerly home to shipbuilding, oyster harvesting, and the manufacture of terra cotta.
In spite of its remoteness Tottenville has been the terminus of the South Shore line of the Staten Island Railway since the 1860s, and three of the island's major roads, Arthur Kill Road, Amboy Road and Hylan Boulevard, also lead here.
Staten Island's First Families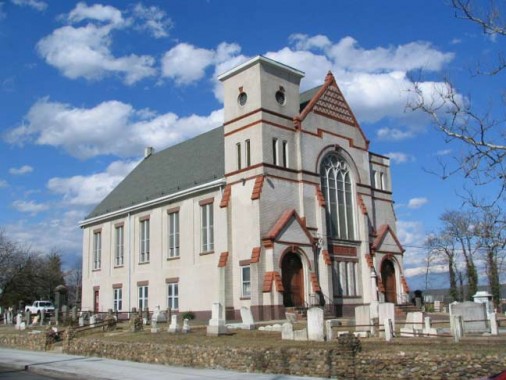 Postcard view of Bethel Methodist Episcopal Church, Amboy Road and Bethel Avenue, built to replace an earlier structure built in 1841 that burned down in 1886; the replacement church was raised later that year. There has been a congregation since 1823.
The older view is from 1925. Some of the spires have been removed since. Realms of History: The Cemeteries of Staten Island, Patricia Salmon, 2006
A list of the interred at the cemetery behind the church reads like a Staten Island street map. Tottens, Bedells, Woods, Spragues, Manees, Sleights, Mersereaus, Androvettes, Deckers…the first burial was William Sleight, 3, who died December 3, 1841.

Nassau
Our next SIRT station is a little hard to find. From the church and cemetery, a walk to the end of Bethel Avenue, left at St. Andrews Place, and then we find some twisted metal with some broken sodium lamps attached. This is the entrance to our next stop.
The overhead crossover has lost its roof, the original 1930s railings are still in place, the staircases are unlit (read: the lights are smashed), and the station platforms are illuminated by mercury bulbs that likely date to the early 1960s. Even the station's name reflects a defunct business:
Nassau Smelting & Refining Co.'s plant was built in 1900 on the Richmond Valley line of Tottenville. The smelting works (Tottenville Copper Company) was bought by Western Electric in 1931, another result of Depression times. In 1971 it became a metal recycling plant and renamed Nassau Recycling Corporation. It is now a part of Lucent Technologies. Angie Mangino 
Mickey Mantle, Willie Mays and Hammerin' Hank were swatting 'em over the wall when these mercury lamps were first installed at Nassau. In the 60s, these would have made George Jetson envious. But, the MTA hasn't touched them since, except to perhaps replace the bulbs. Do they work?
We might imagine that the MTA has simply forgotten that Nassau exists. There is a reason for this decrepitude, a very thin one, but a reason, which we'll mention after we see our next SIRT station. Last time I was here, the platform signs were wood planks with the word "Nassau" stenciled on (an arrangement most SIRT stations used to have), so the MTA has installed black and white signage.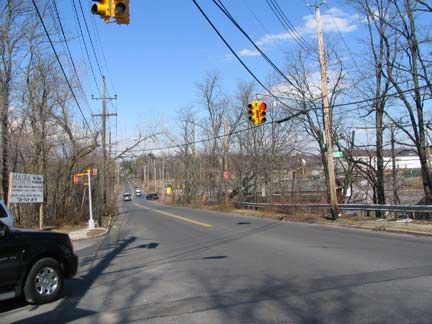 We now encounter Arthur Kill Road, one of the longest roads in the broough, which twists and turns for mile after mile just south of Staten Island's western shore, running through Richmond Town, Eltingville, Greenridge, Arden Heights, Rossville, Charleston, and finally tottenville, where it staggers to a close at the waterway it is named for. It is an amalgamation of several roads and assumed its present name sometime in the early 20th Century.
As I've said, I remember taking the S74 (then the R74) down this dusty track in the summer through acres of nothingness, just woods punctuated by a house here and there, in the 1970s. Some stretches of the road are still like that. When the bus reached Tottenville, I'd think, civilization at last.
A road named Ellis Street runs west along the SIRT from Arthur Kill Road. When we take it we find…
..some seafood…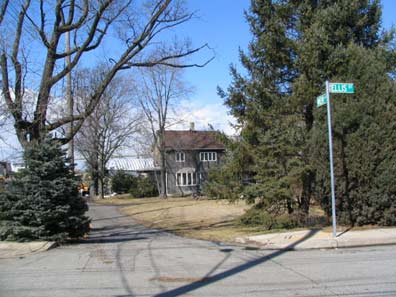 …and some very old homes, either along Ellis or on the odd alley such as Weir Lane. A weir is a device placed in a stream to dam it or catch fish, so it's likely they were employed here.
The remains of Tottenville's maritime repair industry can be found here.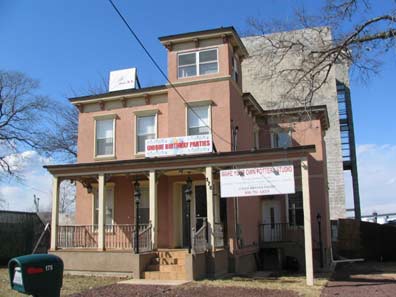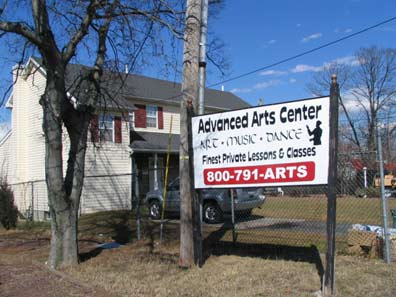 A well-kept old house is home to an art, music and dance school. That means, of course that there's a SIRT station nearby.

Atlantic
Atlantic, accessible from Ellis Street or just off Arthur Kill Road, is in better shape than Nassau, but just. It's illuminated by sodium lamps on its crossover and in the battered shacks that serve as shelters, and a couple of lights on nearby telephone poles. The platform is only lengthy enough to accommodate one SIRT car, which is keyed open by the trainperson.
Atlantic is named after another defunct business, the Atlantic Terra Cotta Company, once one of Staten Island's largest employers, who made the decorative materials used on skyscrapers (including the Woolworth Building, Coney Island's Child's Restaurant, and Philadelphia Museum of Art) and for fire-resistant cladding. The company's smokestack was a familiar Tottenville landmark for 80 years until 1988 with the demolition of the 135 foot structure.

Both Nassau and Atlantic have had deferred maintanance, or rather, no maintence, for several decades. Rumor has persisted for years that the MTA intends to demolish both and replace with a new Arthur Kill station midway between the two. The MTA should at least shore up the two stations before they both crumble onto the tracks.

Fosher Avenue houses. The Tottenville Historical Society has encouraged the installation of several signs encouraging "hometown pride" with a blank space where homeowners can fill in the house's date of construction.
394 Reasons to Love It
All you can say is wow. The house formerly belonging to Dr. Henry Litvak was built in 1895 and, of course, once resembled the houses near it on Lee Avenue. But in 1941 designer Eugene Megnin got hold of it, and took things to another level…
…in the style, the AIA Guide to New York City says, of the avant-garde French architect Robert Mallet-Stevens, a friend of Le Corbusier.
The striking exterior uses 394 glass blocks (your webmaster counted them). This kind of architecture, you either dig it or you don't. You have to like the meticulously hand lettered sign advertising the doctors who work inside. To be honest, the building could use a reno as many of the glass blocks look cracked.
I hadn't known Tottenville to be a hotbed of NYC tourism but you can't swing a dead cat without hitting a gifte shoppe. These two face each other at Amboy Road and Yetman Avenue.
When Tottenville was still a small oyster fishing village in 1904, it got its very own world-class Classical Revival library building thanks to millionaire philanthropist Andrew Carnegie. The Tottenville Library was designed by the prolific firm of John Carrere and Thomas Hastings, who also masterminded the great main branch at 5th Avenue and West 42nd Street and the Staten Island Borough Hall.
Egger's is the Tottenville branch of a venerable Staten Island ice cream parlor in business on Forest Avenue on the north shore since 1933.
The Scented Cottage, at Amboy Road and Johnson Avenue, overdoes it just a bit.
Tottenville is blessed with not one but two street clocks along Amboy Road, both of recent vintage. The first is at the Bedell-Pizzo Funeral Home, the second at the SW corner of Main Street, Tottenville's main crossroads.
The somewhat forlorn Tottenville war memorial flagpole is at the NW corner of Amboy and Main.
A short walk on Main Street north from Tottenville's epicenter at Main and Amboy reveals several ancient wonders such as the old Stadium Theater, which is rather obscure; it hosted rock concerts and contained a roller rink in the 1970s. this building was slated for demolition as far back as 2004 but things go slow in these parts.
The grand Masonic Temple, formerly housing Tottenville's post office, is at 236; its terra cotta ornamentation comes courtesy of the old Atlantic works. A newer PO is next door.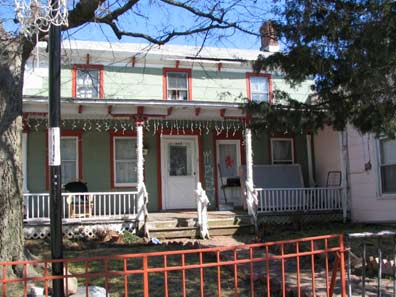 Main Street. 1890s-1900s architecture will someday be recognized as one of the great wonders of the world. They will never build like this again.
Doubling back to Amboy Road, at Swinnerton Avenue we find…
St. Paul's Methodist Episcopal Church, built 1883 in Romanesque revival, gained, or regained, a bell tower in 1883. When I visted tottenville as a teenager in the early 1970s, there was not much but woods south of the church. Streets have been cut through and houses constructed, and it looks as if they've always been there.

Bentley Street
Bentley Street, formerly Bentley Dock Road, is the street that goes to our last stop, and may be Tottenville's nicest residential street…
Might these houses have been built for 19th Century ship captains or shipyard owners?
I saved the best one for last…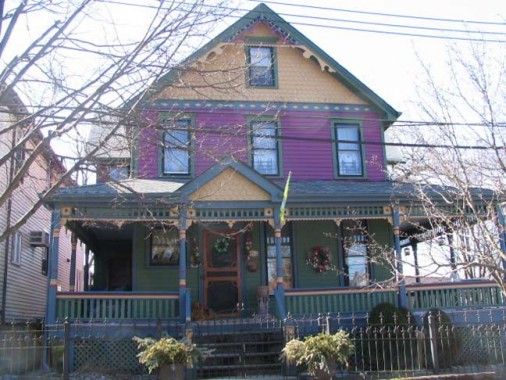 And you didn't think green, gold and purple went together. That's a wraparound porch with a water view. The water is the Arthur Kill but still.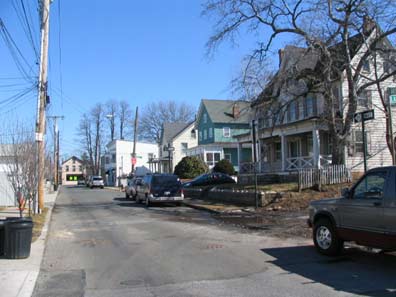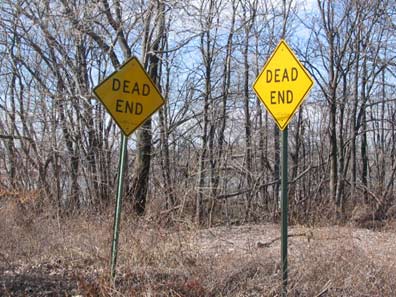 Double death. Mighty Arthur Kill Road, which begins its march to Richmond Town here, peters out at the water's edge, as does Bentley Street.
End of the Line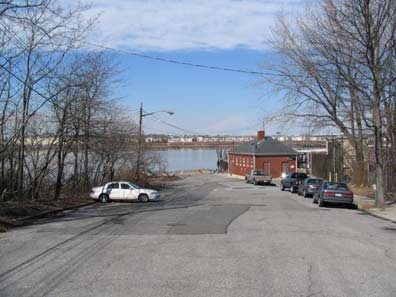 Geographia Maps still rather comically marks the old Tottenville-Perth Amboy ferry.
During the colonial period and for a significant time thereafter, Tottenville was an important way-station for travelers between New York City (of which Staten Island did not formally become a part until 1898) and Philadelphia, as it was the site of a ferry that crossed the Arthur Kill to Perth Amboy, New Jersey. This ferry became less important when the Outerbridge Crossing opened in 1928, but continued to operate until 1963. wikipedia
The only remnant of the ferry is the old piles that supported the ferry dock. On the other side, Perth Amboy has restored its ferry landing which it hopes will lead to direct ferry service to Manhattan.
Until 1963 the Staten Island Rapid Transit's Tottenville Branch began and ended with intermodal terminals, ie. you could change from the train to a ferry. NY State's southernmost rail station has recently been modestly renovated, with a new pedestrian walk to Bentley sstreet, and a crossover at the north side of the station. It's about 55 minutes from here to St. George Terminal.
Photography: February 24. Page completed March 13.