CONTINUED FROM EAST WILLIAMSBURG PART 1
As we've seen in East Williamsburg Part 1, the region east of downtown Williamsburg is an intriguing amalgamation of abandoned, crumbling hospitals, dog-crap-littered parks, varied and engaging architecture, and oddly enough, a burgeoning hi-rise condo center.
Pressing even further east and north we find even more of an industrial wasteland. Bear in mind that until the early 1990s, much of the western end of Williamsburg was much like this…before it got hip, hep, hip-hop and happenin'…and later just plain overpriced. Could that be the future for East Williamsburg? One look at this page, and as you'll see…that'll take some work.
LEFT: Jackson Street near Kingsland. Perhaps the crematory of Greenpoint Hospital?
WAYFARING: EAST WILLIAMSBURG PART 2
Via Vespucci
I always thought Greenpoint and Williamsburg, at least before the coming of the artists from the Lower East Side, were primarily Polish/East European and Hispanic. Here and there, though, there are demographic pockets that defy that overall description. A few blocks of Graham Avenue north and south of Metropolitan Avenue are primarily Italian and you cannot swing a dead cat (if you have one) without hitting a trattoria or pizza place. Here, Graham Avenue is subtitled Via Vespucci, named for the explorer (1451-1512) who voyaged to South America between 1499 and 1502 and established it as a continent. He was on the first European voyage to see the Amazon River. In 1507 a map of the New World was produced, naming the continent for his first name: Amerigo.
Glass fronts on new buildings have become quite the trend of late, which makes this building on Graham near Skillman Avenue right smack in the middle of things. Its more prosaic neighbors on the left and right are going to stick with aluminum siding for now.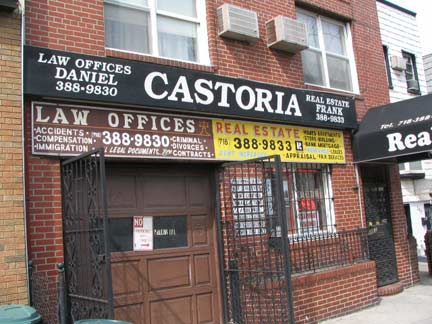 I'd suspect I'd be tossed out on my ear if I went into this law office and told everyone that, about 80 or 90 years ago, just about every other building in NYC was emblazoned with painted ads featuring ornate, elaborate script advertising Fletcher's Castoria, a kiddie's upset tummy remedy after too many green apples, presumably, since there wasn't any Mister Softee in those days. It's now called Fletcher's Laxative.
Speaking of Vespucci, voyages of discovery and journeys to adventure, I approach every neighborhood I visit in my FNY preregrinations as unplumbed territory, never before seen by the eye of civilized man, yet knowing full well that they're home to people who have been here for generations and know more about these areas than I'll ever forget. I suppose the rationalization has to be that old NBC TV campaign making the reruns go down better: "If you haven't seen it, it's new to you."
I've seen them in Red Hook and Williamsburg and here's another on Graham Avenue: an abandoned business…perhaps abandoned for decades, with the storefront left exactly as it was.
This one, run by Maria M. Pugliese, is in a building with exquisite alternate-colored brickwork. Click on the above Gallery for larger images.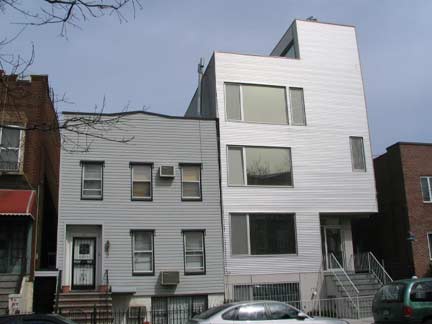 Not sure what exactly is going on here on Skillman Avenue between Graham Avenue and Humboldt Street, and I'm not entirely sure the architect knows either.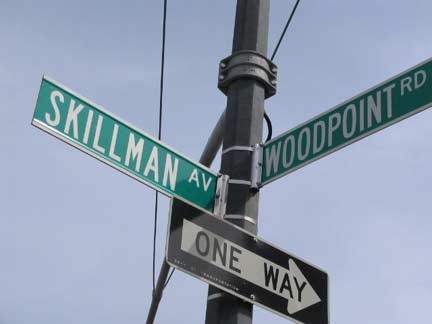 If you look at a map of East Williamsburg, there's a road running from Maspeth and Bushwick Avenues (see Memorial Gore in East Williamsburg Part 1) curving northeast to Kingsland Avenue and Frost Street. Known as Woodpoint Road, it's a short remnant of a much lengthier route that dates back to the colonial era — going back to the founding of Bushwick in the 1630s.
Woodpoint Road still runs on its original route for a few blocks here. South of Maspeth Avenue, it was known as Bushwick Road, today's Bushwick Avenue. As we see on the map taken from Colonial Highways of Greater New York, published from 1907-1908, it began at the heart of the village of Bushwick, made an abrupt turn east, then north and northwest, to the head of Bushwick Creek, then known as Norman Kill. The creek extended as far east as what would become Driggs Avenue in McCarren Park in the 1600s. The road then turned further northwest and met the East River at about Commercial and West Streets (perhaps "Greenpoint" and "Woodpoint" denoted the same region). By the 1800s, most of the road had vanished as the grid system was laid out, except for the 5 block stretch that is extant today.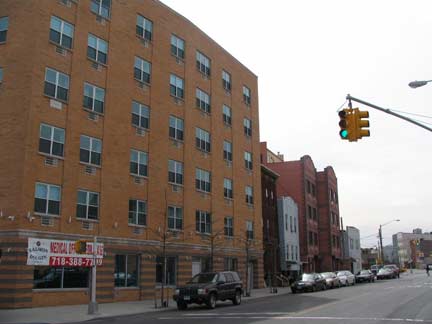 In the 1980s I would use Woodpoint Road to get to my friend Brian's house on North Henry Street (Humboldt would have been a more direct route but I wanted to say I travelled on this old colonial-era road, which even then I knew it was). Woodpoint Road is mutating as we speak with new condo developments and medical offices sprouting tike spring tulips alongside the older, one or two story houses that formerly lined the road.
Some classic old school brick attached homes survive on Jackson Street between Woodpoint Road and Kingsland Avenue.
If you thought, as I did, that Kingsland Avenue was named for Kings County, you couldn't be more hopelessly wrong. Instead, it is so yclept for whale oil merchant and NYC Whig mayor (1851-1853) Ambrose Kingsland. He appropriated funds for a little recreational area in mid-Manhattan they call Central Park. Brooklyn By Name, Benardo/Weiss
By the early 1980s Kingsland Avenue had gotten the extra moniker Grandparents Avenue.
When I was a kid, I remember asking my mother, with complete naive sincerity, why there wasn't a Kids' Day, since there was a Mother's and Father's Day.
"Every day is kids' day," she replied, wearily.
Kingsland Avenue has the misfortune of being the big dog, the main drag, in an area where there isn't much to be dragged. But as we've seen, perhaps its dog days are ahead of it.
Nothing's Gone Green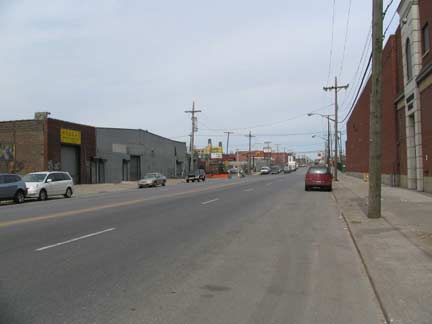 Morgan Avenue (a connector between Ridgewood and East Williamsburg) and Vandervoort Avenue (above) are treeless corridors lined with auto collision repair shops, machine shops, and wholesale importers.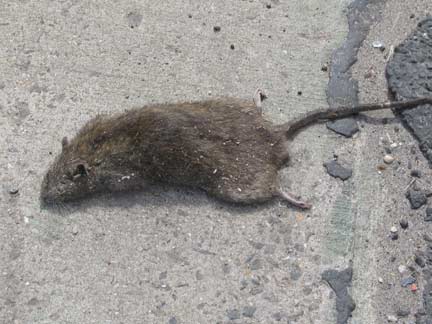 Pressed rat, no warthog. Not easy being a rodent here in the land of the big rig.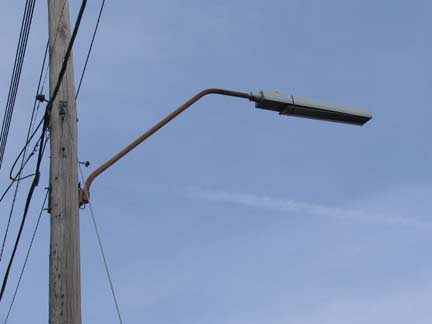 NYC's industrial neighborhoods feature a special type of t-pole mast, with a bend upward and anopther at the apex. I'd guess that these elevated like this so trucks wouldn't crash into them and rip them down. Why some of these poles were given filament-type, lengthy sodium luminaires, who knows. These luminaires seem to be becoming phased out with only a handful remaining.
I was going to show you the ballfields at Vandervoort and Maspeth Avenues, but these happen to be on the vast Keyspan (formerly Brooklyn Union Gas) property between Vandervoort and Maspeth Avenues, Newtown Creek and Lombardy Street. This is where the old Maspeth tanks were before they were imploded in July 2001. After snapping about 5 shots, a Keyspan van pulled up alongside. With a smirk I immediately deleted the shots. Even the guard seemed to realize the silliness of the situation. However, he has his job to do, which is to harass photographers, and I have mine to do, which is to take pictures that no one else will take, thereby raising suspicions that I am working for Osama. The Rock would be proud, because each of us knew our roles. My relationship with security guards is now so well-defined, it's like one of those Hanna-Barbera cartoons in which Mr. Jinks chases Pixie and Dixie past the same scenery, over and over.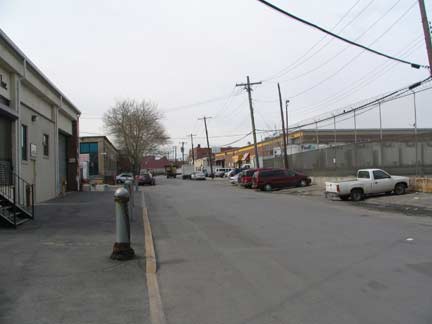 Rewe Street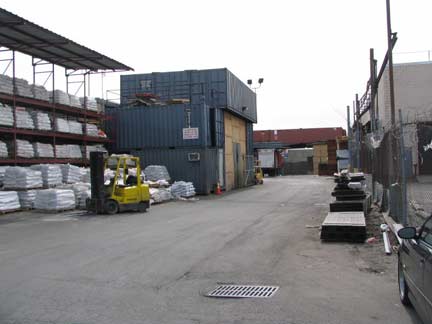 Ivy Hill Road
Extending from Vandervoort Avenue just north of Metropolitan Avenue are a pair of odd dead ends that your webmaster would daresay would stump even the most died-in-the-wool Brooklyn stret expert. Rewe Street, unlit but quite busy with various wholesale businesses, runs east a few hundred feet to where it hooks south, with the "hook" being Ivy Hill Road. In the past, Ivy Hill Road may have led to a now-vanished pier on English Kills called Chapman's Dock. These days, Ivy Hill Road is completely occupied by GreenDepot, a home retailer. If there were ever any ivy-covered hills here they have long since vanished.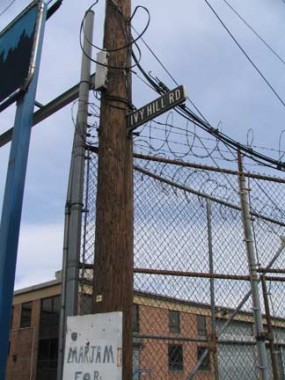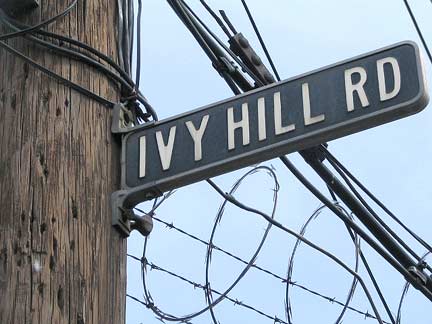 Ivy Hill Road was given its porcelain-coated sign with raised letters sometime in the 1940s or 50s. Only its remote location keeps the Department of Transportation from noticing it and replacing it with a modern green and white. Uh oh…what have I done?
Beadel Anthology
In the dictionary the word beadle is defined as a "minor official in an English church," and I've only seen the word used once in print: inOliver Twist, Mr. Bumble is a beadle who takes Oliver, age 9, from the "baby farm" and puts him to work picking oakum at a workhouse. It's there that Oliver requests of "the master" the infamous and outrageous inquiry, "Please sir, I want some more?" Perhaps whoever was naming Brooklyn streets in the 19th Century had readOliver Twist, but somehow I doubt it.
In any case, Beadel Street is one of he few residential streets in the far eastern end of East Williamsburgh, except for a couple of houses on Vandervoort Avenue. As we'll see it's a true oasis.
Turns out that in the mid-1850s the Beadel family held large portions in the area where Beadel Street is now, and Peter Cooper, who also had holdings in the area including his glue factory, had two brothers who married into the Beadel family. Brooklyn Eagle Beadel obits can be found here and here.
Beadel Street between Vandervoort and Porter Avenues is lined on both sides with handsome attached brick buildings. There are blocks that look like this in abundance throughout Brooklyn, Queens, and parts of the Bronx. But given its rather remote location, with Keyspan's vast holdings to its east and south, and the fact that similar blocks can't be found on parallel streets, Beadel Street deserves protected status from the NYC Landmarks Preservation Commission.
It's possible you won't agree with some of the choices residents have made to alter or modernize some of the buildings, but the fact that this particular block has survived, surrounded by industry as it is, should be enough to get the attention of the LPC. However, a designation would make it quite difficult to alter or individualize building fronts…
Landmarks designation would likely make it impossible for anyone to customize their homes with leopard print on the front door and camo on the basement door, like the owner of 128 Beadel has done.
Your webmaster chatted with the owner and I dropped him my card, and he said he would put me in touch with the artist, whose philosophy I'd be interested in learning more about.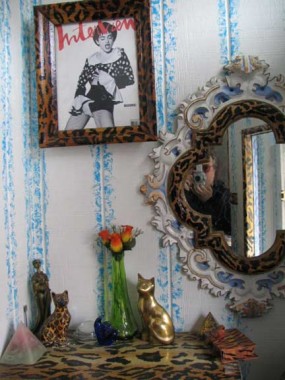 The front foyer was the only place your webmaster is ever likely to be photographed with Madonna. Stranger things have happened though.
Beadel Street looking east toward Keyspan (top) and west toward the rest of East Williamsburg; it seems to be in a universe of its own.
Porter Avenue and Anthony Street (above), Varick Avenue and Anthony (below). Once again outside of Beadel's good graces we are again in the land of giant Flashdancers billboards and auto wreckers. These are the industrial streets surrounded by Keyspan and the Kosciusko Bridge.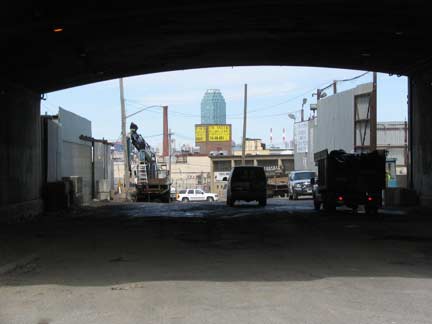 Long Island City's 45-story Citigroup office tower, Long Island's tallest building, can be seen from many locales in nearby East Williamsburg. It is seen here from the underpass on Varick Avenue under the Brooklyn-Queens Expressway. Once under the bridge Varick Avenue inexplicably changes its name to Varick Street.
Cherry Street funnels traffic onto the BQE before it ascends 125 feet over Newtown Creek over the Kosciusko Bridge.
Like New Utrecht Avenue (which toils under the West End el tracks most of its length in Borough Park and Bensonhurst), Meeker Avenue, which runs northeast along the Brooklyn-Queens Expressway from Metropolitan Avenue and North 6th Street northeast to Newtown Creek, is shadowed under an overpass for most of its route. However, after the BQE jogs east, Meeker Avenue is allowed to bask in the sunshine for about three blocks. There's not much to see on it here, however, in this area dominated by low-rise industrial buildings.
Meeker Avenue, which is no more given to anger or agitation than any of its surrounding streets, is named for attorney Samuel Meeker (1820-1891) who drafted Williamsburg's city charter in 1851; in four years Williamsburg would be annexed by the City of Brooklyn. Meeker also served as president of the fledgling Williamsburgh Savings Bank. Since Meeker Avenue turns up in maps from the 1850s, Meeker was given a lengthy avenue in his name when he was but in his thirties. Brooklyn By Name, Benardo/Weiss
1¢
Meeker Avenue comes to a dead end at Newtown Creek, and even today, it's somewhat illogical for a relatively major route to just peter out at the water's edge. Just across the creek is Calvary Cemetery and two fairly busy roads, Review Avenue and Laurel Hill Boulevard in Blissville, Queens.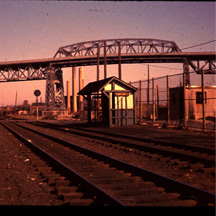 Penny Bridge LIRR station, 1970s. Bill Russell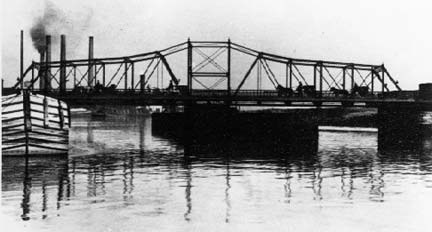 Penny Bridge, early 20th Century. courtesy Bernard Ente
Penny Bridge abutment, Newtown Creek
Quoting from my Newtown Creek page:
Penny Bridge formerly connected Meeker Avenue in Brooklyn with Laurel Hill Boulevard in Queens. The bridge may have taken its name from a possible penny toll. Penny Bridge was replaced by the much more massive, auto-only Kosciusko Bridge in 1939.
Through much of the eighteenth and nineteenth centuries, Penny Bridge was a toll bridge on the Bushwick & Newtown Turnpike (end of Meeker Ave). The toll was removed in 1878. In the seventeenth century, it was the location of a ferry between Laurel Hill / Maspeth and Greenpoint / Bushwick. The ferry was started by Humphrey Clay, an associate of Captain Kidd.
The bridge was also the main access to Catholic burials in Calvary Cemetery. [Heather of New York Shitty has informed me, however, that name may also come from the old practice of placing pennies on the eyes of the deceased, so they will remain closed; George Harrison refers to this practice on his song "Taxman" on the Beatles' LP Revolver.] The Alsop farm was bought by the church in 1837 when land became scarce for burials in Manhattan. There was a need for the turnpike for the transport of Queens produce to and from Williamsburg ferries as well as the funeral processions to Calvary.
Until March 16, 1998 the LIRR stopped at Penny Bridge…admittedly, only three times daily. Trains had stopped at Penny Bridge since 1878; at one time it had busy Calvary Cemetery clientele. Stops at Haberman, Maspeth, Fresh Pond, Glendale and Richmond Hill were also abandoned. The trains stopped at Laurel Hill Blvd. within sight of the creek. In its latter days, the Penny Bridge station was nothing more than a clearing along the tracks; even in its salad days, it had merely a shed to protect passengers from the elements.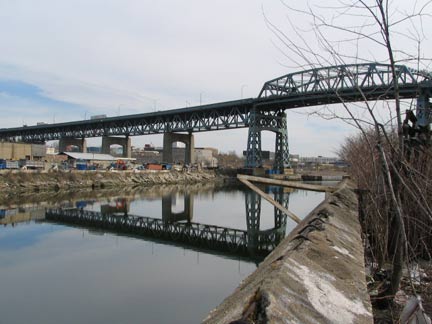 The admittedly majestic Kosciusko Bridge, built in 1939, replaced Penny Bridge. It carried what was then known as the Brooklyn-Queens Connecting Highway across Newtown Creek. The "BQCH" ran from the Triboro Bridge south to Meeker Avenue; after World War II the Brooklyn-Queens Expressway, as it would be called, would extend through Williamsburg, Fort Greene, downtown, Cobble Hill, Gowanus, Sunset Park, Bay Ridge and would be completed in 1964 with the opening of the Verrazano Bridge.
Tadeusz (Thaddeus) Kosciusko (1746-1817) like his countryman General Casimir Pulaski was recruited by Ben Franklin to assist in the Revolutionary War. He was in charge of military engineering works at West Point, and also made significant contributions to the American victory at Saratoga in 1777. Returning to Poland, he defended it unsuccessfully against Russian invasion in 1792, and led an uprising against Russian occupation in 1794. He was captured but later freed. He later moved to the US and Switzerland rather than participate in any Polish government imposed by Napoleon.
Many NYers pronounce this bridge "Kosk-y-OS-ko" but its correct pronunciation is closer to "Kohz-CHUZ-ko"; as Duke University basketball coach Mike Krzyzewski ("sha-SHEV-ski") can tell you, English and Polish orthography are not similar.
Lap of the Gods
A number of short streets issue north from Meeker Avenue toward Newtown Creek. We're now quite close to Greenpoint, if not there already. All these short streets are rather interesting since this is an older residential area.
Apollo Street is the only Brooklyn street named for a Greek Olympian god (though Coney Island has its Neptune Avenue; Neptune was the Roman equivalent of Poseidon). Apollo kept his name when the Roman adopted the old-time Greek religion. I have no idea why this street would be named for an Olympian; it had received its name by the mid-19th Century, and perhaps Apollo was the name of a local business, or perhaps the name of an alderman's dog. Your guess is as good as mine. The most famous reference to the god in NYC is Harlem's word-famous Apollo Theatre.
Apollo was the god of music (principally the lyre, and he directed the choir of the Muses) and also of prophecy, colonization, medicine, archery (but not for war or hunting), poetry, dance, intellectual inquiry and the carer of herds and flocks. He was also a god of light, known as "Phoebus" (radiant or beaming, and he was sometimes identified with Helios the sun god). encyclopedia mythica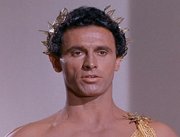 Apollo was generally benificent, but he had his temperamental side, as Star Trek's Captain Kirk and crew discovered when the encountered him in the episode "Who Mourns for Adonais" in which Apollo was played by actor Michael Forest. The show contains an interesting premise that the Olympians were from a different planet and ruled the relatively primitive Earth for centuries before civilization advanced and they were no longer required or worshipped. Apollo wanted to restore the old state of affairs, but Kirk thwarted him.
Your webmaster, who thought he had sniffed out all of NYC's Irish enclaves from Hells Kitchen to Woodside to Woodlawn, was caught completely unawares by the one here in East Williamsburg. Yet here it is on Apollo Street, where you'd think there would be a Greek one.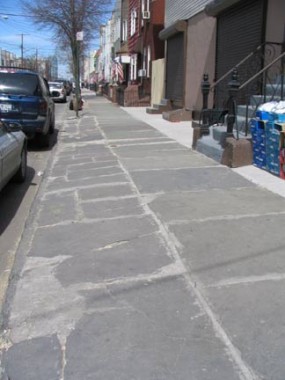 Bluestone sidewalks on Hausman Street
Driggs Avenue begins a convoluted route here at Meeker Avenue. Oddly its numbering begins here; its parallel avenues in Greenpoint begin their numbering at the East River. In the distance is the two-towered Church of St. Stanislaus Kostka, visited by Pope John Paul II in 1979. One of the youngest to ever become a saint, Kostka (1550-1568) died at age 18.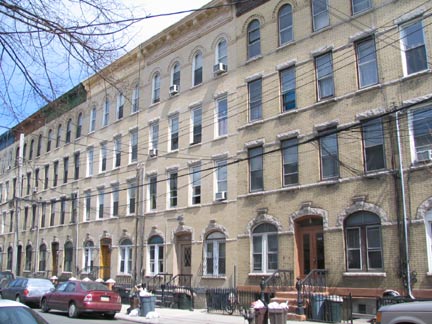 Morgan Avenue is lengthy, running from Nassau Avenue south to Flushing Avenue at the edge of Ridgewood, and most of its length is given over to block after block of industrial plants. North of Meeker Avenue it presents a more benevolent face with a row of brightly bricked attached apartments. The Citigroup tower can be seen from its northern end.
Kingsland Avenue and Lombardy Street. "Affordable housing" like this just doesn't get made anymore. It costs more money in 2007 to create esthetically interesting buildings with terra cotta moldings, variegated brickwork, cornices, etc. and so these days, housing built for people with a lower income is made of cheaper wood, inferior concrete mixtures, and is generally shoddier in appearance, and falls apart after about 10 years…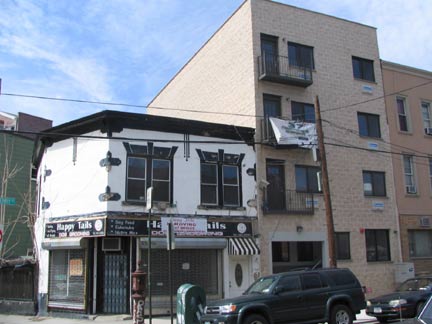 …Exhibit A, Herbert and North Henry Streets. The building at left, while modest, was constructed with at least some style and panache, enough to give it some personality. The building on the right is somewhere to stash workers between 7PM and 7AM. Gallant and Goofus.
No they haven't begun launching space shuttles from East Williamsburg, which hasn't turned into Cape Canaveral. This is just a hi-rise monstrosity being built on Humboldt Street.
It seems as if the Enchanted Villages, at Herbert and N. Henry Streets, are in ruins. A diorama constructed by a Greenpoint resident named Tony in 1991, the Villages celebrated different cultures of the USA and the globe.
St. Cecilia's, recognizable from the passing BQE at night by its illuminated green dome. Cecilia, patron saint of Christian music, was martyred by the 2nd or 3rd-century Roman Empire. Images of Cecilia, along with composer Edward Elgar ("Pomp and Circumstances Marches"), can be found on the back of the British 20-pound note.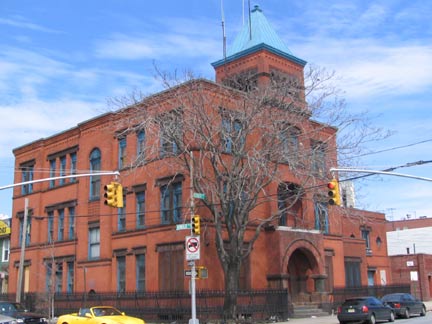 The 1891-1892 19th (later 87th) Police Precinct at Herbert and Humboldt Streets epitomized the exuberance of the era's architectural styles. Never again would architects, such as this building's George Ingram, have as much fun when designing buildings.
Page photographed April 1 and completed April 15.