What's the longest street that runs entirely in Brooklyn? It seems there are two candidates: Flatbush Avenue and Bedford Avenue. (Any drivers out there want to decide the matter using their odometers?) Some roads running east-west are pretty lengthy, but they extend all the way to Queens and beyond: Linden Boulevard, Myrtle, Metropolitan, Atlantic, and Jamaica Avenue, which, under a variety of names goes all the way to Orient Point at the tip of Long Island.
Bedford Avenue, however, runs through more architectural styles, demographic groups, and neighborhoods than any other Brooklyn street. Beginning in Greenpoint, except for a bend following the East River in Williamsburg, it heads south in a relatively straight line through Bedford-Stuyvesant, Crown Heights, Prospect-Lefferts Gardens, Flatbush, Midwood, and Sheepshead Bay and other neighborhoods, as we'll see, that I had never before heard of. The oldest section of Bedford Avenue runs between about Flushing Avenue on the north and Fulton Street south; it is the straightened section of an aboriginal Brooklyn road, Cripplebush Road: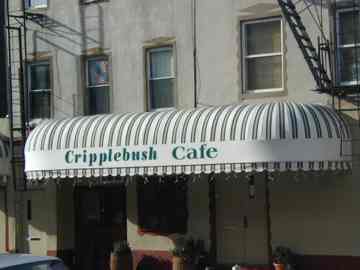 In 1805 [Cripplebush Road] extended to Bushwick Cross Roads. This part became a portion of the Brooklyn & Newton Turnpike which was replaced by Flushing Avenue in 1850. Other parts were later replaced by Bedford Avenue from Fulton to DeKalb Ave, by DeKalb from Bedford to Nostrand, and by Nostrand from DeKalb to Flushing Avenue. Brooklyn Genealogy
Cripplebush Road ran NE from the colonial village of Bedford Corners (at about today's Bedford and Fulton) to Long Island City, passing through the old village of Cripplebush, now a part of Williamsburg.
LEFT: Cripplebush Cafe, Williamsburg, 2001 photo. At 168 Wythe Avenue you will find Cripplebush Road, a restaurant named for the vanished thoroughfare.
The name Bedford's origins are in Brooklyn's dim past; it could have been named for Britain's Bedfordshire, or the village of Bedford (as Bedford Park in The Bronx was) or it may be an English version of the Dutch Bestevaar, "place where old men meet." Bedford Avenue was called 4th Street in Williamsburg and Perry Avenue south of Fulton Street until the mid to late 1800s, but by the 1890s its full length had been established.
Southern Edge
I decided to photograph Bedford Avenue in 3 sections, from Flatbush to Sheepshead Bay, then Crown Heights and Bed-Stuy, then moving on to Willieburg and Greenpoint. The Bedford Avenue Project is likely going to add up to 200-300 photographs, as I attempt to catch anything remotely interesting on what I believe is Brooklyn's longest street.
I begin at the southern limit, Emmons Avenue in Sheepshead Bay. The area has lost most of its fishing village vibe, and even Pip's Comedy Club is gonrefab housing that at least is making an effort, with grassy lawns.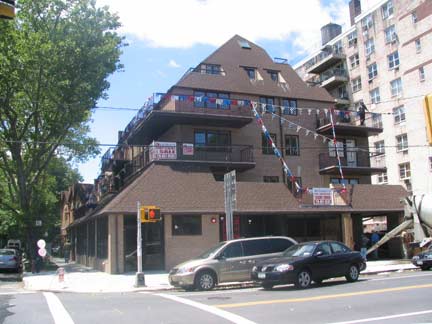 At Shore Parkway and between Shore and Voorhies. Though "Shore Parkway" is the official moniker, most Brooklynites know it as the Belt Parkway. When built from 1938-1940, it was much more difficult to spell and pronounce: Circumferential Parkway.
We ran out of letters. Brooklyn's lettered avenue system was implemented rather haphazardly and selectively. For example, Avenues A and B can only be found only in Remsen Village-Brownsville, while Avenue C is in Kensington, a good 3 miles away!
There's room for a couple of avenues between Avenue Z and Sheepshead Bay, and so the remaining two avenues were named for prominent community families: the Van Voorhees, early Dutch settlers, and the Emans/Imans family, Gravesend settlers in the 1660s. Years later, the names became Voorhies and Emmons.
Bedford Avenue presents a sweet, flat bike ride in both directions, with relatively quiet auto traffic, and the city has made it an official bike path. This is the old method of marking bike paths, with white lines punctuated by diamonds and the occasional rendering of a bike rider, with helmet of course. In 2007 the DOT started experimenting with solid green bike paths.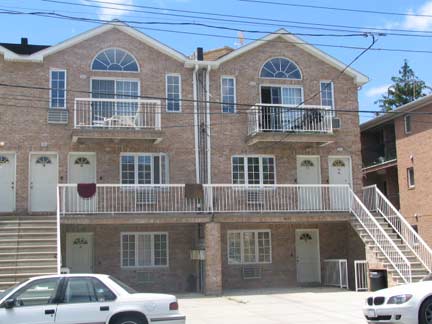 A choice piece of Brooklyn crap. This is almost iconic in its classic crappitude, and indeed I almost admire the chutzpah it takes to build this sort of thing, but just almost.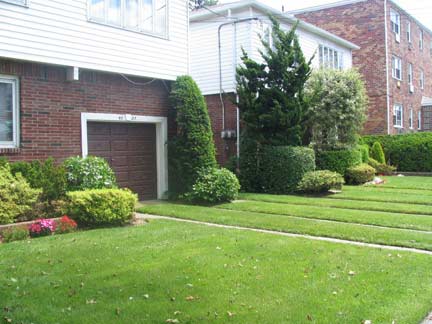 Meanwhile across Bedford, it appears as if the residents have actually reclaimed the driveway and planted grass in front of it! Jeez, what will the neighbors say?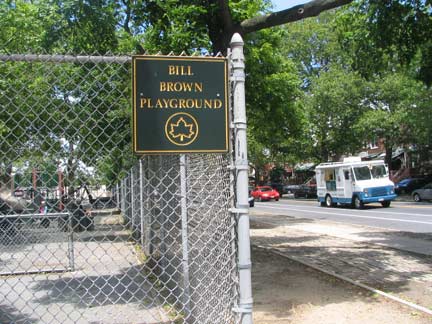 This playground, bounded by Bedford Avenue, East 24th Street and Avenues X and Y, serves as a lasting memorial to World War I veteran William A. Brown. Brown lived only a few blocks from here at 1818 Voorhies Avenue. He served with Wagon Company G of the 108th Ammunition Train, 28th Army Division. On October 8, 1918, this young man made the ultimate sacrifice for his country when he died of wounds sustained on the battlefield in France. Brown is also the namesake of the Bill Brown Senior Citizens Club and the Bill Brown American Legion Post. NYC Parks
The triangle formed by Jerome Avenue and Sheepshead Bay Road is also Bill Brown Square, so he's well-represented here.
Hey, isn't that a Mr. Softee truck in the background? Ever wonder what the words to the Mr. Softee theme were?
Mister Softee makes the kiddies happy and your webmaster doesn't care how loud the trucks are.
Bedford Avenue is about 25 blocks away from the old Culver Line, a surface line that became the McDonald Avenue L (F line); I think a guy named Culver started the company.
At Gravesend Neck Road is another playground:
This park honors Police Officer Joe Galapo (1958-1988), a Sheepshead Bay resident who was shot and killed on August 16, 1988 during an arrest attempt. Growing up in Cairo, Egypt and Paris, France, Galapo always dreamed of becoming a policeman. After his family settled in Brooklyn, he attended high school and then the Police Academy. He served on the force for five years, first in Coney Island's 60th Precinct and later in the Brooklyn South Narcotics Unit. Galapo's hard work and dedication during his short career earned him the posthumous rank of Detective.
At the time of his death, Galapo lived just a few blocks from this Sheepshead Bay playground, where his wife and three sons often spent sunny afternoons. A local law passed in 1989 named the playground, an appropriate tribute to a man who was dedicated to caring for both his own family and the community in which he lived. In addition to this park, the New York Police Department named a mounted division horse "Galapo" in his memory. NYC Parks
Avenue U is the main shopping drag in Gravesend and Marine Park and the construction of the massive Kings Plaza mall in 1970 seemingly did not dim the fortunes of the mom and pop shops that line it for nearly 50 blocks.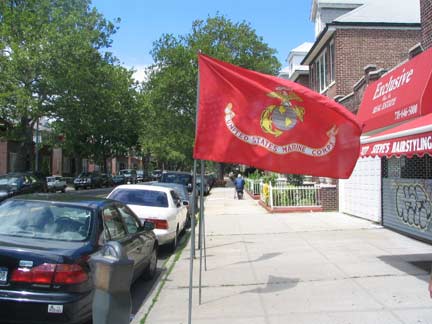 Avenue U. If you're going to be a Marine you'll need a barber.
Bedford sampler
A choice of homes in the Avenue T-U block on Bedford. Note the brick buildings with the arched entrances. There are hundreds of these, or similar, in south Brooklyn. They all have stoops and front gardens tended carefully by their owners, whose families live here for generations in some cases.
Which of the other two do you like? I choose Big Pink.
Your webmaster is speechless. I mean, I really don't know what to tell you.
Both Brooklyn and Queens have had topographical divisions; Queens' helped draw up their street numbering system.
Parrot nest. Brooklyn's Quaker, or monk parrots, which turned up at Brooklyn College over a decade ago, aren't really a novelty anymore and have almost become as normal a sight as pigeons, sparrows and bluejays in NYC.
At Quentin Road and Bedford is James Madison High School (HS 425) the only high school in the country boasting a graduate who would later become a Democratic US Senator (Charles Schumer '67, NY) a Republican US Senator (Norm Coleman '67, MN) and an Independent US Senator (Bernard Sanders '60, VT).
The school has also produced Supreme Court Justice Ruth Bader Ginzburg, radio's "Cousin Brucie" Morrow, songwriter/musician Carole King, Hollywood's Martin Landau, TV's Judge Judy Scheindlin, and comedian Andrew "Dice" Clay. OHHHHH!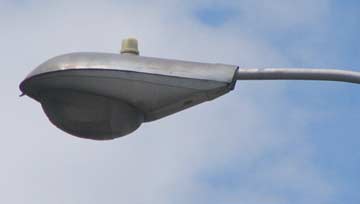 Nearing Kings Highway there was a nearly 48-year-old lamppost luminaire, a GE M400; these first arrived on the scene in 1959 and legions of the greenish-white mercury bulbs lit NYC streets until supplanted by brighter sodium lamps in the mid-1970s.
[These lamps were all replaced in 2009]
Kings Cross
East of Ocean Avenue, colonial-era Kings Highway, which takes its name from the British monarch, becomes a 10-lane pedal to the metal behemoth that takes you all the way to Brownsville and leaves you there, high and dry. Along the way, though, it's home to several grand apartment buildings.
How's this Art Deco beauty on the SE corner, with stylized stucco entablatures beside the chrome-awninged front entrance.
Was it Deco that originated the wraparound corner window?
There are more apartments like this on Ocean and Eastern Parkways, and on the Bronx's Grand Concourse.
I like the corner alcoves in this building on the NE corner, but it must be hard to keep the birds, bats or wasps from nesting in there. The person on the top floor has strung up some chicken wire but that sort of compromises the view. I just like the idea of the whole thing.
Welcome to Nottingham
Gil Hodges, perhaps the Brooklyn Dodgers' greatest position player save Jackie Robinson,  is remembered by subnaming the 2 Bedford blocks between Avenues L and N for him, and dedicating PS 193. There's also a bowling alley called Gil Hodges Lanes out on Strickland Avenue in Bergen Beach, Gil Hodges Garden in Gowanus, and a bridge from Flatbush Avenue to Riis Park.
At Avenue M we encounter some rather more expensive homes with well-manicured lawns and a bit of topiary. Avenue M in the surrounding blocks continues the trend as well.
I've gotten a couple of emails surmising that the house with the columns was in fact Gil's home and remained with his family well into the 1980s.
Also between Avenues L and N we pass through a small area known as Nottingham Park. I'd think this was a name made up relatively recently by realtors or developers, but the name has been in use since as early as 1921. I like the logo, in gold and black,a favorite color combination. There are some cottage-like houses in this stretch, as well as some larger houses shown above.
The house at left appears to have been built some decades ago but recently modernized. I'd rather go with slanted roofs; I can say from experience that flat roofs can leak.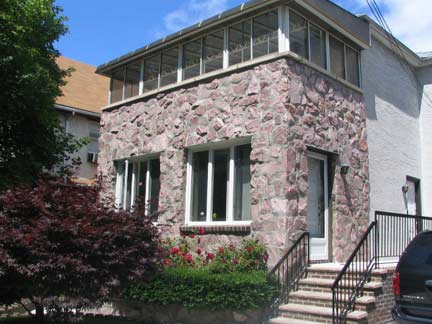 Stony Island. What sort of material was used here? (Granite perhaps)
I like the striated synagogue at Avenue K, NE corner.
Midwood
A direct translation of the Dutch Midwout, this is the somewhat undefined area lying between Flatbush and Sheepshead Bay…pretty much everything between Kings Highway and the LIRR, from Ocean Parkway to Flatbush Avenue, featuring block after block of tree lined streets and one and two-famiy homes. There are apartment buildings, especially near the elevated F and B/Q lines. The population is Orthodox Jewish, Russian and Asian for the most part.
Translation, anyone? Both homes between Avenues J and I.
[Congregation B'nai Israel]
Brooklyn College
Bedford Avenue neatly bisects the Brooklyn College campus in two. A part of the City University of New York since 1961, the school, which boasts its very own campus green, the Quadrangle (which amazed me when I visited as a Brooklynite) was organized in 1930 in downtown Brooklyn and moved into its present campus in the late 1930s. The large white gilded dome tops the campus library. Among famed graduates are Congresswoman Shirley Chisholm, film director Paul Mazursky, attorney/columnist Alan Dershowitz, Brooklyn Borough President Marty Markowitz and television's Jimmy Smits.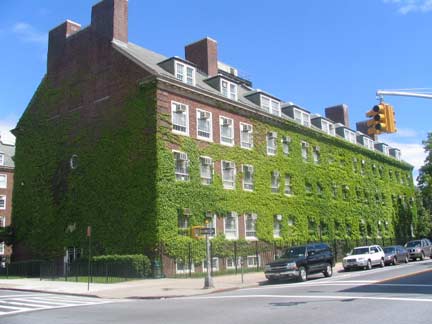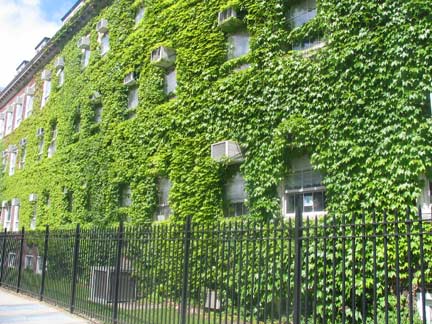 Brooklyn College is not Ivy League but does boast ivied walls, these belonging to one of the oldest buildings on campus, Boylan Hall, named for the College's first president.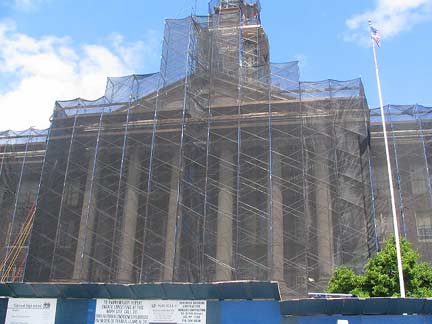 There are a lot of schools on Bedford Avenue. This one is Ionic-columned Midwood High at 2839, completed in 1940.
Actually, this is about as north in Midwood as you can get, between Farragut and Glenwood Roads. Yet, it's called what it's called.
Midwood High is not to be outdone by Madison High as far as illustrious alumni, and -ae, are concerned. Woody Allen, who was Allen Konigsberg in high school, the late piano tickler Marvin Hamlisch, and child star Emmanuel Lewis graduated, s well as New York City Comptroller William Thompson. Scenes from the Jeff Daniels-Laura Linney film The Squid and The Whale were filmed here, and the popular SING! New York City high school theater program originated here.
Where it all changes
Row houses, Bedford Avenue near Farragut Road
North and NW of Flatbush Brooklyn consists of myriads of what used to be separate developments, wrought from the minds of visionary developers such as Dean Alvord, who purchased a parcel of land in Flatbush from the estate of Luther Voorhies and the Dutch Reformed Church in 1898. Alvord, with the aid of architect John Petit, set about building sumptuously-appointed buildings for the well-to-do. By 1898 Flatbush had evolved into a well-established community that boasted good schools, decent local transit (trolleys) and the Brooklyn Rapid Transit Company offered easy transport to Manhattan via the Brooklyn Bridge.
Alvord's idea was to extend Prospect Park south and adapt it to residential use. He foresightedly buried utility lines underground and paved the streets in an age when many were still dirt roads or Belgian-bricked. Streets were given British-sounding names, and brick fence posts bearing the interlocking Prospect Park South monogram can still be seen on many intersections.
Different developments such as Caton Park, Beverly Squares East and West, Ditmas Park and Ditmas Park West, Midwood Park and South Midwood, and Fiske terrace developed around the same format.
Bedford Avenue traverses South Midwood for one block, between Farragut Road and Flatbush Avenue, and for one block, it attains glory.
Flatbush Avenue is begging for a FNY page covering the Manhattan Bridge to Marine Parkway (Gil Hodges) page. Till that gets done, there's always Canada correspondent Allen Abel's return to his old neighborhood in East Flatbush; he wrote what is till now the definitive Flatbush Avenue book, Flatbush Odyssey.
"Flatbush" didn't come from the Dutch terms for "flat bush;" that's too convenient. Rather, v'lacke bos means "wooded plain" which is what Flatbush, the town, was in the colonial era.
We are entering Clarendon Meadows, another neighborhood heretofore unknown to your webmaster. In these parts, main east-west streets have alphabetical names that take the place of mere letters; for example, Avenue A is Albemarle Road, B Beverly or Beverley, depending on what part of Brooklyn you're in; C is covered by both Cortelyou and Clarendon; D by Dorchester and Ditmas, while Avenue E, which turns up on older maps, became Foster Avenue, and there's also Farragut Road for F. Finally, Avenue G was replaced by Glenwood Road.
This needless complication is why I love looking at maps.
The Dominator
At Beverly and Bedford is a huge Art Moderne monolith. This stark, sculpted tower, with "Sears, Roebuck and Co." spelled out in huge red and white letters at the top has been here since 1932 (a photo mounted inside shows First Lady Eleanor Roosevelt turning a ceremonial key to open the store) and was the first retail Sears, Roebuck location in New York City. It looks like something out of Things To Come and you'd think Raymond Massey was about to show up. Watch the whole movie here.
Unfortunately I haven't seen much activity at this building whenever I've been there of late. What will be its fate?
The chain was founded by Richard Sears and Alvah Roebuck in 1887, instituting an innovative catalog business by he 1890s and thereby becoming one of the first national brands. Though Roebuck outlived Sears and was the company spokesman from the 1930s on, the company dropped his name on store signage in the 1970s. Sears, Roebuck built what remains the tallest building in the USA (which it no longer owns), the Sears Tower, in Chicago in 1974. The company was purchased by KMart in 2004 but retains a separate identity.
ForgottenFan Mark Surich: Here's a little info about the Brooklyn Sears store. I believe that Sears built at least three stores of that design in the early 1930's: the one in Brooklyn, one in Union City, NJ, and one in Hackensack, NJ.
The Union City Store is long gone. I have no idea what plans are being made for the Brooklyn store, but the Hackensack, NJ store is still in operation! The Hackensack store has been in continuous operation as a Sears store since it was first opened. I was there a few weeks ago – it's located on Main Street. Walking into that old Sears store is like walking into a time warp. There has been some hacking done to it over the years, but it's still much the same as it was back in 1933. It's also one of the last free standing Sears Department stores in the USA.
Sadly, it appears that Sears is only doing the bare minimum amount of maintenance to the store. I'm guessing that its days are numbered. If you'd like to see the store for yourself, head on over to Hackensack before it's replaced by Stalin era style townhouses.
BEDFORD AVENUE PART 2: BEVERLEY ROAD TO ATLANTIC AVENUE
Sources:
The Neighborhoods of Brooklyn, John Manbeck, ed., Yale University Press 1998
BUY this book at Amazon.COM
Brooklyn By Name, Leonard Benardo, Jennifer Weiss, NYU Press 2006
BUY this book at Amazon.COM
6/29/07