When I moved to Flushing in 1993, Martin's Field, 46th Avenue and 164th-165th Streets, was just another playground: a desultory concrete space, with broken swings and a curious weedy green space in the back.
I had no idea then that Martin's Field was in fact a cemetery, and it took one man's persistence and vision to make sure it reverted to its old purpose.
Baysider Mandingo Tshaka's roots in eastern Queens extend back nearly a century. He lives in a house in little-known Clear Springs that has been in his family for generations; he has agitated for city services in that once-neglected Bayside corner centered at 48th Avenue and the Clearview Expressway so that its houses now sell on par with the rest of Bayside's.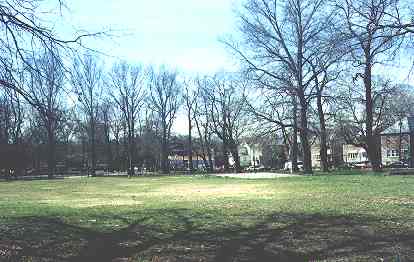 Above 2 photos: 1999
Approximately 20 years ago Tshaka discovered documents stating that Martin's Field had been a Native American an African-American cemetery, largely for the Bunn family, active between approximately 1840 and 1890. After several years of wrangling with the local community board and residents who preferred the playground stay in place, renovations were completed turning Martin's Field into a memorial ground in 2006, with the compromise being that the kiddie playground equipment was moved to the rear of the park.
When the Works Progress Administration renovated the field and built a playground here in 1934 all visible trace of the burial ground was eradicated. The last four headstones had disappeared by 1920.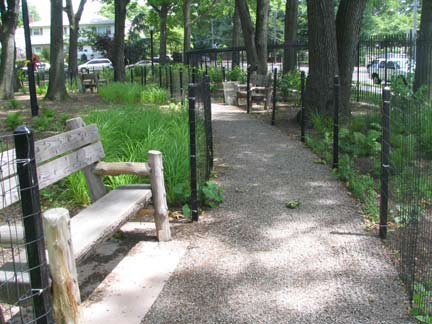 Martin's Field is now a peaceful memorial park, with new and old shade trees and rustic benches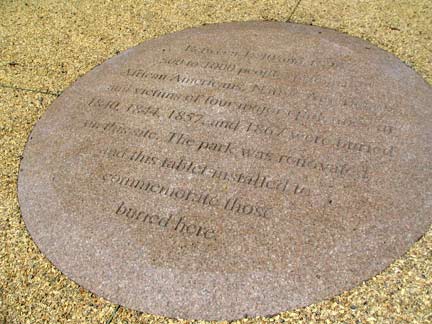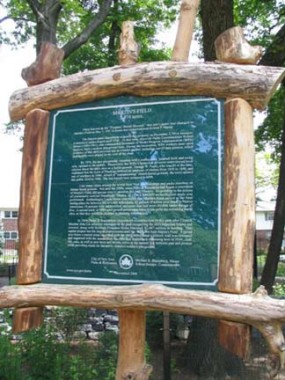 A memorial tablet explaining Martin's Field's past as a burial ground has been installed in what was once the playground's sprinkler. Parks Department signage (content not yet online) describing the field's history has been mounted alongside.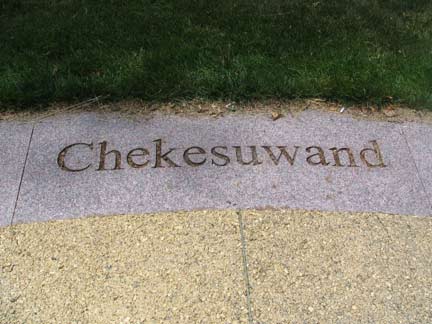 Inscribed names of local Native American tribes (I think) surround the circle.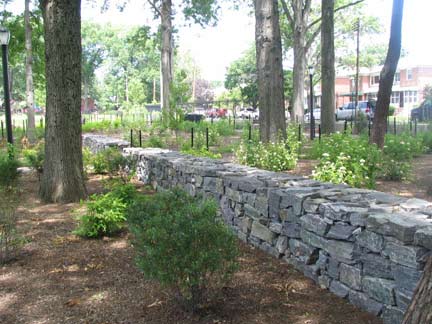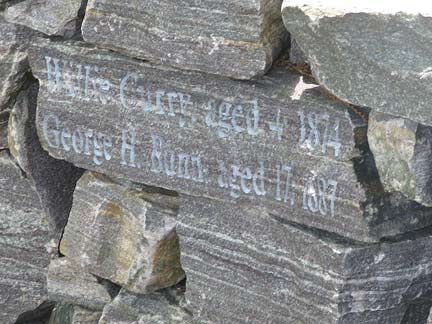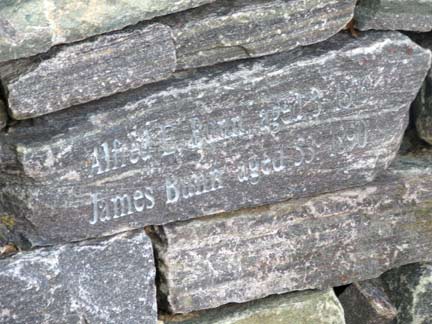 A memorial wall is inscribed with the names of the last 4 headstones found here in about 1920. Three are from the Bunn family.
Vandalism has been a problem in the renovated field. Your webmaster spotted graffiti on the benches. Tshaka, therefore, hasn't been completely satisfied with the renovation, and he and City Councilman John Liu are calling for a greater police presence and for the gates to be locked at night.
"Martins Field Promises Not Kept" [Queens Chronicle]
6/24/07