September 16, 2007 actually dawned sunny and bright–extremely unusual conditions for a ForgottenTour. When things got started the atmosphere came to its senses and dark clouds rolled in to cover an unusually cool day for September in NYC with the temperature not budging higher than 65 degrees. ForgottenFans welcomed the change, though, after the usual lengthy humid summer–which quickly returned to normal a couple of days after the tour.
We walked this time on Atlantic Avenue in Cobble Hill and Fort Greene, Brooklyn, basically retracing a path I forged in May on a solo walk to visit the avenue's hidden secrets which are described in detail on this FNY page. Hence, this particular page will be somewhat "photobloggier" than most FNY pages, with plenty of photos, but minimal descriptions. FNY pages have become de facto showcases for ForgottenFan photography since I'm too busy with the tour to take a lot of pictures. This time tour regulars Joe DeMarco, Bob Mulero, Tim Skoldberg and the ForgottenFan known as Vidiot handled things.
ForgottenFans gather on Brooklyn's Promenade, a waterside walkway offering spectacular views of Manhattan along the East River between Remsen and Middagh Streets. The Promenade, officially known as the Esplanade, is actually the third deck of the Brooklyn-Queens Expressway, which was built here in 1954. Originally it was supposed to go through the heart of Brooklyn Heights, the neighborhood it borders, but in a rare event for his heyday, NYC transportation czar Robert Moses was persuaded to relent and run the roadway along the water, where it would do the least damage. New Yorkers received a waterside public area –quite rare for its era.

Remaining warehouses at old docks along Furman Street. This is the site of the proposed 
Brooklyn Bridge Park
, which, if the planners have their way, will run from the Manhattan Bridge south to Atlantic Avenue. The park has been on the planning boards for several years, and your webmaster believes it will stay there for several more. Note the tracks at center bottom. Those were part of the 
New York Dock Railway 
which served shipping on the east River. Carfloats carried goods across from warehouses on the Brooklyn side to Manhattan and New Jersey and vice versa.
RIGHT: Brooklyn-Queens Expressway south of the Promenade. In the background right is One Brooklyn Bridge, a luxe, and your webmaster means luxe, condo development created from former offices of the Jehovah's Witnesses. JD
On the way to Atlantic Avenue the tour turned down Hicks Street, which like the rest of Brooklyn Heights, is an architectural enthusiast's paradise.

Shock of the mews. Grace Court Alley is a mews off Hicks Street south of Remsen Street. Mews are laneways formerly used to stable horses; the stables were converted to residences over a century ago. Grace Court Alley, and its partner, Grace Court, are named for the adjacent 
Grace Church
, built in 1848 by Richard Upjohn. Upjohn was the architect of the endangered 
St. Saviour's Church
 in Maspeth the year previous.
RIGHT: Engine 224 on Hicks. BM

The bricked Joralemon Street; the bricks, no doubt, preserved by a local community board. BM
Hicks Street detail. V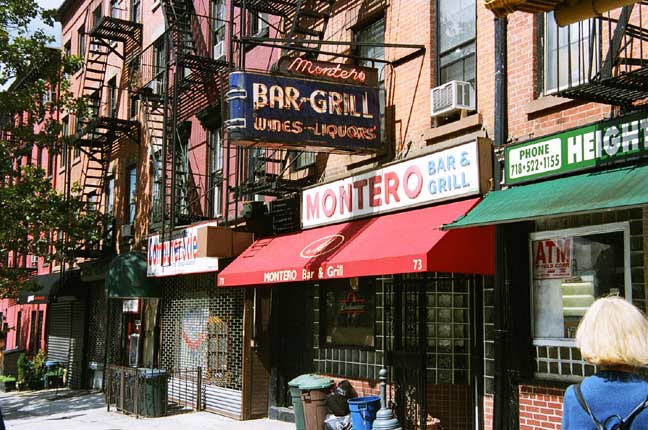 Montero's and the Long Island Restaurant 
are vestiges of old Atlantic Avenue atmosphere. They are owned by estranged branches of the same family. 
JD, BM, TS
Former Atlantic-Pacific 
Chandlery Manufacturing Company and John Curtin Sailmakers. The painted sign was restored by developer Two Trees. 
TS
Stan's Place near Bond Street, 
a New Orleans-themed bistro, featured a couple of dobro and guitar pluckers on the sidewalk. They were pretty good. Let Joe DeMarco prove it with a video that also features other stops on the tour, as well as your webmaster's usual disjointed, meandering bleatings. 
TS, V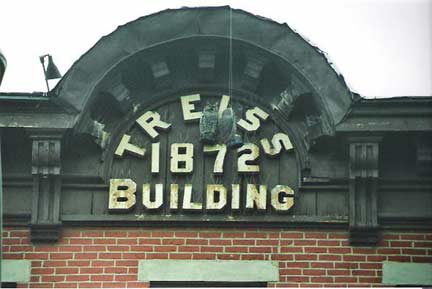 Jeweler George Treiss' wood block letters have survived for an incredible over 135 years, if those are indeed the originals. Fake owls and pigeon spikes have been placed there, so the building owner makes an effort. BM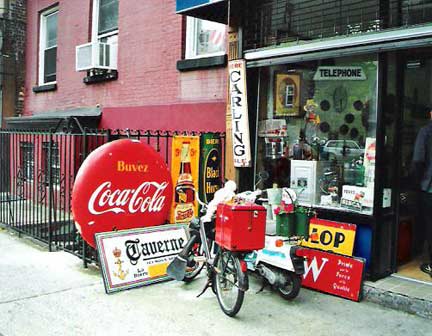 Atlantic Avenue is lined with Middle Eastern delicacy shops, bail bondsmen for the massive House of Detention at Boerum Place, antiques dealers, and the occasional old sign merchant. BM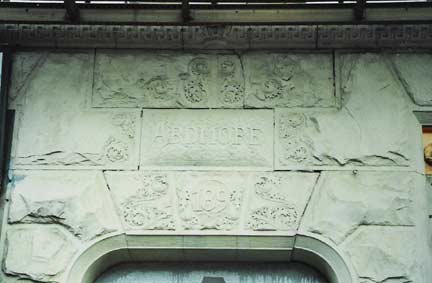 The Beaux-Arts Ardmore Apartments at 194 near Sahadi's. BM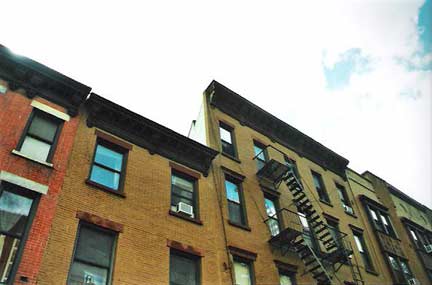 I pointed out the odd angle in the building in the center of the picture: the building line marks one of the last remnants of Red Hook Lane, a colonial thoroughfare that went from Brooklyn Village to Red Hook: British troops marched on it during and after 1776's battle of Brooklyn. An extant remnant of Red Hook Lane running from Fulton to Livingston Streets is due to be covered by a massive real estate development. BM

Belorussian Autocephalic Orthodox Church, Bond and Atlantic. JD
RIGHT: the ex-Ex Lax factory, a few yards away, was the first Atlantic Avenue building to be residentially redeveloped in 1981. TS
Salvation Army family store. BM
A now-rare General Electric M400 luminaire, described this page. These units are close to celebrating half a century lighting NYC streets…those few that remain, that is. BM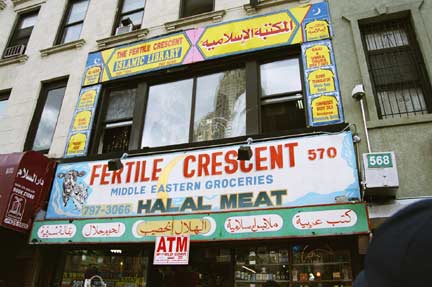 Hand-painted Fertile Crescent sign near Flatbush Avenue. The Crescent, known as Mesopotamia in ancient times, included the territory between the Tigris and Euphrates Rivers: present-day Iraq. TS
This is the 1908 Heins and LaFarge station headhouse, meticulously restored in the early 2000s after decades of neglect. This was once the IRT's furthest peneration into Brooklyn and it got a distinctive stationhouse for that honor. It's a glorified skylight these days. In the background are some of the shops at Atlantic Terminal, which rose in the early 2000s courtesy of Forest City ratner, which is also attempting to develop the controversial Atlantic Yards project. JD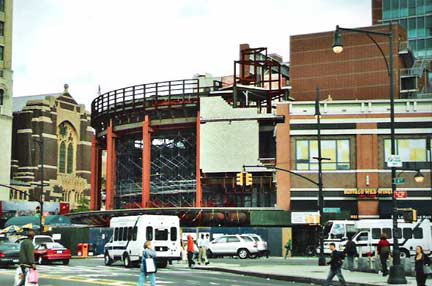 The LIRR is finally getting around to replacing the old Flatbush Avenue LIRR terminal. The old one was built in 1907 and demolished in the mid-1980s. BM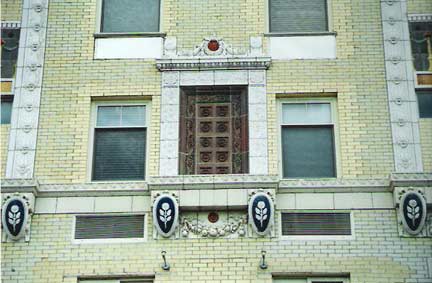 The Allied Storage Building was designed by the architect George S. Kingsley and built on Pacific Street in 1926; it features blue and white ceramic medallions and other ornamentation. It was converted to residences a few years ago and renamed the Atlantic Arts Building. BM
Most other residents in the "footprint" of the propsed Atlantic Yards (so called because they would deck over the LIRR trainyard) project, which would plop into the neighborhood several large office and residential towers designed by Frank Gehry, as well as a new Brooklyn Nets pro basketball arena, have sold their buildings and apartments to Forest City Ratner, including most Atlantic Arts residents. In fact, out of 31 apartments, only two residents remain in the building: Dan Goldstein and wife Shabnam Merchant, who remain in the building until the courts exhaust all challenges to the eminent domain process that FCR is using to empty he buildings in the way of the project.
Goldstein blogs at Develop Don't Destroy Brooklyn and Merchant at No Land Grab. Proponents of the development say it will add thousands of new jobs, institute "affordable" housing and revitalize a sagging area, but residents maintain the region is far from desultory and the added traffic, noise and overall size of the entire project will severely affect the quality of life, which has been until now quiet and settled.
photo: Village Voice

Atlantic and Washington Avenues. 
East of Atlantic Yards is a massive storage building, which, given its riotous ornamentation, once had a grander use, and my old high school, Cathedral Prep, and its gargoyle collection. 
BM

Atlantic near Grand. 
It's an unfortunate fact that all recent parking garages are ugly, blighted objects, designed entirely for function with no redeeming esthetic characteristics whatever. Unless you were designing them pre-war, of course, when care was taken in the appearance of most buildings. 
JD, BM

We made sure to conclude the tour on a high note at Grant Square, really a triangle formed by the confluence of Bedford and Rogers Avenues 2 blocks south of Atlantic Avenue. The highlights are an equestrian statue of Grant, the Imperial Apartments (above left) and the Union League Club of Brooklyn (above right and left). Each was built in the 1889-1892 time period, when architectural design may have reached its apex. BM
The 23rd Regiment Armory, 1322 Bedford Avenue, was built from 1891-1895 and takes up most of the block between Atlantic Avenue, Pacific Street and Franklin and Bedford Avenues. The regiment was organized during the Civil War and was housed in a nearby armory on Clermont Avenue from 1873-1895. It may boast Brooklyn's most prominent corner tower, a 136-foot beauty. Architects Fowler and Hough emphasized uneven sandstone that would create highlighting shadows in the afternoon sun. JD, BM
Want to see even more? See Vidiot's Flickr page.
Check the home page of Forgotten NY for announcements for the next tour!