An explanation for the title, I suppose, is in order. Your webmaster has been a NYC explorer since boyhood; I used to make my parents or grandmother take me on bus rides all over Brooklyn in the early to mid-60s, all the local lines in Bay Ridge, the B16 down Fort Hamilton Parkway and 13th Avenue; the B37, on 3rd Avenue, and the B63, on 5th, bound for what we called "downtown"; the B64, on 86th Street and Bath Avenue to Coney Island; and if we really went far afield, the B35 on Church Avenue in Flatbush. My mother was reluctant to do that one to the end of the line, since it ended its run in Brownsville, a tough area then as now.
When I turned 9 or 10, it was time to start to be a little more independent and I acquired a bicycle and started to rove all over Brooklyn, expanding my reach a little bit every year; by college I was routinely reaching as far as Valley Stream and Elmont. When I was still small, though, my elders repeatedly warned me about Sunset Park. Don't go there, they said, because "that's where the bad boys are."* For many years, therefore, my only glimpses of this community that bordered my own, Bay Ridge, was what I could see out bus windows on the B63 (5th Avenue) and the B70 (8th Avenue). The temptation was to at least scratch the surface of this unexplored neighborhood, now that I am incorrigible myself.
*Forgotten Fan Robert Tobin: Bad boys indeed; it took real balls to venture into the park itself, particularly the western part of it. La Familia and the Assassinators held court there.
I began by exiting the BMT R train at 45th Street and 4th Avenue…where there is a group of amazing structures a couple of blocks away…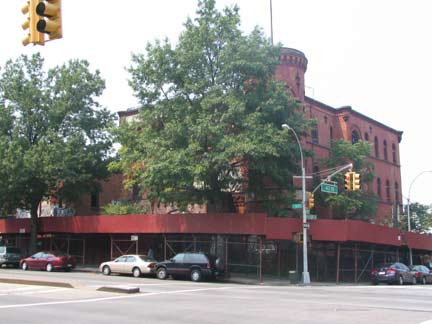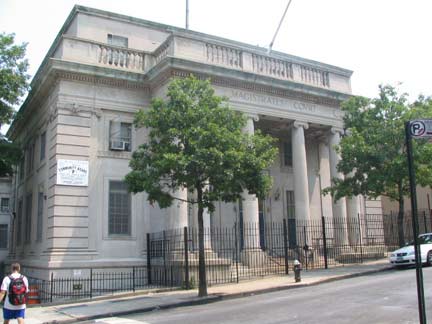 4th Avenue and 43rd Street: The southwest corner of 4th Avenue and 43rd Street, in the shadow of the magnificent St. Michael's Church's lofty campanile (see below), is a relic of when local police precincts maintained stables. This Romanesque example, originally the 68th Precinct, was built about 1890, and though protected by the Landmarks Preservation Commisson, remains in ruins. Across the street is an Ionic-columned magistrates' court, in similar disuse. When the yuppie gentry boom arrives in Sunset Park, if it does (it seems to have stalled for the moment [2007] in Red Hook) will they be reclaimed?
St. Michael's domed campanile, at 4th Avenue and 42nd Street, is the tallest building between Downtown Brooklyn and the Bay Ridge Towers (an apartment complex) on 65th Street near 4th. The steeple resembles a bishop's miter and is also reminscent of the campaniles of Paris' famed Sacred Heart Basilica. [More views of the Basilica from ex-NYC photo-blogger Rion.]
My eye, however, was also drawn to the facade of St. Michael's School, next door. Take a look at the playful typography: the C turned on its side like a rising crescent moon, and the digraphed AE. The "ae" in Michael isn't usually shown like this.
43rd Street between 4th and 5th Avenues isn't usually this traffic-free; this Saturday in August featured a block party in which the NYPD closes the street and residents are allowed toactually roam about on their own street without being flattened. Many Sunset Park blocks feature attached brownstone buildings like this, and 43rd Street's are especially attractive. Note that while they're built the same, they're all different in some way.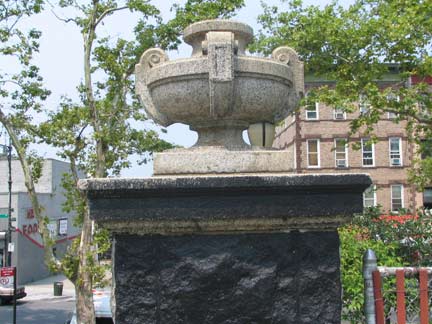 Sunset Park's main west entrance, at 43rd and 5th Avenue, is marked by a quartet of ornamental concrete urns. Throughout the Swingin' Sixties and Super Seventies, as I crawled past on the B63, I noted that this entrance was decrepit and barricaded in those more crime-ridden days (there are other entrances on 42nd and 44th Streets.)
Sunset Park proper is 24.5 hilly acres in a rectangle from 5th to 7th Avenues and from 41st to 44th Streets.
The first parcel of land for this property was acquired in 1891 by the City of Brooklyn for the purposes of a park. By 1905 Sunset Park had been expanded to its present size. Rustic retaining walls, a man-made pond, a six-hole golf course, a neo-classical shelter, and a carousel were original features of the park developed between 1898 and 1911. Landscaping included numerous conifers and vines. Large groups of rhododendrons were planted near the pond. In 1935 a new park design was implemented, and the pond, golf course, shelter and carousel were removed. NYC Parks
This stretch of 5th Avenue doesn't lack for greenery, as just past Sunset Park, it forms the western border of Green-Wood Cemetery for 12 blocks; the cemetery's tree line can be made out in the distance, above an approaching B63. (If your webmaster needed a bus, I'd have to wait 20 minutes!) From the 1910s to about 1962 or so, 5th Avenue was served by a flock of Corvington long-armed streetlights. After a 30-year interregnum with aluminum octagon poles, 5th Avenue was given a brand new set of Corvs in the mid-1990s.
Sunset Park has an unobstructed view of lower Manhattan, as well as of New Jersey directly to the west, and horrified Sunset Park residents watched in horror as events unfolded on 9/11/01. This sign marks what is called a "Living Memorial Grove" though I didn't see a stand of trees anywhere near the sign. Perhaps the sign refers to the trees across the meadow.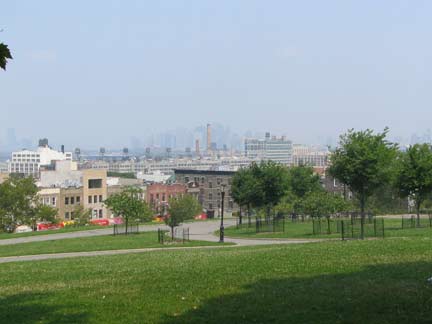 This particular day was hazy, lazy and crazy as they often are in August. Even a telephoto view of Manhattan wasn't very helpful battling the pea soup.
However, I had visited the park on a clearer day two years previous to get a few potential photos for the ForgottenBook, and views of Upper New York Bay, Bayonne, NJ and the state's Watchung Mountains (left) and downtown Manhattan (right) were much better. For faraway views in Brooklyn, Sunset Park is unparalleled.
6th Avenue has an unusual run in the neighborhood: after a 3-block interruption for Sunset Park, it runs for two blocks to 39th Street, and is interrupted by Green-Wood Cemetery for 15 more.
Sunset Park's carousel and golf course are long gone but it can still boast basketball courts and a swimming pool.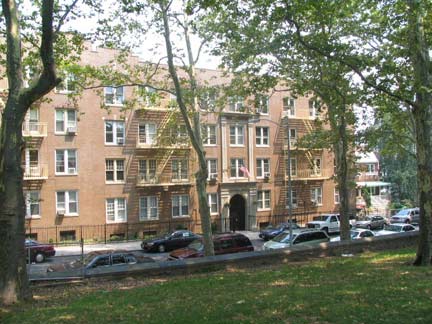 41st Street between 5th and 7th Avenues, the north end of the park, claims some grand old apartment buildings that were built to take advantage of park views.
Let's continue on 41st Street past Seventh, shall we, and see new and old Brooklyn, and new and old New York City, virtually side by side (there's one building in between). Kids, tell your parents: this building with a double porch built in 1900-1910, is good, very good.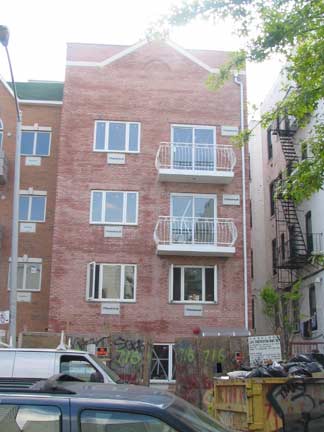 Next door. Bad. Very, very bad.
If Chan would just stick to the movies, he wouldn't be selling nice houses to developers who will tear them down. As I write this Hollywood is shut down by a writers' strike and maybe Jackie, with nothing to film, needs some work.
Your webmaster won't comment.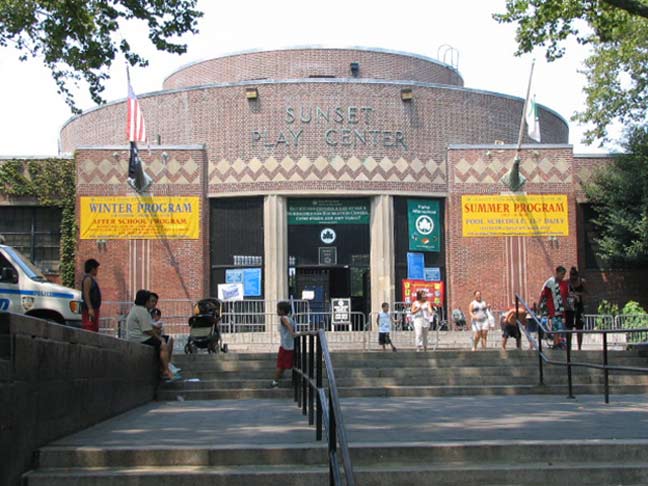 The Sunset Park Pool and Play Center was opened in 1936 as part of a massive Works Progress Administration (WPA) capital construction program. Architect Aymar Embury II created a neo-classical/Art Deco design for Sunset Pool. The vertical columns and diamond-motif brickwork were typical of many park buildings of the WPA era. Sunset Pool was one of eleven outdoor public pools that opened throughout New York City in one summer. The pools were among the most remarkable public recreational facilities in the country; they represented the forefront of design and technology. The influence of the pools extended throughout entire communities, attracting aspiring athletes and neighborhood children and changing the way millions of New Yorkers spent their leisure time.
Sunset Pool received an extensive $5 million restoration in 1984, including reconstruction of the pool, bathhouse, and comfort station, and installation of a new filtration system. NYC Parks
Formidable PS 169, at 7th Avenue and 44th Street, enjoys park views.
The buildings on north side of 43rd between 7th and 8th,just east of Sunset Park, feature a few carven faces above their doors on both the second and third floors. They are particularly large and striking. Can their presence have anything to do with the ancient Roman concept of lares et penates, spirits that protected a household?
From roman-empire.net:
The spirits of the household were the lares and penates. The lares were the spirits of the families' ancestors. They were represented by little figurines which would be kept in a special cupboard. Among them the lar familiaris, the family spirit, was the most important. On a everyday bases short prayers and small offerings would be made to the lares. And on the more sacred days of the month – the calends, ides and nones – or on special days like a wedding, birth or birthday, more elaborate rituals were held in their honour.
Meanwhile the penates were the spirits of the larder. Thanks were given to them for keeping the family fed. They too were represented by little figurines and they too had their own little cupboard they resided in. But they would tend to be taken out and placed on the table during mealtimes.
When the family ever moved house, then its lares and penates invariably moved with them.
The Finns of Sunset Park
Though 826 43rd Street (between 8th and 9th) is a pleasant-looking blond-bricked apartment building, there doesn't seem to be anything immediately apparent that would set it apart. But a look at the name above the door reveals it to be in Finnish: it means, approximately, "second beginning." (No, Alku Toinen never played for the Islanders.)
A relic of Sunset Park's "Finntown", Alku Toinen is the very first nonprofit co-operative apartment built in the United States, by the Finnish Home Building Association in 1916. In the early-to-mid 20th Century, 10,000 Finns were among the Scandinavians living in Bay Ridge and Sunset Park, finding work along the docks. Its "Alku Toinen" inscription is probably the only one in the Finnish language above the door of a New York City apartment building.
A look at the buzzer outside the building reveals that there are still a good number of Scandinavians still living in the neighborhood, too.
"Finland" in Finnish, by the way, is Suomi. The language is non-Indo-European and thus little resembles neighboring Norwegian and Swedish.
You never know what you will find when you turn a corner. On 44th between 7th and 8th there's a small country church, or one that must certainly have been way out in the woods when built. Now the Brooklyn Baptist Church, as indicated on the cornerstone it was originally the Evangelical Lutheran Free Church when instituted in 1915.
Not a storefront church but could become one with that arrangement.
Classic old school signs.
Both on 8th Avenue between 42nd and 45th Streets.
The C Town supermarket on 8th Avenue and 45th Street was once the Ritz Theatre, as a close look at its facade will reveal. The Ritz operated between 1927 and 1960 and seated just over a thousand.
The Ritz Theatre on 8th Ave and 46th Street, Brooklyn holds many fond memories for me. I remember going there for Saturday Matinees and 10 cartoons would be shown along with the regular 2 features. Once in a while they did other things like have model plane races in the theatre with the planes hanging on wires strung from the rear up to the stage area. Other times they gave dishes away to parents. I remember the (hefty) matron dressed in white that was quick to respond with a flashlight in your eyes and a stern warning that "you'll get kicked out" if you don't stop (whatever it was you might be doing). It wasn't the cleanest theatre, but it was a place to spend a Saturday afternoon during the mid 1940's to mid 1950's for me. The day World War II was over, I had just come out of the Ritz and people were in the streets banging pans together to celebrate the end of the war. cinematreasures
Sunset Park's status as a now-diminished Scandinavian neighborhood, and its more recent status as a Chinese neighborhood are more publicized, but the area has also been heavily Latino for several decades especially the further west you go. Not mentioned very much is a Mexican pocket centered along 7th Avenue in the mid-40s, with storefronts featuring the Mexican flag colors. The storefront at right refers to Our Lady of Guadalupe, a vision of Mary that appeared to a Mexican Indian near what became Mexico City in 1521.
7th Avenue is also eastern Sunset Park's church row, with the Iglesia del Redentor (Church of the Redemptor) at 47th Street…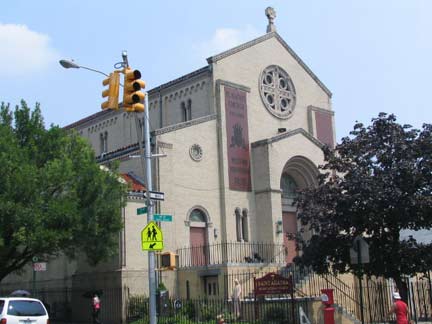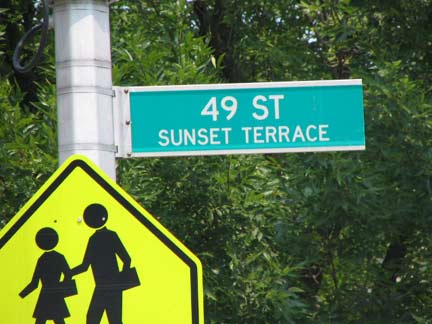 And there's St. Agatha's R.C. Church two blocks away at 49th Street, which was subtitled "Sunset Terrace" on signage about 20 years ago. Why 49th Street was chosen for the name is a mystery to me at present.
Forgotten Fan Maryann Perpinan writes: Many years ago, Sunset Park was a dangerous place to be, especially 49th street between 4th and 5th avenues, known as "Little Viet Nam" perhaps your parents were correct in their view of Sunset Park for that period of time prior to 1986. It was a very dangerous place to be. However, two friends of mine lived and owned property on that particular block. I was dating one of them at that time. I was community oriented and was involved in many community and social concerns. One of the persons involved knew that I was very concerned about the community. The two that owned property on that block thought of renaming the street in the the hope that the the name change would change the reality of what was going on. We went to city hall and was able to get the street renamed Sunset Terrace, such a dream. Our names are John Monaccio, Maryann Svendsen, and Nelson Padilla and others, don't remember their names. It was done during Mayor Edward I. Koch's time.
Forgotten Fan Robert Tobin: 49th St. was renamed Sunset Terrace in the early 80s to create a better image. 49th St. was always the worst street in Sunset Park, particularly 4th-5th Avs. That block was hell. 5th & 6th Avenues just slightly better. And 6 Av bet. 50-52 Street was as bad as any South Bronx corner. All tin-sealed buildings, burned cars and gangs.
St. Agatha: We have little reliable information about this martyr (d. AD 250), who has been honored since ancient times, and whose name is included in the canon of the Mass. Young, beautiful and rich, Agatha lived a life consecrated to God. WhenDecius announced the edicts against Christians, the magistrate Quinctianus tried to profit by Agatha's sanctity; he planned to blackmail her into sex in exchange for not charging her. Handed over to a brothel, she refused to accept customers. After rejecting Quinctianus' advances, she was beaten, imprisoned, tortured, her breasts were crushed and cut off. She told the judge, "Cruel man, have you forgotten your mother and the breast that nourished you, that you dare to mutilate me this way?" One version has it that Saint Peter healed her. Imprisoned further, then rolled on live coals, she was near death when an earthquake stuck. In the destruction, the magistrate's friend was crushed, and the magistrate fled. Agatha thanked God for an end to her pain, and died. Catholic Forum
Most local politicians and even many neighborhood residents will tell you that the advent of these multi-story apartment buildings in Sunset Park represents the area's ascension in the past few years into a Brooklyn neighborhood to be reckoned with. I hope the ones that move into the apartments with the terraces whose right side faces a brick wall concur. Great view of the graffiti or, to be politically correct, street art. (above, 7th Avenue and 50th Street; below, 8th Avenue and 55th). These developers are the real bad boys and they have arrived in Sunset Park at last.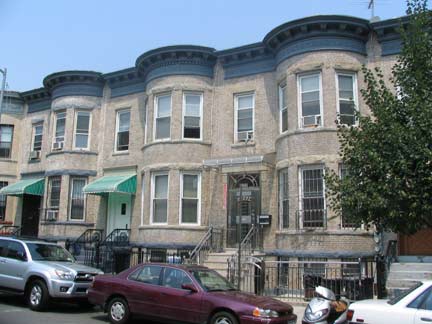 50th Street, like many other Sunset Park blocks,features row on row of attached brick buildings with ornate handrails lining the steps. The fences in front are latterday additions as homeowners wished to further demarcate their property as crime ascended. Fair enough.
But note the building on the right side on the above left photo: the owner has done his/her best to ruin it by installing a shiny chrome door, railings, awning, and fence.
We need legislation that will prohibit this sort of desecration; we need laws that will save NYC homeowners from themselves.
Mid-block Pentacostal church.
PS 94, yet another of Brooklyn's solidly-built, fortress-like public schools, this one at 6th Avenue and 50th Street.
Blue Sky Street. In the 1980s 8th Avenue and the side streets on either side of it became NYC's third Chinatown, joining those in lower Manhattan and in western Flushing. When traveling back and forth between the 3 neighborhoods, many began calling 8th Avenue "Blue Sky Street" since the BMT N train's first stop after emerging from the 4th Avenue tunnel is 8th Avenue. In Chinese folklore, 8 is the luckiest number in financial matters, since the Chinese word for "8" is a homophone with the term for wealth. The 2008 Olympics in Beijing are scheduled to begin August 8, 2008 (8/8/8) at 8:08:08 p.m.
CONTINUE TO SUNSET PARK, PART 2
erpietri@earthlink.net
©2007
Photographed August 2007; page completed November 18, 2007