In much of Queens, the streets have no name.
That's because they've all got numbers. In July 2007 I was happy to move into a Queens neighborhood, Little Neck, where quite a few of the streets have held onto their names. Today's Slice concerns one of them…

In case you're wondering, Marathon Parkway, which runs for a couple of miles from Little Neck Parkway and 42nd Avenue south to Grand Central Parkway, has nothing to do with November's New York City 5-Borough Marathon. That race spends minimal time in Staten Island, the Bronx and Queens; most of it is in Brooklyn and Manhattan. Marathon Parkway is instead a remnant of a late 19th-Century-early 20th Century development called Marathon Park. In that era, it was fashionable to lend an aura of class by applying classical names, and hence you had in Queens alone Marathon Park and another nearby region, Utopia Park; the parkway by the same name was its only reminder by 2008.
There's a genuine fork in the road at Little Neck Parkway at 42nd Avenue, and like Robert Frost, I'll take the road less traveled by. The busier Little Neck Parkway leads to Floral Park and Nassau's South Shore towns, while Marathon Parkway will get you to Bellerose and Elmont. It's a great deal narrower, at the start, but picks up steam as you go south…
The very first address on Marathon Parkway after it branches from Little Neck Parkway looks for all the world like an abandoned farmhouse. Several windows are cracked, the window sashes are collapsing, trash is strewn in the front yard, the corral-like fence is broken in several areas, the windows are mostly covered with either Hefty bags or canvas, and if you pass by at night, you can see that a room on the interior is illuminated by a single light bulb.
It's as if your webmaster is glimpsing his retirement!
The place is occupied, however. While passing by I'm reminded of Nahum Gardner's farmhouse in H.P. Lovecraft's classic The Colour Out of Space, in which an asteroid contaminates the Rhode Island countryside including the Gardner farm:
The aspect of the whole farm was shocking – greyish withered grass and leaves on the ground, vines falling in brittle wreckage from archaic walls and gables, and great bare trees clawing up at the grey November sky with a studied malevolence which Ammi could not but feel had come from some subtle change in the tilt of the branches. But Nahum was alive, after all. He was weak, and lying on a couch in the low-ceiled kitchen, but perfectly conscious and able to give simple orders to Zenas. The room was deadly cold; and as Ammi visibly shivered, the host shouted huskily to Zenas for more wood. Wood, indeed, was sorely needed; since the cavernous fireplace was unlit and empty, with a cloud of soot blowing about in the chill wind that came down the chimney. Presently Nahum asked him if the extra wood had made him any more comfortable, and then Ammi saw what had happened….
Very old building at Northern Blvd. and Marathon Parkway, housing Bryce Rea Real Estate. The Rea family have been major players in Little Neck for a few generations.
This huge new office building is right next door. I have a soft spot for it. Perhaps it's the pure white exterior: very striking on a sunny day, which this was not.
LEFT: At Morenci Lane. I usually make fun of new residential buildings in Queens –they can't, or won't, build them with the craftsmanship and style they used to — but I must admit, I'll give points to this developer for at least trying. There's a garage in the basement, but I suppose it's a necessity these days. They did well with what they were handed. RIGHT: There's a lot to like about this small house at Van Zandt Avenue. A large yard with a tree canopy, enclosed porch and attic.
I am fortunate to live in a development that liberally uses pines and spruces. Even in the hottest weather you at least feel cooler around conifers, even if it's only psychological. The owners of these homes, on 52nd and Thornhill Avenues, are aware of that.
The old fire alarm light is set quite high on this lamp, about as high as I've ever seen a shaft-mounted one, anyway. It's been supplanted by the "top hat" light on the luminaire.
I had never before seen the Queens Library North Hills branch, on Marathon just south of the Long Island Expressway, and as Bob Hope used to say, I gotta tellya…this building rocks. A circular structure with a domed roof, decked out in bright red, blue and yellow primary colors, and a yellow snow shovel over the door? Who could ask for anything more.
Compare to the nearby buildings, which were built by architects when sober. Southern Little Neck is completely dominated by the garden apartment buildings shown at left. Block after block after block. This is where the city that never sleeps sleeps. Zzzzzzzzzz
Why the library is called the "North Hills" branch is unknown, since the community of North Hills is a couple of miles east, just past Lake Success in Nassau County.
60th-61st Avenues. While the North Hills School dates to the Swingin' Sixties, the Marathon School bears the date 1952 on its cornerstone. If buildings could talk this building would probably say: Adlai.
Douglaston Manor, Douglaston Park Golf Course club. Formerly North Hills Country Club, the complex dates to 1927.
From here, Commonwealth Boulevard picks up the baton and takes traffic south to Jericho Turnpike and Bellerose. Marathon Parkway ends 2 blocks south at Grand Central Parkway.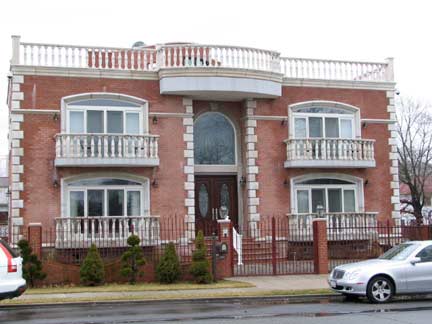 Here's a piece of egregious ostentatiousness at Marathon Parkway and Cullman Avenue.
Both your webmaster and the Queens Crapper make a lot of fun of these structures (I can't call them buildings) but it's sobering to know that a great many people–who have a lot of money to throw around and can build in any style they want — prefer this sort of thing.
2/18/08