Whitestone Bridge from The Boulevard, Malba
According to legend, Whitestone takes its name from a large offshore rock where tides from the East River and Long Island Sound met; in other accounts the name is in honor of the White Stone Chapel, erected by townsman Samuel Leggett in 1837. For a time, Whitestone was known as Clintonville, after NYC mayor and NY State Governor DeWitt Clinton, who lived in the area. Both Leggett and Clintonville are recalled in area street names.
A constant trope in Forgotten New York is that the more unlike New York City a place in the 5 boroughs is, the more your webmaster is fascinated by it, and that's borne out by my attraction to Tottenville and much of Staten Island, Broad Channel (look for an upcoming FNY page) and the communities of northern Queens; I reside in one.
In 1979 the Mets traded for Richie Hebner to fill their perennially-unfilled third base slot. Hebner despised the crowds and traffic in NYC, though, and mailed in his season, after which the Mets sent him to the Tigers (where they had exiled Rusty Staub after Le Grand Orange asked for a raise after enjoying the only 100-RBI season a New York Met had ever had by 1975). It was remarked that Hebner had visited Manhattan exactly once during the year he was here.
On occasion, I feel like Hebner: despite being a NYer for half a century, I do feel isolated from it in terms of attitude, especially where noise is concerned. I clap my hands over my ears when fire engines pass in the street and when express trains pass on the LIRR platform. I change my seat on the train when screaming kids or loud IPod people are around. The "correct" NYC attitude is to be inured to such things or to not acknowledge them.
I always feel comfortable in spots like Whitestone, College Point, most of Bayside, Douglaston and Little Neck, since most of the NYC noise is left behind, and wandering around these places, you can still envision them as they were when they were small towns, before being gobbled-up by first the town of Flushing, then NYC itself…
GOOGLE MAP: WHITESTONE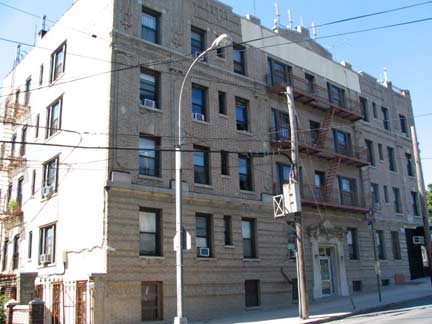 On a sunny Sunday in September 2007 I took a looping route throughout what I believed were the most historic and picturesque areas in Whitestone, which can be described as being between the Whitestone Expressway on the west, Utopia Parkway on the east, the East River on the north, and approximately Willets Point Boulevard and 25th Avenue on the south, though no clear southern boundary with Flushing exists. (I've always thought it was where the taller trees resumed going south, since southern Whitestone is rather street tree-barren.)
I began at 150th Street and Cross Island Parkway at a large apartment house, the appropriately-named Whitestone, one of the few in the area. According to Whitestone resident and author of Arcadia Press' Whitestone review, Jason D. Antos, in the building's early days in the 1920s a number of film actors who worked at the Astoria-Kaufman Studios (now home to the Museum of the Moving Image) lived here at the Whitestone. Mary Pickford, Charles Chaplin, and Rudolph Valentino were all Whitestoners, if only briefly.
Whitestone is bisected by two main highways, Cross Island Parkway, which does not permit truck traffic, and the Whitestone Expressway, which does. Of the two, the Whitestone Parkway actually opened first, in 1939, as a connector to the bridge, and upgraded to an expressway in 1958; the Cross Island Parkway, part of the Belt Parkway system ringing Brooklyn and Queens, runs in part along the old right-of-way of the old LIRR Whitestone Branch and was completed in 1940, connecting to what was then the Whitestone Parkway just south of the bridge.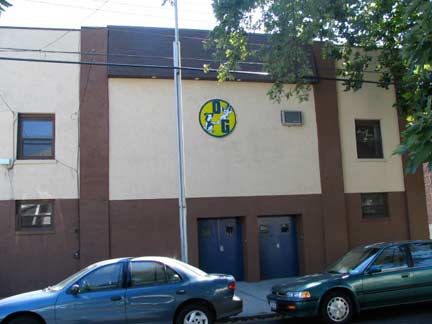 As Agent 86 would say, would you believe that this stuccoed, windowless structure, the clubhouse of the Dwarf Giraffe Athletic League at 149-15 15th Road was once Whitestone's Rialto Theatre? Believe.
This is the first movie theatre I remember going to. I guess I was about 6 years old (around 1956) and I went with my older brother. I remember seeing Gung Ho with Randolph Scott and movies with the East Side Kids. I also remember seeing Love Me Tender with Elvis, which back in those days was a big deal. This theatre was always called the itch by the locals The unusual location, it was in the middle of a residential block, I suppose added to its demise. I'm not sure when it closed but it must have been around 1957 or 1958. When the Rialto closed the building was purchased by a Jewish congregation an became Temple Hillel. In 1966 it was purchased by the Dwarf Giraffe Athletic League who still own and run it today. The theater floor was gutted and the room converted into a gymnasium and basketball court. If you pass the building today it does not look like it was ever a theatre. comments, cinematreasures
Why are so many theatres named "Rialto"? What does it mean? Help, ForgottenFans…
ForgottenFan Yvonne Temann: Rialto is an area of the San Polo sestiere of Venice, Italy, known for its markets and for the Rialto Bridge.
The area was settled by the ninth century, when a small area in the middle of the Realtine Islands either side of the Rio Businiacus was known as the Rivoaltus, the "high bank". Soon, the Businiacus became known as the Grand Canal, and the district became the Rialto, referring only to the area on the left bank."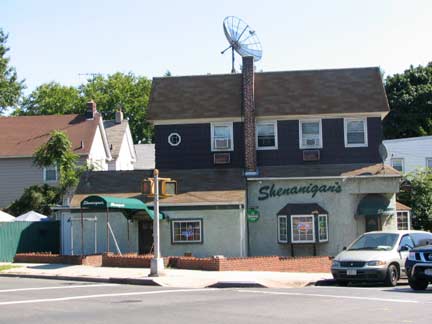 Shenanigan's, bar/roadhouse at 150th Street and Cross Island Parkway
Though Schwinn had been one of the most popular bicycle makes in the country for decades, I rarely see it advertised in bike shops much anymore. It's still around, though, and here on 150th Street, here's a bike shop that specializes in them. Your webmaster rode Schwinns as a kid (and a beat-up Motobecane the past 22 years and counting, as of 2008).
Terrific old-school plastic letter signage on the bike shop.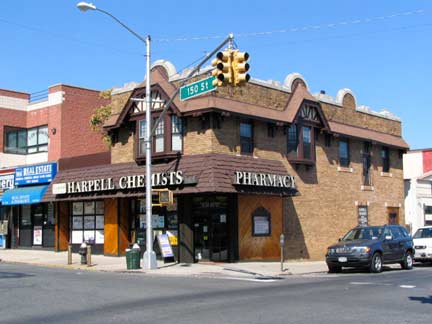 Harpell Chemist, at 14th Avenue and 150th Street, has been a Whitestone fixture since 1905.
I was attracted by their illuminated sign as well, since it features Caledonia Bold, a font rarely used on signage and altogether too neglected in print these days as well. Just look at that serifed cap R. It's a beautiful face.
(photo left from November 2004)
Caledonia is the ancient name for Scotland and the font was so named because the origin of the project was for a Scotch Roman typeface. [connare photography and typography]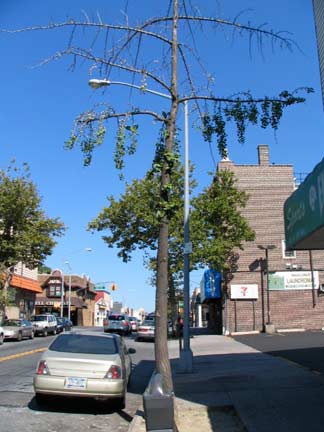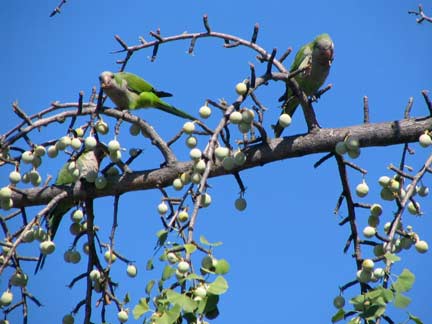 Detouring west on 14th Avenue I noticed a tree almost completely stripped of its foliage. Loud squawks accompanied the scene and I discovered a colony of monk parrots feasting on the fruit.
Whitestone Numbers
Whitestone used to have its own street numbering system, in which streets ran east-west in descending order from the East River south; for example, 24th, the highest-numbered, was folowed by 23rd and so on as you continued south; while numbered avenues ran north-south, with 1st Avenue the furthest west, followed by 2nd and so on. 150th Street, the main business street, was 8th Avenue. In the 1920s, all the streets were renumbered as Whitestone joined Queens' overall numbering system.
Whitestone contains Queens' lowest numbered present-day avenue: 2nd, which exists as a dead-end at the north end of 148th Street and 149th Place.
Whitestone, like many Queens communities, is refreshingly patriotic. 14th Avenue between 149th and 150th.
Cottage, 14th Avenue east of 150th, with iron eagle.
Clintonville
DeWitt Clinton (1769-1828) was one of early New York's pre-eminent politicians, serving in the NY State Assembly and as a state Senator (1798-1811), US Senator from New York (1802-1803); NYC mayor (1803-1815) NY State Governor (1817-1822) and ran unsuccessfully for US President as a Federalist against incumbent President James Madison in 1812.
Although he never achieved the Presidency, he often influenced (directly or indirectly) every President in office during his lifetime. He clashed with some of the mightiest men of his day: Aaron Burr, Daniel Tompkins, Ambrose Spencer, et al. … not all his confrontations were rooted in ideology; DeWitt Clinton was a political animal, even though the political realm he operated in was rapidly changing, often leaving Clinton behind. Clinton also could often be extremely self-centered, snobbish and vindictive. And, yet, this contradictory man also had long-reaching visions and programs for the benefit of the poor as well as the merchant and upper classes. He supported free education for all New Yorkers. He supported artists, writers, and scientists. Most importantly, his dogged determination to get the Erie Canal built provided jobs for immigrants, provided a market for farmers, provided work for New Englanders, and helped build the great cities along the canal's path. And as the canal propelled New York State and New York City into economic powerhouses, it also propelled America's westward expansion and its status as a world-class nation. [amazon review]
DeWitt Clinton lived in Queens County, primarily during his time as mayor, in a now-burned-down mansion in Maspeth, though he had a summer house in Whitestone. While he was NYS Governor, Whitestone became known as Clintonville in his honor. Though the neighborhood became "Whitestone" again during the 19th Century the name is remembered by the lengthy Clintonville Street andClintonville Playground.
ForgottenFan Charles Gallo: I can remember the [Clintonville-Cross Island Parkway area] as a farm into the 1970s. The little gift shop on the corner of Clintonville and the south CIP service road was the farm stand.
The original Grace Episcopal Church was built at today's Clintonville Street and 14th Road in 1858 on land that had been donated by Francis Lewis, a NY delegate to the Continental Congress and signer of the Declaration of Independence. The "new" Grace Church dates to 1904.
St. Nicholas Russian Orthodox Church
In your webmaster's opinion, it's the second-best onion dome in the city, second only to the Louis Allmendinger Cathedral of the Transfiguration on Driggs Avenue in Greenpoint. But this one's in brilliant Technicolor blue! It looks like they stuck the dome on top of a couple of quonset huts, but it works and has become, since its construction in 1969 by architect Sergei Padukow, a neighborhood landmark. At any rate I can't help snapping it whenever I go by. My hand moves as if by instinct to the shutter button.
There's been an onion dome on Clintonville Street since 1919, when the first St. Nicholas Russian Orthodox Church was built at this site, now just north of the Cross Island Parkway.
The church's website provides views of the interior.
Though Whitestone and College Point's old boarding houses like the College Point Clubhouse and roadhouses like Flessel's have vanished, Harold Fiedelmann's boarding house, at Clintonville St. and 14th Road is still there. The now-private residence once was home to LIRR Whitestone Branch workers and employees at the John Locke stamping mill (see below).
Clintonville Street runs southeast past St. Luke's Church, eventually ending at Francis Lewis Boulevard. This part of Clintonville St. was originally the first leg of Cross Island Boulevard, which later, after a name change to "Franny Lew," was extended to Queens' southern reaches in Rosedale.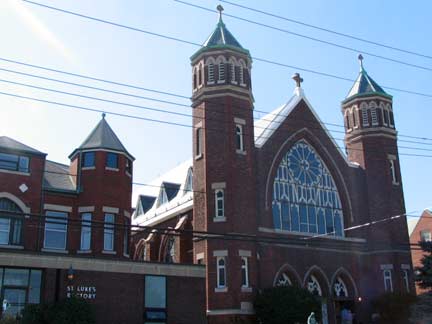 Like St. Nicholas, just across Cross Island Parkway to the north, twin-spired St. Luke's Roman Catholic Church, at Clintonville St. and Locke Avenue, is a neighborhood landmark. I didn't see a cornerstone, but according to sources, the church was built in the late 1800s.
John Locke
Whitestone's Locke Avenue is named for the John Locke who moved his tinware and stamping business from Brooklyn to the wide open spaces of Whitestone in 1853 and helped put the village on the map.
Whitestone Hebrew Center, 12-45 Clintonville Street. A handsome modern design from an era not yet Fedders-dominated.
Whitestone Community Ambulance Service, 12-15 150th Street. The organization was founded in 1947 and is named for Grace Herold, who served the organization for 45 years.
This apartment building on 12th Avenue has a number of garages and car sheds in the inner courtyard. It likely dates to the 1920s, when private garages were a novelty.
The First National Bank (1907, 12-54 150th) is now Light 'N Easy Pub.
Holy Cross Greek Orthodox Church, 12th Avenue and 150th Street, took over the former Epworth Methodist Church in 1975. It has since been replaced by a new building on 11th Avenue.
Across the street is a remaining Whitestone farmhouse, originally belonging to Tim Connolly; the house was built in the 1880s.
Note the blank windowless area; what could have been there?
It's enough to make you wish you could kick the bucket and somehow come back, just to tell them you were sent off in style. This Martin A. Gleason Funeral Home, at 11th Avenue and 150th Street, features a corner double-decked round porch with Ionic coulmns. It is a converted Victorian-era private house. It is one of a number of Gleason funeral homes in the borough.
Emmanuel Lutheran Church on 11th Avenue just west of 150th Street is the third oldest church in Whitestone (after Grace Episcopal Church ans St. Luke's), dating to 1896.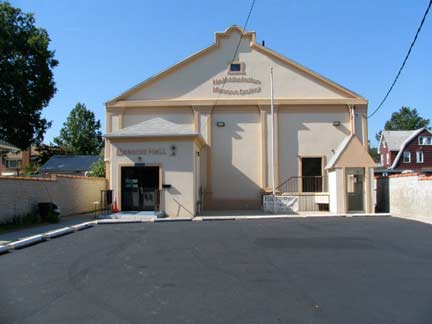 That's a lot of asphalt across the street in front of Whitestone's Masonic hall across the street.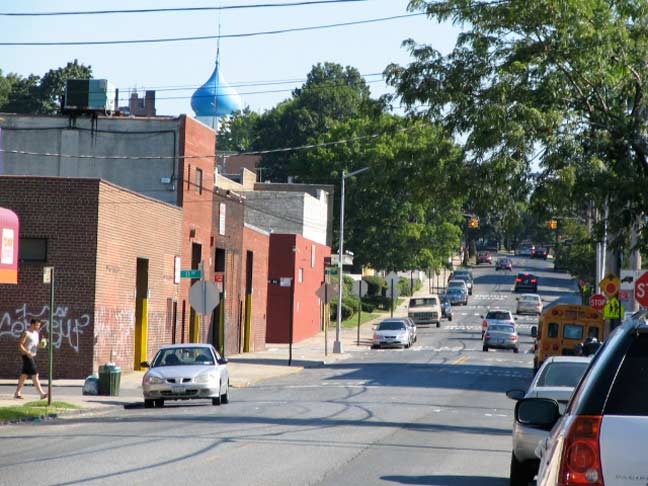 Clintonville St., looking south from 10th Avenue, looks like a main street in any smaller town just before entering the central business district. The blue St. Nicholas dome, though, gives it away as a metropolitan artery.
Clinton Restauarant, named for the governor who summered in Whitestone (yes, I have now used "summer" as a verb) is a neighborhod restaurant in the tradition of my frequent haunt, Millard Fillmore's of Flushing. The Clinton serves primarily Italian fare.
More from Clintonville Street. The American Legion hall and a turreted home nearby. I bet at one time, you could see the water from that oval room.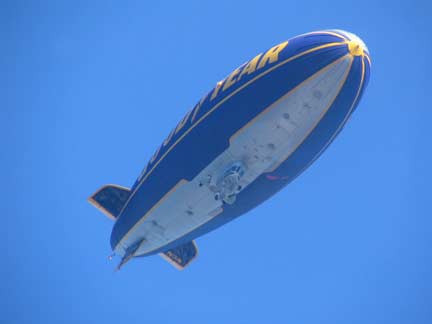 This was during the US Tennis Open, held in late August and early September at Arthur Ashe Stadium in Flushing Meadows, and a Goodyear blimp or two always heralds the tournament.
2008 is the last year that two NYC stadiums (-a?) across the street from each other on Roosevelt Avenue are anagrams of each other: Ashe Stadium and Shea Stadium; Shea will be replaced by Citifield in 2009.
8th Road
There it is between, er, ah, 8th and 9th Avenues between 149th and 150th Streets…
You'll have to use a little imagination, but stroll down curving 8th Road,and the rural past of Queens can be visualized. The little lane may have serviced stables when the area was originally developed in the early 1900s, and it remained unpaved until the mid-1990s. I think it's amazing.
Revolution Relic
One of Queens' few remaining 18th-Century structures is the Colden-Wesson mansion at 2-11 147th Street opposite Francis Lewis Park. It stands within the old estate of the Declaration of Independence signer, and was built in 1762 and further enlarged in 1926. It has been owned by the family of Queens Supreme Court Justice Charles Colden (1885-1960) and later, by the Wesson family. Colden founded Queens College, whose Colden Center (since renamed for philanthropists Selma and Max Kupferberg) was named for him.
Gable-roofed house with corral-style fence and wide lawn, 150th Street and 7th Avenue. On occasion sidewalks will be absent in Whitestone's northern regions.
This is the former home, in the 1840s, of author/editor/poet Walt Whitman (1819-1892). "Every morning, I am kissed by the sun coming through my window by the bay of Whitestone."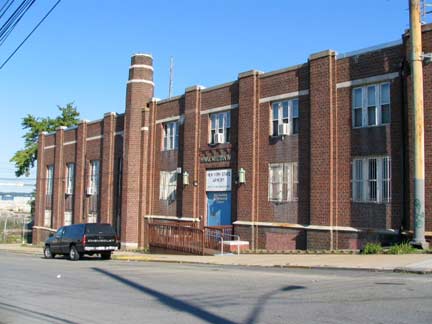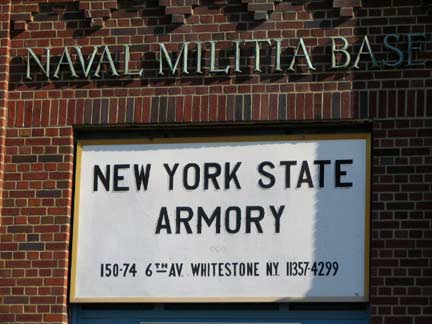 New York State erected an armory on 6th Avenue between Clintonville and 150th Streets in 1933. It houses the state divison of the National Guard.
Powell's Cove Boulevard is one of Queens' odder streets; as mapped, it occurs in seven separate pieces along the northern edge of Queens along the East River, though I've only seen about five of the pieces, while the other two have been mapped but aren't actually there. Oddly the boulevard doesn't run along or border Powell's Cove itself, a large indentation of the east River just west of the Whitestone Bridge. Shown are some new homes being built on PCB just north of 6th Avenue.
The Whitestone Bridge looms above the boulevard here. Your webmaster enjoys showing looming bridges, distant buildings that seem to dominate everything in front of them; I've even enjoyed watching the rising moon for the optical illusion that makes it look twice as large. Must be a clinical thing…
Two faces of 152nd Street, between PCB and 10th Avenue. A look at an older denizen, and some of the new stuff taking its place.
I'm showing the Waldbaum's parking lot at 10th Avenue and 154th Street, because imagine if you can chuffing steam engines and an old stick-style train terminal here. This was the LIRR Whitestone Branch's terminal from 1886-1932; train service had begun from Flushing to downtown Whitestone in 1869.
In the 1920s, The LIRR offered the branch to the City of New York as a possible addition to what was then the BMT-IRT Flushing Line (today's 7 train). The city turned down the offer, and the line was subsequently abandoned. Years later, in the early 1950s, the Transit Authority purchased the old Far Rockaway branch from the LIRR and created the A train extension across Jamaica Bay. If the subway were extended to Whitestone back then, its development would have been considerably different.
Art Hunecke has a comprehensive look at the Whitestone Branch's remains in Queens, and a look at its former grand stations [Arrts Arrchives]
Meanwhile, across 154th Street…Quintuple Peaks. Great symmetry…
Along The PCB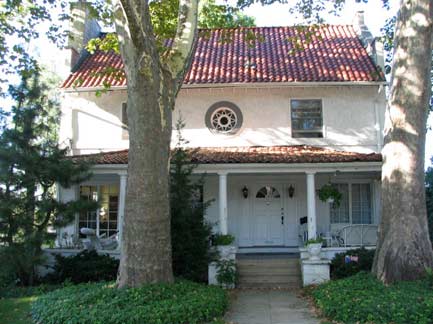 Powells Cove Blvd.'s longest continuous stretch, from 154th to just past 166th, contains some of Whitestone's more auspicious residences. This stretch of Whitestone is also called Beechhurst. At left, some windows are thrown open to admit some fresh air at the end of the long summer, and some controlled asymmetry on the house at right, with a porthole window flanked by two square ones.
This one's a bit much, but I'd take it.
Screen star/producer Mary Pickford, sources say, lived in a Whitestone building with a humongous front lawn; I wonder if this is the one.
I have always admired The (Beechhurst) Towers at 160-15 PCB; there's an express bus stop right there, so the lack of a subway in Whitestone would be no problem. I have a weakness for solid, impregnable-looking brick buildings. I never looked into it though, and it'd be inconvenient now with a Long Island job and no car.
Charles Chaplin was a former resident. Like the Whitestone Apartments we saw earlier, this building housed several showbiz folks who were working at Astoria Studios. (Without the Whitestone Expressway and Grand Central Parkway in the Roaring Twenties, it must have been a circuitous journey: I suppose they used Parsons Blvd. and Northern Blvd. to get there.)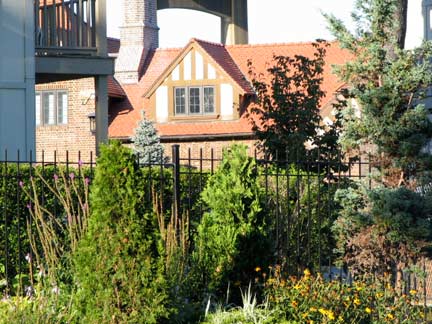 This is the estate residence of Broadway producer/songwriterArthur Hammerstein. After a devastating fire in 1994 it was completely rebuilt and restored in 2000. Now part of the Wildflower estate (named for one of Hammerstein's musicals) at the eastern end of Powells Cove Boulevard east of 166th Street. This is as close as I could come for a picture before being forced away by a security guard; typically, private residential complexes fear photographers even more than burglars.
This Tudor at 14th Avenue and 162nd Street marks the Whitestone enclave known as Robinwood.
I'm Cryin'
Cryders Lane, running northeast from 154th and the Cross Island Parkway to Utopia Parkway (traffic one-way going west) is one of Whitestone's oldest roads; in 1880s atlases it appears alone, with no street grid surounding it.
By the early 2000s, however, it has become the testing ground for some of Queens' most nauseatingly overwrought modern residential units. Have a look at some on Queens Reborn. But have the kao ready.
Source of the Franny Lew. Francis Lewis Boulevard begins at the Cross Island Parkway and 154th Street and runs mostly southeasterly through Whitestone, Auburndale, Fresh Meadows, Holliswood, Bellaire, Cambria Heights, Laurelton and Rosedale all the way to Hook Creek Boulevard and 148th Avenue, making it the longest local-access road completely contained within Queens. It was originally Cross Island Boulevard before the Cross Island Parkway was completed in 1940; it was renamed to honor Queens' local signer of the Declaration of Independence, Francis Lewis (1713-1802).
erpietri@earthlink.net
Photographed mostly September 2007. Page completed February 18, 2008