Over at NewYorkShitty, Miss Heather has posted a photo of the ugliest new building in New York City: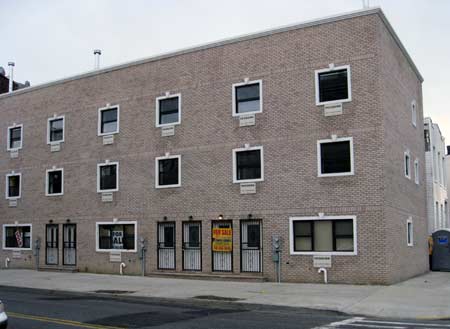 It's at Gates and Wilson Avenues in Bushwick, in case you want to sightsee, but it could be in fab Flushing, it could be in Astoria, Bay Ridge, or anywhere else the Fedders are flourishing. Exposed gas/electric meters? Check. Fedders? Check. No setback or any attempt at privatizing the windows on the bottom floor? Check. Garden variety, everyday architectural garbage, what NYC will look like 25 years from now, if the icecaps don't melt and we're all under water using scuba suits or genetically engineered gills and fishtails.
I was immediately inspired to post a few pics from a Sunday Flatbush Avenue walk in Park Slope, where I was investigating the avenue's peculiar triangles formed by its diagonal course through a grid. Why? There are several examples of residential architecture from a long-lost period when there was an actual attempt to uplift and inspire in our architecture. 2008 is a much-too-cynical age to produce buildings like this…
The Providence, 73-75 6th Avenue at the triangle formed by Flatbush Avenue, St. Mark's Avenue and 6th Avenue.
For all I know this building might have multitudes of violations, ceiling leaks and lord knows what else. All I know is the exterior is from a period when civilzation was celebrated.
The peculiar Park Slope trigonometry creates two triangles at the intersection of Flatbush Avenue, St. Mark's Avenue and 6th Avenue, and there's an almost equally grand building on the east side.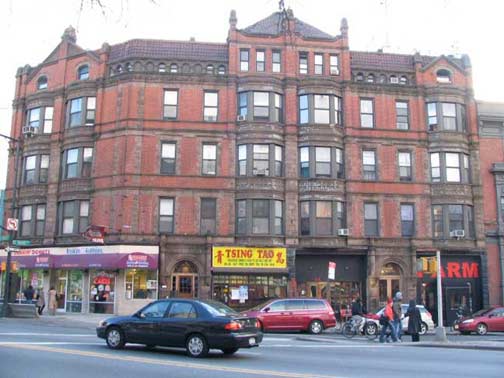 The beautiful building is composed of two units, the Lenox (76-78 St. Mark's Avenue) and the Montauk (80-82 St. Mark's Avenue.) Clearly the building front was constructed with the carriage traffic on Flatbush Avenue when it was built a few years either side of 1900.
A few feet away, where 6th Avenue meets St. Mark's, we have a pair of distinctive buildings: the Cathedral Club of Brooklyn, formerly the Carlton, Monroe, Royal Arcanum Club. Like the adjacent Montauk/Lenox Clubs, it was constructed around 1900.
Across the street, a building set back from the street had a marvelous enclosed porch with a wide expanse of curved glass on the bottom and marvelous fleur-de-lis patterned stained glass on top.
Another triangle formed by Flatbush Ave., 6th Avenue and Bergen Street is home to a triangle-shaped building in the same vintage as Madison Square's Flatiron Building. The bottom floor has gone from Tiger Signs to Yummy Taco.
The Flatbush Triangles are home to a pair of ancient street clocks and a number of very old lamps, now lit by electricity, that might have started out as gaslamps.
Further up Flatbush, another pair of small triangles are formed by Flatbush and 7th Avenues where they meet Park Place, highlighted by another pair of former gaslights.
This triangle is also punctuated by the old Flatbush Pavilion Theatre, built by silent film comedian/impresario John Bunny in 1912. Beginning in 1940 it was called the Plaza, and later renamed the Flatbush Pavilion until its closing on May 22, 2004. The final features were "Man On Fire" and "Van Helsing." Some locals re-arranged the letters in the titles after the theatre closed.
Toward the end, though, the Pavilion didn't have many fans:
The closing of this dive was a mercy killing. The place was a horrid place to see a film. The lobby was dark and dank; the auditoria were even more forboding. The film presentation was beyond bad. In a day and age of 6 channel digital sound, this place was still sporting a mono system in both rooms. 
It was a scouting exhibition just to find a seat that wasn't broken, and even those that were in decent shape were very uncomfortable. The screens were placed much too high making the viewing angle very hard on the neck muscles. Because it was twined, the rooms were long and narrow, giving you the feeling that you were in a tunnel. This shape was detrimental to speech intelligibility, which sank to near zero; it was a good thing they ran lots of foreign films so you could read the dialogue. cinematreasures
It's now a branch of the ubiquitous American Apparel, whose ads are sometimes, er, arresting.
2/11/08