Making up somewhat for previous oversights, I invaded Chinatown in February in search of ancient laneways that contain hidden architectural "Easter eggs" and traces of long-vanished neighborhoods.
I'd be remiss if I didn't point out perhaps the Deskey post's most distinctive NYC contribution: in 1965 several of them were outfitted with luminaires resembling traditional Chinese lanterns…
…and the Department of Transportation revived the practice in the late 1990s, as we see above on Mosco Street.
Mosco Street (between Mulberry and Mott Streets north of Worth)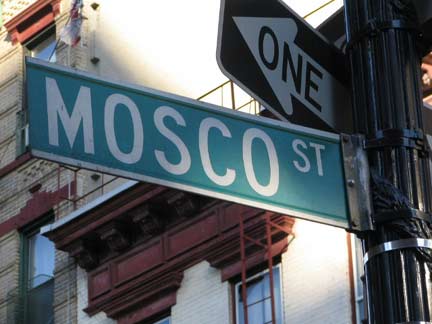 Mosco Street is one of the final remnants of Five Points, the most dangerous slum in the NYC of the 1830s through the Civil War era.
From Kenneth Dunshee's 1952 account in As You Pass By:
The Old Brewery was a five-story building, old and dilapidated. Along one wall an alley led to a single large room in which more than seventy-five men and women of assorted nationalities and races lived together. This was the Den Of Thieves. The name was appropriate. Along the other wall ran another filthy lane called Murderer's Alley worse than the first.
Upstairs there were about 75 other chambers, housing more than 1,000 people…men, women and children. The section was a warren, with underground passages and murderous cul-de-sacs, into which the police dared venture only in large numbers, for the Old Brewery for a period of more than fifteen years averaged a murder a night.
Five Points was too tough, too unlawful, too unsavory to last, even in the New York of a century ago. The Old Brewery was razed, the last of the gangs destroyed. Today it bears little resemblace to the bull-baiting, rip-roaring hell it was in 1850.
The notorious Old Brewery was located on Cross Street just southwest of Five Points at Anthony (now Baxter) and Orange (now Worth) Streets. It was renamed Park Street in the late 1800s. The city replaced the crowded tenements in the area partially due to the pleas of reformer Jacob Riis; the street was named for Columbus Park, which replaced the slums.
Today, Cross/Park Street, which in the 1840s had run continuously from Reade Street near Elm (now Lafayette) to Mott, has been mostly wiped out, first by Columbus Park and then by the New York County Courthouse in 1926. The last remaining section, between Mulberry and Mott Streets, was renamed Mosco Street in 1982 for Lower East Side community activist Frank Mosco.
What language is that script on the awning sign? (5/13: Thai, I gather; Bangkok, duh)
Bank turned funeral parlor, Mulberry and Mosco
…and church turned community center
At Mott and Mosco (and fairly difficult to photograph in the winter light) is the Roman Catholic Church of the Transfiguration, the oldest Catholic Church building in the city, but not the oldest Catholic parish church. It was built in 1801 as the Zion English Lutheran Church and became a Catholic church in the 1850s; St. Peter's, at Church and Barclay Streets, is the longest-standing Catholic church that's always been Catholic.
ForgottenFan Dominick Fallucci: From my childhood (early 1960's) until about the late 1980's, Park Street ran from Mott Street to the intersection of Baxter and Worth Streets. My mother grew up at 95 Park Street, which was torn down along with the other tenaments on that block about 1961. I believe they were going to build another "urban renewal" project which didn't pan out. For years until Columbus Park was extended to demap Park Street, that side of the street was a parking lot.
In November 1941, my grandmother (mother's mother), Angelina (Jean) Prelli, was killed by a runaway truck at the intersection of Park, Worth and Baxter Streets. She was able to push her son (my uncle) and a neighbor out of the way, but got pinned against the building that was on that corner, where Columbus Park is now. My grandfather never mentioned her up to his death in the early 1980's. We found the clippings in his apartment about the tragedy from several different papers.
Pell Street (Mott Street and Bowery 1 block south of Bayard)
The Pell family owned vast territories in what is now the northeastern Bronx but was then part of Westechester in the colonial era; Thomas Pell's mansion remains in Pelham Bay Park (numerous locales in NY named "Pelham" also bear his name) , and is open to the public as a museum. His nephew John Pell owned the land through which this street was built in 1776.
Pell Street seems to have more barber shops and salons than any other Chinatown street.
There was a long line at Joe's Shanghai the Saturday I was here.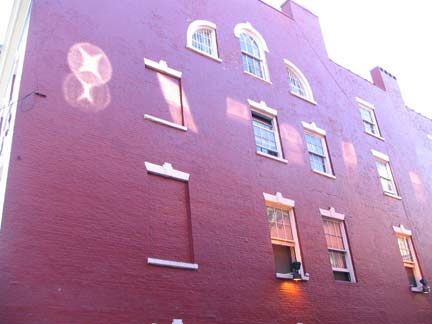 The Edward Mooney House, SW corner Pell Street and the Bowery, is the oldest building in Chinatown and one of the few remaining 18th Century buildings in Manhattan, having been completed in 1789; it had to have survived the Great Fire of 1835.
Doyers Street (from Pell Street, generally southeast to Bowery)
For a one-block street, Doyers Street is quite unusual in Manhattan, where curved streets are rare: it makes two changes of direction, meaning it goes in three different headings as it meanders from Pell Street to the Bowery. By some chance, the zig-zagging cart path that led to Dutch distiller Henderick Doyer's tavern has been preserved in situ.
Doyers has been called the "bloody angle" from Chinese gang wars that have erupted along its length over the years.
ForgottenFan Mike Olshan: At the bloody angle, you photographed but did not mention Nam Wah's Tea Parlor. A landmark you might not know because you are a meat-and-potatoes man. However, this was the first, and for decades the only place in new York serving dim sum. It goes back to the 30s and its interior is unchanged since then, with its tiled floor and tin cieiling intact. A landmark of cuisine! Not the best dim sum house today by any means, but oh-so-authentic.
5/12/08