It's widely known — at least to Queens history buffs, at any rate — that beginning in 1915 and continuing gradually over the next 15 years or so, Queens jettisoned its old street names (with a couple of historic districts, such as downtown Flushing, being allowed to keep their names) and repalced them all with numbers, thereby exchanging one headache (duplicates of named streets, which no one in, say, Boston seems to mind) for the other (a plethora of streets all with the same number).
I'm not sure what the expression "exception that proves the rule" means, exactly, but in Queens there are plenty of exceptions to the numbered streets rule…
All over Queens, though, in neighborhoods from East Elmhurst to St. Albans, there are pockets of named streets in alphabetical order. In East Elmhurst, the streets run from Butler to Kearny (the A street is Ditmars Boulevard); in Elmhurst, from Aske to Macnish; in Rego Park, from Asquith Crescent to Fitchett Street; in Forest Hills, from Austin to Olcott (though some include Sybilla and Ursula Places and Walnut Street in the sequence); in Auburndale, from Ashby to Gladwin Avenues; in Flushing, from Ash to Rose Avenues; in St. Albans, from Arcade Avenue to Turin Drive (this series is rather odd to piece out, as the street order reverses itself at the M street, Mexico). Are there others? I'm probably forgetting one or two.
Oh, well, there is one series I haven't mentioned yet; it's the most hidden one and the subject of today's Slice. It's in the old neighborhood of Nassau Heights, now pretty much folded into western Elmhurst, at about the eastern border of Woodside.
The alphabetical series in question is arranged on either side of Queens Boulevard, and the named streets arrange themselves in a spoke-like sequence between two forks of the Long Island Rail Road, the main line on the south and the Port Washington Branch on the north. Developers wedged a series of N-S streets here that begin with Albion, Barnwell, Cornish, and Dongan Avenues, which run from Queens Blvd. northeast toward the Port Washington Branch, and the G-K streets, Gorsline, Hillyer, Ireland, Jacobus, and Kneeland, which extend south toward the LIRR main line. You can see the modern arrangement on this google map.
What happened to the "E" and "F" streets? They don't turn up on any of the older maps I've consulted, so I really don't know.
The 1915 Belcher-Hyde atlas plate showing the area, though, is quite interesting. It shows Kneeland Street forming the southern border of Jacobus, Ireland, Hillyer and Gorsline, as it does today, but also shows a number of streets such as Dewey and Manila Streets as well. What happened here is that those slanted streets survived (Dewey took over the Codwise Place name, and Manila stayed where it is), Kneeland Street was straighted, separated from the section between Jacobus and Queens Boulevard and became Kneeland Avenue. The part that was cut off kept the name Kneeland Street.
Shall we stroll Kneeland and see what it looks like?
Kneeland Avenue separates from Grand Avenue at Van Kleeck Stret and runs down a steep hill. Here, it assumes the path of an old road, Calamus Road (not to be confused with Calamus Avenue, on the south side of the LIRR tracks). Here we find a group of classic attached brick buildings, some ofwhose stoops still boast their well-cared for iron railings.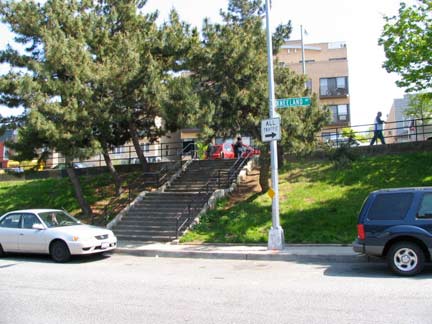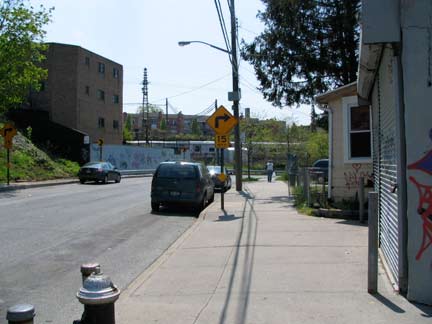 The intersection of Kneeland Avenue and Codwise Place was once the southern end of Horse Brook, which flowed south from the Flushing River in what is now Flushing Meadows-Corona Park. Photo left illustrates the steepness of the hill separating Grand and Kneeland Avenues, which is now occupied by a park. As Kneeland Avenue approaches the Long Island Rail Road…
It doesn't just turn right; it makes a graceful semicircle, a circumstance depicted on no NYC map except google, whose large scale makes it possible to depict the turn.
At Manila Street Kneeland rights itself and runs NW in a straight line, and we run into a very pleasant area of tract houses with wide lawns, the kind NYC developers have forgotten how to build.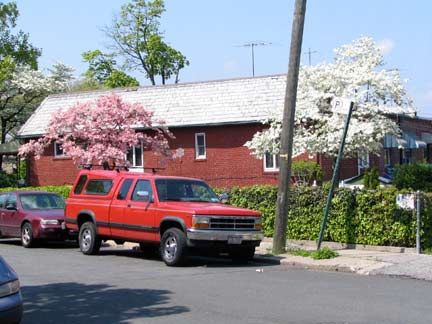 Some brilliant spring colors contrast with the green hedge, red truck  and blue sky at Kneeland and Hillyer.
It's either a: 1971 Chevrolet C20; 67-72 Chevy C20 or C30 (Not a C10- i.e. not a half-ton, but a 3/4 or 1 ton- as it has 8-lug wheels); 1973 Chevy C10 pickup. It appears to be the 'Custom Deluxe' trim for that year.
6/23/08