I was in Rosebank, Staten Island in October 2008 to photograph the mighty Shrine of Our Lady of Mount Carmel (which I did, but it deserves its own Forgotten New York page that will appear presently) and, having a couple of hours to kill before meeting a friend atKillmeyer's in Kreischerville, decided to hike around a bit through this pleasant neighborhood, where I've been before and have always considered fondly. There's not a lot of surprises, but there's much to be said for peace and quiet…
WAYFARING MAP: ROSEBANK (open in separate window)
Come Here, Mr. Meucci, I Want You
Giuseppe Garibaldi (1807-1882) crusaded for a united Italy in the early to middle years of the 19th Century. In 1834 he joined Giuseppe Mazzini in the Young Italy Society; after an unsuccessful uprising in Genoa in 1836, he fought in South American wars of liberation, using what today would be called guerrilla tactics. After a sojourn in the USA in the 1850s he organized and led insurgencies leading to conquests of Sicily and Naples which ultimately produced the unification of Italy in 1860 under King Victor Emmanuel II.
Garibaldi resided in the USA, in the home of his friend, Antonio Meucci, from 1851-53. Meucci was the inventor of the telephone as far back as the 1850s (Alexander Graham Bell, who everyone considers the inventor, was able to obtain a patent for the device before Meucci could afford one).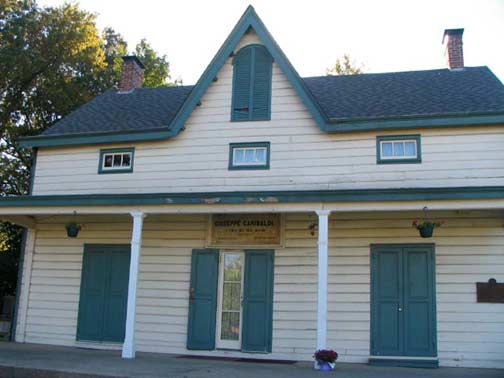 Meucci was born in Florence, Italy in 1808. He studied chemical and mechanical engineering at the Florence Academy of Fine Arts and had designed an acoustic version of a telephone as early as 1834, the year he ws imprisoned on suspicion of being involved with the Italian unification movement, with which he was sympathetic. In 1835 he journeyed to the Americas, stopping in Havana, Cuba long enough to construct a system for water purification and restoring Havana's Grand Theatre.
While still in Cuba in 1849 Meucci developed the first of the devices that could be said to work like the modern telephone; and in 1850, he and his wife, Ester, moved to the house you see above, in Clifton, Staten Island. Between 1856 and 1870 Meucci produced more than 30 telephones employing electromagnetism. Funding for his invention was hard to come by; Italy was inflamed in revolution, led by his friend, Garibaldi. Meucci was then struck by a series of bad breaks as he was left bankrupt by debtors. A series of court cases in which Meucci attempted to sue Bell for patent infringement were ultimately unsuccessful and the last case was dropped upon Meucci's death in 1882.
In 1907 Meucci's house was moved to its present location at 420 Tompkins Avenue and Chestnut Avenue; between that year and the 1950s, Meucci's house was overwhelmed by a pantheon with classical pediments and columns erected by the Garibaldi Society proclaiming the house as the Garibaldi Memorial. That seemed to be the modest inventor's fate: stymied by Bell in life, and overshadowed by Garibaldi in death! The liberator, during his time on Staten Island, worked as a candlemaker in Meucci's factory and fished in the island's many lakes.
Meucci's elaborate monument in the front yard, with depictions of classical scenes, was erected in 1923.
Since 1956 the Order of the Sons of Italy has maintained the house as a museum, open to the public. The museum contains many letters and photographs documenting the lives of the inventor and the revolutionary, examples of Meucci's handmade furniture, and a library of rare and out-of-print books. Contact the Museum at (718) 442-1608.
The Rosebank Honor Roll, on Tompkins Avenue across from St. Joseph's Church on Shaughnessy Lane, celebrates Rosebank residents who served in that conflict.
I thought I should show you some of the names…
Tompkins Avenue, as well as Tompkinsville, a neighborhood to the NW of Rosebank, are named for Daniel D. Tompkins (1774-1825), who served as Governor of NY (1807-1817) and 6th Vice President of the USA (1817-1825), under James Monroe. Unusually, he ran, as a sitting Vice President, for Governor of NY in 1820 but was defeated by DeWitt Clinton. He established Tompkinsville, and a ferry to Manhattan, in 1817.
The parish of St. Joseph in Rosebank dates to 1901 and was established by Father Paolo Iacomino that year (for a photo of the original church see this page). The present edifice was built in 1957, same year as your webmaster. The carillon tower looks newer than 1957.
Italian immigrants have played a big part in Rosebank, named about 1880 for the many rose bushes in the town at the time.
Ain't that America
Shaughnessy Lane does not have the longest street name in Rosebank (actually it's a tie as we'll see later). The one-block is quintessentially small-town American…
At the time the pictures were taken it was about 3 or 3:30 PM and in October, the sun shines at enough of an angle to create interesting textures and shadows. Staten Island is scattered with these little brick buildings — I want to photograph every one that hasn't been desecrated with tin siding. RIGHT: why build a house if you don't like windows?
One of the double-porched houses you see a lot in SI. ABOVE R., L. White Plains Avenue, another of Rosebank's picturesque narrow lanes. New York City has this street, and the much busier White Plains Road in the Bronx, even though we're nowhere near White Plains in Westchester County.
I don't think they're commemorating these guys, though.
I ambled down Amity Street –– the shrine is just off the dead end of the street — and noticed a remaining Westinghouse "wedge" mercury bulb lamp. These were used on side streets as cheaper alternatives to glass-bowled lumes. They gave out very dim greenish-white light and, beginning in the 1970s they began to be gradually replaced by bright yellow sodium lamps. Staten Island, though, still has a sizable contingent. In Queens, a lot of them were taken out in 2008.
[by 2010 these lamps had been replaced]
St. Mary's Avenue house facing one-block Oak Street
Similarly one-block Reynolds Street features an unusual 3-story brk building. Could it have had something to do with the nearby Staten Island Rapid Transit?
Bell Street (there is no Meucci Street in Rosebank) runs on the south side of Staten Island Rapid Transit (the MTA calls it Staten Island Railway, but I like the old name better). It is lined with small. modest houses such as #66. By coincidence it's not the only #66 I shot on this particular walk.
Bell at Oak. Note how the variegated brickwork captures the slanted October sun rays. Also, a newer house, thoroughly modern in its deletion of windows and front lawn.
Back in the 1980s, this location, at White Plains and Chestnut Avenues, marked a formulative moment in what would become Forgotten New York, the website and later, the book. Back then I lived in Bay Ridge and out of curiosity would take the S53 bus across the Verrazano-Narrows Bridge to explore Staten Island. The bus ran through Arrochar, then Grasmere, Sunnyside and West New Brighton to Port Richmond, but sometimes I would exit the bus at its first stop in Staten Island and make my way west to Rosebank. One day (I forget the year or month) I was ambling down Chestnut Avenue al the way to its end at White Plains Avenue, and there it was: a rickety truss bridge with a wood roadbed, crossing the SIRT … to a dead end on the other side!
In those days I was not in the habit of carrying a camera around (Forgotten NY would be twice the size and double the bandwidth if I had) and never returned to get a picture. I learned then that not getting the right picture at the right time is a dire error; the next time I was here, a couple of years later, the bridge had been torn down. (You can see a piece of the abutment in the photo on the right).
Do any ForgottenFans have a photo of this bridge?
Narrow White Plains Avenue features a number of well-cared for small 2-family brick buildings.
Staten Island has more pockets of Republican "resistance" than any other borough. But Democrats are in the majority, as with NYC's other four boroughs.
One of the remaining bluestone sidewalks on St. Mary's Avenue.
Don't pass by some of these old houses without a closer look — you might find a surprise!
This (unfortunately tin-sided) trio of attached houses south of Tompkins on St. Mary's shows some hints belying their age.
St. Mary's Avenue is a mix of new and some very old buildings — some, we'll see, show their earlier purpose.
On the west side of the street, a couple of buildings have some incredibly large front yards, some of which are used for parking spaces (they could be used as parking lots).
What's the story behind these buildings?
Unfortunate, and fortunate, visions of how to present an older house. As a rule, leaving it alone is better!
This brick building illustrates Rosebank's past and present as an Italian-American enclave. The former Ignazio Rosso & Bro. Staten Island Macaroni Corporation now houses medical offices.
St. Mary's Roman Catholic Church and its bell tower have been a Rosebank landmark since it was built in 1857 at St. Mary's Avenue and Bay Street.
St. Mary's School, relatively simple and unadorned except for its two Corinthian-style columns in front, was completed in 1910. St. Mary's, organized as a parish in 1852 by Father John Lewis, opened the first parochial school on the island the next year.
Adding to the tableau, St. Mary's brick parish house and its very own shady, sidewalk-free Church Lane, along which is scattered some very old homes.
A zig on St. Mary's Avenue, and a zag at Anderson Street and you have arrived at a short lane, with just one home built on it. that the Department of Transportation does not know how to spell. It is marked by two signs, one on either end:
Fortunately the NYC Parks Department has the scoop on its page describing a nearby playground commemorating a neighborhood businessman and politician.
But Parks butchers the name on a different page!
Tied with Shaughnessy Lane, and Fingerboard Road, for longest street name in Rosebank. White Plains Avenues doen't count — two words.
Staten Island's Bridge to Nowhere
At Anderson Street and Chestnut Avenue, Chestnut continues south along its route, but there's also a ramp that dead-ends in mid-block. What is this "bridge to nowhere"?
It marks the former location of the South Beach Branch ofStaten Island Rapid Transit and also Bachmann's Brewery, closed since 1881. The railroad ran at grade at that time and had a stop for brewery employees. The station was reactivated briefly from 1933-1937, while Chestnut and Lynhurst Avenues were bridged over the tracks in 1935 as part of a grade-cross elimination project.
The entire South Beach Branch was eliminated in March 1953, although hints of its old presence can still be detected here and there, such as this ramp. Part of it was retained since homes had been built alongside. The homes (left) were built in the railroad's old right of way.
Lyndhurst Avenue. This fence manufacturer's sign goes back to the 1960s, at least, as it shows an old alphanumeric phone number and pre-ZIP postal code. The two digits were incorporated as the last two digits in the zip code. The GI stood for GIbraltar. Laidlaw, by the way, is still around, with the same number.
On Lyndhurst you will find this 1960s-era GE M-100 lume. Like the Westy shown above they were used on side streets for the most part. There were a variety of non-glass lumes knocking about NYC for decades — see this FNY page for some illustrations. [Again, these were replaced in 2010]
KeySpan Energy, now part of National Grid, has a complex on Willow Avenue. I immediately thought of the nickname "The Unknowable" for the building becuase of its monolithic, inscrutable appearance. It is home to PromptMailers, a direct mail processor.
One of the older buildings belonging to the power company is still there, emblazoned "1926." And, another fence sign contains KeySpan's old name.
Could model/TV personality/blogger Willow Bay's parents have ever passed through Staten Island? (Bay was born in NYC.) People have named kids for stranger things than street signs.
More from Stapleton, Rosebank and Clifton
Photographed October 11, 2008. Page completed October 19
erpietri@earthlink.net
©2008