In early 2009, in a real estate environment that has seen home prices and rents drop precipitously and sales slow to a crawl, battle to maintain New York City's character is still being waged, it seems, neighborhood by neighborhood and house by house. The second week of 2009 saw designations given to several buildings by the Landmarks Preservation Commission, including two in Brooklyn and Staten Island.
On 2138 McDonald (formerly Gravesend) Avenue north of Avenue T is the Samuel Hubbard House (above, on title card). It was built between 1830-1850). The two-story wing, at the left side of the picture, was added in 1925.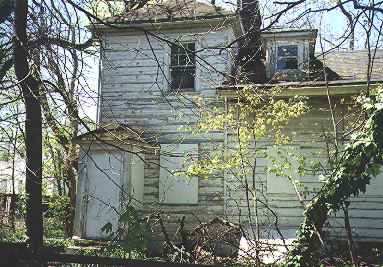 The Hubbard house is one of a number of colonial houses in Gravesend. Some have been demolished in recent years, and some, like this one, fell into severe disrepair and required a complete overhaul. When present owner John Antonides purchased the building in the late 1990s, a longtime owner had left the place in dire straits (above). Antonides carefully restored and renovated the house to its mid-century condition, and spent the last ten years petitioning NYC's Landmarks Preservation Commission for a designation.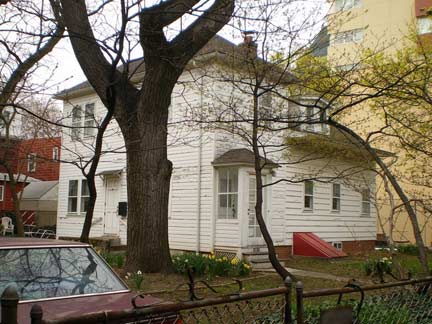 His perseverence paid off in January 2009 when the LPC granted it a designation, along with several other NYC locales. The nod virtually ensures that the house cannot be torn down and will stand as a reminder of NYC's Dutch and colonial past for generations to come.
The NYTimes' Christopher Gray told the story of John Antonides and the Hubbard house in an August 2001 article.
The Amato Opera, founded in 1948 by Tony and Sally Amato, is a testing ground for young performers and also presents lesser-known operas by major composers. The Amato is situated in what many experts believe is the world's smallest opera house…right next to CBGB.
Well, CBGB went out of business soon after, and longtime owner Hilly Kristal passed away soon after that. Now comes word that the Amato will soon be gone. Longtime owner TonyAmato has decided to shut the doors after over sixty years on the Bowery. At age 88, he has decided to retire, and the hosue will go out with performances of "La Boheme" and "The Marriage of Figaro" in May 2009.
Vanishing NY has more…
There's only one Cheyenne Diner, and there will continue to be one. Just not in NYC anymore. As told on a previous FNY Slice, a deal to move the venerable hash house to the Red Hook waterfront fell apart in early January 2009, but preservationist nonpareil Michael Perlman, who thought he had a deal with the McConnell family of Red Hook, set to work again and brokered a deal with investor Joel Owens, a Birmingham, Alabama resident, who will move the Cheyenne there and, according to Perlman, "restore the Cheyenne to its 1940s glory with potential additions including a classic car museum & special events center.

Owens states "This is a dream come true, especially in a state that has no historic freestanding diners."Alabama Tourism Director, Lee Sentell, states 'This has the potential to be a great Alabama destination.'
Page completed January 15, 2009. Photographers: Steve Garza, Bob Mulero, Laura Goggin